Glass bottles are essential items needed for everyday life. They are used to store food items, beverages, cosmetics, fragrances, medicines, and many other things. Glass bottles and containers are better and more environmentally friendly than plastic packaging, which makes them a better choice for companies in need of sustainable packaging. Glass bottle manufacturers in China have a large customer base because glass bottles serve as a perfect packaging solution.
Manufacturers that sell glass bottles in China make considerable contributions to the GDP of China, and as such, it is a valuable industry. Millions of glass bottles are manufactured yearly, and not nearly all of them are used in China. So, not only do they solve packaging problems in their country, but they also extend those solutions to countries within and outside Asia.
This article will show you how to find glass bottle manufacturers in China and list 19 glass bottle manufacturers.
How to Find Glass Bottle Manufacturers in China
In this part, I'll explain some of the most common ways of finding Chinese glass bottle manufacturers.
1. Screening out Glass Bottle Manufacturers on Chinese Wholesale Websites
There are many Chinese wholesale platforms on the internet, including the world's most famous ones such as Alibaba, AliExpress, DHgate, and Made-in-China.com. As an integrated part of the world factory, manufacturers in China offer tens of thousands of product categories on these wholesale websites, glass bottles are one of the most exported ones.
Taking Alibaba.com as an example, I'll show you how to find glass bottle manufacturers on wholesale websites.
Step 1: Find the search bar on the website, switch the search type to Suppliers, and type in the keyword Glass Bottle.
Step 2:  On the search result page, you should see all the manufacturers related to glass bottles from many regions and countries. Add a location filter and screen out the glass bottle manufacturers from China.
Step 3:  After all the Chinese glass bottle suppliers are screened out, you can click the names to check their detailed company overview.
Step 4: On Alibaba, you can also mark the manufacturers that you are interested in as Favorites, or add them into a Compare List.
Step 5: You can add up to 20 suppliers into your compare list which contains detailed information about the suppliers such as their contact address, phone number, and main products. And you can select the suppliers that match your expectations better and submit a collective inquiry on the Compare Result page.
The processes of searching for glass bottle manufacturers on other similar wholesale websites are essentially the same.
2. Accessing Glass Bottle Manufacturer Resources Thorough Sourcing Agents
If you don't want to spend too much time and energy searching for manufacturers online, a sourcing agent is recommended. With the right sourcing agent, you can easily access hundreds of glass bottle manufacturers through its manufacturer base.
Except for locating the matching manufacturers and products, a local sourcing agent can also inspect factories directly on your behalf. What's more, sourcing agents will take care of the shipping problems as well. For something as fragile as glass bottles, having a reliable partner for shipping would be more than important.
And other significant processes such as quality inspection, domestic logistics and international shipping, and customs duties dealing can be covered by sourcing agents' service range as well.
3. Finding Glass Bottle Manufacturers at Wholesale Markets and Exhibitions in China
If you are a person with strong power of execution and prefer doing things in a more directive and efficient way, you can try visiting China and find suitable manufacturers at local wholesale markets or trade fairs.
For example, if you want to look for glass bottles with decorative features, you can go to Yiwu China, where lies the biggest small commodities wholesale market on this planet.
Inside this wholesale market, namely the Yiwu International Trade City, you can find hundreds of shops in which thousands of types of glass bottles are being displayed. Many of those little shops have their own factory located somewhere else and rent a shop only to showcase part of their product samples.
Besides going to wholesale markets, trade exhibitions and fairs can also be a very efficient option for finding a suitable manufacturer. When speaking of trade fairs in China, the most recommendable one would be the Canton Fair, the biggest and one of the most influential international trade fairs in China.
The Canton Fair is held twice every year. The Spring session is normally held between late April to early May, while the Autumn session is held between late October to early November. And each session of the Canton Fair is divided into three phases, between each phase, there will be a 3 to 4-day break. Planning a trip to China based on this time schedule would be a rather good option to find your ideal glass bottle manufacturer.
List of 19 Glass Bottle Manufactuers in China
There exists a high demand for packaging bottles, particularly glass ones, in China that Vista Group rose to satiate that thirst in the 1970s. The company claims to be a leader in manufacturing glass packaging for its clients worldwide.
Vista Group is located in the largest port of China, Shanghai, which enables it to easily transport its glass bottles and other products affordably across the world. Their serve clients located in Canada, United States, Russia, New Zealand, Iran, New Mexico, and more.
The company produces a variety of about 2000 different types of glass bottles. These bottles can be used to package liquor, wine, honey, jam, and so on. Their yearly output is 80,000 tons, with 450 million units of glass bottles, jars, and containers.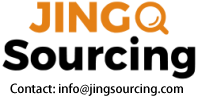 Jingsourcing is a leading Sourcing company based in Yiwu, China. Starting in 2015, Jingsourcing has helped thousands of business owners wholesale and import products from China at competitive prices.
As a professional and experienced sourcing company, Jingsourcing adds more value to itself by offering a comprehensive and reliable service range that covers product sourcing, factory auditing, quality inspection, and cargo shipping. In case you need help in dropshipping or graphic design, Jingsourcing can also be of great help.
With Jingsourcing's huge manufacturer base, you are bound to have your glass bottles supplied with ideal qualities. And with Jingsourcing's expertise, there will be a hustle-free experience of wholesaling and importing waiting for you.
Another glass bottle manufacturer in China is the Shanghai Misa Glass that specializes in producing glass bottles ranging from bottles used to package beverages, liquor, and cosmetics.
They contribute to significant industries requiring glass bottle packaging in China by manufacturing glass bottles, containers, and jars in various shapes, colors, and sizes made for different purposes.
Misa is also responsible for supplying glass bottles to more than fifty countries both within and outside Asia. Yearly, they sell an average of 800 million glass bottles.
Roetell is a glass bottle manufacturer located in Jiangsu, China. The company was established in 1984 and had claims to have about 37 years of patronage from the manufacturers of the food and beverage industry, wine and liquor industry, and the skincare and cosmetics industry. 
The company claims that its produced glass bottles undergo a rigorous manufacturing and testing process; now comply with local and international safe packaging standards.
Roetell also offers glass bottle customization services besides their wide range of glass packaging containers over 5,000 various styles. Their products are exported to more than 50 countries, and their daily production volume is 400,000+ pieces.   
Baolin is another glass bottle manufacturer in China that has been in the business for about ten years. Aside from producing glass bottles, they also offer additional services such as customizing the bottle covers, corks, and labels.
The company mainly manufactures glass bottles for the cosmetics industry, beverage industry, pharmaceutical industry, arts and crafts industry, and the wine industry. Baolin also exports bottles to countries outside of Asia, with their main markets being the United States, Canada, and Europe.
Their product catalog features glass bottles ranging in volumes from 5ml, 10ml, 50ml, 100ml to 1,000 ml. Clients can also request custom volume, shape, and design for packaging their products according to their brand design.
East Asia Glass produces a range of glass bottles for the various sectors in China. For instance, their services extend from the beverage industry down to bottles for medical use. In addition, they also produce bottles for the cosmetic industry.
The glass bottles they produce are also aesthetically designed, available in various shapes, sizes, and colors while maintaining functionality. The company also offers free samples for new and existing clients looking for glass bottles for their brands.
It was established in 1995, that is more than 26 years of experience in glass bottle production. They export their bottles to countries outside Asia and produce an average of 7 million bottles yearly.
Unipack Glass was founded in 1980 and has more than four decades of experience producing glass bottles and packaging solutions for alcoholic and non-alcoholic beverages, cosmetic and beauty products, food, and medicines. They also offer additional services like bottle branding and packaging.
Founded in 1980, Unipack glass claims to be one of the leading glass bottle manufacturers in Northern China, having in-house mold design and full-bottle design capabilities.
Unipack Glass bottles produce various colors, sizes, and shapes of bottles, and the clients also have the chance to choose the design they desire. The company produces an average of 800,000 glass bottles annually.  
The glass bottles they produce are also aesthetically designed, available in various shapes, sizes, and colors while maintaining functionality. The company also offers free samples for new and existing clients looking for glass bottles for their brands.
It was established in 1995, that is more than 26 years of experience in glass bottle production. They export their bottles to countries outside Asia and produce an average of 7 million bottles yearly.
Hualian Bottles is another glass bottle manufacturer in China that has its headquarters located in Jiangsu, China. They produce glass bottles that are exported to more than 40 countries. Hualian Bottles was established in 1998 and has more than two decades of experience manufacturing glass bottles.
Clients have the opportunity to choose the model of bottles they want and can also bring their particular design if they have any. They also specialize in packaging and branding. Their bottles can be used for packaging food, beverages, wine, and liquor.
Hualian Glass claims to be an expert in glass craftsmanship, with top-notch glass manufacturing facilities and experienced workers operating those facilities. They contribute to China's GDP by producing an average of 50,000 tons of diverse glass bottles.
SGSBOTTLE is located in Shandong, China, and produces a variety of high-quality bottles. The company claims to conduct extensive quality control after each production process to maintain quality and comply with international standards.
The glass manufacturers have several facilities to check the quality of bottles produced and a workforce that works with clients to design and manufacture the glass bottles they require.
Their product catalog features over 5,000 glass bottle designs that clients can choose from. Their main products include glass bottles, glass jars, perfume bottles, liquor bottles, glass vases, and other glassware.
Huaxing Glass is a leading glass manufacturer that contributes heavily to China's GDP by producing an average of 2.8 million tons of glass bottles every year. They make all sorts of glass bottles and create any customized design a customer has.
Their product collection includes glass bottles in high flint colors, emerald green, amber, and others shades. They mainly produce glass bottles for the medical field, cosmetics industry, beverage production, and food packaging businesses.
Founded in 1987, Huaxing is located in Guangdong Province in China, where the company has fourteen wholly-owned subsidiaries and a glass-forming machine equipment company. Their warehouse capacity is about 270,000, and their products are exported to more than 100 countries worldwide.