Glass bottles are essential for storage and packaging. As the global glass manufacturing hub, China has been a preferred option for foreign buyers. When searching for glass bottle factories, many of them are wondering about:
Delve into glass bottle manufacturing hubs in China.
In China, 80% of glass bottle factories are located in 6 provinces: Shandong, Jiangsu, Henan, Hebei, Zhejiang, and Guangdong.
These regions have abundant raw materials and convenient transportation. And the local governments provide glass bottle factories with tax incentives and substantial support in terms of basic resources such as industrial water and electricity that are in high demand and consumption. Combined with local advantageous industries, each glass bottle production base has different product categories and characteristics.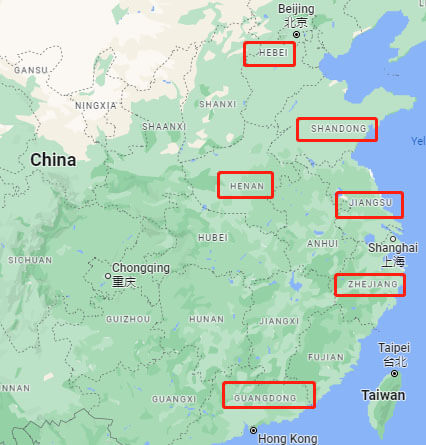 There are 3 major glass wine bottle production bases: Yuncheng in Shandong Province, Longchang in Sichuan Province, and Linzhou in Henan Province.
Yuncheng is the largest. Most glass wine bottles you see in the market are produced here. You can find various types of wine bottles, including high-end, mid-range, and low-end options such as red wine bottles, vodka glass bottles, whiskey bottles, XO bottles, and rum bottles. Moreover, the industry chain is the most comprehensive, covering everything from bottles to bottle caps to outer packaging boxes.
The large glass bottle factories do well in quality control. When taking our clients to visit local large-scale factories, we found workers standing in front of the production line, focusing their attention on the glass wine bottles being fired. The processes of inspecting, identifying defects, and classifying disposal are completed in just an instant. This serves as the first checkpoint for ensuring the quality of the finished glass bottles.
Food and beverage bottles
Based on abundant quartz sand resources in Jiangsu Province, Xuzhou glass bottle industry chains are complete after 30-year development. Food processing factories nationwide come here to source food and beverage bottles, and caps, and also seek factories for glass bottle printing, spraying, and other processing.
The most famous is "Baduan Village" Glass Bottle Industrial Park, where every household is engaged in glass bottle production, resulting in low production costs. About 80% of glass bottles are sold domestically to cities such as Ningbo, Shanghai, Guangzhou, and Shenzhen, then exported. Most glass manufacturers already have established relationships with domestic client companies.
If you were to visit Xuzhou to find a glass bottle factory on your own, they generally would not receive you. It is essential to be accompanied by someone familiar with them, like us, to ensure effective communication.
The cosmetic industry has a huge demand for glass bottles, oftentimes the small size, such as perfume bottles and sprayers, essential oil bottles, candle jars, fragrance glass diffuser bottles, reusable glass shampoo bottles, etc. Guangzhou and nearby cities like Foshan are major hubs for cosmetic glass bottle production. Xuzhou also has many manufacturers specializing in cosmetic bottle production.
Previously, we had a client who requested customized cosmetic bottles and packaging with high-end positioning. Our agent, Joe, contacted dozens of glass bottle factories in Guangzhou and selected a few that were suitable for on-site inspection. Then, we collected samples and sent them to the client for visual checking and review.
Hejian in Hebei Province, the "Capital of Chinese Artistic Glass", specializes in artistic glassware such as glass wine bottles and accessories, glass tea sets, glass smoking accessories, as well as glass beverage utensils, and catering supplies.
Another highlight is that Hejian is the world's largest production base for heat-resistant glass. The developed heat-resistant spiral glass milk bottles, water cups, and other products fill the gap in the Chinese market. Some have been collected by the Palace Museum and the National Museum of China.
Last month, we took a client to Hejian, who purchase tens of thousands of small wine glass bottles with custom logo printing. We visited both large glass bottle factories and small workshops. After the client saw the factories in person, he decided to choose the large factory. Although the price was approximately 25% higher compared to small workshops, he thought that was worth it.
Pujiang, located in the central part of Zhejiang Province, has become the world's largest base for crystal glass products and a hub for raw materials distribution after 30+ years of development. There are many factories specializing in crystal tea sets, wine glasses, etc.
The production processes for crystal bottles and glass bottles are generally the same, and most manufacturers are capable of producing both. However, due to the significantly higher unit price of crystal bottles compared to regular glass bottles, the minimum order quantity for opening a mold for crystal bottles is much lower, typically around 2000 units.
We have a client who customized crystal beer mugs and just ordered 1,500 pieces. We selected 2-3 crystal bottle factories that passed our factory audit and established long-term cooperation with us. And convinced them to produce for us even if the MOQ is small.
Special-used glass bottles (medicinal, hand-painting)
Pharmaceuticals are packaged in small glass bottles. In Rugao, Jiangsu Province, you can find numerous manufacturers producing glass bottles for medical use in varied sizes.
Additionally, Shandong is home to highly renowned pharmaceutical glass bottle manufacturers. For instance, the listed company Shandong Pharmaceutical Glass Co., Ltd is the 6th enterprise to master the production technology of neutral borosilicate molded glass bottles across the world. Over 70% of mainstream injectable drug packaging worldwide is made from borosilicate glass due to its advantages in thermal and chemical stability.
Qi County in Shanxi Province specializes in "hand-blown glassware" and exports account for over 50% of the national total, selling well in 80+ countries. Another distinctive feature is hand-painted craftsmanship. During the G20 Summit held in Hangzhou, the glassware used for the state banquet amazed the world, and all of them were produced in Qi County.
Explore the challenges of finding Chinese glass bottle factories.
It is easy to source glass bottle suppliers on Alibaba and other Chinese wholesale websites. However, it is hard to find real factories because 80% of the suppliers on these platforms are actually trading companies.
Moreover, many of them have limited knowledge about wide-type glass bottles and often lack sufficient experience in customization, failing to meet your actual demand. For cosmetic glass bottles, candle holders, drinking glasses, whiskey tumblers, and unique-shaped glassware, the production processes, machine types, and production areas can vary significantly.
Therefore, even if you send a 3D design drawing of the custom glass bottle, you are likely to receive wrong quotes (too high or too low) from suppliers who are not familiar with the various types of glass bottle products. If the quote is particularly low, it may result in the inability to fulfill the order or produce glass bottles that do not meet your desired quality standards.
Even if you find a glass factory after much effort, you'll be rejected if you cannot meet the factory's high MOQ. For custom mold-making of regular glass bottles, the MOQ is usually 10,000 pieces/type. Additionally, factories excel in production rather than sales, so you may find communication with the factory is not smooth and he is hard to get your ideas.
Discover why Jingsourcing is your key to glass bottle sourcing.
We have rich glass bottle factory resources, engaging in the industry for 10 years.
Jingsourcing is based in the industrial center of Yiwu, close to the world's largest crystal glass production base "Pujiang" and next to the glass bottle production base "Jiangsu". In addition to glass bottle factories in these areas, we have also integrated glass bottle manufacturers of different sizes in Shandong, Henan, Hebei, and Guangdong.
So far, our database covers most of the bottles and jars you can see on the market. All of them have passed strict factory audits and fixed cooperation with us. This means we can quickly help you get good glass bottle factories that suit your needs.
Connects you to the best-suited glass bottle factory
We're experienced in customized glass bottles.
Custom logos and patterns are preferred options. We have a design team to help you design logos and patterns. And the glass bottle sample just takes 1 week.
About printing methods on glassware that are hard, in my experience:
Decorating firing applies well. Any design pattern can be achieved. For a small logo, it may cost $0.3/item.
Laser printing is also common, giving glass bottles a rather high-quality appearance. And the price is affordable, around $0.15/unit, depending on the quantity and size.
Silkscreen is not recommended. Because the color of silk printing cannot penetrate into the material, it may come off when scratched with a fingernail. Moreover, if you can not purchase 500pcs/item, screen printing is not the cheapest due to the plate-making fees (around $60) and printing labor charge ($0.02/item).
Additionally, custom glass bottle shapes and sizes that involve molding are also available. We had a North American client who wanted to customize a special-shaped crystal essential oil bottle, with a quantity of 1,500 pieces. He didn't have specific price requirements but requested good quality. We directly contacted our cooperating Pujiang crystal glass factory and made samples by molding. The cost of the mold was also reasonable, around $600.
It's important to note that mold-making for regular glass is expensive. Take the common-sized molds of fragrance candle jars or beverage/food glass bottles for example. The mold cost is around $2,000, and the MOQ is 10,000 pieces. In practice, these two types of bottles are usually customized with logos.
Customize your glass bottles with Jingsourcing
We provide accurate quotes, 10%-20% lower than Alibaba's.
Our quote is direct from glass bottle factories and accurate, usually 10%-20% lower than Alibaba suppliers. This is because we have rich manufacturing resources of different factory sizes. The price of small workshops is approximately 20% lower than large factories, but only suitable for buyers who prioritize low prices and don't require certifications.
Another reason is our abundant experience in custom glass bottle projects. We can tell at a glance which type of machine is needed for the glass cups our clients want to purchase. Then, directly find the corresponding type of glass bottle factory located in the industrial cluster to help you get the most competitive product price.
For example, last year we had a client who purchased a diamond-shaped candy jar with a size range of 25-30cm. Such large-size cups cannot be directly sourced from glass bottle factories in Xuzhou. Because these factories use the 6S equipment, specialized for producing small glass bottles, such as those used for cosmetics. It is not suitable for producing large glass cups, and if they were to do it, the price would be very high.
Therefore, we directly approached the glass bottle factory in Shandong that uses 8S machines combined with manual craftsmanship. The price is much lower, even as low as half the price in Xuzhou glass factories.
Get your best product price from Jingsourcing
We inpsect the shipment based on your checking focus.
Most of our clients choose AQL sampling inspection due to a large number of glass bottles. For some clients particularly concerned about appearance flaws such as color, patterns, and air bubbles, we'll check goods one by one.
No matter what quality inspection you choose, we first communicate with you and list down your checking concerns for focused inspection. In the process, we send videos of inspected glass bottles and confirm with you whether the defect we discover is acceptable.
Source glass bottles in a safe, easy, cost-effective way.