Efficient order fulfillment is the backbone of a smooth-running supply chain. In this article, we dive into order fulfillment from the following 4 key aspects:
What is Order Fulfillment in Supply Chain Management?
In supply chain management, order fulfillment encompasses the entire process from sourcing products through finding reliable suppliers to delivering products to individual end consumers. This involves various stages, including sourcing trustworthy suppliers for product manufacturing, packaging, and transportation, as well as receiving and handling customer orders (e.g. picking, packing, delivering), and inventory management.
Effective order fulfillment ensures timely product delivery, reduces inventory backlog, and enhances customer satisfaction, contributing to efficient supply chain operations.
Order fulfillment example
Suppose you're an Amazon seller and planning to sell T-shirts in the US. Once the quantity you wholesale is more than 50 pieces, it is more cost-effective to import from China. You can easily find lots of T-shirt manufacturers on Chinese wholesale websites.
It's a good practice to compare several suppliers and request quotes and samples from them. Once you receive the T-shirt samples, you can choose the best one and place an order. Then, you can negotiate trade terms with the supplier and arrange shipping to your location.
If your T-shirt customization is complex, be sure to contact us. Not all suppliers can make it. For example, a client wanted to embroider oil painting patterns on his T-shirt. However, it's hard to reproduce the complicated colors and details of the pattern by embroidery to make it like a real oil painting. This is also why many Alibaba suppliers rejected his order.
Based on years of customization experience, our agent worked out a novel 'combined solution': finding an embroidery factory to create the basic pattern shape first and then a digital printing factory to finish the rest areas featured in many complicated colors and details.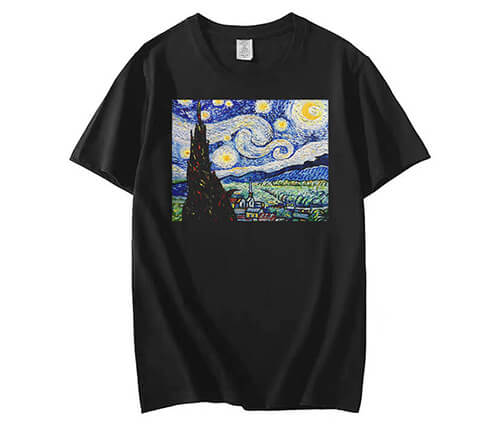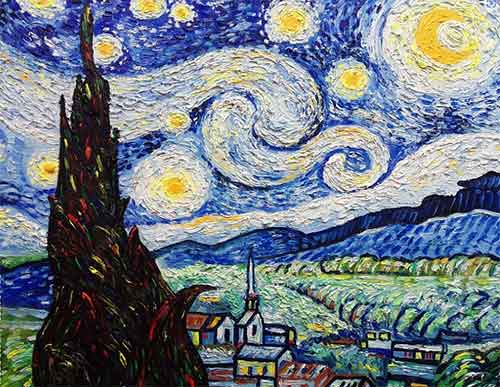 The oil painting is not from our client, just for reference.
The client was satisfied with our T-shirt sample. With the confirmed sample, he proceeded to place an order. We started mass production and conducted inspections according to the client's requirements. Upon verifying that bulk production met the required standards, we arranged the shipping to the client's warehouse according to specified shipping incoterms. The client's products sold well and asked us for reorders to replenish his inventory.
7 Steps to Complete Order Fulfillment Process
Step 1 -- Product sourcing
Source your desired products from suppliers. If you're buying existing products, you can directly find suppliers on Alibaba and similar websites, whether within your own country or in China.
If you intend to change the appearance or performance of existing products or even develop entirely new items, directly sourcing from Alibaba can lead to various challenges.
Many of our clients, especially Amazon retailers, had found Alibaba suppliers before coming to us but felt troublesome to get the desired customized samples, even after numerous revisions. Additionally, some experienced disparities in product quality between bulk orders and samples. Contact us to make your custom product sourcing in China easy.
Step 2 -- Product quality checking
Touch and check your products. If you discover any quality issues, address them before selling to customers. This is crucial for e-commerce sellers, especially those on platforms like Amazon. Once customers receive defective products, they'll leave bad reviews. This can harm your online store's ranking and, in more severe cases, result in the closure of your listing.
Step 3 -- Shipment warehousing
Where to store products depends on your business model and budget. If you're using a dropshipping model at the business start, products are typically stored in your supplier's warehouse. This approach is common among newbies and small businesses.
Some opt to store their inventory in their own house. This is cost-effective and helps minimize storage expenses. As your product sales continue to grow, you may want to consider hiring a 3rd-party warehouse.
Step 4 -- Order receiving and processing
When receiving customer orders, it's crucial to pick, label, and pack products appropriately, especially for fragile items like glassware. Using the right packaging boxes and filling materials is essential for product protection.
Step 5 -- Package delivery
Use logistics service providers such as FedEx, UPS, and USPS to send packages to your end consumers. If you are using 3PL warehouses, they often have partnerships with these logistics providers and get discounted rates. Engaging their services to deliver products to individual customers can result in cost savings compared to the official prices.
Step 6 -- Returns handling
Consumer returns and exchanges are often unavoidable, driven by factors such as dissatisfaction with product style, color, or size, which are subjective reasons, or due to product defects or damage. When returns or exchanges occur, it entails quality control inspections and the processing of the corresponding return orders.
Step 7 -- Inventory management
When returned items are received at the warehouse, they need to be re-entered into inventory, and a thorough stock check is essential. In cases of inventory shortages, it's important to promptly contact your supplier for replenishment.
7 Steps to the Order Fulfillment Process
How to Optimize the Order Fulfillment Process while Saving Costs?
In essence, order fulfillment optimization aims to enhance the efficiency and accuracy of the entire process, spanning from sourcing incoming products to customer order processing and delivery, as well as inventory management.
Many e-commerce sellers import products from China at lower prices and then resell them at higher prices to generate profit. The primary focus of order fulfillment optimization is on:
Getting a reliable professional supplier.
With unprofessional suppliers, your custom project could take half a year or longer without making any substantial progress. This is a big loss for your business.
For instance, an US client requested a quote from us for a customized cat cage but didn't respond after receiving it, possibly due to cost considerations. However, a year later, he reached out again, telling us that he had found many suppliers on Alibaba but the quality of their products was poor, causing a year-long delay.
Conducting quality inspections before products leave China.
Without quality inspections, it's too late if you only discover quality issues after receiving the goods. The international logistics costs associated with returns can often exceed the product values. You may contemplate legal action against your supplier, but such cross-border litigation is both time-consuming and expensive.
In addition to smoothing your product sourcing in China, JingSourcing–a leading China sourcing company–can also help you save:
We can get lower product quotes from our factory partners than Alibaba suppliers, at least 10% cheaper.
The quality inspection company in China charges $200-300 per person a day. In comparison, we charge $40 per person a day while.
Our quality inspection services include AQL sampling inspection like 3rd-party inspection agencies. And more importantly, our QC is more flexible and efficient as we get your checking focus and send you videos or pictures to communicate with you in real-time.
We can help you acquire discounted agent prices from our long-time cooperative freight forwarders who have established partnerships with shipping companies, airlines, express companies, etc.
Take express shipping for example. We can obtain greater discounts (up to 20%-50% off the official prices) due to our large-volume shipping on a daily basis.
Ask JingSourcing to optimize the order fulfillment process & cut costs