Scarves, being the oldest and newest trend in fashion have come a long way. Choosing the right scarf fabrics can be a tricky choice that can make or break your whole look.
Scarves can not only be used to accessorize any and every look but also to make a statement if you're looking to style your dress on a budget and with ease. Following is a list with 13 of the most popular scarf materials you can find.

A cotton scarf has a high percentage of cotton mixed with a lower percentage of a binding thread. The scarves are usually fit for all types of weather based on their breathable fabric.Their texture isn't the smoothest, however, they are super comfortable to wear.
There is the least amount of skin irritation with cotton scarves since they usually go well with the skin and cause minimum abrasion.
It is quite easy to style with all sorts of dresses and jeans.The price range for cotton scarves is a little higher since it is a natural fiber with a higher amount of work put into it.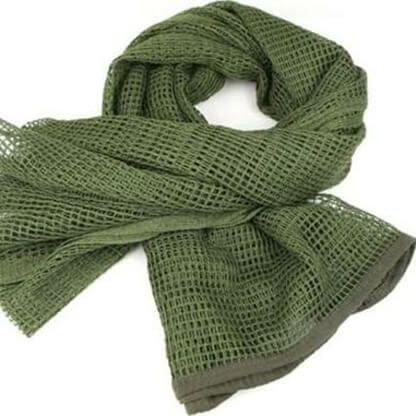 Popularized in the 1920s, net scarves were never meant to keep you warm. They were a fashion accessory from the very start.Two types of fibers are often used for these scarves.
With Nylon, you get a stiffer looking scarf that hold its shape somehow.With polyester, you get a smoother scarf that is more easily twisted and turned.
It is recommended that softer net be used for scarves since they have to be twisted or wrapped around the neck. It is better to have a more manageable fiber in use. Net is the scarf material of the evening, it is for the formal times.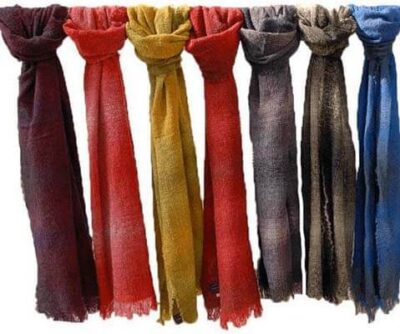 Wool is obtained from mammals, primarily sheep, after a heavy thread-making process that requires time and attention but the product is well worth it.Wool is known throughout the world for its warmth and comforting texture. It is an excellent pairing for cold-weather dressing.
The threads are non-abrasive in most cases, however, sometimes irritation of the skin may occur. Wool is a natural fiber so it is safe to use for most people. 
Cashmere is well known for its finesses and beauty.
It is delicate yet tough, plush yet firm and warm but doesn't make you feel overheated and sweaty. Those are some of the great qualities of cashmere.
Due to its rarity, it is a well-loved fabric especially for scarves. Cashmere is obtained from the Cashmere goats found in China and Mongolia. 
It is this coat that helps keep the animal warm in the severe winter months. Cashmere is able to just uplift the scarf game of the wearer because it is a silky smooth fabric that has a very luxurious feel.
It's also quite easy to carry since it is not a piece of heavy fabric. Moreover, it is nonabrasive in nature which is helpful for sensitive skin. True cashmere justifies its price tag.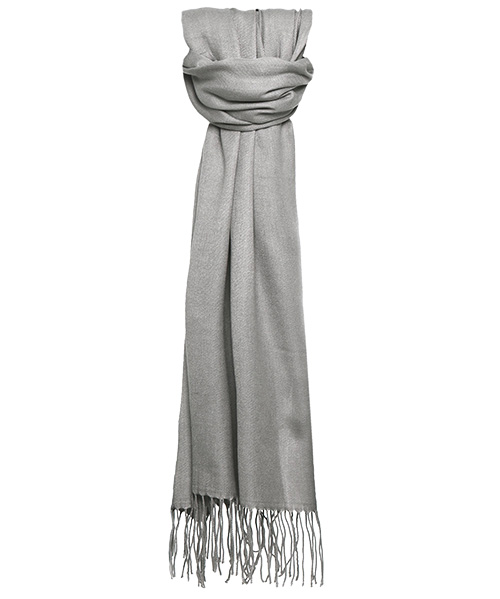 Although the basic raw material for Pashmina is Cashmere, it is a whole different fabric on its own. Whereas Cashmere is smooth but wooly in texture, Pashmina is lighter, smoother, and softer.In old times, Pashmina's smoothness and silkiness was tested by passing a whole scarf from a ring.
Pashmina is known throughout the world for its refined texture and can be put to use on multiple occasions, formal or informal ones. The delicate look of a pashmina scarf shouldn't fool you, it is quite capable of keeping you warm in cold weather without making you feel stuffy or suffocated. It is a well sought-after fabric because of its warm yet breathable quality and makes an excellent scarf for the neck and shoulder area specifically.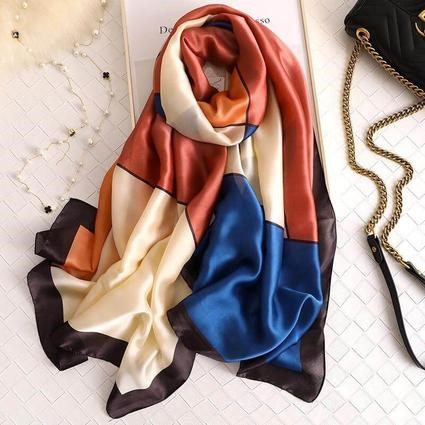 Silk scarves are usually associated with luxury and are worn in temperatures where you'd like to be kept warm.
Silk has lower breathability in comparison to cotton but it keeps the moisture of your skin and hair locked in.
Pure silk, although expensive due to the tedious process of worm breeding and thread extraction, has a hypoallergenic quality which many consumers prefer. It may be relatively hard to manage a silk scarf due to its slippery texture but it goes with several formal wear outfits and plainer ones.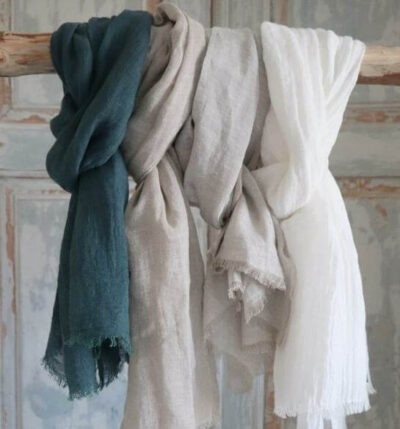 One of the comfiest fabrics and loved dearly by the world for its drapery and fall.
Linen has that effect where it is flowy yet it stays in place, it doesn't necessarily make you shiver in the cold nor does it make you sweat like a fountain in the sun.Linen can be used in simpler looks with plain solid colors or it can be printed to give that signature touch to a look.
It can be embroidered or even embellished to give an accentuated regal look to the scarf.Moreover, with linen it is always easy to manage the scarf since its breathable, lightweight, fluttery but in place at the same time.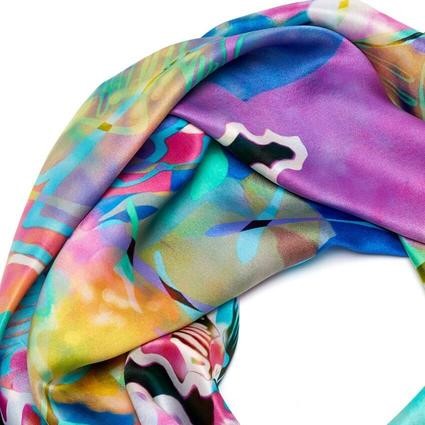 Satin has ever been the most glorious of all fabrics.It has a special place in every person's heart with all of its attachment to evening wear. One is sure to be reminded of luxury and the finer things in life with Satin around.
Since it holds up color very well and makes it pop, satin scarves are often dyed bright and have the most vibrant prints on them. Satin, like silk, has hair and skin benefits. It is known for its moisture-locking quality and keeps your hair and skin soft. If you use one for long, the satin scarf can make a difference in your skin and hair making them smooth and soft.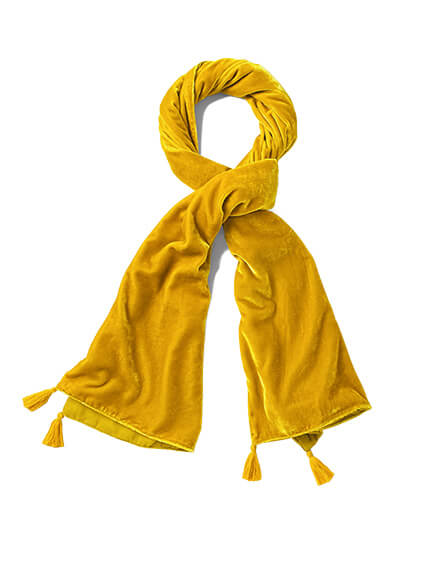 Velvet is a thick winter forward cloth. One of its sides is soft, plush and slightly furry while the other side is plain and tough.
Velvet is a fine cloth with a hefty price tag. Although, velvet scarves have their place in all of the fashion eras in the world, however, it is quite an unsuitable fabric in most cases.
It must be understood that a scarf needs to have a malleable material that is easily folded, twisted, turned and tied.
With velvet that does not remain possible since the fabric has quite the identity of its own and isn't as easy to manipulate according to your preferred style, shape and form.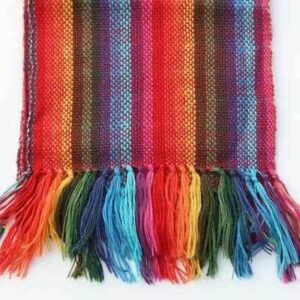 Alpaca fabric is driven from Alpacas by carefully scissoring off the wool. The softness of an alpaca scarf often exceeds wool, it is one of the smoothest animal-derived fibers out there.
Alpaca scarves are all the range in winter due to their lightweight warm texture. They naturally retain the body heat making them warmer than wool yet far more comfortable to wear. Alpaca isn't climate specific though. 
It keeps the wearer cool during summer as well. It is a breathable animal derived material that has slowly become quite popular for scarves.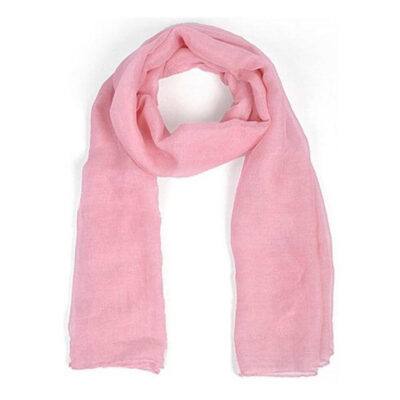 Similar to linen but smoother and silkier looking, viscose isn't a heavy fabric but it holds the warmth in. If linen is given a glossy finish, viscose would most probably look like that. It is widely available due to its origin, it is made from wood pulp.
This scarf material usually is best suited to fabrics that can hold some shape, aren't too stiff, are comfortable to wear and have a flowy finish. Viscose checks out all those boxes. Being one of the most affordable fabrics, viscose combines the glossy finish of satin with the breathability of cotton and yields a material perfect for scarves.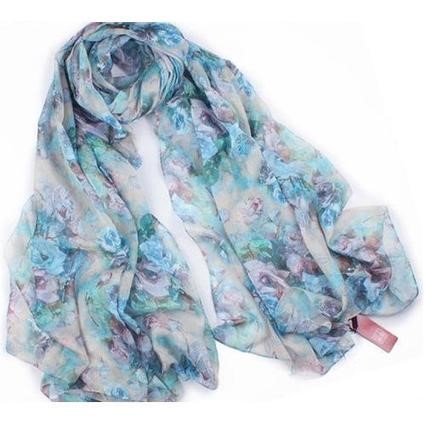 A chiffon scarf is one of the most classic wearable items in a wardrobe.It is used in millions of scarves throughout the world and is known for its beautiful see-through texture that comes from the way the yarns are placed on top of one another.
Chiffon is often obtained from cotton but sometimes rayon is also used. One can call it a glorified cotton scarf for that matter.Chiffon doesn't necessarily work very well to keep you warm in the cold but it does manage to keep some of the heat in. It is similar to silk or satin, if they were loosely woven. It is good for the wallet while achieving the satin or silk look.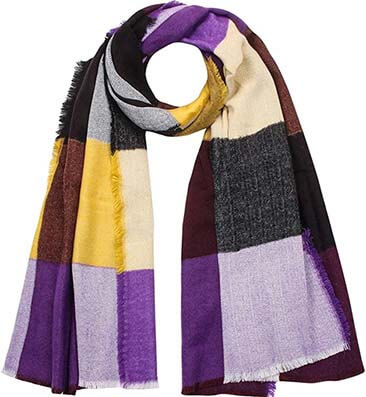 The fibers for the acrylic fabric are derived from acrylonitrile. It is a man-made fiber but serves as a good replacement for wool. Its easy availability makes it quite reasonable in price too. Something that is great about acrylic scarves is how well they carry multiple colored threads and how each one is stands out on its own yet as one piece too.
It may not be as fine as wool but it definitely doe sits job when it comes to keeping you warm. It's smooth but not as smooth as natural fibers as well. It is quite stain resistant and also wrinkle resistant so it works as a really good everyday wear scarf. It is definitely on the cheaper side and saves you a lot of cash in comparison to other fabrics.
Frequently Aksed Questions about Scarf Materials
● What material is best for scarves?
The best type of scarf material should have a few qualities: it should feel nice and comfortable, it shouldn't cause allergy, must be light weight and have a nice flowy texture. If your scarf material manages to do that, you're a winner.
● What materials are scarves made of?
Scarves are usually made up of many different types of materials but the most commonly used ones are cotton, silk and wool. These are easy to to fold and twist so they make good styling accessories.
● What are the types of scarves?
There are many different types of scarves. There are the ones you wear around the neck to keep warm, others you wrap around shoulders, some are for the beach, some work as accessories for gowns and dresses while some are used to cover the head.
● What is the softest scarf material?
The softest scarf fabric will depend on your preference. It can be a more wooly soft texture where pashmina be your best bet but it can also be silk or stain which is not only soft but also thin.
Final Words:
We are Jingsourcing, a leading sourcing company based in Yiwu, China. Starting in 2015, we've helped thousands of business owners wholesale and import products from China. We've built relationships with many leading scarf suppliers in China, if you need help in importing scarves from China, please feel free to CONTACT US.