I have mentioned in before articles that products made in China all have their own industrial clusters. Knowing the industrial clusters helps a lot when you are importing products from China.
For example, if you want to import toys from China, then you can go to Chenghai, or search for suppliers that are located in this town. Because Chinese toy products' industrial clusters are mostly located in Chenghai, where you are more likely to get the best price suppliers or find toy factories. 
In this article, I'll give a brief introduction of the industrial clusters located in Zhejiang Province, which is one of the most important light industrial manufacturing areas in China. 
1. Short Introduction of Zhejiang Province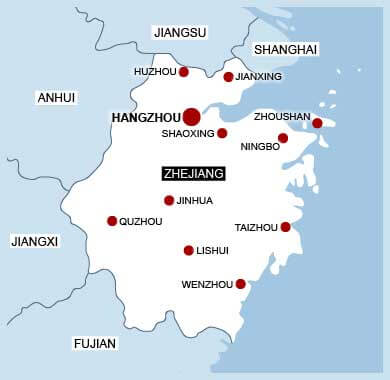 Located in the south of Shanghai, Zhejiang Province is one of the two most developed provinces in China, another one is Guangdong province. These two provinces play a very important role in China's export, and is quite familiar to most foreign importers as a large part of made-in-China products are manufactured here.
Just like other Chinese provinces, not every city in Zhejiang Province manufactures certain products. Industrial Clusters in Zhejiang province distribute in several important cities, including Ningbo, Yiwu, Wenzhou, Taizhou, Shaoxing, etc., and you may hear about some of them. Every city has its own preponderant kinds of products which I'll introduce in detail in the following paragraphs.
2. Port of Zhejiang for Exporting
Ningbo Port and Shanghai Port are the top 3 largest ports in China, and most products made in Zhejiang province are shipped from these two ports. Ningbo Port is closer to most industrial clusters than Shanghai because of the location of these two cities on the map. Thus the FOB  Ningbo cost will be a little expensive than Shanghai, around $100 for a full container.
If you are shipping many different products in one shipment, such as 20 kinds of products in one container, then I suggest you ship from Ningbo Port. Because Shanghai customs are stricter, and the probability of being inspected is higher, so your cargo may be dragged by customs checking for some time. If some products should have a commercial inspection but don't, like toys, the cargo will be dragged longer.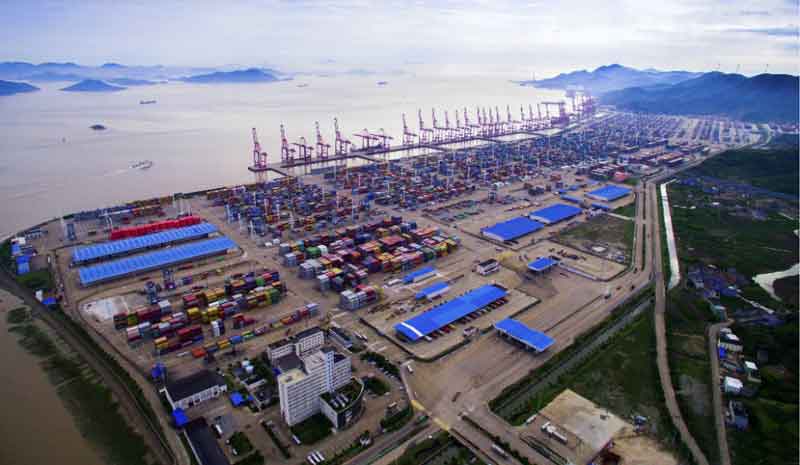 An aerial view of Ningbo Port
3. Ningbo Area-Trading companies, Electric Appliances, and Plastic Products Clusters
There are numerous trading companies in Ningbo(宁波) due to its port superiority, and also lots of companies that serve to export, such as shipping forwarders, quality inspection companies, and testing companies.  
Industrial clusters in Ningbo mainly include three parts: 
1. Portside industry
Such as the petrochemical industry, steel and iron, automobile manufacturing, and ship-repair field.
2. High and new technology industry
Such as electronic information, new material, and biological medicine.
3. Traditional superior industry
Such as textile and garment, electric appliances, mold, metal products, etc.
An important county-level city in Ningbo is Cixi(慈溪), where many electric appliances and hardware are produced. Such as washing machine, air condition, range hood, electronic iron, vacuum cleaner, bearing, etc. There are around 10,000 electric appliances factories in Cixi, and it's one of the most important electric appliances industrial clusters in China.
| | | | |
| --- | --- | --- | --- |
| | | | |
| Air Condition | Electronic dry iron | Vacuum Cleaner | Washing Machine |
Plastic products and small appliance manufacturers are gathered in Yuyao City(余姚), one county-level city inside Ningbo. It's known as "Plastic City of China. Mainly are used for industry and construction, such as engineering plastics, plastic tubes, plastic mold.
4. Yiwu City-World's Largest Wholesale Center
Being the world's largest wholesale center, Yiwu(义乌) provides incalculable products for exporting to all over the world every year, mainly are low-value and daily used products.
Yiwu wholesale market has around 70, 000 booths which make it more of a huge fair. Accessories, Christmas products, hardware, and many other products are available in all districts. But most of these products are not made in Yiwu but made in cities close by. About the booth owner, some are factory and others are middlemen, and it needs some experience to distinguish them.
| | | | |
| --- | --- | --- | --- |
| | | | |
| Fashion Accessories | Christmas Products | Hardware Spareparts | Electronic Clock |
5. Yongkang City-Hardware Capital of China
Same as Yiwu, Yongkang is a county-level city, also belongs to Jinhua City. As "China's capital of hardware and door", Yongkang city(永康) has several important industrial clusters: automobile components,  door industry, cup industry, electronic tools, electronic appliances, and cookware.  
The advantageous products include vacuum cups, electric scooters, different kinds of metal doors, etc.  You can also find Household cleaning products factories here in Yongkang, such as a mop, apron, and a clean cloth, etc. Yongkang is also one of the two main manufacturing areas of balancing scooters in China, the hottest product in 2015, and another one in Shenzhen.
| | | | |
| --- | --- | --- | --- |
| | | | |
| Hardware Tools | Metal Door | Automobile Components | Vacuum Cup |
6. Wenzhou city-Electrical Machinery, Shoes, and Capital of Packaging
When talking about Wenzhou(温州), the first thing that comes to mind is shoes, not only for export but also for the domestic market. There are all kinds of shoe factories: from large-scale factories to small workshops, including shoes for women, men, and kids.
Cangnan(苍南) is one of Wenzhou's most important county-level cities, which is known for being a packaging materials cluster. Longgang (龙港) is a town of Cangnan, and people call it the "Capital of Packaging in China". Here you can find anything that has relation to packaging, like non-woven fabrics shopping bags, packaging for food or clothing, etc.
Another famous county-level city in Wenzhou is Yueqing City(乐青), which is called "China's capital of low-voltage electric appliances". Such as voltmeter, transformer, frequency converter, etc. You can also find electronic components factories in this city.
Rui'an City(瑞安) mainly produces automobile components for cars and motorcycles, such as brake block, rearview, etc.
| | | | |
| --- | --- | --- | --- |
| | | | |
| Women Shoes | Paper Package | Transformer | Motorcycle Components |
7. Taizhou City-Plastic and Rubber Products Cluster
Taizhou City(台州) is located to the north of Wenzhou City, and its main products are related to plastics and rubber. Plastic products can be divided into several different kinds: PP, ABS, PVC, etc. And can be used daily like a plastic storage box, plastic chair. Most rubber products manufactured here are also for daily usage. For instance, rubber gloves, rubber coasters, etc.
Huangyan(黄岩), one important county-level city in Wenzhou, is called "China's capital of mold and art ware". Art ware is made of plastic, wood, glass, metal, and other materials.
| | | | |
| --- | --- | --- | --- |
| | | | |
| Plastic Storage Box | Rubber Gloves | Mold of Chair | Seat Cushion |
8. Shaoxing City-Textile and Umbrella Clusters
Shaoxing City(绍兴) is famous for its textile cluster,  and it's mainly gathered in a small town called Keqiao (柯桥), where you can find all kinds of fabric: knitted fabric, spinning fabric, cotton fabric, polyester fabric, etc. You can also source other textile products in Keqiao, such as bedding articles, curtains, carpets, etc.
Zhuji City(诸暨), known as the "Capital of Socks in China", is an important county-level city in the west of Shaoxing. Here are numerous socks factories that produce stockings, anklets, leggings, and other kinds of socks for men, women, and kids. 
Another important county-level city in Shaoxing is Shangyu City(上虞), which is called the "Capital of Umbrella in China", and most umbrellas will be originally produced here. If you are dealing with umbrella suppliers from other cities, you should know that they probably are trading companies or middlemen.
| | | | |
| --- | --- | --- | --- |
| | | | |
| Knitted Fabric | Socks | Umbrella | Chinese Paper Umbrella |