"Is Alibaba safe and legit?", "Is Gold Supplier and Trade Assurance 100% secure for import buyers?". Yes, many new importers have these concerns.
In today's guide, I will expose some of the problems that exist within Alibaba to include how to avoid scams, what products cannot be bought, which types of suppliers to avoid, and so on. At the end of the article, a checklist to identify suppliers is attached (8 tips).
I write this guide based on my years of practical experience, and I assure that you'll have a pretty comprehensive understanding of Alibaba by the time you're finished with this. You can click the following links, which bring you to the related content.
1. Is it safe to use Alibaba to purchase products in bulk from China?
Generally speaking, Alibaba is safe and legit, as it is the largest wholesale market online. You may have heard several importers state that a huge problem is that no goods are delivered after they are purchased—this is nearly non-existent. In the event that this happened to you, all you need to do is make a complaint about it to Alibaba and they will compensate you the deposit you paid to the supplier.
However, there are also a few non-Chinese suppliers on Alibaba, accounting for 3.3% (2019) of Alibaba's total suppliers.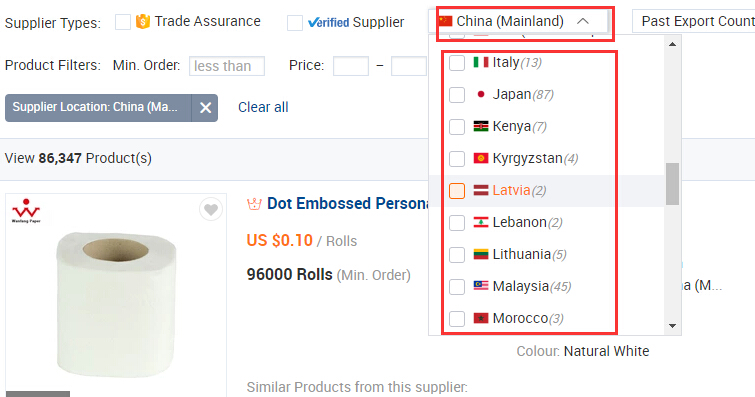 I want to warn you that you must pay more attention if you choose to cooperate with non-Chinese suppliers.
You don't have to worry about Alibaba's overall environment. Although there are no huge concerns, there are still some problems and a lot of risks that remains—which is exactly what you might be worried about, as there is a lot of controversy about it on Google.
For instance:
Attracting you with a low price, but increasing the price after the order is placed.

Is there assurance regarding payment safety?

Shipment delays.

Mass production does not align with the approved samples.
These serious problems can cause even bigger headaches than not receiving goods after you paid for them because they result in unexpected troubles.
Alibaba provides guaranteed service for fair dealing between buyers and sellers: Trade Assurance. Typically, suppliers who choose to accept the letter can greatly reduce any related problems of the quality of the goods you receive. Note that what I am saying is "greatly reduce." Yes, not a 100% guarantee, as the letter has its shortcomings in the real world.
Now let's return to the points which you may be most concerned about: Will a supplier definitely avoid the above-listed problems and assure absolute security if they accept both the Trade Assurance and the Gold or Verified Supplier?

Keep reading—I bet you'll have a real understanding of Alibaba after finishing this article!
2. Is Alibaba Gold Supplier really worthy of trust?
Alibaba Gold Supplier is actually just a member label of Alibaba. We have written so many articles and have never mentioned it being a criterion for judging whether or not Alibaba suppliers are reliable.
Why?
Because almost every supplier in Alibaba is a Gold Supplier. So when you see an article that mentions that the Gold Supplier is the standard for judging the quality of the supplier, quit reading it.
It only charges $4,500 to suppliers to get the Gold Supplier label; Alibaba staff will verify the original business license, the original office/factory lease contract, and the official seal of the company information.
In this case, they can become a Gold Supplier of Alibaba as long as they continue with the same cost each year, as the length of the Gold Supplier will increase year by year. This is to assist you with the initial examination of the authenticity of the supplier.

As you can see, Gold Supplier is a necessary and very simple condition for suppliers to get. Almost 95% of Alibaba's Chinese suppliers are Gold Suppliers. Therefore, the easier it is to verify or buy the qualification, the less reliable it is.
Also, under the premise of being a Gold Supplier, try to choose those that have been around for years. The longer a company exists there, the better their standing for being able to continue in this industry and keep developing. Relatively speaking, there will be better protection in terms of service, price, delivery date, and so on.
Here I have pointed out the Verified Supplier logo, which I believe you have probably already seen.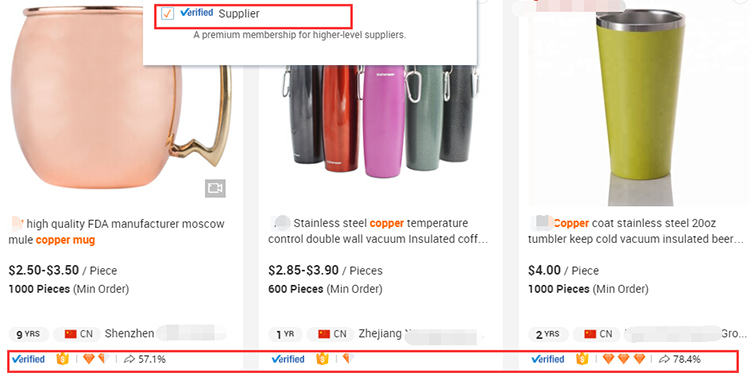 The difference with Gold Supplier is that in order to be a Verified Supplier, the suppliers need to pay around $12,000 each year and accept the factory audit carried out by appointed companies from SGS, Bureau Veritas, or TÜV SÜD. It's much stricter than the on-site check from Alibaba.
After becoming a Verified Supplier, the following display content will be more than that of the Gold Supplier:
Enterprise competency assessment report

Main product certification

180 seconds of factory audit video, etc.

Thus, the supplier who becomes a Verified Supplier will undoubtedly need more comprehensive qualifications and more money, so they are stronger than the Gold Supplier.
3.Can Alibaba Trade Assurance 100% protect you?
Many people who haven't bought goods in Alibaba will think that they will have a third-party guarantee system in place when they buy things on Alibaba, just like on Amazon. Yes, Trade Assurance has provided buyers with plenty of protection, so there's no need to worry about financial issues.
But it does not mean that the company with Alibaba Trade Assurance is 100% reliable. Some companies show high transaction amounts of the Trade Assurance under their products page, sometimes even hundreds of thousands of dollars. I have to remind you, please don't count it as a standard of safety; the quality of the service or product may not as good as the high amount may indicate.
Now you might want to ask me if the transaction amount shows a high amount of Trade Assurance, as shown in the photos above, and are these transactions real amounts accumulated in the Trade Assurance? Like Amazon, it displays many product reviews underneath popular items.

Don't worry, let me explain why the amount of credit displayed is so high, even though the product and the service are not necessarily very good.
The amount of the Trade Assurance order is an important factor affecting Alibaba's ranking. The higher the amount of the Trade Assurance order, the more visible the products published by the supplier will be. Some companies don't have many customers placing assurance orders on their website, so they will definitely find ways to improve their rankings. What should they do?
Well, they'll make some fake orders. The problem is that Chinese local buyers can't place orders in Alibaba, only overseas buyers can. Then how does this get solved? Some smart Chinese suppliers register an overseas company, and in the name of this foreign company, give their stores a letter of credit to accumulate their own credit.
Therefore, don't simply rely on the Gold Supplier and Trade Assurance labels to judge the quality of the supplier. To get rid of unpleasant issues that can occur with the transaction process, we need to weigh the pros and cons of suppliers in all directions.
Because of all my years of experience, I strongly recommend that you communicate with the supplier for product details and services so you can make a comprehensive judgment and choose the right supplier at the early stages of the sampling, proofing, and testing.
4. What types of risks you will usually run into when ordering from Alibaba.
1. Get your payment but don't ship your products.
As many netizens feared, the fraud people experience with paying but not receiving goods has already been mentioned in the first part of this article. I want to remind you that it is just about impossible for this to happen among Chinese suppliers on the Alibaba platform.
2. Low price to attract you but raise the price before placing an order.
If the price is obviously lower than the market price for your inquiry, please pay attention. You will very likely be informed that the confirmed price is unavailable for the order (after you've already established the sample and are ready to order) and that instead, the amount has increased. The way to avoid such a scam is to avoid choosing suppliers who advertise very low prices.
3. low price to attract you but ripe you off on shipping fee.
Do you want to know the truth? There are many low-priced freight forwarders in China that have transit stations comparable to companies like DHL, and they usually require longer transit times. Many Chinese suppliers can get very low shipping prices from such agencies, and then report them to you at a higher price.
4. The sample is good, but send you bulk order mixed with defect products.
The sample provided to you is very good, but sometimes defective products get mixed in with the bulk products. The appearance of these defectives does not seem to be a big problem, but the performance ends up being much worse.
5. Sell fake or infringement products
Alibaba has many suppliers selling branded products at a very low price, such as DJI Drone, mobile phones, and other electronic devices. This kind of product involves infringement issues and is difficult to clear customs. Please don't bank on luck and get sucked into the prices if you don't have a special channel.
6. Agree on Trade Assurance at the beginning, but refuse before you place an order.
Some suppliers just agree to receive payment by Trade Assurance at first. However, when you place an order, they will ask you to make an offline payment and use the lack of payment or handling fee received as excuses. If this happens, don't pay offline because this type of operation is outside of the protection of Trade Assurance from Alibaba.
A few days ago, I specially collected 12 case studies of Alibaba scams and have some practical advice you can use in dealing with them—12 Types of Alibaba Scams Real Case Study.
5. Always get an extra one or two suppliers for backup
When you search for a supplier in Alibaba, you will generally encounter the following two situations:
Situation 1: The price range you see is not the real price. The exact price can only be offered according to your purchasing quantities. It's not like the retail platform Amazon, where the price marked is actually real. The low price you see in the searching area is set by the supplier to attract you for inquiry.
Situation 2: The supplier quotes you at a very low price at the very beginning, talks about the product details, and sends you samples. After two weeks to a month, when you decide to place an order, the supplier tells you the original price isn't available anymore and that they are going to increase your price temporarily.
You will find yourself with the following dilemma: Spend another month looking for suppliers or continue to cooperate with this specific supplier?
You might find yourself to be very passive in this kind of situation so as to avoid waves. For example, if you take another few weeks to look for a new supplier, you might miss out on awesome market sales (special seasonal products), or earn less profit due to the increase in price.
Here's my advice:
Be sure to choose another one or two suppliers as a backup. Don't put all your eggs in one basket! If an unexpected conflict happens to you with one of the suppliers, such as them raising the price temporarily, bad quality of mass production, regularly postponing shipment or any other disputes which affect the lack of supplied goods, you can consider replacing the supplier and avoiding staying stuck in an undesirable place.
6. Avoid these two types of suppliers
1. Hot-selling-type trading company
Such suppliers are generally small Chinese trading companies. When they see popular products, they will upload their product image information to their own Alibaba store, but won't have any stock available.
If you send inquiry to them, they will ask for quotes from the factories where the item was first produced, then add some profit for themselves before offering it to you.
There will be a decent chance that you'll have the following issue: The sample is from Factory A, mass production is from Factory B, and this type of small trading company will definitely select the factory that provides cheaper production prices, which will result in compromising quality.
2. Grocery-type trading company
The disadvantage of this kind of supplier is that they have a variety of products that they offer. For example, the following supplier sells both phone accessories and makeup series. If you are planning to work on a niche product, please look for a supplier that specializes in that individual product category.
If you want to learn more about the types of Chinese trading companies, please check out my previous article: Know 5 Types of Chinese Trading Companies. How to Choose The Best
7. Avoid these types of products
Stay away from these three types of products on Alibaba:
Replica/knock-off/fake products (such as various fake ladies handbags, fake branded watches, fake toys with popular brands such as Disney, etc.).

Branded electronic equipment (PlayStation, Xiaomi, Huawei, DJI, etc.).

Other products that may cause property rights disputes (mimics appearance and performance).
Friends especially from Europe and the United States need to be more careful. In fact, these three types of products are also too risky to be reported off the shelf at Alibaba, which is very unstable.
What's more, you will invite trouble when you are trying to clear customs in your country because your goods will likely be detained. The important point is when you are selling in your national market, you will also encounter infringement or claims issues.
Therefore, if you just buy a few of the above products, you don't need to worry about it much. If you rely on this (imported from China) to make money, you should consider it carefully.
8. A checklist of selecting a reliable supplier on Alibaba
At last, I made a checklist to teach you how to identify and select suppliers step by step.
1. Is the company profile completed?
Check whether there are Gold/Verified Suppliers, Trade Assurance, and other Ali certifications. This is a preliminary screening for Chinese suppliers.
2. The professionalism of product line in store
Check the professionalism of the store's product line to determine if the supplier is suitable as a long-term partner.
In the case of paper straw machines that became popular abroad last year, many small manufacturers started selling this product. For example, with the following store, you can judge from the store name that this is just a supplier of printing machines.
When you search drinking paper straw machine, you will also find that many store names end with tech or machinery, so you could go inside to view their product categories to make a brief judgment.
You can see paper tube machines shown in the catalog. Drinking paper straw machine is just developed at the basis of paper tube machine, that is to mean, this is the supplier who specializes in this type of machine (obviously) and it's the type of supplier you are looking for.
3. The company's display page
Many sellers display related photos about their office, photos of exhibitors, photos of certification, and so on. You may say the photos could be done by Photoshop. I have to say that people cheating with these kinds of photos are few and far between. Suppliers are deemed more reliable if they can provide photos that show themselves in the factory, at a production line, or in small videos.
4. Does Alibaba communication have a timely response?
The response rate on the right side of the page can be viewed.
After you have conducted a preliminary screening based on the information displayed by the supplier's store, you can communicate with the supplier for further understanding.
Usually, you are communicating with the supplier's salesman. Most salesmen have apps that allow them to communicate in real time, such as WhatsApp, Skype, WeChat, etc. A timely-responsive supplier can report your order status in a sensible manner and also solve the problem quickly so that you feel at ease.
5. Professional in their product
You could determine the professionalism of a supplier by asking about the material and functionality of the product. If the sellers can supplement your problems, it can also be assumed that they are well-experienced in this product category.
6. Any updated catalog or product manual?
Many suppliers' product categories are outdated (or not updated) on Alibaba. You can ask the supplier if they have the latest product catalog and product manual. Especially for those products with high professionalism (products like large machines), you need more parameters and details.
For example, a slitter with a speed of only 120m/min and a slitter with a speed of 300m/min can vary in price from thousands to even tens of thousands of dollars. You need detailed product manuals to know more about them.
7. Is it possible to provide their customers' contact information?
Some Ali suppliers are happy to show their customers, but not all suppliers are. Generally speaking, when you ask for their customers' contact information directly, the supplier will reject you in order to retain customer privacy.
You can also ask for the customer's company name or their company website so that you can also understand the strength of their customer base as well as the strength of the suppliers themselves.
8. Do they attend any fairs?
Ask the supplier if they are attending any big exhibitions, such as the Canton Fair. Small suppliers do not invest a lot of money in large-scale exhibitions that can be found in ones like the Canton Fair. Suppliers who can participate in various large-scale or professional exhibitions are generally large and standard.
The above aspects are the preliminary judgments for you to use to screen suppliers in Ali, but you must select the suppliers that can cooperate according to your own product category and business model. These specific details need to be carefully captured during the communication process between you and the supplier.
Catch the two main points that follow:
Under the same product quality, finding a price that is relatively cheaper.

Supplier's attitude towards solving problems.
In fact, most of the time, there will not be problems with no goods being delivered after payment, (do not to be scared by some of the blogs about this issue on Google), since most of them are uncontrollable problems. For example, in the peak season, the factory may have a two- to three-week delay, and logistics will also delay during the holidays.
Suppliers also cannot guarantee 100% smooth-sailing on these force majeure events. The important thing is that when accidents or dereliction of duty in their own business happens, they will take responsibility and communicate with importers in a timely manner and actively seek to solve the problem. After all, no one can guarantee that there won't be any mistakes made.
Therefore, when communicating with suppliers (before placing an order), pay close attention to the attitude of the supplier, including the familiarity with the product, whether they promptly reply to you, and whether they are patient when you're confused and answer you accordingly.
Many people on Google love to summarize some of the criteria for judging suppliers. In fact, in addition to the profiles presented by Alibaba suppliers, the most important thing is to trust your gut when communicating with suppliers.
Now it's Your Turn
I hope you enjoyed my guide to Alibaba.
Now I want to turn it over to you: Which of the tips from today's guide helped you?
Or do you have any other concerns about Alibaba?
Let me know by leaving a quick comment below right now!