"Is Alibaba safe and legit?", "Should I trust Alibaba?", "How trustworthy is Alibaba?". Yes, many new importers have these concerns.
In today's guide, I will reveal the most common risks you might face when buying from Alibaba. More importantly, I share some of the tricks of the trade, including what products cannot be bought, which types of suppliers to avoid, and so on. At the end of the article, a checklist to identify suppliers is attached (8 tips).
I write this guide based on my years of practical experience, and I assure you that full reading brings you a pretty comprehensive understanding of Alibaba. You can click the following links, which bring you to the related content.
Is Alibaba Legit?
The answer is "yes". As the largest wholesale market online, Alibaba.com is legit. And a series of rules are set to regulate sellers being lawfully registered and transactions being legally done on the site.
How legit is Alibaba? Note that "legit" discussed here is more about the "reliability of suppliers" selling through it, not the platform. There're 150,000+ suppliers on Alibaba, and it's really hard to guarantee all are doing business honestly.
Is It Safe to Buy from Alibaba?
Alibaba is safe without any doubt. Every day many transactions are carried out. And Alibaba has regulations and methods to keep online trading safe. So, you don't have to worry about Alibaba's overall environment, either if you buy for personal use or business purposes.
You might have heard some importers complain about similar problems like that "no goods are delivered after payment". This is nearly non-existent. Do not be scared by some blogs about this issue on Google, since most of them are uncontrollable problems. For example, in peak seasons, the factory may have a 2-3 week delay, and logistics will also delay during holidays. Suppliers cannot guarantee 100% smooth sailing on these force majeure events.
When problems occur, buyers usually think it's the responsibility of Alibaba who shall compensate for any loss. This is wrong. Just like Amazon, Alibaba is a platform for buyers and sellers to trade, and can not guarantee each seller is responsible and active in solving buyers' issues.
So, carefully evaluate suppliers before purchasing products. Also, you should consider possible problems in international trade, which is much more complex than the process of placing an order and shipping on Amazon. According to my years of experience, many purchasers buying from Alibaba think:
Alibaba shall compensate for any loss if Trade Assurance service is adopted.
Alibaba Verified Supplier is the most reliable.
And many buyers often complained for the following reasons:
Sellers don't take their orders seriously enough.
Bulk cargo is different from the samples.
High defective rate.
Shipping delay.
Cargo damaged in shipping.
Can't get compensation as they want.
Go on reading, I'll explain them one by one and tell you how to deal with them.
How Safe is Alibaba Trade Assurance? 100% Guarantee?
Trade Assurance has provided buyers with plenty of protection since it came into being in 2015. It's essentially a guarantee system whereby Alibaba acts as the intermediate assurance party. Something like your buying on Amazon.
Typically, suppliers agreeing to accept trade assurance can greatly reduce product quality-related problems. Note that what I am saying is "greatly reduce." Yes, not a 100% guarantee. I believe you must have seen bad reviews about Alibaba product quality, like mass production not aligned with approved samples. Such problems can cause even bigger headaches than not receiving goods after you paid for them because they result in unexpected troubles.
So don't rely on Trade Assurance to judge it trustworthy to buy from suppliers. It's not as easy as getting refunded on Amazon. A successful refund is built on strong evidence against clear requirements specified in the order. Even if you finally make it, think about the time and energy spent on the dispute. Not to mention possibilities you may not get refunded as expected.
Can You Fully Trust "Verified" Suppliers on Alibaba?
Now there're only verified suppliers on Alibaba. Alibaba gold supplier membership has been offline since September 2021.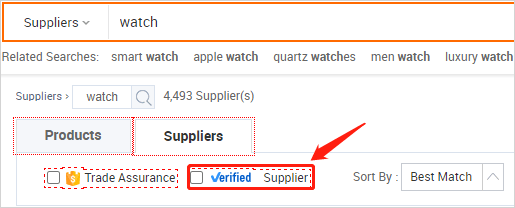 Verified Supplier is just a member label of Alibaba. We have written so many articles and never mention it is a criterion to judge whether or not Alibaba suppliers are reliable. Why?
Because most of the suppliers are verified doesn't mean they are 100% creditable. Suppliers who have paid the fee ($12,500/year in China) can be verified members, as long as they go through independent third-party inspection. That is not as difficult as you think. For Alibaba, it's part of the income. While for suppliers, it's a marketing expense that can bring them more traffic. The more fees they pay, the more rights they enjoy.
In short, you can not simply think all is well after finding a "verified" supplier. The label has no relation to the supplier's quality assurance.
Three Case Studies – Alibaba Reviews and Truths Behind Bad Ones.
On Trustpilot, you can see 17K+ reviews of Alibaba.com and the website rating is 4.1. There are many bad reviews, which make some buyers confused. Don't worry too much about this. Just like you can't satisfy everyone, no matter how good you are, there must exist Alibaba complaints. You should have reservations about bad reviews.
I Got Scammed on Alibaba – Goods Got Damaged in Shipping.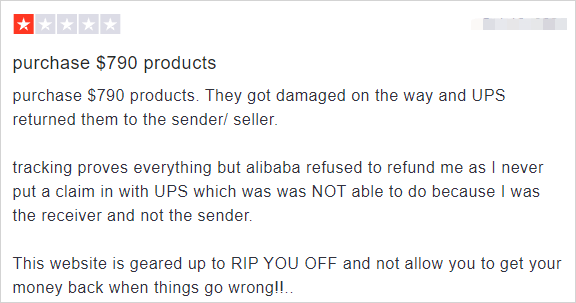 In this case, the logistics company UPS is responsible for that. Then how to handle it?
If the buyer arranges the shipping
The buyer could directly turn to UPS for his claim and further communicate about how much should be compensated until a solution is reached.
If the seller arranges the shipping
The right way is to directly ask the Alibaba seller, and he will negotiate with UPS about it. In general, Alibaba suppliers will pay you back for goods payments and freight charges, if you ask for a refund. But if you still want this batch of goods, he will resend it to you. That is to say, the logistics company will pay for it, but the seller pays you back first and then makes a claim against the logistics company.
So, all these have nothing to do with Alibaba. The truth behind this bad review is the logistics company UPS should accept responsibility for the damage, whether the buyer uses trade assurance service or not.
I Got Scammed on Alibaba – Bulk Cargo Differs from The Sample.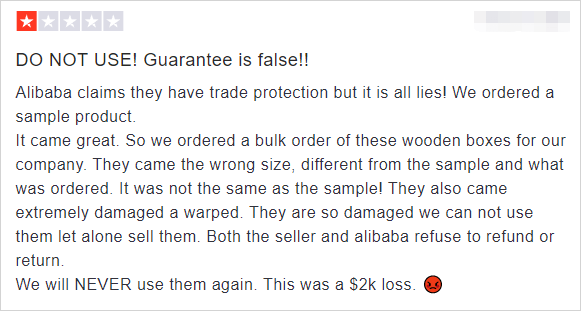 For the issue of cargo damage in shipping, I do not repeat it. Refer to the above analysis.
Another problem is that bulk cargo differs from the sample product. To be honest, this happens frequently. Given insufficient information said in the review, we can not judge the responsible party, but we should pay attention to 2 major reasons causing such an issue.
1. The sample is not well confirmed.
Sample confirmation cannot rely solely on photos and videos. The right way is to confirm each detail from appearance design to specific parameters with the supplier. Specify all the details very clearly in the sample report, especially in the purchase of electronic goods or products with many parts. Buyers can't be careless, even with simple small items.
If you're careless and miss items to be confirmed, most suppliers are not likely to think of these things for you. What they expect is that you are satisfied at once without modifying the sample. Suppliers follow up the orders from different clients simultaneously and can't focus all their attention on your order, especially when your order is small.
2. Product specs and parameters are not specified clearly in the purchase contract.
When creating a trade assurance order, the first step is to fill in the product information including the quantity, color, size, or even customization specifications. You have to think of all possible misunderstandings, like the "wrong size" mentioned in the review. What's the standard of "wrong size", zero error, or an allowable range of error?
Note: there will be a certain degree of discrepancy for some products measured by hand or custom-made. Make sure all these are clear and covered in the contract. Otherwise, when the size goes wrong, it is difficult for Alibaba to judge who is responsible from just several pictures instead of written evidence.
My Advice
Carefully confirm samples. Never think "almost the same" is OK. Like documents drafted by lawyers, each clause can be evidenced and clearly define the responsibilities and obligations of both parties. Once the sample is not approved clearly, massive production is probably not what you expected. In case of disputes, it'll be difficult to get a refund successfully, even though you spend a lot of time and energy.
I Got Scammed on Alibaba – Purchased Patented Products Unable to Sell.
Review background information in brief: a US seller saw the stuffed octopus toy selling well ($39) on Amazon and found the wholesale price on Alibaba is only $4. He considered it a good business and bought 500 toys from an Alibaba supplier in China.
The original review is too long. Let me summarize the main issues briefly: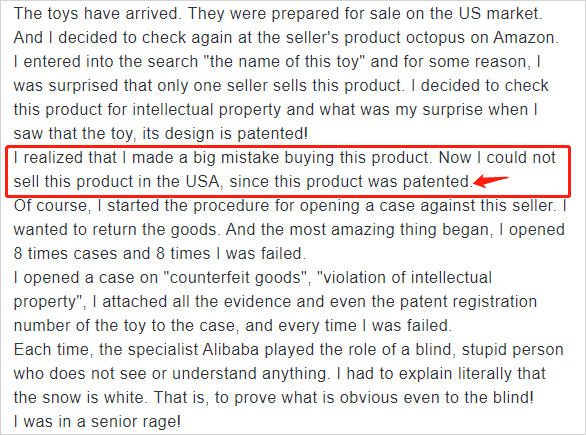 The issue shown in the image above is an infringement of the toy appearance design patent.
The buyer should check this product for the intellectual property before ordering. You can't expect suppliers to verify that for you, all they care about is how much product they sell to you. So, before selecting any product, you should think about whether it involves infringement first. Like one of our clients, he found his product's appearance design to be patented, talked to us, and adopted our advice of appearance changing to avoid infringement.
For the buyer, it's a loss, as he couldn't sell patented toys on Amazon. So you should pay more attention to infringement. Especially when you import toys to sell on Amazon, which is a sensitive product category often involving infringement issues, although the market is huge and profit is high.
Such infringement issues happen frequently. Then how to deal with it?
Check that by yourself first. Type the English name of your desired product in Google patent to see if there is a registered patent. But that may not be very comprehensive. You can ask the patent agent for help.
If it infringes upon Design Patent (usually product appearance or packaging), you can make adjustments to avoid infringement. Remember to observe images in the patent, and ensure your adjustment solution differs from the solid line part, which is protected by the design patent. The broken line defines the bounds of the claimed design.
If it infringes upon Utility Patent, it's more complex and harder to avoid. You can find professional patent agents to handle, but that is likely to fail.
Check more Alibaba deceptions or watch our target YouTube video for a general overview and get tips to be safer when buying from Alibaba. And we have other practical tips for you to avoid some common mistakes in wholesaling from China.
Top 5 Risks Against Buying Safely from Alibaba.
Many newbies are highly concerned about potential risks and want to have a rough idea for better risk aversion. To this end, I list the 5 most common types. Let's have a quick view.
1. Low price to attract you but raise the price before placing an order.
Always pay attention whenever the price is lower than the market price for your inquiry. You're likely to be informed that the confirmed price is unavailable for the order (after you've already established the sample and are ready to order) and that instead, the amount has increased. The way to avoid such a scam is to filter out suppliers who advertise very low prices.
2. Low price to attract you but ripe you off on shipping fee.
Do you want to know the truth? Many low-priced freight forwarders in China have transit stations comparable to big firms like DHL, and they often require longer delivery times. Many Chinese suppliers can get very low shipping prices from such agencies, and then report them to you at a higher price to offset "low product price". You'll undergo a longer shipping time.
3. The sample is good, but send you a bulk order mixed with defective products.
The sample provided to you is very good, but sometimes defective products get mixed in with the bulk products. The appearance of these defectives seems to be not a big problem, but the performance ends up being much worse.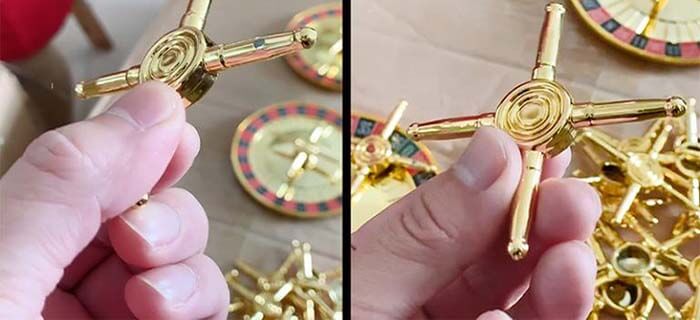 5. Sell fake or infringement products
Alibaba has many suppliers selling branded products at a very low price, such as DJI Drone, mobile phones, and other electronic devices. This kind of product involves infringement issues and is difficult to clear customs. Please don't bank on luck and get sucked into the prices if you don't have a special channel.
6. Agree on Trade Assurance at the beginning, but refuse before placing an order.
Some suppliers just agree to receive payment by Trade Assurance at first. However, when you place an order, they will ask you to make an offline payment and use the lack of payment or handling fee received as an excuse. If this happens, don't pay offline because it's outside of the protection of Alibaba Trade Assurance.
The above is focused on analyzing Alibaba's security, possible traps, and risks, plus case analyses. As you can see, Alibaba itself has no big problems. Major disputes and issues come from Alibaba sellers. Supplier quality directly determines whether buyers will encounter maddening issues. So next, I will talk more about Alibaba suppliers, including which types to avoid, how to select suppliers, and a checklist to help you find safe suppliers on Alibaba.
Verify Credible Suppliers | First Step to Not Get Scammed on Alibaba.
To get rid of unpleasant issues that can occur with the transaction process, it's a must to weigh the pros and cons of suppliers in all directions. Because of all my years of experience, I strongly recommend you to communicate with the supplier for product details and services. So be sure to make a comprehensive judgment and choose the right supplier at the early stages of the sampling.
Catch the main point – supplier's attitude towards solving problems. When communicating with suppliers (before placing an order), pay close attention to the supplier's attitude, including the familiarity with products, whether they promptly reply to you, and whether they are patient when you're confused and answer you accordingly. Problems are inevitable, so it is important to find a supplier who takes your order seriously and actively solves issues.
Dos and Don'ts When Verifying Suppliers on Alibaba.
Don't think top-ranked suppliers are always good when searching on Alibaba, as it's often based on expensive ad-rate, different from Google.
Select suppliers with longer operation periods. Preferably more than 5 years. It's displayed along with the logo.
Always focus on whether the supplier could make products as required and offer an acceptable MOQ plus price.
Don't go crazy about finding a factory. It's up to your business scale. As for small businesses, traders are suitable.
Select suppliers with trade assurance to protect your payment.
Always Get Extra 1-2 Suppliers for Backup.
When you search for a supplier on Alibaba, you will generally encounter such situations as a rise in price halfway, attitude not so good as before, more defective products, or delivery delay after cooperation for some time.
You will find yourself with the following dilemma: Spend another month looking for suppliers or continue to cooperate with this specific supplier?
You might find yourself very passive in this kind of situation. For example, if you take another few weeks to look for a new supplier, you might miss out on awesome market sales (special seasonal products), or earn less profit due to the increase in price.
My Advice
Be sure to choose another one or two suppliers as a backup. Don't put all your eggs in one basket. If an unexpected conflict happens to you with one of the suppliers, such as the price raising temporarily, bad quality of mass production, regularly postponing shipment, or any other disputes which affect the lack of supplied goods, you can consider replacing the supplier and avoiding staying stuck in an undesirable place.
Two Types of Suppliers That Must be Avoided.
1. Hot-selling-type trading company
Such suppliers are generally small Chinese trading companies. When they see popular products, they will upload their product image information to their own Alibaba store, but won't have any stock available.
If you send an inquiry to them, they will ask for quotes from the factories where the item was first produced, then add some profit for themselves before offering it to you.
There will be a decent chance that you might encounter the following issue: The sample is from Factory A, mass production is from Factory B, and this type of small trading company will definitely select the factory that offers cheaper production prices, which will result in compromising quality.
2. Grocery-type trading company
The disadvantage of this kind of supplier is that they have a variety of products that they offer. For example, the following supplier sells both phone accessories and makeup series. If you are planning to work on a niche product, please look for a supplier that specializes in that individual product category.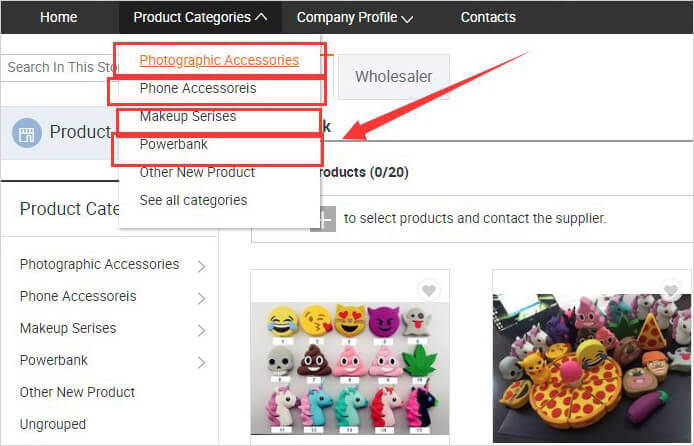 Key Know-how to Make You Safer to Order from Alibaba.
Avoid These Types of Products.
Stay away from these three types of products on Alibaba:
Replica/knock-off/fake products (such as various fake ladies' handbags, fake branded watches, fake toys with popular brands such as Disney, etc.).
Branded electronic equipment (PlayStation, Xiaomi, Huawei, DJI, etc.).

Other products that may cause property rights disputes (mimics appearance and performance).
Friends especially from Europe and the US need to be more careful. In fact, these 3 types of products are also too risky to be reported off the shelf at Alibaba, which is very unstable.
What's more, you will invite trouble when you are trying to clear customs in your country because your goods will likely be checked and detained. The key point is when you are selling in your national market, you will also encounter infringement or claims issues.
Therefore, if you just buy a few of the above products, you don't need to worry about it much. If you rely on this (imported from China) to make money, you should consider it carefully.
Select the Safest Way to Pay on Alibaba.
The first coming to our mind is the widely used Paypal. It's safe, as you can apply for a refund when facing such issues as poor quality. But the processing fee is high and not all Alibaba suppliers accept this way, especially for large orders. Check our PayPal guide to learn more.
Besides, choosing the trade assurance service is the safest way to pay on Alibaba, no matter large or small orders. Just like PayPal, you can open a dispute if there is something wrong with the product, and Alibaba will mediate and deal with the dispute.
Moreover, trade assurance support many kinds of payment methods including Credit Card, T/T(Bank Transfer), Online Bank Payment, Online Transfer, Western Union, PayLater, and Boleto.
Select a Reliable Freight Forwarder for Alibaba Shipping
Just like the selection of suppliers, it's not easy to choose a good one from thousands of freight forwarders. Reliable forwarders can keep you safe and save a lot of concerns and unexpected follow-up troubles.
My Advice
You can opt for freight forwarders you're familiar with, instead of asking your supplier to arrange shipments. If you don't have your own forwarder and have no experience, you'd better ask your supplier to do that for you. The premise is that he is a good supplier.
Because it's challenging to screen out forwarders by yourself. Many forwarders are not so friendly to new importers, such as high quoting, high measurement size and weight, longer shipping time, etc. And if the freight forwarder is Chinese, it's not easy for you to communicate in the case of follow-up issues.
So, it's a good option to let your supplier arrange to ship. At least he can help you coordinate when issues happen in transit, and compensate your losses in advance. Even if some sellers may ask a little bit higher price. In fact, the supplier wants to have long-term cooperation with you, so generally, he would not offer you a high freight quote. Don't worry too much.
Or click the button below to leave a message, as Jingsourcing experts can offer shipping solutions in line with your demand.
A Checklist to Find Safe Suppliers on Alibaba.
At last, I made a checklist to teach you how to identify and select suppliers before ordering.
1. Is the company profile completed?
Check whether there are Trade Assurance, factory, and product certificates, plus other Ali certifications. This is a preliminary screening for Chinese suppliers.
2. How specialized is the supplier's product line?
Check the professionalism of the store's product line to determine if the supplier is a factory or trading company.
In the case of paper straw machines that became popular abroad, many small manufacturers started selling this product. For example, with the following store, you can judge from the store name that this is just a supplier of printing machines.

When you search "drinking paper straw machine", you will also find that many store names end with tech or machinery, so you could go inside to view their product categories to make a brief judgment.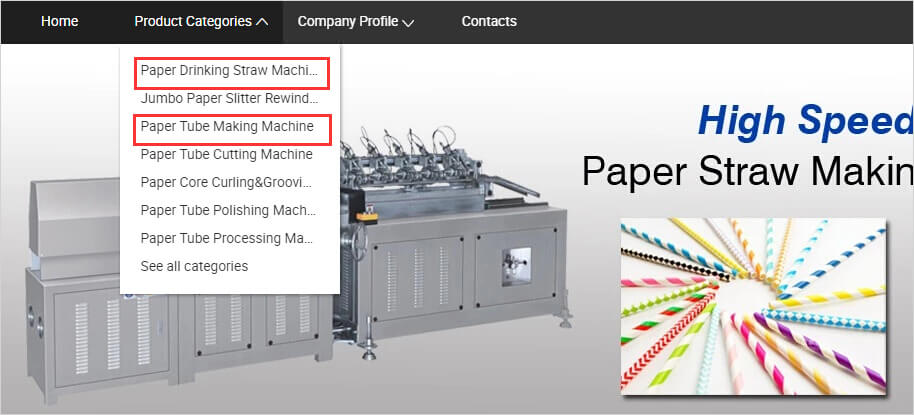 You can see paper tube machines shown in the catalog. Drinking paper straw machine is just developed based on the paper tube machine. That is to say, this is the supplier specializing in this type of machine (obviously) and it's the type of supplier you are looking for.
3. Is the company's display page information detailed?
Many sellers display related photos about their office, photos of exhibitors, photos of certification, and so on. You may say the photos could be done by Photoshop. I have to say that people cheating with these kinds of photos are few and far between. Suppliers are deemed more reliable if they can provide photos that show themselves in the factory, at a production line, or in small videos.
4. Does Alibaba communication have a timely response?
The response rate on the right side of the page can be viewed.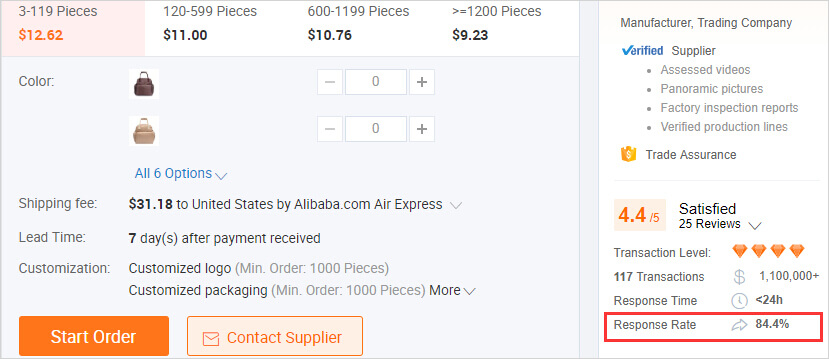 After you have conducted a preliminary screening based on the information displayed by the supplier's store, you can communicate with the supplier for further understanding.
Usually, you are communicating with the supplier's salesman. Most salesmen have apps that allow them to communicate in real-time, such as WhatsApp, Skype, WeChat, etc. A timely-responsive supplier can sensibly report your order status and also solve the problem quickly so that you feel at ease.
5. Are suppliers professional in their products?
You could determine the professionalism of a supplier by asking about the material and functionality of the product. If sellers can supplement your problems, it can also be assumed that they are well-experienced in this product category.
6. Any updated catalog or product manual?
Many suppliers' product categories are outdated (or not updated) on Alibaba. You can ask the supplier if they have the latest product catalog and product manual. Especially for those products with high professionalism (products like large machines), you need more parameters and details.
For example, a slitter with a speed of only 120m/min and a slitter with a speed of 300m/min can vary in price from thousands to even tens of thousands of dollars. You need detailed product manuals to know more about them.
7. Is it possible to provide their customers' contact information?
Some Ali suppliers are happy to show their customers, but not all suppliers are. In most cases, the supplier will reject your inquiry for their customers' contact information to retain customer privacy.
You can ask for the customer's company name or their company website so that you can also understand the strength of their customer base plus the strength of suppliers themselves.
8. Do they attend any fairs?
Ask suppliers if they are attending any big exhibitions like Canton Fair. Small suppliers do not invest a lot in large-scale exhibitions that can be found in ones like Canton Fair. Suppliers who can participate in various large or professional exhibitions are generally big and standard.
The above aspects are preliminary judgments for you to screen Alibaba suppliers. You must select those who can cooperate according to your product category and business model. These specific details need to be carefully captured in the process of communication.
Focus on 2 key points as follows:
Under the same product quality, finding a relatively cheaper price.
Supplier's attitude towards solving problems.
As mentioned above, the supplier's attitude is important, especially when accidents or dereliction of duty in their own business happens. If so, responsible suppliers would contact importers on time and actively solve problems. After all, no one can guarantee there won't be any mistakes made. One practical tip is to trust your gut when communicating with them.
Relevant blogs & YouTube videos about buying from Alibaba, click to start further reading:
Now it's Your Turn
In short, Alibaba is legit and safe. I hope you learned something new or enjoyed brushing up on your knowledge of safer Alibaba purchases. If you have any further questions, just feel free to CONTACT US.
Now I want to turn it over to you: Which tips mentioned in today's guide helped you? Or do you have any other concerns about Alibaba? Let me know by leaving a comment below right now!