Alibaba is the world's biggest directory of suppliers including factories, with an amazing range of tools and services available to take your international trade to the next level.
In this post, we are going to focus on how to find the best suppliers on the Alibaba RFQ (Request for Quotation). Using the RFQ tool, we will be able to have factories come to us and be able to pick out the best option.
We will then cover how to use RFQ and communicate with those suppliers. This gives you a good option to ensure a perfect fit for your product or project.
1. What's Alibaba RFQ? What's the Best Benefit?
Alibaba RFQ (Request for Quotation) is a service provided by Alibaba to global buyers to post buying requests and manage all quotations on the RFQ service platform.
How Does Alibaba RFQ Work?
It is quite easy to post an RFQ from the buyer's end. All you have to do is to register an Alibaba account, go to the RFQ page, fill in the RFQ form then click the "submit RFQ" button.
Once an RFQ is submitted, firstly it will be reviewed by the Alibaba industry expert before it is posted and released to the RFQ marketplace and matched to a suitable supplier.
The suppliers on the other side will be able to search and find relevant RFQ according to the product name, or category. If your RFQ intrigues the interest of the supplier, they will quote you through the RFQ platform. Then you can review, compare and manage all the quotations.
Is It Free to Use RFQ Service?
There are two RFQ service types.
Free RFQ service — it allows for at least 10 quotations from 10 different suppliers.
Paid RFQ service — the buyer can choose value-added services to pay an extra USD 9.99 for the Urgent Request or USD 2.99 for Extra Quotes to get 10x quicker or 2x more quotes from suppliers.
A Paid RFQ will also be rated as a Quality or Priority RFQ by Alibaba in the RFQ marketplace. That is to say, the suppliers will respond more actively.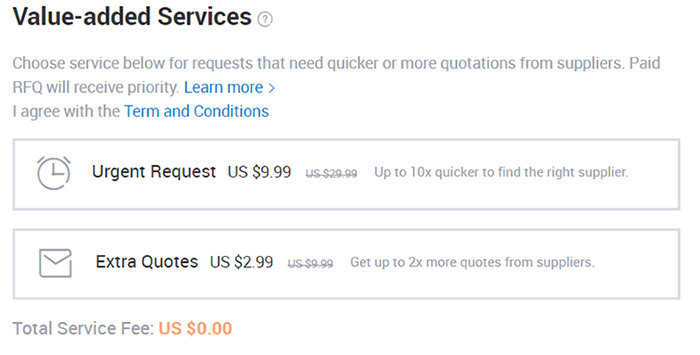 What is The Best Benefit of Using RFQ Service?
1. Faster Supplier Response.
If you search for suppliers directly on Alibaba, it may take you hours or days to develop a long list of suppliers for inquiries one by one; some of them may even not reply. While a quality RFQ can attract suppliers to come to you and generate 10-15 quotes just within minutes.
2. More Convenient Price Comparison.
If you inquire 20 suppliers, you'll probably get 20+ emails flooding in from suppliers, and need to check one by one. However, on the RFQ platform, you can easily check and compare all quotations just on one page to review them all.
3. More Proactive Supplier Service.
Suppliers coming from RFQ service are proactive to compete for your orders. They'll also follow up closely after the quotation, trying to establish good relations with you.
Among those 10 or more suppliers, you can easily select 2-3 suppliers to continue with the conversation and order samples for the next step after comparing all quotes.
2. Alibaba RFQ vs. Direct Search of Suppliers.
Alibaba RFQ is kinda like inviting bids — you post the buying request and suppliers will be bidding for it. The RFQ tool lets suppliers come to you.
Direct search is a more active way to find suppliers. Generally, you'll review suppliers' company information and select those looking good to contact them one by one. In this way, you do an initial supplier screening before working on the prices.
However, under the RFQ mechanism, there is no prior supplier screening, as you'll only know which type of supplier provides the quotes at the time of receiving the quotation file. You'll find some of the quotes coming from middlemen, a few of them from manufacturers. If you are unsatisfied, you can launch another round of RFQ until you find the one you are willing to do business with.
Which is better? It's up to your needs.
If you value the quality of suppliers over prices, you could try RFQ service to quickly get in touch with multiple suppliers, then select 2-3 good ones for further evaluation.
If you want to get the most competitive price in the very beginning, it is more advisable for you to search for suppliers directly on Alibaba.
Last but not least, you can combine the RFQ tool and direct search to find suppliers you want.
3. How to Use RFQ to Get Best-matched Suppliers?
When you post a buying request through RFQ, once approved by Alibaba's industry expert, it will be released to the RFQ marketplace. How to stand out from millions of RFQs and attract quality suppliers is key to the success of finding the best-matched suppliers using RFQ service.
In this section, we'll show you how to develop quality RFQs through a real case. Talking with our friend Anna, an Amazon Seller in the USA, she's willing to share her RFQ experience. Once she was looking for stainless wine tumblers and she'd like to post an RFQ to collect quotes. As Anna told us, she received 10 quotes within just 10 mins; below is how she started her story.
Step 2: Complete the RFQ form as shown below.
Note, here are some tips to make your RFQ more attractive to suppliers.
1. Specify your product name or category, specifications, and quantity. A precise product name or category can make it easier for suppliers to find your RFQ in the market. Also, there will be a MOQ requirement for Alibaba suppliers, which can vary from $1,000 – $3,000. If the quantity is too small, good suppliers will get less motivated to send quotes.
2. Upload photos of products you are looking for. With product photos, it will be more convenient for suppliers to see whether they have or produce the same products you require.
3. Main content is the most important part for suppliers to analyze your buying needs and rate this RFQ as a priority or not. We'll go into more details about this part in the following.
Step 3: Submit RFQ by Clicking the Submit Button.
As mentioned earlier, there are free and paid RFQ services, you can choose one type to best suit your current buying needs. In Anna's case, she chose the Free RFQ service.
She also clicked "I agree to share my Business Card with quoted suppliers", which means the suppliers can get all of her contact information-Email and Phone, as well as her registered company information, etc. With the contact info, suppliers are able to send her follow-up emails after quoting through the RFQ platform.

Step 4: Check Quotations in the Message Center of RFQ Dashboard.
As you can clearly see, you can find all the supplier contacts and quotations in your message center and start reviewing them one by one.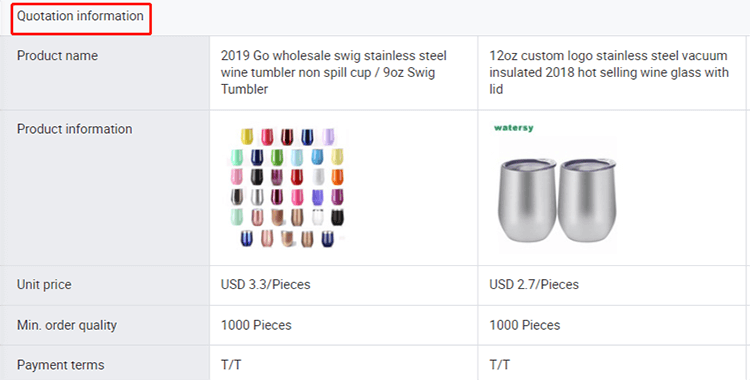 Step 5: Select Suppliers for the Next Step.
After reviewing the quotes and supplier profiles, if you're satisfied with 2-3 suppliers, you can talk with them directly either for further price negotiation or to collect samples to check quality.
If unfortunately none of these prices are acceptable, as said earlier, you can either launch another round of RFQ or try sending inquiries directly on Alibaba. The next step is up to you.
Step 6: Close an RFQ if You don't Want to Get Any Quotes.
You can directly go to Alibaba "Message Center", click the drop-down button, and switch to RFQ.
Find the RFQ you want to close and click "Close" to end it.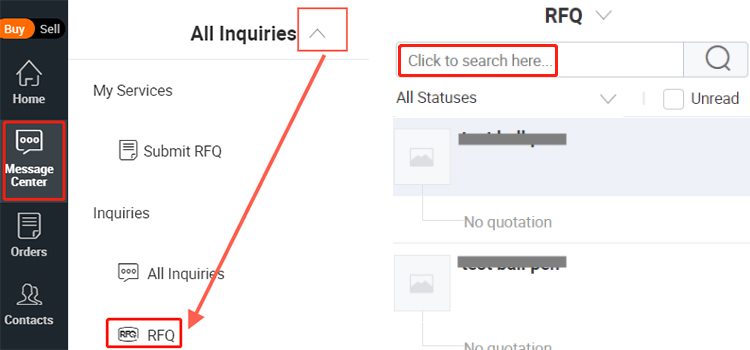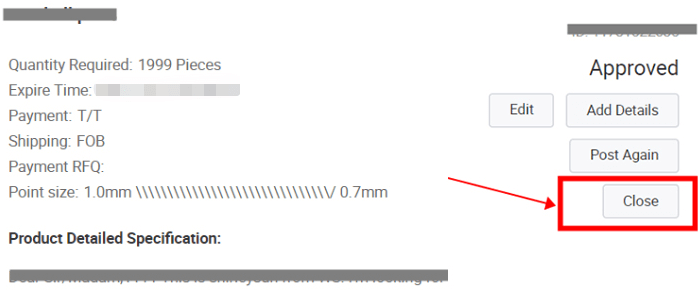 Flowchart for Using Ali RFQ to Find Suppliers
4. Practical RFQ Template to Find Best-matched Suppliers.
As the above case shows, it is really efficient for Anna to get 10 quotes within 10mins. However, this is not the usual situation. Each supplier can only reply to 20 RFQ per month for free. If they want to reply more, they need to pay extra money. This is why the better suppliers are, the pickier they are when selecting RFQs to reply. Therefore, you need to write quality RFQ content to attract quality suppliers. It is the key to a successful RFQ.
With the approval of Anna, we'd also like to share with you the content she wrote for another product, and help you analyze why it is a well-written one.
RFQ Sample Template
This is Anna, selling on Amazon in the USA. I'm looking for silicone collapsible coffee cups. (1)
I'd like to place a trial order for the cups within the following requirements,
Capacity: 500ml.
Colors: light blue, quartz pink, grass green, as shown in the below image.
Features: quickly collapses into an airtight, leak-proof disc (height 2 inches x diameter 4 inches). And straw is collapsible, removable, and reusable.
Materials: food-grade silicone and recyclable materials, without BPAs, phthalates, or leads.
The initial quantity should be around 1,000 to 3,000 pcs, based on your price. I'd also want my brand logo to be
screen printed
in the below 2 places. If the quality is good, I'll double or triple the order quantity after this batch.
(2)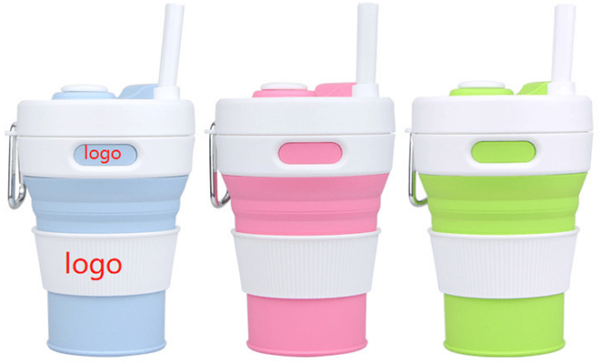 I want to customize my own design boxes, so please let me know what's your condition for custom packaging, and what types of packaging are available. (3)
If you can help me arrange sea shipping, please quote the delivery cost to the following address in the US. I will decide whether to use my freight forwarder or yours. (4)
33333 Lyndon B Johnson Fwy, Dallas, TX 75421. (5)
Thanks.
Anna
Why Is It a Good RFQ?
The sample is detailed, consisting of 5 paragraphs, with each stating one key point.
1. Introduce yourself and specify the product you are purchasing in the first paragraph in a clearest and concise way. You can also mention your company name here.
2. Include important product specifications (e.g. materials, dimensions, colors, function requirements) and customization if you need, such as a customized logo via screen printing in this case. Another important matter is to specify the quantity you are purchasing. If it is a trial order, you can also state you'll increase the quantity in the future.
3. Talk about packaging. Some suppliers will quote you a low product price at first, then add a high packaging cost later. By discussing customizing packaging on Alibaba, you can also leave out suppliers who cannot offer personalized packaging.
4. Ask about the shipping cost. If you indicate to the supplier that you have your own freight forwarder, it demonstrates that you are a professional buyer, chances are the supplier will not rip you off on the shipping fee.
5. Detail the address. If you'd prefer the supplier to help ship the products by sea to a specific place in your country, then the supplier's freight forwarder will need a detailed address to calculate an accurate shipping cost.
In summary, product specifications, quantity, packaging, and shipping costs are all important aspects in order for a supplier to give you a relatively precise quote. Besides this information, you can also include other questions you'd like to ask before submitting the RFQ. In this way, it'll also be easy for you to identify professional suppliers by reviewing their responses to your questions.
5. Factory vs. Trading Firm — Which RFQ Supplier Type is Better?
Many tutorials teach you to work with factories for the lowest price. This is not right.
First, Choosing Factories or Trading Firms is Up to Your Business Scale.
If you are a small business, you'd better choose trading companies whose MOQ is easy to reach. By contrast, factories usually require a much higher MOQ. Besides the lower MOQ, trading companies have other advantages when compared with manufacturers, for example, more product choices.
If you specialize in just one product type and just need that from one supplier, choosing a factory is OK, as long as you can reach the MOQ.
Note: many Alibaba suppliers claim to be factories. This means that you need to spend a lot of time identifying real factories. Here I suggest that newbies had better focus on whether the supplier's MOQ, product quality, and price can meet expectations, instead of spending too much precious time finding factories.
Sometimes, Trading Firms Can Offer a Lower Price than Factories.
The price of factories is lower than trading companies in most cases, but not all. For your better understanding, I list below 2 situations and analyze why it happens.
Situation 1
Trading companies sacrifice a certain amount of tax refunds while factories don't do that, so the quotes offered by trading companies can be lower.
Why can't factories give up part of tax refunds? Sometimes it's not that factories don't want to do it, but that they dare not cut too much profit due to their high operating cost, including workers, equipment, etc. This cost is far higher than trading companies'.
As for trading firms, chances are that they may sacrifice some profits on this batch of cargo and earn it back on another batch.
Situation 2
Some factories indeed give the trading company a favorable product price, which is lower than the bottom price given to the factory's own sales representatives.
Why is that? For some factories, the trading company brings them stable orders and accounts for a large proportion of their annual turnover, so they would like to give the trading firm a very good price. For the same reason, the factory managers won't allow their own salesmen to offer a lower quote if the order is not large or stable enough.
6. Five Principles to Identify the Best among all RFQ Suppliers.
Always remember that price does not mean anything unless the supplier can deliver what you want. So what to look for when evaluating suppliers? Let's look at the key points below.
1. Pay Attention to the Experience & Communication Skills of Suppliers.
Besides the number of years that a supplier is established, you shall also look at how a supplier responded to the questions mentioned in RFQ. For experienced sales, they will not only answer your questions in a professional way but give you recommendations even before you ask.
2. Know Suppliers' Attitude towards Problems & Ways of Solving Them.
International trade is much more complex than the process of placing an order and shipping on Amazon. As for Alibaba purchases, you should consider possible issues and risks, such as defective rates beyond the acceptable range, shipping delays, cargo damaged in shipping, etc.
The most important thing is to find good suppliers, who are responsible and active in fixing issues, especially when accidents or dereliction of duty in their own business happen. Responsible suppliers will contact you in time and work out solutions once problems arise, instead of avoiding responsibilities.
What I suggest is that you should pay close attention to the attitude of suppliers, including whether they promptly reply to you, and whether they're patient when you're confused and answer you accordingly. One practical tip is to trust your gut when communicating with them.
3. Opt for Suppliers Offering "Trade Assurance" Service.
Once you place an order with suppliers under trade assurance service, you can get payment protection if suppliers break the on-time shipment or product quality terms of your contract.
For that reason, most suppliers would take your order seriously enough, especially in terms of product quality and shipment date. When suppliers fail to meet your quality standards specified in the contract, you can open a dispute and apply for a refund.
Here you need to know that the successful refund is built on sufficient evidence against clear requirements specified in the order. Getting a refund on Alibaba is not as easy as on Amazon.
4. Select Suppliers Located in the Industry Cluster of Certain product Categories.
For experienced buyers, they have an industry map in their minds. Taking the stainless wine tumbler case as an example, most of the suppliers are concentrated in areas of Wuyi, Yongkang, Zhejiang province. If the supplier comes outside these areas, you can at least have a look at their quotes and profiles, then decide if to proceed further.
5. Avoid Trusting "Verified Supplier" too much.
Keep in mind that verified suppliers ≠ 100% reliable suppliers.
Verified Supplier is essentially a paid Alibaba membership, without any relation to the supplier's quality assurance. After paying the fee and going through an independent third-party inspection like SGS, any supplier can be verified, such as a trading company with only a couple of people. Becoming a verified supplier is not as difficult as you think.
7. Ask for and Check Samples, Then Balance the Price and Quality.
If you are satisfied with 2-3 quotes, you can get in touch with the suppliers and start asking for samples to compare the quality.
The sample is a good reference for buyers to preliminarily judge whether the product meets their requirements and expectations, including product structure, quality, style, production technology, etc.
For example, when considering the wholesale of fashion jewelry, some buyers might want to look at the sample items processed by different surface treatment methods (e.g. gold plating, polishing, sandblasting). And then choose the items that look good and with an acceptable price to further communicate with suppliers.
Once receiving samples, you should,
Carefully observe the sample's outer appearance and use it to test product functions.
Check product compliance information. Especially when your target market is in the US and EU, it is very essential to make sure the product is in line with the local safety standards and regulations.
After that, you can have a more comprehensive consideration before deciding on one supplier to work with.
To Wrap It Up
Alibaba RFQ is a powerful tool for buyers to source suppliers quickly. I hope you can benefit a lot from this post and know how to use the RFQ service to get the best-matched suppliers. If you think today's post is helpful, share it with your friends or on your social media. Should you have any further questions, just let me know by leaving comments below.
We are a leading sourcing company in China and have rich experience in dealing with Chinese suppliers. Our main business is to help clients source good Chinese suppliers and products at the most competitive price. Besides that, we also provide private label solutions, graphic design, and shipping solutions. Contact us if you need us to support your sourcing project.
Click Relevant Guides to Smooth Your Wholesale Experience on Alibaba: