Alibaba is the most well-known Chinese online B2B marketplace, with millions of users active on this legit and safe website. And sourcing from Alibaba is always the first choice for buyers. They can find manufacturers on it directly with the most competitive price. But many buyers are wondering whether there are any other similar sites to Alibaba, or if they can source products from their local B2B websites like Alibaba.
There are many guides on Google classifying many retail and dropshipping sites like Amazon, eBay, Salehoo, Doba into similar sites to Alibaba. But as we all know, Alibaba is a genuine B2B platform. Suppliers on it are manufacturers and traders, not retailers. So, in my post, I will select the following 22 Alibaba alternative websites. Click to jump to the part you want to read.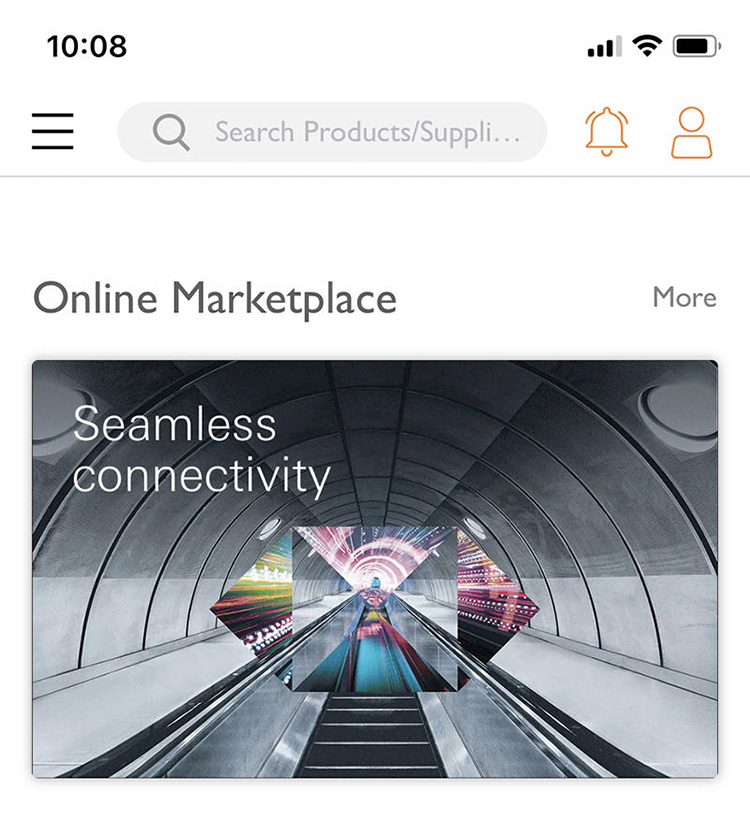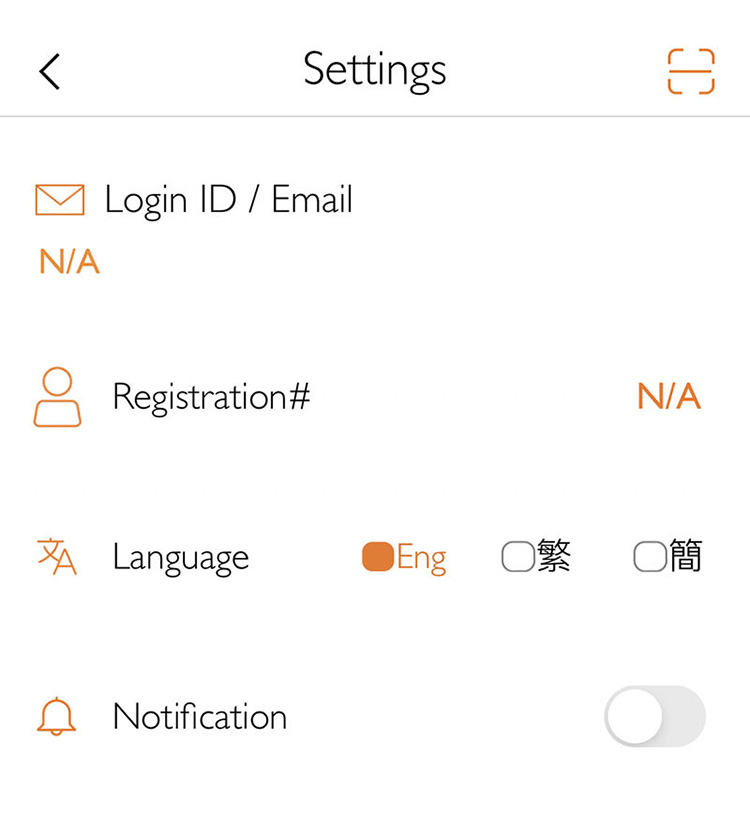 Launched by China Internet News Center, it is a relatively authoritative and honest B2B e-commerce online trading platform. You can find real manufacturers and types of trading companies on it. The language barrier is small when using this website, as it has an English version.
Compared with Alibaba, it just lists the products and suppliers but with limited information. Thus, in most cases, if you want to know more information, you need to have more detailed communication with the supplier.
According to my experience, you can get more choices through searching for products than searching for suppliers directly.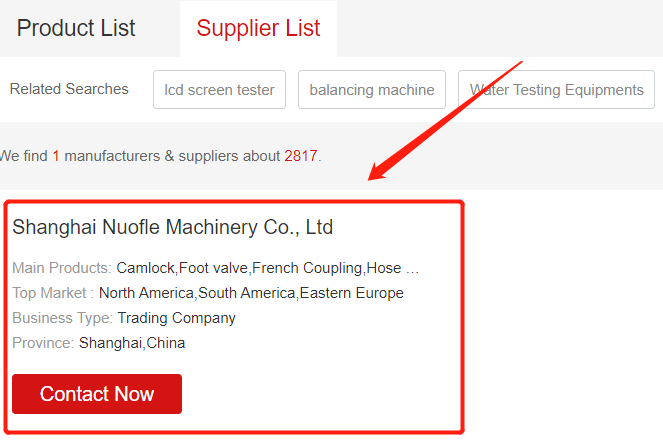 ECVV is an online B2B platform in Shenzhen, China. Its main product category is machinery, equipment, hardware, building materials, lighting, transport electronics, electrical appliances, etc. Product and supplier information provided by ECVV is quite complete and presented clearly, such as product categories, company profile, etc.
In order to improve the security of procurement, you'd better choose premium suppliers: Diamond Supplier, Platinum Supplier, Gold Supplier. The page layout and information classification of the website are relatively clear and concise, so it is easy to operate, though the product or supplier choices are limited.
Sites like Alibaba in USA
ThomasNet is an industrial sourcing platform in North America. It's like a huge database of products and suppliers. You can search suppliers by supplier categories or product catalogs.
A lot of related suppliers are collected under each category. Each company profile contains its own product catalogs, every product detail, services provided, business description and details, etc. Meanwhile, you can jump to the supplier's website on Google through ThomasNet.
The filtering function of the website is also very good. You can select suppliers according to the distance from you, like searching within 50 miles. Also, you can sort the suppliers by company size, revenue or year founded.
Through Custom Quotes, ThomasNet can help you review your requirements for customization and recommend up to 5 qualified suppliers, without no need to select manufacturers one by one by yourself. And you can download 2D & 3D CAD models from the website for your product customization.
Wholesale Central is a B2B platform, and it just supports wholesaling. Retailing is unavailable. It is a wholesale supplier directory without a detailed product page like Alibaba.
You can select wholesale suppliers by category or search for the product name directly to get the corresponding vendor directory and products you want. Like ThomasNet, you can jump directly to the supplier's webpage on Google when you click the company's name to get more information.
It collects more than 380,000 items and abundant supplier categories are involved. There is a dedicated section for Asian suppliers and products. But the categories are limited, only shoes & footwear, tools & hardware, toys & hobbies, and watches. And the number of items for sale is also much less, only 1,128.
Notice: There is no strict rule about membership applying on Wholesale Central for suppliers, so you should identify whether the supplier is reliable or not carefully.
Worldwide Brands provides directories of dropshippers and bulk wholesalers for online sellers. So maybe you can purchase products in small bulk with an MOQ of $500 or less. This is more cost-effective for online retailers that want to make their online business up a notch.
If you can't find a product that you want to sell, simply submit a product request and the platform will work on tracking down the wholesaler for that product.
But before using Worldwide Brands, you need to become their member first. The member fee is about $299 for lifetime access, usually with a one-time discount offer. That is to say, you just need to pay less than $299.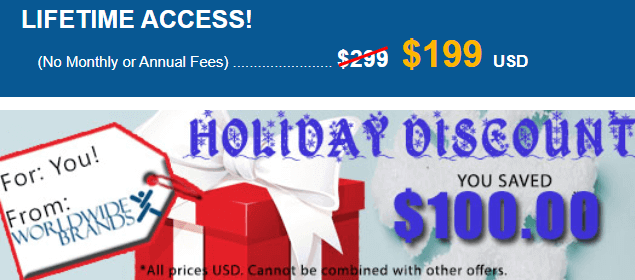 Supplier Database is a new Amazon selling tool by Jung Sout. You can find global verified suppliers and get useful information like customer volume and confirmed shipments to validate them. Also, it can help you quickly find a factory that closely matches the product you find on Amazon. It's worth a try, especially for those Amazon sellers.
As a part of Jung Sout, you have to pay for Jung Sout first before using Database for free. Meanwhile, you can get other support, like Product Database, Niche Hunter, Keyword Lists, etc. All of these are what you need in order to build and grow a successful business on Amazon. There is no free trial. But Jung Sout offers a 7-day money-back guarantee.
Most products on Kinnek are industrial goods, including bakery equipment, cannabis equipment, dairy equipment, cidery equipment, beverage production equipment, etc. And the majority of suppliers on Kinnek are located in the United States.
Kinnek seems a supplier directory. When you click into a supplier's profile, you'll be able to see the products they can provide. You can filter a supplier's products by category or specification.
If you want to know more information from the supplier, you can request a quote or message the supplier directly from their Kinnek profile.
Sites like Alibaba in Europe & UK
Europage is a large international B2B sourcing platform. It collects more than 3 million companies from Europe, mainly manufacturers, wholesalers, distributors, and service providers. The website is user-friendly because it is available in 26 languages.
It includes 26 B2B industries and the product classification under each industry is very detailed. Also, many suppliers are listed in each product category with a detailed company profile.
But if you want to know product details or place your order, you have to telephone or message the supplier. Because products here only have a short description, 4-5 lines or less and there is no access to place your order directly.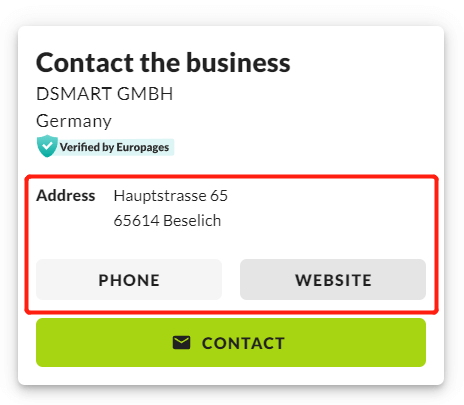 As an Alibaba alternative in the UK, eSources is actually a wholesale directory. It lists a lot of UK wholesale suppliers and international suppliers to help you wholesale merchandise from the UK. Suppliers with the TradePass icon are verified.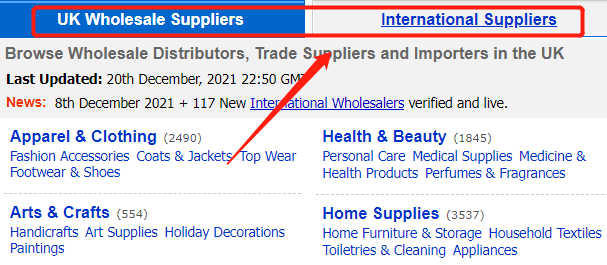 As a trade buyer, you can register for a free buyer account to search and contact suppliers. But if you want to access the Internet's largest directory of verified wholesalers and dropshippers, you have to register a premium account: £30 for a month, £60 for 6 months, and £90 for a year.
Pay attention, if you are a one-year premium membership and you can't make an extra £30k within the next 12 months, eSources promises to return your money back PLUS an extra £50.
Established in 1999, it is a UK online wholesale directory of products and suppliers for retailers. It is entirely free for buyers and only verified suppliers are listed. Like other similar sites to Alibaba, you can search for suppliers by category. But actually, it doesn't cover a wide range.
When you click into the supplier's profile, you can access the supplier's website and many other details, including contact information, target market, trading method, customers supplied, delivery minimum order value, etc.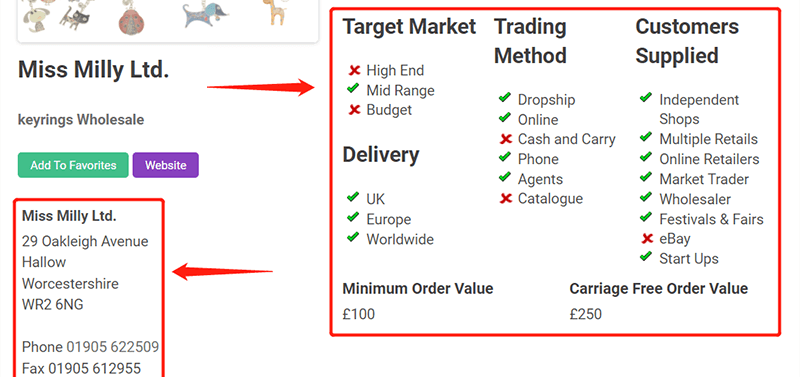 Many buyers want to search Alibaba alternatives in Europe, but only to find some small online B2B marketplaces or wholesale directories. Actually, many European buyers find suppliers on Alibaba or above 10 China Alibaba alternatives.
Sites like Alibaba in India
IndiaMART is India's largest online B2B marketplace, occupying 60% of the online B2B market in India. It has abundant product categories, including Industrial Plants & Machinery, Building & Construction, Drugs & Pharmaceuticals, Electronics, Apparel & Garments, Food, Cosmetics, etc.
You can filter the suppliers according to your location in India, which is very convenient.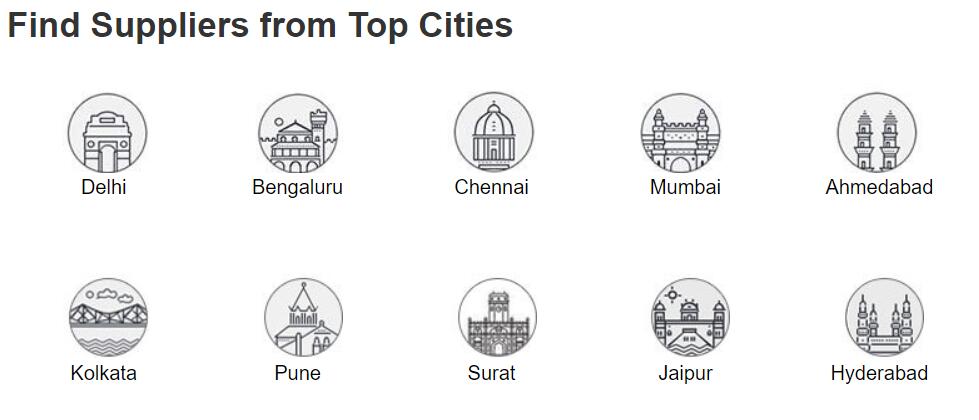 Although it doesn't display many images on the product listing as Alibaba does, the user experience is still good. It has a detailed supplier profile with a short video to introduce suppliers.
Exporters India, established in 1998, is the largest searchable B2B marketplace and exporters directory connecting suppliers and buyers in India.
It's easy to search on Exporters India. Product categories are clear, with trending categories and popular products recommended. Also, you can find suppliers by region in India or by country.
The product categories are very rich, and a large number of products are collected under each category. For example, there are 174628 items for agriculture and 109153 items for Automobiles.
This is also a popular site for trade shows and online B2B marketplace among small businesses in India and other parts of the world. There are more than 1200 product categories on TradeIndia.
The same as Alibaba, the first step is to find the best-matched suppliers of products you want to purchase, then send inquiries to suppliers.
The same as IndiaMART, you can search suppliers by India's industrial & manufacturing hubs.
There are only 6 main product categories on go4WorldBusiness. But you can find many suppliers from different countries on it like China, India, Australia, Indonesia, Italy, etc. Besides, it sets offices in New Jersey, USA, and New Delhi, India.
As the product information on go4WorldBusiness is not in detail, you need to inquire suppliers to get product details and the latest price.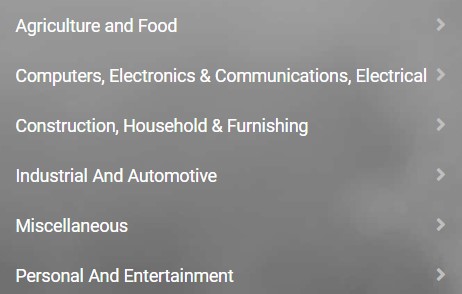 In fact, there aren't many online wholesale websites in other countries. Most of those websites focus on small bulk orders. It's related to the distribution of the world industrial chain. Thanks for reading, if you have any other ideas about these sites, welcome to leave a comment.
As a leading sourcing company in China, we aim to make the whole sourcing process easier and safer. We help our clients find the best manufacturers, ensure the quality of products and arrange the shipment to their doorstep. If you'd like to import from China, feel free to CONTACT US.