When purchasing on Alibaba, you must be confused about the various payment methods on the platform, have no idea about which way is better and afraid of potential risks for these Alibaba payments. Don't worry. 
There are indeed many differences between various Alibaba payment methods to make you puzzle, so in this post, I will analyze 11 Alibaba payment options on paying to suppliers in detail to help you choose a suitable one to pay on Alibaba.
PayPal is a widely used method in over 200 countries around the world, available for more than 100 types of currencies. It is also a hot method to pay on Alibaba. As consumers, you needn't undertake transaction fees via PayPal.
But if you purchase and use PayPal to pay, the order will be taken off Alibaba. It means you will send money to suppliers directly without using Alibaba. In this case, Alibaba just acts as an information exchange platform, providing no protection service for your order.
PayPal can provide certain protection services. For example, if the goods turn out to be unqualified or you didn't receive the shipment, you can apply to the PayPal platform for a refund. Through evaluation, you will get a refund from PayPal.
Regarding some factors of PayPal, not all suppliers on Alibaba will accept PayPal as the first Alibaba Payment choice. So you'd better ask suppliers whether they can accept PayPal on Alibaba before Purchasing.
Will all Chinese Suppliers on Alibaba Accept PayPal?
Actually, Alibaba doesn't support PayPal officially, and many suppliers in China don't accept the way, either. There are mainly two reasons.
Higher Processing Fee
Sellers need to cover the transaction fee and withdrawal fee. The transaction fee standard varies from the PayPal collection account in different countries. For Chinese accounts, the standard is 3.4%+0.3$ to 4.4%+0.3$, which is related to the monthly collection amount.
Besides, when they withdraw USD into their Chinese mainland bank account, they need to pay $35 per transaction. So the whole fee is relatively higher than other Alibaba payment methods.
High Risk for Suppliers
PayPal has a preferred protection policy for buyers. You can open a dispute and provide evidence as required within the prescribed period of time. PayPal will mediate in the dispute and evaluate the evidence you provide, and then give a solution, full compensation or partial compensation.
But there are some dishonest buyers applying for a refund because of the quality problem although the product is good in reality. In this case, the seller's account is faced with the risk of being frozen, and their benefits can't be guaranteed well.
Hence, many suppliers won't accept PayPal for large orders. But for some sample orders, some suppliers will agree.
Is PayPal a Secure Payment on Alibaba?
PayPal offers a good protection policy for buyers, so your order payment on Alibaba is safe as well. In a word, Paypal is a recommended payment way for the first order or sample, especially when you need to judge the supplier is reliable. Paypal can provide you with a good buyer protection service.
How to Pay on Alibaba via PayPal?
Generally, Alibaba doesn't support PayPal officially. If you use PayPal to pay to suppliers on Alibaba, your transactions will be not protected by Alibaba. It means if you have a dispute over this order, Alibaba will not mediate but PayPal provides services. Concrete paying steps and processes are mentioned in PayPal payment for your reference.
International wire transfer, (also telegraphic transfer), is an electronic transfer of funds across a network administered by banks around the world and is normally made at a bank or online.
Its transaction fees usually range from $20-80 per transaction depending on the payment amount and policy of the remitting bank. 
You can negotiate with suppliers about whom to undertake the transaction fee, you, supplier or split between both of you. And your suppliers can receive the money within 3-7 working days. Generally, the payment way is more suitable for a large number of orders.
In 2018, Alibaba introduced a new payment method, domestic wire transfer. In this way, you can transfer funds to a domestic receiving account using Alibaba.com's remittance channel partners with local currency instead of wiring funds to an overseas bank. Currently, it is available in the USA, Canada, Australia, The United Kingdom, most countries of Europe.
If you have a domestic TT account, there will be 2 accounts for you to choose from when you are ready to arrange payment.
There are mainly 3 features for domestic wire transfer,
Low transaction fee
Faster processing time
Lock the exchange rate for 7 days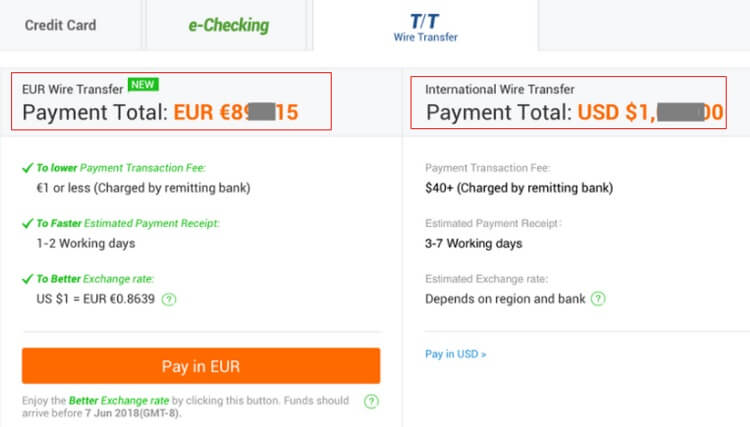 The following chart shows the differences between domestic wire transfer and international wire transfer.
| Different aspect | Domestic wire transfer | International wire transfer |
| --- | --- | --- |
| Transaction fee | Usually 5 local currency or less for each transaction. | $20-80 for each transaction |
| Processing time | 1-2 business days | 3-7 business days |
| Fixed exchange rate | Locked exchange rate for 7 days | Not supported |
| Supportable regions | USA, Canada, Australia, The United Kingdom, Most countries of Europe | No geographic limit |
Customers with bank accounts based in the U.S., France, or Germany may use Online Bank Payment( formerly known as e-checking) to pay for large orders on Alibaba.
It supports USD and EUR. About the transaction fee and processing time, you can refer to the below picture.
| Account origin | Transaction fee for different values | Processing time |
| --- | --- | --- |
| United states | ≤$1,000 value, $15; | 4-5 workdays |
| | $1,000.01-$10,000, $20; | 4-5 workdays |
| | $10,000.01-$50,000, $30 | 4-5 workdays |
| France & Germany | ≤$1,000 value,€15; | 9-10 workdays |
| | $1,000.01-$10,000, €20; | 9-10 workdays |
Online Transfer is a convenient online payment method on Alibaba which is applicable to large payment amounts, but it is currently available only to Alibaba.com users in Europe.
By cooperating with recognized third-party financial institutions, such as Trustly, Ideal and Sofort, you can complete payments in local currencies at any time without having to set up a separate payment account, and it can be done via any computer with internet access.
The exchange rate is provided by the third-party financial institute. And the seller can receive the fund in 1-2 business days.
The below picture shows the specific Alibaba Payment fees for the method:
| Payment amount | Transaction fee |
| --- | --- |
| $1,000.00 or less | $15 |
| $1,000.01-$10,000.00 | $20 |
| >$10,000.00 | $25 |
Note: Each transaction is limited to $300,000 (Sofort currently only supports transactions below $5,000); In the meantime, you also need to pay attention to the limit of your own online bank for each transaction.
Visa, MasterCard, Diners, Discover, JCB, American Express are accepted. And it supports many different currencies: USD, AUD, CAD, EUR, GBP, JPY, SGD, INR, KRW, MXN, MYR, PHP, RUB, AED, BRL, HKD, ILS, PLN, SAR, THB, ZAR for Visa & Master card; USD for balance credit cards.
Western Union is a worldwide financial service and payment network that Alibaba.com users in the U.S. can utilize to send funds to recipients. For this payment method, the receiver usually can receive the payment within 1 business day.
But you should notice one thing about this payment method on Alibaba, the supplier won't arrange the shipment until they receive the fund. It would be a potential risk for you.
So if it's the first order between you both, the Alibaba payment is inadvisable. Unless you are sure the supplier is reliable, can you consider adopting the way to pay on Alibaba.
In addition, it is just applicable to Alibaba users in the USA and has a limit of $5000 for each transaction. You need to undertake the transaction fee, which varies from the amount of the fund as below,
| Payment amount | Transaction fee |
| --- | --- |
| $0.01-$50 | $4.9 |
| $50.01-$100.00 | $8 |
| $100.01-$250.00 | $10 |
| $250.01-$500.00 | $12 |
| $500.01-$750.00 | $15 |
| $750.01-$1000.00 | $18 |
| $1000.01-$2500.00 | 1.8% of the payment amount |
Alibaba Pay Later is a new payment method on Alibaba, only available for buyers in the USA currently. When you use this Alibaba payment method, the third-party financing institution will help you pay. Then you repay the loan.
But if you want to apply for a loan, you need to be in Alibaba business for at least one year. Once approved, you can access up to a 6-month loan of $150,000 on Alibaba. The minimum rate is 1.25% for the first month. The loan limit you can get will be given by Kabbage Funding according to your business performance.
In addition, there are no prepayment penalties, so you can prepay a loan at any time. There are no order transactions, origination, annual, or maintenance fees.
It is a very quick payment method on Alibaba, the receiver can receive the payment in 1-2 hours. But it sets a limit of $12,000 for each transaction.
And you need to cover the transaction fee: 2.95% of the payment amount (capped at the US $40 in the APAC region for MasterCard payment in USD & 3.5% of payment amount for American Express Payment).
Boleto is the most commonly used payment method on Alibaba for accounts from Brazil. Only accounts set up in Brazil or buyers' delivery addresses in Brazil can use Boleto, and the supported currency is USD. And users can complete the payment through online banking or offline banking agencies.
But the monthly payment amount should be within $3,000, the transaction fee is 1.3% of the Alibaba payment amount. You can find more about detailed payment processes in my another post.
If you don't know how to finish your payments through these methods, you can contact us Jingsourcing to help you choose the best way to purchase from China.
Quick Solution to Source from China at a Good Price
Contact Jingsourcing experts, whose daily work is to source products and ship goods to different countries, especially to America.
When you first place orders on Alibaba, you must be worried about everything on this platform, like the platform safety, secure payment on Alibaba. Therefore, to protect transactions between buyers and sellers better, Alibaba launched the trade assurance service in 2015.
Acting as the third intermediate party, Alibaba trade assurance can enhance the trust between sellers and buyers. For example, when you use trade assurance to protect your orders on Alibaba, you can get 100% payment protection from this service.
Any problem or fault of suppliers, like delay in shipment, poor product quality you are not satisfied with, you can raise a dispute or apply for a refund. But this service also requires some payment processing fees, although it is a free service.
Most buyers are very familiar with Alipay, a payment means of Alibaba and the main third-party payment platform in China. For international trades, Alibaba provides Escrow Service different from Alipay.
Alibaba escrow service is aimed especially at international trades, offering secured transaction services as the third party. It can help avoid traditional trade risks, like buyers receiving no goods after paying on Alibaba or sellers receiving no payment after delivering goods.
When buyers and sellers are not familiar with each other, the Alibaba escrow service can coordinate bilateral transactions and lower the risks of online fraud.
When you use the Alibaba payment system to finish your transactions of small amounts or pay your orders, invoices would be generated from the supplier's account on Alibaba and then Alibaba payment links would be created automatically.
You need to finish your payment on Alibaba through this link within the validity period.
FAQs about Alibaba Payments
What is the safest way to pay on Alibaba?
Alibaba trade assurance is the safest way to pay on Alibaba. It supports many kinds of payment methods. You can open the trade assurance dispute if there is something wrong with the product or the order, and Alibaba will mediate and deal with the dispute. Although Alibaba trade assurance can protect your payment on Alibaba well, it is not 100% safe. The most important thing is still to select a reliable supplier.
What's the best Alibaba payment method?
There are many ways to pay Chinese supplies on Alibaba like PayPal, T/T, Western Union, etc. Each method as Alibaba payment options has its own pros and cons explained in the above section. In addition, some methods have limits in some aspects like countries, so it's difficult to tell which one is absolutely the best way to pay on Alibaba. What you should do is to choose the suitable one according to your actual need.
Can I pay to suppliers on Alibaba via Letter of Credit (L/C)?
Payment via L/C is available on Alibaba. As the way will involve issuing bank, negotiation bank, it will be safer for both parties. For buyers, it can reduce the risk of products not in accordance with the documents. For suppliers, they can receive money on time.
In addition, the way has no limit for the order amount, so it is suitable for large orders. You can choose to issue the usance L/C, which is beneficial for you to manage your cash flow.
But L/C will need a lot of extra paperwork and not all companies can issue L/C. The issuing bank will give the credit line after evaluating the company's performance. So for small orders, L/C is inadvisable.
What are the Benefits of Alibaba Payment Links?
Alibaba payment links can make the transfer of your payment to the supplier or Alibaba's accounts directly without through the third party when you choose to use the Alibaba payment system. It helps save your transaction fees and get funds quicker than other payments on Alibaba.
How to Negotiate Payment Terms with Suppliers on Alibaba?
Based on finding a reliable supplier, you need to negotiate and confirm Alibaba payment terms with the supplier before placing your orders. Concrete terms are various according to your actual demands.
But vital points you should remember to do are communicating with suppliers on Alibaba payment terms effectively and clearly, defining terms clearly, explaining how the terms benefit both of you and being flexible with confidence on negotiating terms with the supplier. You need to keep your promise of payment terms so that get better terms.
How do I Win an Alibaba Payment Dispute?
When you regard your order payment on Alibaba disputed, you should save all evidence about this order, including all agreed terms of payment and products in the contact, actually received products and logistics information. Then you can contact the supplier and open a dispute.
If the supplier doesn't agree to a refund, then you can apply to the platform and submit the evidence above, the official platform will help you get the refund. The basic to win a payment dispute on Alibaba is that your rights and interests are infringed indeed.
The end
I hope you can benefit a lot from my post and know how to choose a better payment method on Alibaba. If you think the post is helpful, welcome to share it with your friends. Or if you have any questions about Alibaba payment options, leave a comment below. And we will be always here to help you.
We're Jingsourcing, a leading sourcing agent in China. If you want to import good products or customize products with the most competitive prices from China, please CONTACT US without hesitation!