In September 2021, Alibaba withdrew its gold supplier membership. When filtering suppliers, only "verified" and "trade assurance" suppliers can be searched. That is to say, "verified" membership replaces gold suppliers.

I guess that is because Alibaba wants to charge more membership fees from suppliers. However, Chinese gold suppliers are still concerned by many buyers. They are wondering whether or not to trust. So, I write this blog to explain. Moreover, I compare gold and verified suppliers, and share practical tips on how to find reliable suppliers.
What does Gold Supplier Mean on Alibaba?
Gold Supplier is a paid membership. Provided that registered businesses meet Alibaba's certification requirements and pay money, they can easily get the "gold" status. And the membership years increase as long as they continue to pay.

Gold suppliers enjoy more exposure when compared to Alibaba's free membership. So, most of the suppliers are willing to pay for this membership. And since it is easy to obtain, 99% of suppliers are "gold". But it doesn't mean they are completely reliable. When a standard applies to everyone, it is no longer a measurement.
Are Alibaba Gold Suppliers Safe? Can I Trust Them? (Practical Tips Covered)
These are major concerns to buyers, especially the ones who just start the business. Let's clarify those questions step by step. 
First, Alibaba is safe. Although as a B2B platform, Alibaba still favors buyers. But "safe" discussed here is more about whether a supplier you cooperate with is reliable. You may not feel safe when the supplier increases prices at the last minute, ships out poor-quality products, or even delays the delivery of goods. All these have nothing to do with the Alibaba platform.
Gold suppliers are safer if compared to free members on Alibaba. Many people think gold suppliers are certified by Alibaba. And that is what Alibaba states on its website. 
However, this is not the real case. Almost all suppliers are "gold" because they have paid membership fees. It's like you open an Amazon store and pay $39.99 per month to get more marketing benefits for better ranking. So is Alibaba. Suppliers paying $4,700 per year can be "gold". And that membership charge is the lowest compared with Global Sources or Made in China. Hence, more and more companies pay for the "gold" member label. 
In short, the "gold" membership for suppliers means marketing expenses. For Alibaba, it is part of the income. Hence, you can ignore the "Gold Supplier" badge. It's just a mark, not a standard for evaluating whether suppliers are reliable. 
So how to find reliable gold suppliers? Here I share some practical tips.
Find suppliers with longer operation periods.

Preferably more than 5 years.

It's displayed along with the logo.

Always focus on whether a supplier can make products as required and offer an acceptable MOQ plus price.

Don't go crazy with finding a factory. It's up to your business scale. As for small businesses, traders are suitable.

Select suppliers with

trade assurance

to protect your payment.
Gold Supplier vs Verified Supplier
1. Membership Fees
There're 3 Alibaba membership packages: basic, standard, and premium. For example, suppliers in the UK can access the following package plans.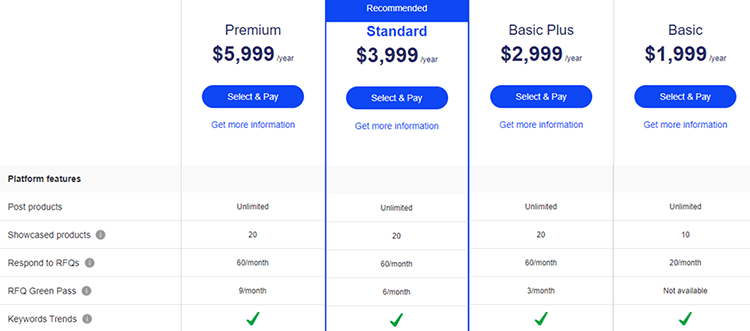 Alibaba serves 200+ countries, and the membership price varies slightly from one region to another. For accurate information, it's needed to contact Alibaba customer service agents.
After consulting Alibaba China Service Team, precise charges are as follows:
Gold suppliers pay the membership fee of $4,700 per year.

V

erified suppliers pay a higher membership price of $12,500 per year.
My perspective: 
So as for membership benefits, Chinese verified suppliers enjoy more than gold suppliers. That's just as it should be. After all, the price has almost tripled. Besides more showcases, verified suppliers can get accurate traffic and more marketing data. Alibaba offers such benefits to help them rank better.
Essentially, the verified or gold label is obtainable through payment. Thus, sourcing from gold or verified suppliers does not mean everything will be fine. 
FAQ - Who Can Become Alibaba Gold Suppliers?
All registered companies with business licenses have the chance as long as they meet Alibaba membership registration criteria. Most gold suppliers are Chinese companies, but it doesn't mean only Chinese businesses can do that. Firms in Vietnam, India, and other countries could also make it if only they passed the authentication and verification.
By the way, nowadays registering a company is much easier. Three of my friends set up a trading company and rented an office. And their company has been certified as a "gold supplier" after paying the fee.
Gold supplier membership has been offline. Either before or now, I never recommend buyers simply decide whether or not to trust a supplier by the member label. Moreover, I wouldn't suggest spending a lot of time distinguishing a trader or direct factory. To tell the truth, it's also hard for a Chinese buyer to do that. So as for buyers, it is wise to choose a supplier who can offer a fair price and MOQ as well as take your order seriously enough.
I hope this article brings you a better understanding of Alibaba gold suppliers. Should you have any questions, leave comments below.