When you import products from China, regardless of the size or quantity of your order, you will need to consider how to choose a freight forwarder, how to ship the cargos from China to the U.S. and what the shipping time is.
Before we go further, let's clarify by answering the question "What kinds of shipping services are available for me to choose from?"
Here, we work out a summary for the three common transportation methods and their shipping time to give you a general idea.
| Cargo Type | Logistic Choice Suggestion | Remark |
| --- | --- | --- |
| Single Package or Small batch | Courier | Fastest |
| Hundreds KG to Several Tons | Air Flight | Fast |
| 10-12 tons or more | FCL shipment by sea | Longer time |
Further, from this article, you will find an effective solution to balancing the cost and timing for each of these three different shipping methods and solve your logistical issues in shipping from China to the U.S.
Q1: How to choose a suitable courier for myself and what is the shipping time offered by each of the different couriers?
The popular courier companies are recommended to ensure timely delivery and make sure that the parcel will not get lost along the way.
From the spreadsheet below, you will see the significant comparisons between the different courier cost and time from China to the U.S.
| Courier | Cost level | Timing | Short Comment |
| --- | --- | --- | --- |
| | (from 1-10) | (working days) | |
| FedEx (IP) | 7.5 | 2-3 | Good timing |
| FedEx (IE) | 6 | 4-5 | Balance on cost and time |
| UPS | 8 | 2-3 | Expensive |
| DHL | 5 | 3-5 | Timing not as good as FedEx |
| SF-express | 4.5 | 5-7 | Newbie, May delay |
Usually, FedEx is the first choice when it comes to couriers because it offers IP and IE services to cover different needs, and is great on timing control.
DHL is a cheaper player in the market. But the timing control is not as good as FedEx. Sometimes there are delays and deliveries arrive later than expected. But if you don't mind waiting for 2 to 3 more days, you will enjoy the benefits of cheaper shipping costs.
SF-Express is a newbie in this market. They coordinate with some local distributors for final delivery by cooperating with UPS or other couriers. However, their focus is more on shipping to FBA warehouses of participating businesses on the Amazon platform.
Special Note: If your cargo is over 21kg, you can bargain for a lower price because courier companies consider 21kg and up as bulk orders. Hence, they are willing to give discounts. Accordingly, the heavier your cargo is, the bigger the discount.
But you may have another concern such as, "What if my purchase is cheap, for example, just 50 pieces of nice pens, but the courier cost is killing me?"
The good news is there is a miracle service named China Postage (ePacket/EUB) It is incredibly cheap, but you would need to wait for about 15-25 days (Official time only. It normally takes 30-60 days for deliveries to arrive) to collect the parcel.
However, this low-cost service has its own limitations. For example, packages can only be up to within 2kg, and there is also a limitation in the size of the package.
If your item is not highly valuable, or your package is small and light, or if you don't mind how long delivery would take (or even the risk of losing your package), then check with your China supplier about this miracle to get a pleasant surprise.
P.S. The stuff sold on AliExpress typically uses this miracle service to take advantage of their competitive price strategy.
Q2: When is it appropriate to use air service, and how is the shipping time for it?
Air freight is suited for transporting cargo that fit these two significant requirements:
* The cargo value is high.
* You don't want to wait 30-40 days of shipment by sea to get the cargo.
But, of course, you need to have over 500kg of cargo before checking with an air flight agent. Otherwise, the cost will not be much different from using a courier service, and the delivery will take longer on the road.
When using air service, the below four points need to be considered to ensure the actual timing for delivery,
A.When to book the Air Flight shipment?
Usually, you will need to book 10-15 days in advance to make sure that the delivery falls within your desired time period. Moreover, booking early will spare you more time to compare different air flight agents so you can make a better choice.
B.When is the actual flight schedule?
For some destinations in the U.S., there is no daily flight schedule. In this case, it is essential to make sure of the actual flight date so you will know when to send the cargo to the flight agent's warehouse to follow the loading procedure.
Note: Air flight agent will offer 3-5 days of free storage for cargos. Remember to confirm with your agent that there is no extra cost for this.
C.When the flight schedule is confirmed, what actual process takes place?
1.Your China supplier needs to send the cargo from their factory to the flight agent's warehouse (0.5 Day).
2.The air flight agent arranges for cargo loading and customs declaration
in China (1-2 Days).
3. Flight from China to the U.S. (2-3 Days).
4.Customs clearance in the U.S. (1-2 Days).
5.Inland transportation to your warehouse (2-3 Days).
P.S. The above timing is just an estimate and only serves as a reference. Timing may vary according to different situations. For example, if the customs declaration in China is delayed, it may lead to the suspension of the flight schedule, thus affecting the whole delivery time.
D.Special Notes for Air Shipment.
Some flight agents offer air flight services + UPS delivery. If your cargo weighs 100 to 200kg, and you feel that the courier cost is too expensive, try checking with your flight agent for available options.
In this method, the flight agent will collect enough cargo for air flight and then distribute the shipment throughout the U.S. using a courier service. This combined method will provide you with cost-saving benefits.
Q3: How can you do a container shipment by sea, and what is the shipping time for it?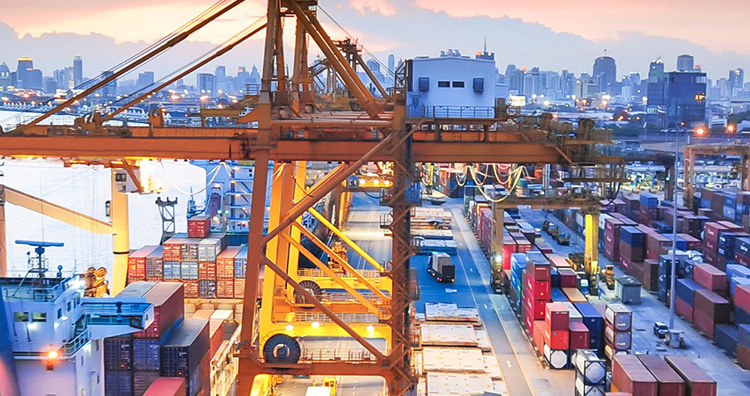 The procedure for container shipment is not as hard as you imagined. You can follow the below steps to apply for a specific container shipment.
Preparation Period
1. Check with 2 to 3 agents in the U.S. about the freight cost. Ask them to quote by breakdown such as freight/the U.S. Customs clearance/inland transporting.
2. Also ask your China supplier to check the freight in China for you so you can compare the prices and bargain with the U.S. agent if necessary.
3. If your Chinese supplier gives you a FOB price, they will need to comply with local fees in China such as China local transporting/China Customs Declaration/shipping company local charges, etc.
4. If your China supplier gives you an EXW price, you will need your agent to help you with the local fees in China, too.
5. Find the best option and make the shipment booking (recommended to do 15 days in advance from your desired shipment date).
China Procedure Period
6. The shipping company will release the container 7 days before the shipment date. For example, if the shipment date is January 15, then you can ask the factory to load the container starting from January 8.
7. Finish the China customs declaration before the CY closing date.
8. The container to the U.S. will also need to have an ISF 10+2 filed. Ask your shipping agent to finish it for you on time (the cut-off date is usually similar to the CY closing date).
The U.S. Procedure Period
9. Shipment is on board and arrives in 30-40 days in the U.S.
10. The U.S. Customs clearance
11. Finally, the U.S. inland transportation to your warehouse.
As you may know, the regular container size is 20'GP, 40'GP, and 40'HQ. Below is a reference to container type selection based on weight and CBM (cubic meter).
| Container Size | Loading Weight | CBM |
| --- | --- | --- |
| 20'GP | 10-14 tons | 27 |
| 40'GP | 18-20 tons | 56 |
| 40'HQ | 20 tons | 68 |
Special Notes for Container Shipment.
Accordingly, smart readers will think about what they can do when they don't have enough quantity of items to fill a container, but would still want to take advantage of the lovely benefits of sea freight.
Rather than FCL (Full Container Load) shipment, smart agents are providing LCL (Less than Container Load) Shipment + UPS service to enlarge their business.
The key here is that the joint transportation will start with a vessel shipment from China to the U.S., and end with the distribution to your warehouse by UPS. Such an arrangement enables you to save a lot in terms of moving the cargos from China to the U.S. compared to air flight.
Essential to making good use of container shipment is to plan a precise timing schedule to incorporate the effects of long shipping time.
Special Note for Amazon sellers or other online platform sellers: The Timing for "Air freight + UPS" and "LCL Shipment (sea freight) + UPS".
Due to cost control and time arrangement flexibility (when needing partial cargo urgently to avoid running out of stock), these combination services are preferred by Amazon sellers and other online platform sellers. Combination services usually provide customs declaration from both ends (China and the U.S.) or clearance services that sellers love because it frees them from unnecessary headaches.
Usually, the Air Freight + UPS is 10-15 days slower than air flight shipment. In the formal process, when the cargo lands in the U.S., the agent will need to arrange customs clearance first, and then send the cargo to the UPS warehouse. Afterward, UPS will arrange the final dispatch. This shows that there are more handling procedures, thereby costing more time.
On the other hand, the ocean shipping + UPS is faster than regular container shipment, because this combination service will choose a fast vessel for its first step and a courier (UPS or FedEx) in its final step. This makes it definitely faster than inland truck container transporting. In the actual process, it achieves 10 days of difference in timing.
Ocean Shipping + UPS is preferable for shipments to an Amazon FBA warehouse. It is more comfortable and offers faster handling and easy product management, thus ensuring that you don't run out of stock and helps avoid negative feedbacks to your product listings.
One key feature that significantly affects shipping time and cost for every transportation method:
When there are potential ripple effects like the festival in China or the U.S., it will change the logistics price and time dramatically.
Major festivals in China (Chinese New Year Period, Labor Day/May 1, National Holiday/Oct 1) are accompanied by long vacation periods, thus cargo shipments are usually fully-booked days prior. As a result, shipment cost increases due to the strong demand.
In our years of experience during Chinese holidays, the best strategy is to arrange your cargo shipment before the holidays as much as possible. Otherwise, you will likely get a massive headache due to a delay in shipment.
Refer to my previous blog: 7 Tips to Avoid Shipping and Producing Delay by Chinese New Year
So, based from our rich controlling shipping time from China to the U.S., we provide you this experience to help you learn the essentials in this field. Through this, you will get a general idea before talking to your supplier or your freight forwarder.
Thanks for your time. Please feel free to leave a comment if you have any queries, or you can check with our sourcing agent for direct Q&A.