A right shipping method is a good balance between freight cost and time. So I will show you the shipping methods about shipping time when importing from China to US and explain why they cost that time.
Here is the average shipping time of three main shipping methods below.
| Cargo Type | Logistic Choice Suggestion | Remark |
| --- | --- | --- |
| Single Package or Small batch | Express Freight | Fastest |
| Hundreds KG to Several Tons | Air Freight | Fast |
| 10-12 tons or more | Sea Freight | Longer time |
Factors like seasonality, demand and other uncontrollable current events will impact the shipping time. Be sure to contact us for updates.
Next, follow me to learn about the shipping time breakdown for different shipping methods.
1. Express shipping time from China to USA
From the spreadsheet below, you will see the significant comparisons between the different express cost and time from China to the USA below.
Express
Cost level
Timing
(from 1-10)
(working days)
FedEX (IP)
7.5
2-3
(Good timing)
FedEx (IE)
6
4-5
(Balance on cost and time)
UPS
8
2-3
(Expensive)
DHL
5
3-5
(Timing not as good as FedEx)
SF-express
4.5
5-7
(Newbie, May delay)
China Post: Air
3.5
7-15
(Faster than surface one)
China Post: SAL
3
10-20
(Between Air and Surface)
China Post: Surface
2
40-70
(Very slow)
China Post: EMS
4
5-7
(Fast and safe)
China (ePacket/EUB)
1
7-30
(Very cheap)
Usually, FedEx is the first choice when it comes to couriers because it offers IP and IE services to cover different needs, and is great at timing control.
DHL is a cheaper player in the market. But the timing control is not as good as FedEx. Sometimes there are delays and deliveries arrive later than expected. But if you don't mind waiting for 2 to 3 more days, you will enjoy the benefits of cheaper shipping costs.
SF-Express is a newbie in this market. They coordinate with some local distributors for final delivery by cooperating with UPS or other couriers. However, their focus is more on shipping to FBA warehouses of participating businesses on Amazon.
China Post is cheaper compared with other express, but its shipping time is very long. Many eCommerce sellers like eBay, AliExpress, GearBest, BangGood, FastTech, often use China Post to deliver purchases due to its cheaper price.
For example, there is a miracle service named China Post-ePacke/EUB. It is incredibly cheap, but you would need to wait for about 15-25 days (Official time only. It normally takes 30-60 days for deliveries to arrive) to collect the parcel.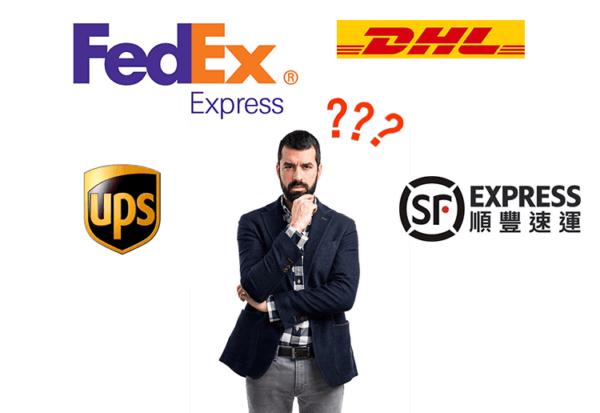 2. Air freight shipping time from China to USA
Air freight is suited for transporting cargo that fits these two significant requirements:
* The cargo value is high.
* You don't want to wait 30-40 days of shipment by sea to get the cargo.
But you need to have over 500 kg of cargo before checking with an air flight agent. Otherwise, the cost will not be much different from using a courier service, and the delivery will take longer on the road. When using air service, the below four points need to be considered to ensure the actual timing for delivery.
When to book the air shipment?
Usually, you will need to book 10-15 days in advance to make sure that the delivery falls within your desired time period. Moreover, booking early will spare you more time to compare different air flight agents so you can make a better choice.
When is the actual flight schedule?
For some destinations in the USA, there is no daily flight schedule. In this case, it is essential to make sure of the actual flight date so you will know when to send the cargo to the flight agent's warehouse to follow the loading procedure.
Note: Air flight agent will offer 3-5 days of free storage for cargo. Remember to confirm with your agent that there is no extra cost for this.
When the flight schedule is confirmed, what actual process takes place?
Your China supplier needs to send the cargo from their factory to the flight agent's warehouse (0.5 Day).
The air flight agent arranges for cargo loading and customs declaration
in China (1-2 Days).
 Flight from China to the USA (2-3 Days).
Customs clearance in the USA (1-2 Days). Inland transportation to your warehouse (2-3 Days).
P.S. The above timing is just an estimate and only serves as a reference. Timing may vary according to different situations. For example, if the customs declaration in China is delayed, it may lead to the suspension of the flight schedule, thus affecting the whole delivery time.
Here is the average air freight port to port shipping time to USA below.
USA
Port to Port
Average Time
West USA
Guangzhou to LA
5 days
Qingdao to Seattle
5 days
Shenzhen to Atlanta
6 days
East USA
Xiamen to Houston
7 days
Shenzhen to Denver
7 days
Wuhan to New York
8 days
Middle USA
Beijing to Chicago
4 days
3. Sea shipping time from China to USA
The procedure for container shipment is not as hard as you imagined. You can follow the below steps to apply for a specific container shipment.
You need to know before you choose sea freight
1. Check with 2 to 3 agents in the USA about the freight cost. Ask them to quote by breakdown such as freight/the USA Customs clearance/inland transporting.
2. Also ask your China supplier to check the freight in China for you so you can compare the prices and bargain with the USA agent if necessary.
3. Shipping terms will influence the supplier's quote. If your Chinese supplier gives you a FOB price, he needs to pay fees in China such as China local transporting, Customs Declaration, shipping company local charges, etc. If you get an EXW price, you will need to pay these fees. 
4. Find the best option and make the shipment booking (recommended to do 15 days in advance from your desired shipment date).
Further Reading about Shipping Terms
1. The shipping company will release the container 7 days before the shipment date. For example, if the shipment date is January 15, then you can ask the factory to load the container starting from January 8.
2. Finish the China customs declaration before the CY closing date.
3. The container to the U.S. will also need to have an ISF 10+2 filed. Ask your shipping agent to finish it for you on time (the cut-off date is usually similar to the CY closing date).
4. Shipment is on board and arrives in 30-40 days in the US.
5. The US Customs clearance. If your cargo gets chosen for inspection at random, the corresponding time should be counted.
6. Finally, the US inland transportation to your warehouse.
Here is the average sea freight port-to-port shipping time to the US below.
Coast
Port to Port
Average Time
USA West Coast
Guangzhou to Los Angeles
27 days
Ningbo to Seattle
23 days
Qingdao to Long Beach
19 days
Shenzhen to LA
18 days
USA East Coast
Shenzhen to Miami
44 days
Xiamen to Houston
42 days
Qingdao to New York
40 days
Shanghai to Charleston
37 days
Are You Ready to Arrange Shipments Now?
Just click the button to get live freight quotes like shipping modes, freight forwarders, time,  and cost. We can offer you reliable shipping services to meet all your need.
4. Sea/air freight + express for Ecommerce sellers
Due to cost control and time arrangement flexibility (when needing partial cargo urgently to avoid running out of stock), these combination services are preferred by Amazon sellers and other online platform sellers. Combination services usually provide customs declaration from both ends (China and the US) or clearance services that sellers love because it frees them from unnecessary headaches.
Usually, the Air Freight + UPS is 10-15 days slower than air flight shipment. In the formal process, when the cargo lands in the US., the agent will need to arrange customs clearance first, and then send the cargo to the UPS warehouse. Afterward, UPS will arrange the final dispatch. This shows that there are more handling procedures, thereby costing more time.
On the other hand, the ocean shipping + UPS is faster than regular container shipment, because this combination service will choose a fast vessel for its first step and a courier (UPS or FedEx) in its final step. This makes it definitely faster than inland truck container transporting. In the actual process, it achieves 10 days of difference in timing.
Ocean Shipping + UPS is preferable for shipments to an Amazon FBA warehouse. It is more comfortable and offers faster handling and easy product management, thus ensuring that you don't run out of stock and helps avoid negative feedback to your product listings.
5. Factors affecting shipping time
When there are potential ripple effects like the festival in China or the U.S., it will change the logistics price and time dramatically.
Major festivals in China are accompanied by long vacation periods, thus cargo shipments are usually fully-booked days prior. As a result, shipment cost increases due to the strong demand.
In our years of experience, for example, if you want to avoid shipping delays by the Chinese New Year, the best strategy is to arrange your cargo shipment before the holiday as much as possible. Otherwise, you will likely get a massive headache due to a delay in shipment.
Below is a list of major annual Chinese major festival holidays, and the exact dates will vary from year to year.
| Festival | Date | Holiday Length |
| --- | --- | --- |
| Chinese New Years Day | January to February | 14 days or longer |
| Qingming Festival | Early April | 1 day |
| Labor Day | Early May | 3-5 days |
| Dragon Boat Festival | June | 3 days |
| Mid-Autumn Festival | Early October | 3 days |
| Golden Week | Early October | 7 days |
| China's National Day | Early October | 3 days |
Current events such as coronavirus
Coronavirus is disruptive for shipping from China to the US, causing unpredictable delays to every business procedure like shipping. Though the coronavirus is controllable in China and the factories are almost normal now, we still cannot predict the next pandemic outbreak time. And there are also challenges like high demand because of the frantic restocking, and the delays at US ports and warehouses.
For example, before the pandemic, the sea freight shipping time from China to USA is about 40 days or shorter, but the shipping time is up to 70 days in 2021 because of hold-ups and delays. And the delays also result in a shortage of containers as many containers are stuck on ships.
Compared with domestic shipping, there are many factors can affect the international trade shipping time. We only show you the average shipping time when everything is going smoothly in the post for your reference. But if there is a festival holiday, coronavirus, or other current events, please feel free to email us or leave us a comment for real-time shipping time.
As the leading sourcing company in China, we can help you find factories, get competitive prices, follow up production, ensure quality and deliver products to the door. If you need help, please CONTACT US.