How many times have you been hearing about Alibaba? If you've been in the importing business and sourcing from China for years, Alibaba is just like an old friend. It empowers foreign buyers to source suppliers online as well as reach out to overseas suppliers just a click away. The emergence of Alibaba has made importing from overseas countries as easy as online shopping.
If you are new to the import business and do not know how to purchase safely and effectively via Alibaba? Do not worry, this is a guide specifically for you to help you get to know it, teach you to step by step how to search and choose reliable suppliers, as well as how to arrange quality inspection and shipping. Click each heading below to navigate for more details.
What Is Alibaba and How Does It Work?
Here what we talk about is actually Alibaba.com, a part of Alibaba Group. It is a B2B platform launched 20 years ago. Now it has grown to be a leading wholesale website with the world's largest supplier directory. Most suppliers are Chinese, with some from other countries.
Alibaba works like an online trade show, mainly for small and medium businesses. You can find thousands of suppliers at the same time across various industries, covering apparel, electronics, machinery, beauty, accessories, etc. Many global businesses source from Alibaba at a competitive cost and sell on Amazon, eBay, or other channels in their domestic markets.
Alibaba offers one-stop solutions from product selection, payment to logistics arrangement, etc., so that global buyers and sellers can do business easily on the site.
Why Is Alibaba So Cheap?
Products sold on Alibaba are cheaper mainly for 2 reasons.
1. Bulk Purchasing
The product wholesale price is cheaper than retails. And there's a wholesale price range. The more you buy, the cheaper your purchase is. If your order is beyond the highest quantity, you can negotiate with suppliers for a lower price.
The shipping cost will also be reduced when you buy in bulk (more than 2-CBM cargo can be shipped by the sea at a much lower cost than air shipping).
2. Lower Cost of Labor and Raw Materials
The majority of Alibaba suppliers are in China featured by competitive raw materials and manpower costs. Normally, the production cost is lower than other countries across Europe, America, etc. This ensures attractive product pricing on Alibaba.
Cheaper product pricing has attracted more buyers. That, in turn, motivates more suppliers to enter Alibaba and drives price competition. So buyers can source products at a good price.
Can I Buy from Alibaba for Personal Use?
Yes. You can buy products for your own use. Though Alibaba is mainly for B2B, not all sellers are regulated to only sell wholesale.
How to Buy 1 Item from Alibaba without a Company?

First, register an account using your own name as your company name. Don't worry about being asked for a business license, because that is used for tax benefits.
Then find Alibaba minimum order 1. That exists in some cases. Some suppliers sell on Alibaba and AliExpress (mainly retail services) at the same time. You have to find and buy it.
But in most cases, the MOQ (minimum order quantity) is far away from one, and you can only ask suppliers for a sample. But that would be costly. Samples are always shipped by international express, so the cost is high. On the other hand, the single unit price is higher than the usual price.
If you just buy 1 single item for personal use, Aliexpress is more suitable than Alibaba.
Product Selection | Ideas about Best Things to Buy on Alibaba.
Before ordering from Alibaba, it's a must to know what products to buy and resell.
If you have no idea, you can browse large varieties of products for some inspiration. But that process will cost you a lot of time and energy. And you're likely to be getting nowhere, as Alibaba is too large to browse for product ideas. Here I share some tips.
Try Alibaba Private Label Products
"Private Label Products" is actually a product listing on Alibaba with a particular focus on cosmetics and hygiene areas, as shown in the right image.
These categories are ranked the top among products suitable to sell with private labels. If you're interested in cosmetics and hygiene products, it's a good option for you to make money.
For more private label products, you're suggested to choose the category on the Alibaba homepage and contact suppliers for further communication.
If you are a startup or small business, a private labeling model is more suitable than customizing brand new products due to less front investment. Check practical tactics to choose the right private label products.
Try Alibaba Private Label Products
"Private Label Products" is actually a product listing on Alibaba with a particular focus on cosmetics and hygiene areas, as shown below.
These categories are ranked the top among products suitable to sell with private labels. If you're interested in cosmetics and hygiene products, it's a good option for you to make money.
For more private label products, you're suggested to choose the category on the Alibaba homepage and contact suppliers for further communication.
If you are a startup or small business, a private labeling model is more suitable than customizing brand new products due to less front investment. Check practical tactics to choose the right private label products.
Try Alibaba Custom Packaging to Private label Your Products
A common solution to private label your products is custom packaging. You can directly click Alibaba Custom Packaging to see all options for custom packaging boxes, designs, and patterns, as shown in the image below.
Just scroll down to choose what you want. Then you need to contact sellers about what information you want to customize. If you want to make alternations on the product itself, it can be negotiated as well.
Either custom packaging or the product itself, light customizations are very common and easy to realize, such as changes in colors, sizes, logos, package materials, etc. As the level of alterations goes higher, you need to pay more and meet suppliers' customization MOQ, which is higher than light customizations.
Try Unique Ordinary Daily-use Products
Some importers think daily products like socks are easy to sell because these are necessities. That is wrong. Such products are dominated by big retailers, so it's very hard for you to compete with them.
The right way is to make some alternations to make your product unique and interesting, different from widely available ordinary products. For example, you can adjust the sock design to make it anti-skidding.
Try Niche Products
Niche products are designed to fulfill well-defined customer demands, serving a small segment of the mass market. These items are mostly exclusive and the customer group is clear. Take massage gun for example. People are fascinated to buy this handheld device with wireless charging features, for a quick full-body massage anywhere and effortlessly.
The niche market means fewer competitors selling the same products as you. And people will be more willing to spend more money buying them, accordingly, you will make more profits. Check out methods to find your niche.
Top 3 Product Categories Not to Buy from Alibaba
Branded products, such as iPhone, Nike shoes, etc.  

Food products.

Alcohol, cigarettes, drugs, etc. 
If you do, chances are that you'll get fake products or not be allowed to import, or the import procedures will be too complicated.
Find Suppliers on Alibaba (Direct Search vs RFQ)
Method 1: Direct Search
This is the most natural way to search for suppliers. You type in the product name in the search bar, Alibaba will then present you with thousands of suppliers.
As you notice, there are different types of suppliers on Alibaba, such as Verified Supplier, and Trade Assurance Supplier. Among the vast amount of suppliers, we'll suggest you go with these suppliers as your top choices to start with.
You'll need to scroll down each supplier, checking their qualifications and transaction histories, etc., then send over inquiries to those looking good for further selection.
Let's look at a real case of Wine Tumbler inquiry to understand direct search step by step.
Step1: Go to https://www.alibaba.com/ and type in the product name.
Step2: Select top suppliers (eg. verified suppliers) whose price range is acceptable for subsequent inquiries. (We send out 20 inquiries in total for wine tumblers.)
Step3: Click the "Contact Supplier" button to contact suppliers and send inquiries.
Step4: Collect and compare quotations from different suppliers.
Step5: Select 2-3 good suppliers for further communication.
Method 2: Alibaba RFQ
Alibaba RFQ (Request for Quotation) is a service provided by Alibaba to global buyers to post buying requests and manage all quotations on the RFQ service platform. Unlike direct search one by one, through RFQ, you can get 10+ more quotations very quickly per buying request.
Still the real case of Wine Tumbler inquiry. Here is how:
Step1: Go to Alibaba RFQ main page: https://rfq.alibaba.com/
Step2: Complete the RFQ form as shown below. 
Step3: Submit RFQ and wait for the suppliers to send you quotations. 
Step4: Check and compare quotations in the message center of the RFQ dashboard. 
Step5: Select 2-3 good suppliers for further communication. 
Under direct search, in the beginning, I needed to spend hours reviewing supplier info, sending inquiries one by one, then waiting for 1-2 days to get the replies. Among all the 20 responses, I was just able to select 2-3 suppliers whom I found comfortable to communicate with.
While under RFQ, just within 10 minutes after I sent out the buying request, I immediately got 10+ quotations from multiple suppliers and then selected 2-3 good ones for further negotiation.
So, I'd suggest you use Alibaba RFQ for more efficient results if you are new to your product field and do not want to spend hours developing a long list of suppliers. If you still have difficulty finding good suppliers by yourself, you can always turn to a sourcing agent for help.
Choose the Best-matched Supplier (Real Case Study).
After launching rounds of searches for suppliers, the next thing you need to fix is to select good suppliers among multiple choices. It's essential to have a general overview of Alibaba membership and supplier types, as this helps you quickly screen out those unqualified ones.
Know Alibaba Membership and 3 Kinds of Suppliers
Alibaba Gold Supplier membership has been offline since September 2021, leaving only Verified Supplier. Suppliers authenticated and verified by a third-party agency have to pay more for being verified members.
Either paid or free members, there are 3 kinds of suppliers on Alibaba:
Manufacturers: lowest price and high MOQ.
Trading Companies: specialize in certain product categories; buy products from manufacturers.
Wholesalers: very low MOQ but expensive price, wide product categories; buy products from manufacturers or trading companies.
Click tactics to verify Chinese suppliers are factories. But never go crazy with manufacturers, although most tutorials teach you to buy from them for the lowest price.
For one thing, manufacturers normally require a higher MOQ, not so friendly to new importers who order a small quantity. For another, sometimes the trading company's prices are even better than many manufacturers, as it's very normal to see different manufacturers have price differences, like 10 percent or 20 percent or even more. Check out why trading companies are better than manufacturers.
Use Top 3 Criteria for Selecting Suppliers
Based on our years of experience in dealing with thousands of suppliers, we've developed below top criteria to help you evaluate suppliers. A good supplier can help you save lots of time and energy. If they are an expert in your product area, they can understand your requirements clearly and execute seamlessly.
a. Specialized product portfolios 
After suppliers replied with their quotes, besides reviewing the prices, the first thing I usually do is to look at their product category.
For example, I got a good price from a trading company, but when I quickly check their product portfolios (shown below), I found wine tumbler products are not their area of strength. This makes me concerned about their capacity to fulfill my order. So I quickly screen out another 5 trading companies.
Various product categories (trading company)
b. Good communication in an efficient way
You can easily tell the communication level of your supplier through their response to your inquiry, by looking at how they reply and whether they get back promptly.
Take the above case as an example, there are several aspects covered in my inquiry email, including product cost, packaging, shipping cost, etc. A good reply will essentially cover all that I want to know and is also expressed clearly and logically. However, a poor one will generally deliver nothing.
c. Professional knowledge in international trading
Good suppliers with years of experience in international trading can help solve many problems during the import and export process. Especially if you are new to importing from China, different questions may pop up at different stages. Whether it is related to product specs, packaging, or shipping, good suppliers can not only clarify all your concerns but always stand by to solve issues.
For example, if you want to develop brand new products from ideas, the process can be quite complex, involving mold opening, various modifications, packaging customization, etc. In this case, it is more important for you to select a partner who can clearly understand your needs and have the capability to turn ideas into real products. Check more tips for sourcing good suppliers on Alibaba.
Know MOQ Meaning and Negotiate with Suppliers for Best Price.
After selecting a couple of suppliers, the next step is to negotiate for a better MOQ and price. This takes techniques, you'll need to know what suppliers care most about and weigh the trade-offs to get what you value most.
What Does MOQ Mean on Alibaba?
MOQ is short for Minimum Order Quantity. As the term suggests, MOQ means the least amount of products that buyers need to order. For Alibaba suppliers, MOQ is a selling threshold and that's important for 2 reasons:
Cover the production cost. If quantities are too small, it's difficult to purchase raw materials or packaging materials. And there are set quantities of production lines, especially by machines.
Make up for the very low profit per unit, because products are sold in bulk.
Look at the image below, you see the goods MOQ is 200. And there's a wholesale price range.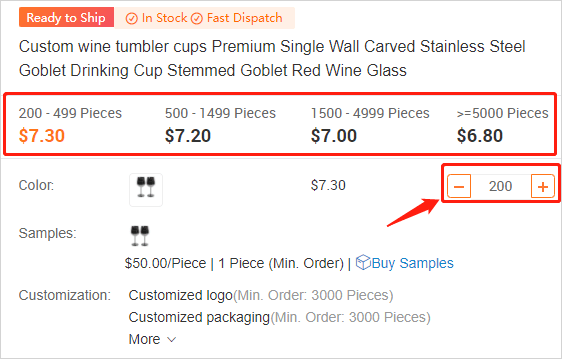 Most of the products on Alibaba have a MOQ, ranging from $1,000 to $3,000. The MOQ differs based on product types. While for the same kind of products, suppliers have different MOQs. But there won't be a big difference.
Besides, the listed MOQ and unit price are not final. You can contact suppliers for a better order quantity and unit price. For example, if buying 3000 pieces of wine tumblers in the above picture, you can negotiate with the supplier for a lower price than $7.
How to Negotiate Better MOQ and Price with Suppliers?
Finding a good MOQ and competitive price is vital for your purchase from Alibaba, though it's not easy. Here I share some tips.
1. The key is to know the market price of your desired product.
Obtain a reasonable price range by getting some quotes from suppliers on your list. This works in most cases, as very few buyers know the product and manufacturing cost well.
2. Strike a balance between the MOQ and unite price.
When reaching the MOQ listed by Alibaba suppliers, it's relatively easy to negotiate a better order quantity and unit price. However, it's impossible to get the lowest price when you fail to meet the MOQ.
And blindly pursuing the lowest price may lead to unsuccessful negotiations, because you may ignore the seller's interests. An appropriate unit price increase might be useful. After all, business is built on win-win cooperation.
3. Be frank and sincere.
Don't take suppliers as fools. Most of them are experienced in distinguishing the trick of pretending to be a veteran or a newbie, although many courses teach you such methods. If you're caught in a lie, you'll lose your credibility. That goes against business negotiation.
So tell suppliers your real situation and order quantity. If it's your first order, many Chinese suppliers are willing to lower their MOQ to achieve cooperation. When it comes to second order, you'll have a wider negotiation scope.
4. Be flexible during negotiation.
Don't be limited to the order quantity and unit price. There're some ways to lower the MOQ:
Choose "Ready to Ship" products rather than "Customized" products. It's possible to reduce the MOQ of products in stock, as suppliers have a large inventory. While for custom products, it's very hard due to more costs such as custom packaging, logo, and graphics. And there's generally a higher MOQ.
Favorable payment ways like T/T 100% in advance can increase your bargaining power.
Properly lower your requirement for products (e.g. patterns). That may not change the MOQ a lot, but the total price would be lower to some extent.
Ask for Pre-production Sample (PP Sample).
After finalizing prices, the next important step is to ask for a PP sample, especially when ordering custom products. PP sample serves as the quality standard for mass production. Many buyers will forget to do so because they'll think it takes time and money.
That mindset is totally wrong. You have to touch and feel the product to judge quality rather than sellers' pictures or videos. You'll have to put in time and effort in the beginning in order to ensure a smooth delivery later. Let us show you how it works.
Create PP sample order.
Provide product specification sheets or other attachments to the supplier.
Confirm quantity: one for the buyer, one for the seller.
Buyers check sample quality, seal it, and send it back to sellers for production reference.
I recommend you to get samples from 2-3 suppliers. If any of them didn't offer good quality, you can still have other suppliers as a backup. Or you can ask for re-submission for the PP sample. Or you make sample comments to be corrected in bulk production to ensure product quality. Usually, you need to pay a 100% sample fee upfront, and also pay for shipping costs.
Select Trade Assurance or Other Payment Ways to Buy Safely.
It is time to place an order after settling down all the above steps from supplier selection, price negotiation to sample confirmation!
You can either place a normal order or create a trade assurance order with suppliers supporting it. The latter option is safer for Alibaba purchases.
What Is Trade Assurance?
Trade assurance is a free service offered by Alibaba to protect buyers and enhance security when the quality falls short of expectation or the supplier fails to ship on time as agreed. It means you can open a dispute and ask for a refund if either of the two situations happens.
But getting refunded is not as easy or quick as that on Amazon. This process is more complex & time-consuming. You have to upload sufficient evidence. Only with strong evidence submitted by buyers and sellers can Alibaba make a fair judgment as a third party.
Remember to communicate with suppliers via email, though there are other channels such as "Chat Now" on the Alibaba website, WeChat, WhatsApp, etc. For any important issues related to your order, it is best to communicate via email. These emails can be documented and serve as records for future reference and evidence in case of any disputes.
How to Pay for Your Order?
With a trade assurance order, you have to pay via Alibaba using 5 different methods:
Online Bank Payment (for large orders)
Credit card (Visa, Master Card)
Western Union
Pay Later
Check out how to choose a suitable Alibaba payment method.
You cannot pay via Paypal or other offline methods, otherwise, your payment is not protected. Click to get tips on how to protect well while using trade assurance.
If you want to pay via Paypal or other methods like Money Gra, you'll need to create an order without trade assurance protection. Usually, Paypal is suggested for an order value less than $500. Most Chinese suppliers won't accept Paypal for large orders, for fear of getting cheated, due to 180-day refund protection. It means that you can open a dispute through Paypal if there is any quality problem found after receiving cargo.
Check how to use Paypal step by step. If you want to know more about the difference between various payment methods, directly click how to pay for your order at the lowest cost.
Choose Alibaba Shipping to Transport Your Cargo.
After the tedious process of purchasing products, finally, we come to the last vital step of shipping. How to send cargo to your destination? One way is to use Alibaba shipping services.
How Does Alibaba Shipping Work?
Alibaba has set up its own shipping routes and integrated the resources of many logistics companies to make cargo shipping easier through its digital freight network across the world.
For sellers, Alibaba shipping brings great convenience through one-stop solutions. There're 3 programs available to sellers for shipping arrangements: economy, standard, and premium. Sellers just need to select and set the box size and weight. Then the freight of different shipping routes is calculated by the Alibaba platform.
Buyers can directly compare shipping costs and select a good solution through 4 easy steps.
Step1: Click the "Ship to" link and choose the delivery destination.
Step2: Choose specific products and get straight shipping fees as presented in the right box. Click the "Change" link to see more shipping solutions and corresponding fees.
Step3: Select one from all available shipping options,  click the "Apply" link as shown below.
Step4: You can see the total cost once you select a shipping method.