Before digging into Alibaba scams, I will answer the following 2 questions, which are highly concerned by importers.
Is Alibaba A Scam?
No, Alibaba is absolutely not a scam. If yes, it can not grow to be today's largest B2B platform to source suppliers (via RFQ or direct search) and products. Millions of buyers are not so stupid as to do business in a fraudulent marketplace.
However, importers, especially those new to Alibaba, easily assume that it is a scam, due to extremely low prices and a series of disputes discussed on Google or Trustpilot.
First, let me tell you why Alibaba is so cheap. Products are mainly sold in bulk. And most Alibaba suppliers are in China, featured by competitive raw materials and manpower costs.
Besides, purchasers usually think it's the responsibility of Alibaba once problems occur. Note you are actually purchasing from suppliers on the site. One bad experience just means the supplier you order from is unsafe. It is unfair to tar the entire Alibaba marketplace with the same brush. Just like your purchase on Amazon, you might encounter a bad seller, but that does not represent the entirety of Amazon sellers.
Can You Get Scammed on Alibaba?
"Scam" is going a bit too far. "Dispute", I think, is more appropriate. Among all the so-called "Alibaba scams", 90% comes from time difference that hinders communication in time, language barriers, different communication methods, and insufficient confirmation of product details when dealing with Alibaba suppliers.
For example, some buyers confirm samples by photos and videos sent from sellers. And then they find bulk cargo different from sample products. Such a way of sample confirmation is not enough. Because you are likely to miss items to be confirmed, especially when purchasing electronic goods or products with many parts.
Most suppliers are not likely to think of these things. Because they follow up the orders from different clients simultaneously and can't focus all their attention on your order, especially when your order is small. So buyers should take the initiative in confirming each detail with your seller.
Next, follow me to check out the top 15 traps that often happen when buying from Alibaba. These issues involve product selection, supplier verification, payment, and shipping. For each one, I'll analyze why it happens and provide tips on how to not get scammed. After full reading, I believe you'll develop knowledge of Alibaba frauds as well as find it easier and safer on Alibaba.
Next, follow me to check out the top 15 traps that often happen when buying from Alibaba. These issues involve product selection, supplier verification, payment, and shipping. For each one, I'll analyze why it happens and provide tips on how to not get scammed. After full reading, I believe you'll develop knowledge of Alibaba frauds as well as find it easier and safer on Alibaba.
Scam 1: Sell Brand Products with Very Attractive Price to Make You Hard to Resist
"They sell smartphones with a very cheap price 500$+ for Samsung S20 Ultra Original Unlocked on Alibaba."
"I bought PS5 console and accessories and paid $640. But the supplier sent me a gold-plated bracelet."
While doing the research, I found that is the easiest Alibaba scam you will fall into. People tend to think branded electronic products like iPhones, PlayStations, etc., are made in China so that prices will be lower if purchased from China.
Unfortunately, those offerings on Alibaba with so cheap prices are all frauds, although some suppliers will claim to be OEM manufacturers of those branded products.
Always bear in mind that all branded products have official sales or distribution channels. You can only get genuine products from official stores or reliable online channels.
So the next time before placing an order, you must remember the costs others have paid. Also, be sure to bookmark this post to avoid other possible scams and save yourself from the tedious procedures of poor after-sales service after you found yourself got scammed.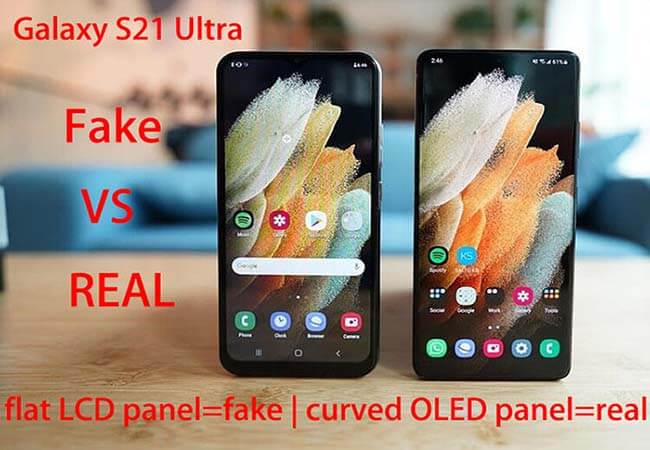 Scam 2: Sell Products That Involve Patent Infringement Issues
"We bought a product from a Chinese Alibaba manufacturer and sold on Amazon. After 2 weeks (with amazing sales), the listing was deactivated because of a patent infringement that we certainly did not know about.
The patent application is dated Mar. 23, 2020 and granted Mar. 23, 2021 – well before the Chinese manufacturer began making the customized product for us. USPTO says that a product is protected from the date of application.
After 30 days, we were notified of patent infringement. Also at that time, the manufacturer stopped selling the product because of the infringement. We've been arguing with the manufacturer for almost 2 months and they won't refund our money."
Patent infringement is always an issue when buying and reselling. The most common is violating the Design Patent such as product appearance and packaging. Here in the case, we can not judge the specific infringing type. But either way, if you are violating a patent, you'll be asked to stop selling those items by Amazon. It's really a big loss for you.
So what can you do to avoid it?
 I suggest you type the product's English name in Google patent to see if there is a registered patent. But that may not be very comprehensive. You can ask the patent agent for help. If you're selling on Amazon, the simple, direct way is to check whether your desired item is the only version on Amazon. If yes, it's probably a patented product.
Above all, you must check if your desired product violates intellectual property before ordering. Don't think that suppliers will actively verify it and inform you. What they do is to help you source or customize products as required, often without thinking about infringement. If patent issues occur, don't simply think about filing a claim against suppliers or hiring a lawyer to sue them, which is a waste of time and may not get compensation.
Scam 3: Give You Competitive Quotation but Increase Price After Placing Order
"I created the order, and the supplier changed the price of my order to a 50% higher price. They said there were small mistakes in price, please check our price list. Also, they added a big amount for shipping costs. This is a kind of click-bite and if you forget to verify the final price and give orders, money is gone. Be aware!!! Fortunately, Alibaba cautions us, saying that the order is modified but it's all of our responsibility to make sure the quoted price does not change."
The products on Alibaba are priced at a very low level to attract customers. As it's a wholesale platform, you can only get a specific price after you send the inquiry with the quantity you want.
Some suppliers will give you a very competitive quotation to attract you to order. As soon as you are going to send over the deposit after confirming all the details for packaging, samples, etc., they'll ask for a higher price.
While this may be true in some cases. For example, the power rationing policy in October 2021 and the increase in raw material prices. In such situations, product prices change every few days. However, some suppliers use such excuses to raise prices.
What we suggest here is to negotiate with suppliers to set a price range and put the agreed into your order. If the raw material price rises over the set range, pricing can be updated. Additionally, keep an eye on the supplier's statement about increased raw material prices and verify the truth, so as to avoid being scammed to bear an additional cost.
Scam 4: Use Special Price Discount to Lure Your Payment to Personal Pocket of Sales Rep
"I had a signed and stamped Sales Agreement. Still, it is a dead end. When I was about to pay the deposit, the sales rep contacted me by his personal mail, requiring the payment to his personal account and offering a special discount of 15%. Although I've paid $500 for the sample. At that time, I've totally had no idea of what to do. Thanks heaven, I was able to shift to another supplier, though his price is 10% higher to make myself feel safer."
This kind of scam is common too. It usually happens at the time of salesperson considering leaving the company and scam both the client and the company. Salesmen will find any kind of excuses to ask you to send payment to their personal account or threaten to screw up the order.
What should you do if it happens? I suggest you report the issue to the director or owner of the company immediately and get them involved to take care of your order.
Scam 5: Rob Your Money At The Time of Payment Via Western Union or MoneyGram  
"I got scammed on Alibaba for ordering 20 MacBooks and I paid $400 for each. The guys told me to send money by MoneyGram, and don't tell them the Reference number until I receive and inspect the goods. As they won't be able to take money without a reference number but to send them confirmation of money sent. I did that but somehow the scammers are linked with Moneygram and they gave the scammer money without a reference number. I never received my Macbooks or anything."
 I also found that some buyers are asking what is the safest way to pay on Alibaba. Generally, the above MoneyGram scam is rare, but still worth your attention.
As the case shows, the buyer found it a very lucrative business to purchase MacBook at a price of $400. Although he may be aware of the branded product scam on Alibaba, he still chose to believe the supplier. But MoneyGram or Western Union is not the same safe as Paypal, though the recipient requires a reference number to get money. As we cannot guarantee the agent cooperating with MoneyGram or Western Union will strictly obey the rules.
All in all, watch out for MoneyGram or Western Union. And choose the trade assurance service, no matter large or small orders. This is the safest to pay on Alibaba. You can open a dispute if there is something wrong with the product. Then Alibaba will mediate and deal with the dispute.
Scam 6: Hack Suppliers' Email, Asking For Payment to Another Bank Account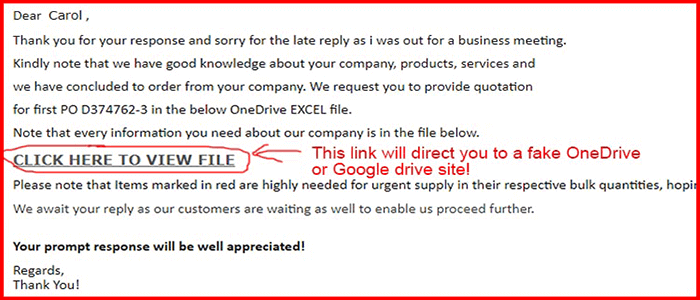 This kind of Alibaba scam is not necessarily the supplier scam, instead of the hacker fraud. The above shows how the hacker works in such a situation. As we know, suppliers' mailbox is full of various kinds of emails, such as promotional junk emails, communications with clients, and also scam emails.
Those hackers will pretend to be clients, asking the supplier to download something or using other tricks to steal the supplier's password to access their mailbox.
They'll just hide there and check incoming emails every day. When they see clients are going to place the order, they'll use the email on behalf of the supplier and email to the client that the bank account has been changed, asking the client to send money to another account.
What can you do in such a situation? You must reach out and speak to suppliers via phone call, Skype, WhatsApp, other than email. Be careful as some channels might also be hacked. There are 2 tips to confirm the identity: talk in the form of video-chatting or ask a question only your supplier would know. Then double-check with the supplier whether changes are real.
Scam 7: Agree to Use Trade Assurance in the Beginning, Then Lie Do Not Receive Money
"I placed an order in the amount of $3,242.90 with a supplier and paid with Trade Assurance. The trouble began when the supplier kept insisting that he did not receive the bank transfer. I provided him with confirmation that I sent the payment with the bank details through Alibaba. He then advised that it was the incorrect bank account and he couldn't get the payment; I must ask for a refund and meanwhile send another payment to the bank account that he provided to me that is not on Alibaba. "
I can tell you a secret – suppliers on Alibaba use trade assurance to get a good ranking in the product searching list. And most suppliers use it as one strategy to attract more customers.
However as the case shows, after you send money, they can lie they do not receive it for various reasons. Then, they ask you to cancel the previous order and arrange a new payment to their bank account. Once you agree, you'll lose all the protection trade assurance provides.
According to our experience, in such cases, chances are that the supplier is unsure about their quality, so they do not really want to process under trade assurance. When there is any quality or other issues arise in the future, you just lose all the money.
Scam 8: Cut Communication And Disappear After Receiving Payment Before Production or Delivery
"I placed an order and traveled to the city. I paid the down payment and yet to receive my goods. They refuse to respond and cut all communication. I have tried over and over to contact the salesperson and the manager, without any response. I have now lost the sale to my customer. I am out of pocket as even when requesting a refund, no one responds."
This type of scam usually happens with new suppliers, who do business on Alibaba for only 1 year or less. As we know, everyone can be a supplier on Alibaba if he/she pays the annual Alibaba membership fee.
Some new suppliers may find it difficult to continue with the Alibaba business after the first year. Then they start to scam clients as much as they can, and disappear after receiving money.
In order to avoid such scams, you'd better use trade assurance to deal with those new suppliers or choose a verified supplier with years of good records. Things will be better.
Scam 9: Send Out Sample With Premium Quality, But Rather Poor Quality for Bulk Order
"I am a reseller of gym products. Last month, I started sourcing Chinese suppliers for the shake bottle products. As it is my first import business from China, I required samples before mass production. I got the sample from a supplier based in Taizhou, and quite happy with the sample quality and quickly placed an order of 3,000 pieces. What annoys me is that when I received the bulk order, I found some broken bottles and most of them feels much lighter than the samples. I immediately spoke to the supplier and opened a dispute. Now it is still under negotiation. God bless me."
Sending out high-quality samples is just the same as quoting competitive prices. This is used as a strategy to attract customers. When some suppliers know their price is not so competitive, they'll use premium quality to convince you to place the order.
However, as the case shows, you can be astonished when checking the quality of the bulk order once they arrived. This can happen a lot in daily-used consumer products, such as clothing and shoes. Chances are that suppliers swap the high-quality materials with cheaper ones and ship out final products with high defective rates or short-weight items, etc.
What we suggest here is to use Alibaba trade assurance. And put all the details such as material and color into the agreement to ensure the quality of bulk order is as same as the sample. Without the quality details, you can't get a refund even using trade assurance, when there is any quality difference.
Scam 10: Use Fake Certificates to Demonstrate Their Products Comply with The Regulations of Your Country
"Hi guys, recently I've got an issue with suppliers. I am a toy importer, and have been sourcing outside China. However, we are considering changing to Chinese suppliers these days, as we found Chinese suppliers' price is 20% cheaper. But when I asked for the EN7 certificate, most suppliers said that they'll only show me the certificate after we place the order. I've been wondering is it sign of scam? Is Alibaba safe to buy from? As EN7 is a must, we just choose not to take the risk."
When you source products such as electronics and toys, compliance certificates like RoHS, CE for EU markets, are a must for suppliers to enter the market and for you to sell products in a legitimate way.
So the first thing you need to check with suppliers is whether they have such certificates. Normally there're 2 kinds of scams you should be aware of.
Suppliers claim they have such certificates to attract you to purchase. But their certificates are forged through Photoshop by changing the company name.
Suppliers promise to offer you those certificates after ordering. However, after you place the order, they do not offer certificates for various reasons or give you an expired one.
Either of the two happens, you will have to face the result that the goods will be blocked at customs. Or you will have to pay thousands of dollars for your own certificates.
Watch our YouTube videos to learn more about product certificates: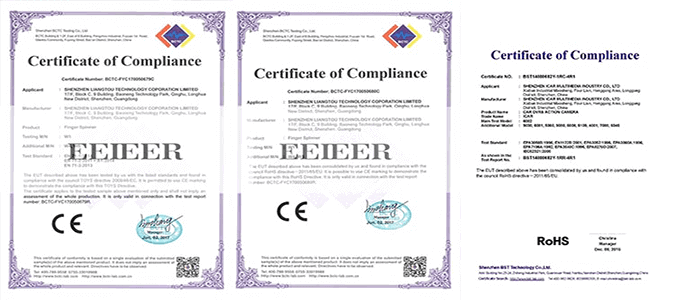 Scam 11: Buy Alibaba High-rated, "Verified" Supplier Account to Scam with Poor Quality Products or Nothing Delivered
"I ordered multiple different products from 3 different Chinese sellers verified by Alibaba and with high ratings. But received products were of poor quality, filled with defects, scratches, dents, and poor finish not mentioned in their product listings."
"Horrible. I purchased items in bulk to resale at my business. The person I purchased from supposedly a high-rated and certified seller. After 3 months of waiting and never receiving any shipping confirmation or detail, I did not receive my items. So I asked for a refund and sent snapshots of the conversation from the seller dodging my multiple attempts to receive shipping info."
Quite a few importers think high-rated and certified suppliers on Alibaba are always good. That is wrong. On the one hand, the Alibaba supplier ranking system is more based on expensive ad rate, different from Google. On the other hand, Alibaba verified supplier is essentially a paid membership, having nothing to do with the supplier's reliability.
Besides a very few free members without paying annual fees, the rest of Alibaba suppliers are basically verified. And currently, it is the only paid membership option, since the offline of Gold Supplier in September 2021. For suppliers, it's a kind of marketing expense to get more traffic, while it is a part of the income for Alibaba.
To sum up
Never tell a supplier is trustworthy simply by the "verified" icon and high ratings. If so, you're likely to fall for scams. Some suppliers buy the "verified" icon at a high price to rip you off by delivering poor-quality products or even nothing.
Be sure to do some research and take the necessary steps to verify good suppliers, thereby minimizing your risks. For example, engage a third party or conduct a factory visit to get to know the manufacturer in person, examine their facilities, production capacity, compliance certificates, etc.
Scam 12: Change Products without Notification at The Time of Dispatch
"I have received my order from Alibaba yesterday. Unfortunately, when opening the boxes, I found out it was not what we ordered. Similar but not exactly what we ordered. We ordered before and this was our second order from this manufacturer. We tried to work out with them and fix the order but they keep saying it's similar and should be fine. They don't really try to fix the issue."
Sad to say that this is quite common among Chinese suppliers. It will happen either during the first order or even repeat orders. Besides the case shown above, there are other cases. For example, you place an order for 100% cotton shirts. After they arrive, you immediately find something is wrong with the material – 80% cotton, 20% polyester mix.
When you get back to the supplier, they say the products look rather similar and won't affect the normal usage. So they just proceed without notifying you. If you require a reproduction or refund, the supplier is not willing to do that.
To avoid being scammed on Alibaba in such a situation, you must do a pre-shipment inspection or use trade assurance for protection, no matter if it's your first cooperation or reorders.
Scam 13: Keep Delaying Shipment and Shipping Charges Increase
"Seller delayed the order. He sent fake pictures of what we assumed was our order, but it was not. Then it gets more delays. Order dragged out for months, and the shipping cost went up 70%. Looks like they are intentionally doing it to make money off the shipping costs."
"I ordered 1000pcs of car air freshener. After confirming that the goods could be delivered in the required time frame, I paid for the order. Days later, the supplier advised that there had been a production delay. Days after that, on a Saturday, they held up shipment to demand an extra USD25 to cover increased shipping cost as they produced 98 pieces more than I had ordered. The money was sent because I needed the goods."
Shipment delay happens more often than you think. Oftentimes, delays are accompanied by rising shipping costs, especially in the peak season. Even if there's no freight rising problem, the shipment delay is a big loss for you.
There're many different reasons to defer production. In my experience, chances are that suppliers think the price is too low to get profits and makes money off increased shipping costs. Or suppliers have too many orders to ensure the normal production of your products.
Once a supplier postpones your order, you should be alert. First, confirm whether your products have been produced. Don't judge it by photos alone. Also, cover specific lead time, shipping date, plus solutions to the delays, in your trade assurance order. If the supplier finds it difficult to do, he needs to discuss a new date with you and revise it in the trade assurance order system. If without prior confirmation for a late shipment, you can open a dispute.
Scam 14: Shipment Arrives with Visible Damage
"Product arrived in a box stuffed with no bubble wraps or covers to protect the material. All the bottles had scratches on them and most of them had dents. Product cannot be used. I was shocked to see the product quality as shown on their website and what we got for paying so much money."
Cargo arriving damaged or unable to be used is another common issue. If that happens, the logistics company is liable for the damage. The key is to clarify who arranges the shipment.
In case you arrange that, you can directly turn to the logistics company for a claim and further communicate about how much should be compensated until a solution is reached.
In case Alibaba seller arranges shipping, you can ask the seller who would negotiate with the logistics company. In general, suppliers will pay you back first, including goods payments and freight charges, if you ask for a refund. Then, he makes a claim against the logistics company.
Even if you finally get a refund, receiving the freight with damage is a loss.
So, the most important thing is to do the pre-shipment inspection. It is an easy way to avoid harm caused by inappropriate packaging as such. By pre-inspection, you could greatly reduce product damage, except in rare cases of force majeure.
Scam 15: Ask for Additional Payment for Customs Clearance and Threatens Not to Deliver Goods
"I was looking for suppliers of computers and tablets. Since I trust Alibaba, I have no hesitation when Alibaba suggests suppliers to me. Now I have sent money to the supplier to buy computers. For more than a week I have not received a return. And the supplier tells me that the goods are inspected and blocked by the Chinese customs and asks me to pay another 30% of the total price of my order, otherwise I will not receive my package."
This is a scam of price change at the time of shipping. Generally, the above extra customs payment fraud is rare, but still worth your attention.
There would be a list of excuses, for example, asking for extra custom bonds payment, or providing you with the fake tracking number.
If that happens, never rush to make a payment. Keep cautious and verify given information. You can also check the trade term contracted with your supplier. For example, the trade term DDP (Delivered Duty Paid) regulates your supplier to be responsible for import clearance and pay for all the import duties and taxes.
As for custom bonds, remember no such charges in China. It's only required by the USA and charged when your purchase exceeds $2,500 or involves regulated products.
As you can see, major Alibaba disputes or complaints come from sellers. I also heard many importers asking "how to know if Alibaba seller is legit?". I can tell you 90% of Alibaba suppliers do business legally, except for those selling knock-off brands. Here "legit", I think, might be more oriented to "reliable" or "responsible". A good supplier can help you save a lot of headaches.
Should you have any doubts about Alibaba scams, leave comments below. If you want to source any products in China, you can contact us. Our Jingsourcing experts have rich experience in helping clients across the world to purchase and ship goods from China at competitive prices.