In international trade, freight forwarders play an essential role. When you want to ship your goods to your country, you will definitely think about finding a reliable freight forwarder to help you arrange shipment. Because international shipping is quite a complex process. The following article will help you understand forwarders better. Let's take a look.
Freight forwarder meaning and types
Freight forwarder description
Freight forwarders are also known as forwarding agents. They are the middlemen of buyers and sellers, responsible for delivering your goods from the seller to you.
In fact, freight forwarders work with shipping companies, airlines, and other transportation companies to become their agents. Then, they book space from these companies, collect your goods and provide you with a series of transportation services, such as customs clearance and arranging shipment. This can greatly improve the overall efficiency of cargo transportation.
You may have such doubts. Since freight forwarders are middlemen, can I bypass them and book directly with shipping companies and airlines?
It is impractical. Take sea freight as an example, if you want to book directly with shipping companies, firstly, your cargo volume should be especially huge, such as dozens or even hundreds of containers of cargo per month. If your cargo volume is small, the shipping company will not accept your order at all. Secondly, the shipping company only provides vessels. You still need a forwarder to help you deal with other complicated things.
Therefore, no matter whether your cargo is large or small, you can save time and effort by entrusting a freight forwarder. Moreover, there is a partnership between freight forwarders and shipping companies, so they can get discounts from these companies. And the price will be lower than if you contact them yourself.
There are many types of forwarders. Based on the type of services they provide, this article has divided them into two types: all-inclusive forwarders and dedicated forwarders.
An all-inclusive forwarder can deal with all procedures for you from the seller to your destination. These forwarders can provide a variety of transportation methods by land, sea, and air. Also, they can provide you with the best transportation plan according to the quantity and properties of your goods. It can help you save a lot of trouble.
Compared with all-inclusive forwarders, dedicated forwarders have their advantages when shipping to certain countries. They work with forwarders or brokers who have strong customs clearance capabilities in the destination country. This makes the whole shipping process smoother and shortens the shipping time.
It is known that countries like Russia, Brazil, Turkey, India, etc., are not easy to clear customs. So when you ship to these countries, it is better to choose a dedicated forwarder.
What does a freight forwarder do?
Stage 1 Make the booking and pick up cargo from your supplier
Your forwarder knows in advance the weight, volume, and shipping plan, and then books the space with a shipping company. If you need your forwarder to pick up cargo from the factory, he will negotiate with the supplier about the pick-up time, and then arrange trucks to the appointed place to load the cargo into the container.
Before loading, the forwarder will check the quantity and packaging to make sure that the goods are in good condition before shipping. Then, the containers will be sent to the dock and wait for loading on the ship.
Stage 2 Go through export customs declaration and load on the vessel
At this stage, your forwarder should prepare detailed information and all supporting documents about the cargo, then fill in the declaration form and go through the export customs declaration. For ISF filing — a must for all ocean cargo entering the USA, your import freight forwarder can do it in a correct and timely way, if you need help.
After having done these, he will receive a release pass. Once the cargo is approved by customs, containers will be loaded onto the ship and placed in the designated space, waiting for the vessel to set sail. After the ship sails, your forwarder should help you track the cargo transportation and inform you of the logistics information in time.
Within a few days of the ship's departure, your forwarder will issue the bill of lading to your supplier. The supplier will give you it after receiving your order payment for subsequent pickup. In addition, he can also help you deal with cargo insurance if you need it.
Stage 3 Deal with import customs clearance
When the ship arrives at the designated port in the USA, your forwarder may not directly finish the cargo import procedures for you. They will find their cooperative U.S. customs companies or local U.S. forwarders to help you. Because the locals will be more familiar with customs procedures and requirements. This approach can greatly improve efficiency.
Stage 4 Deliver to your destination
The forwarder can also help you send goods to your place after clearance. For example, if you are a US Amazon FBA seller, your forwarder can help you contact truck companies, express companies, or their local cooperative forwarder companies to transport your goods from the US port to the Amazon FBA warehouse.
JingSourcing can help you arrange shipments and deal with all things.
Differences between forwarders and brokers, NVOCC, carrier and 3PL
When searching for the term "freight forwarder" on Google, you may find that "broker", "NVOCC", "carrier", "3PL" and other terms appear in the related search pages. The following will briefly explain the differences between these terms.
Freight forwarder vs customs broker
Both freight forwarders and customs brokers play an important role in international trade. The difference is that the freight forwarder is responsible for shipping goods to their destination within a specified period of time. The international transportation of goods involves several links, such as booking, cargo handling, import and export customs clearance, cargo transportation, etc. These works can be done by forwarders.
While the customs broker is only responsible for customs clearance when the goods arrive in the country of import. As we discussed above, lots of international forwarders also need to cooperate with local brokers to help their customer's clearance and customs exams if there is.
Freight forwarder vs NVOCC
NVOCCs (Non-Vessel Operating Common Carriers) are agents of shipping companies. They provide only ocean freight services. You can consider them as ocean forwarders.
Freight forwarder vs carrier
A carrier is a shipping company, airline, railway company, etc. They actually help you ship cargo by their ship, airplane, and vehicle. Freight forwarders are agents of carriers. They provide shipping services for buyers or sellers. In real business, you deal more with a forwarder, rather than a carrier.
3PLs, also known as third-party logistics, can provide more services than forwarders. They have warehouses to help you store, package, and deliver to your end consumers. Not all forwarders can do these for you. Some large freight forwarders rent warehouses in destination countries and can provide these services.
For example, if you have an online store and want to focus your energy on store marketing, then you need someone to help you deliver the package to your customer. At this time, you can outsource to the 3PL company. Amazon FBA is a typical mode of third-party logistics.
How to find a freight forwarder?
From supplier's forwarders
Usually, your suppliers will have their long-cooperative forwarders. You can ask your suppliers if you need one. It will be much easier than sifting through millions of forwarders on your own. You don't worry too much about the supplier making money from it. After all, they also want to do business with you in the long run, thus they are not willing to lose your order.
From Google or social media
You can also find forwarders from common search engines and social media like Linkedin and Facebook. Many forwarders are now marketing themselves in these places. But be careful the way you search. For example, if you want to find a dedicated freight forwarder to Brazil, you can enter the text, "shipping from China to Brazil" or "freight forwarder Brazil" in the search bar.
Of course, this is not to say that the higher the ranking the more reliable the forwarder, because some professional forwarders may not be good at marketing.
From the online freight marketplace
Platforms such as Alibaba and Freightos can provide you with many freight forwarder options. By filling in the cargo information such as origin, destination, weight, dimensions, value, etc., these platforms can help you calculate the shipping costs of many forwarder companies. You can compare the prices easily and choose the best one. Also, you can place orders on these platforms, which greatly improves the experience and efficiency.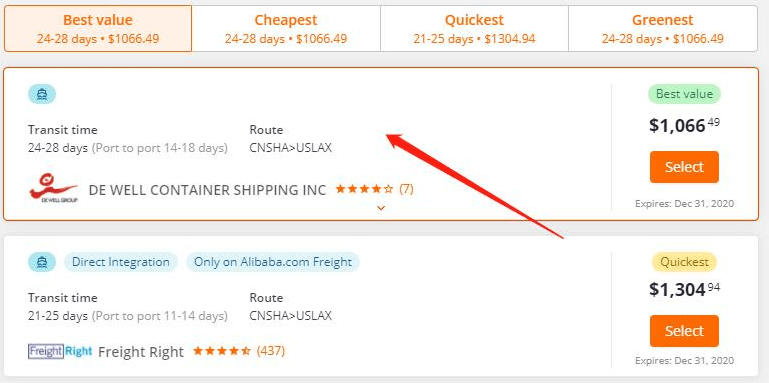 It's also great if your acquaintances are willing to introduce reliable forwarders to you. You can take advantage of their experience to find the best one that suits your business. However, it is also important to note that in this way you need to know clearly whether these freight forwarders are what you need. If you want to transport sensitive cargo, you need to ask if he can undertake it.
What is a reliable freight forwarder?
Above are only some ways to help you find freight forwarders, but whether they are reliable or not also needs you to do further communication and judgment. Below we will list four common features of good forwarders for your reference.
Transparent pricing structure
When you find out that the price you need to pay is higher than the negotiated price, you will definitely feel cheated. Price transparency can avoid all hidden costs and give you more peace of mind when doing business with your trading partners.
A professional freight forwarder should be very familiar with international freight knowledge and processes, skilled in the import clearance policies of the routes taken, and be able to offer professional advice on your questions.
Qualified forwarders can reply to all your questions quickly and accurately. They can provide you with real-time logistics information to make you more comfortable. When a problem arises, they can actively think and offer solutions.
Duly licensed with all necessary credentials
JingSourcing has long-term cooperative freight forwarders to help you ship cargo.
After reading this article, hope you have a clear understanding of the word "freight forwarder". If you have any questions, please let us know in the comments below.
We are JingSourcing, a leading sourcing company in China. We are committed to sourcing and customizing a wide range of products from China, and arranging the best transportation options. We have reliable supplier resources and long-term cooperation forwarders. We can provide the best solution to any problem sourcing from China. Just CONTACT US.