Alibaba.com launched the Trade Assurance service in early 2015. However, since its launch, this program has received both good and bad reviews among buyers and sellers. Some suppliers will even choose not to accept trade assurance orders, or choose to increase the product price by 2-3% for trade assurance orders. For others, they are happy to take trade assurance orders to enhance their supplier ranking on Alibaba.
Why is that? Why do buyers prefer to use it, while some suppliers do not? And I found buyers are highly concerned about the following issues.
Can their interests be fully protected during disputes?
How to take advantage of this service?
When is a good time to file a dispute?
How to select a reliable trade assurance supplier?
We'll uncover all of the above questions in today's article. You'll also find we spend a lot of time emphasizing the importance of clearly specifying product requirements, shipment date, etc., from the very beginning of the order. This is essential for you to develop sufficient evidence during the dispute.
Believe that you'll have a better understanding of how to use trade assurance after reading. You can navigate to related content via the below links.
1. What's Trade Assurance? How Does It Protect Your Purchase?
Trade assurance is a transaction protection service launched by Alibaba to enhance the trust between buyers and suppliers, with Alibaba acting as the intermediate assurance party. Buyers can get payment protection if the supplier breaks the on-time shipment or product quality terms of your contract.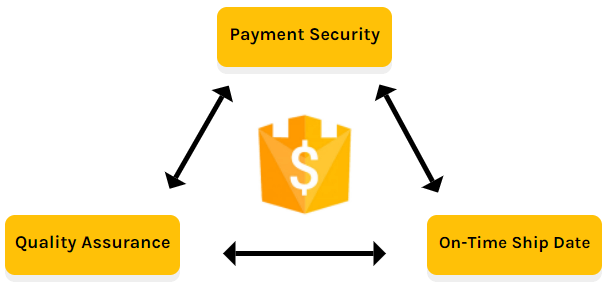 If you place a Trade Assurance order on Alibaba, and the supplier can't ship your goods on time or meet your quality standards specified in the contract, you can open a dispute and apply for a refund. If the supplier is found to be at fault, Alibaba will provide you with a refund of up to 100% covered amount on behalf of the supplier. The covered amount refers to the amount of your payment that will be protected. We'll further elaborate on it in the following chapter.
Though it's a free service, you still need to pay the payment processing fee when conducting a transaction on Alibaba. More details can be found in the Payment chapter.
2. What is Alibaba Trade Assurance Limit? Is It Important to You?
You must have heard TA (trade assurance) limit from many other guides or tutorials.
It is granted by Alibaba to suppliers, based on their transaction history, business reputation, etc. This is the maximum amount available for a supplier to use on all orders. Within the limit, Alibaba will not hold the payment. So the supplier can directly get money and become more flexible in cash flows. For buyers, it means their payments made to suppliers are protected, up to the remaining amount of the supplier's TA limit.
However, since 2020, buyers can't see the TA limit in the suppliers' profile, which is only known by suppliers themselves. You might have such concerns: what if the order value is higher than the supplier's remaining TA limit? Can you get full compensation in case there is something wrong with the order?
Don't worry. You'll be fully refunded in the event of product quality issues or a shipment date delay, as long as you have sufficient evidence to prove that it's the supplier's fault. Only with powerful evidence can Alibaba judge that the supplier did not comply with contract terms and take full responsibility.
That is to say, you'll get money back, including the amount within and exceeding the supplier's TA limit. Generally, Alibaba will pay you the exceeding amount of money first. Then, Alibaba asks the supplier to give it back in a certain period of time, which is the matter between Alibaba and the supplier.
Next, let's learn how to make a trade assurance order within 3-easy steps. You can create it by yourself or ask your supplier to create it for you. Moreover, you can choose dual protection for on-time shipment and product quality while creating the order.
3. How to Create a Trade Assurance Order?
Step 1: Create the Product Specifications and Delivery Terms.
After you choose a supplier with a Trade Assurance logo, the most important thing is to clearly specify all the product details, quality requirements, shipping time, dispute resolution, etc., in the order system and purchase contract. As they are the official legal documents to be referred to in case of disputes.
1. Product design file.
If you want your products to be exactly the same as your design, be sure to send the design files to the supplier, instead of just sending over a product photo. 
2. Quality requirements.
Specify how you'll determine if there is a quality issue, based on sample quality before shipment, or 3rd party inspection. And specify below important product details. 
Color: for example, if you source the red wine tumbler, use Pantone color 186C, instead of just saying "red". If you're not satisfied with the color of goods received, you can easily compare the color with Pantone color to give strong evidence during the dispute. 
Size: In the case of a wine tumbler, you'll need to specify the Length, Width, and Height. eg. CM: 8.8*8.8*13. So the suppliers can easily follow these specifications. 
Material: for example, 100% stainless steel, and other mixture is not acceptable. Also, state that you'll assign 3rd party inspection to do the material testing. If not clearly stated, you'll lack evidence during the dispute. 
Weight if applicable: eg. 217g. You can also state a range of acceptable weight: 215g-219g. With this as a guide, you can open a dispute for a refund or return goods once the products inspected are found to be 100g.
3. Quantity.
Especially for small daily-used products, specify the exact quantity you want for each item. You can ask for a refund when there is a quantity shortage. 
4. Packaging details.
Specify the packaging material, carton size, labeling requirements, design logos, whether to use a pallet or not, etc. If the goods received are damaged, you may accuse of poor packaging. But still, you need to have strong evidence for a successful dispute. 
5. Shipment Date.
Specify a date, such as Aug 5, 2022, instead of saying to ship in Aug. You can also specify a solution if there is a late shipment. If the supplier finds it difficult to hit the shipment date, he needs to discuss a new shipment date with you, and revise it in the trade assurance order system. However, if there is no prior confirmation with you (buyer) for a late shipment, you can open a dispute.
6. Customization Specifications.
If you need to customize the product, be sure to specify the Customization Specifications in "Order remarks" or attach any design and logo files to the supplier. 
Below is an example of clarifying the shipment date in the purchase contract. You can also specify other important quality requirements, as well as dispute solutions in the purchase contract, as specific as possible to protect yourself while using trade assurance.
Click to Enlarge Images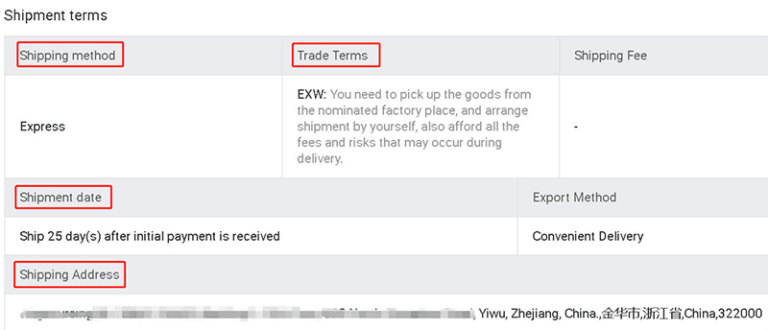 Note: you have to be very specific regarding the above details to make it easier for the supplier to clearly understand your requirements. Otherwise, in case of dispute, it'll be difficult to support yourself with such evidence to get a refund successfully.
Step 2: Choose Coverage Type for Your Order.
Select coverage type to determine the amount of payment for protection. There are 2 coverage types: Pre-shipment Coverage and Post-delivery Coverage.
Under Pre-shipment coverage, you are protected for the initial payment. 
Under Post-delivery coverage, you are protected for the full amount of your order payment. 
For example, you create an order of $80,000, with a down payment of $25,000. If you choose the pre-shipment coverage, in case of any quality problem, your initial payment of $25,000 is protected. If you choose post-delivery coverage, your total order of $80,000 is protected and can get refunded if the supplier is proved to be at fault.
Step 3: Confirm Your Order and Make Initial Payment. 
All of the above steps can also be summarized in the following workflow.
Note: during the order creation process, it is very important to confirm with the suppliers about all of the above product details, quality requirements and shipment date before production. 

4. How to Pay a Trade Assurance Order and What about Fees?
With regards to orders using the trade assurance service, there are 9 payment methods available to pay suppliers on Alibaba.
This chapter contains a great lot of content. You can jump to the payment you want to know.
One thing you should know here is that, under trade assurance orders, a virtual CITIBANK account will be created automatically for each transaction. You must pay to the specific CITIBANK account instead of the suppliers' personal account directly. Otherwise, your payment is out of the protection of trade assurance.
Once you complete the payment, money will not arrive at your supplier's account immediately. Suppliers can only get it after you inspect your goods before shipping or after delivery.
1. Choose PayPal as the Payment Method.
Since April 2021, PayPal has been available as a method of payment for orders with Trade Assurance. PayPal is widely used as an electronic payment gateway domestic and overseas, across 200+ countries. Furthermore, this payment way supports USD, EUR, GBP, CAD, SGD, AUD, HKD, & JPY.

It is fast, as shown in the processing time of 1-2 hours. And buyers need to pay 2.99% of the payment amount per transaction. As for the maximum payment amount, it depends on the limit of the card bound in the buyer's PayPal account, up to $12,000.
Note: not all Alibaba suppliers are willing to accept PayPal. One of the main reasons is that, for orders ≤ $5,000, suppliers need to pay Alibaba a service charge of 2% of the order amount. If suppliers deliver goods via Alibaba logistics, they only pay the platform 1% of the order amount. The service charge will be capped at $100. Besides that, suppliers also need to pay withdrawal charges, usually around $15 each time.
2. Choose Credit Card (Visa or Master Card) as the Payment Method. 
It is very easy to use a Credit Card. Just "add a new card to pay in USD" to bind the card with the order. Like Paypal, you can apply for chargeback, if you are not satisfied with the quality of goods received. 
When that happens, Visa or Master Card will step in the case, and investigate the transaction. You need to keep all the shipping documents as evidence during the dispute. Although there is only a possibility of 3‰ for credit card chargeback, most suppliers will only accept this payment method for small orders valued at less than $500, and not accept it for large orders.
Supported card: Visa, MasterCard (Credit/Debit Card) only.
Transaction fees (2.99% of payment amount).
The payment limit per transaction is $12,000.
Payments require 1-2 hours to arrive in the supplier's CITIBANK account.
3. Choose Online Bank Payment as Payment Method.
It is only available for buyers with a US account or some German and French bank accounts. For each transaction, it is up to $50,000 for a US account and $10,000 for other accounts. 
It costs a lot less than Credit Card and Wire Transfer. And it is the best choice for large orders.
Low transaction fees ($15-$30 per transaction).

Online Bank Payment is only available for USD & EUR.

It only takes 4-5 working days to arrive in the supplier's CITIBANK account.
4. Choose Online Transfer as Payment Method.
Based on the collaboration with third-party financial institutions, such as Trustly, Ideal, Sofort, etc., online transfer enables you to complete payments in local currencies at any time. And it can be done via any computer with internet access.
As you can see, Online Transfer is simple to use. Meanwhile, it is very safe. You can charge money back in the event of fraud. This means you can get compensation in case your shipment arrives damaged or you receive nothing when using such a payment option for your order.
Online Transfer is only available for European accounts and local currency, such as Euro, Pound, złote, and Swiss Franc.
Low transaction fees ($15-$25 per transaction).
It only takes 1-3 business days to arrive in the supplier's CITIBANK account.
The payment limit per transaction depends on which financial institution you choose.
Trustly/Ideal/Bancontact — no limit.
PayU — $200,000.
5. Choose Telegraphic Transfer (T/T) as Payment Method. 
Telegraphic Transfer (also known as Wire Transfer, Bank Transfer) is the most popular business-to-business payment method nowadays. It's very safe and convenient. For this payment way, you should pay to the CITIBANK account instead of the supplier's other private account. Otherwise, you will not be covered by Trade Assurance. 
The transaction fee varies by different banks. You have to check with your local bank for details. Usually, the bank charge is from $20 to $80. 
No amount limit for each transaction.

Available currency: RMB/USD/HKD/GBP/EURO/SGD/AUD/CAD/JPY.

It takes about 3-7 working days to arrive in the supplier's CITIBANK account.
Some online tutorials or guides may tell you to choose domestic wire transfer to save time and money. Yes, it takes 1-2 working days to arrive and each transaction costs about 0-5 units of local currency.
Here you need to know that domestic wire transfer only supports accounts in the USA, the UK, Europe (EUR areas), Australia, Canada, Japan, New Zealand, and Mexico. Besides, the payment is up to $1 million for areas except the USA.
In practice, if your country or region matches the conditions, Alibaba will provide you with both domestic and international accounts. All you need to do is to choose the most favorable domestic wire transfer account to pay. If you don't meet the conditions, you will only see an international account. And you just use it to complete the payment.
6. Choose Western Union as Payment Method. 
Under trade assurance, Western Union only supports USD currency and USA buyers. The payment limit is also very small, available for orders amount less than $2,500. It takes 1-2 business days to get to the beneficiary's account. The transaction fee is $4.9 – 1.8% of the payment amount.
7. Choose Pay Later as Payment Method.
If you have financial pressure recently and are in urgent need of importing goods from China to make money, then Pay Later can be a good choice. It is a small business loan from a 3rd party financial partner of Alibaba to finance your trade assurance orders for up to 6 months. 
Currently, you can apply for credit up to $150,000 to pay for purchasing orders on Alibaba from Kabbage, an online financial technology platform based in Atlanta, Georgia. There's no payment processing fee for this method. To know how to apply for the credit, you can click here. 
Payment arrival time: 1-3 working days after the loan agreement is completed.

Supported currency: USD.
8. Choose Boleto as Payment Method.
Boleto is only available for Brazil and USD. There is a payment limit per month, up to $10,000. The transaction fee is low, 1.35% of the payment amount. Concerning the payment arrival time, it takes about 3-4 working days.
9. Choose L/C (Letter of Credit) as Payment Method.
L/C is very secure, as third-party banks offer guarantees. And it can help you with the pressure on cash flow. Because you don't need to pay the supplier in advance. Your bank ensures the supplier will receive the payment once the cargo is shipped or arrive at the port of destination.
What you should pay attention to is the high charges of L/C. Apart from fees charged by banks, Ali requires a document presentation service fee – 0.125% of the order amount. The minimum charge is $50 and the maximum is $300. Therefore, L/C is more suitable for large orders.
If you place a large order, you can ask your supplier to create a trade assurance order under L/C payment method. Currently, only suppliers can do it. And they are willing to accept your request because such orders don't occupy their TA limit.
The payment arrival time is similar to that of TT. In terms of the entire process, L/C requires much longer time than TT as it involves more procedures — the presentation of documents, bank review, the sending of documents to the issuing bank, the remittance arrangement of issuing bank after receiving documents. If all is well, it'll take 1-2 weeks, which is for L/C at sight. For Usance L/C, time will be longer, usually 1-3 months.
Last but not least, the currency is up to the term in your contract. It could be local currency either in your or the supplier's country or the currency of a third country agreed by both parties.
TA Order Payment Method List
Here I sum up all the above payment options available for orders under trade assurance and list the transaction fee, payment arrival time, currency, and limit for each payment method.
Click to Enlarge Images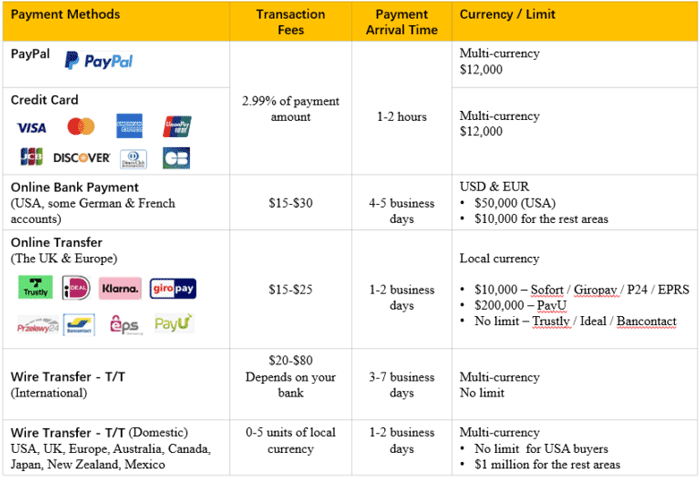 5. How to Open a Dispute if You Receive Defect Goods?
If unfortunately the goods arrived do not meet the specified requirements, you'll decide to open a dispute with Alibaba. However, you can only open a dispute within the applicable claim period, after the full order amount is paid.
1. If you ever click "Confirm" on the order system to confirm receipt of goods, you have to claim the dispute within 30 days after confirming the order receipt.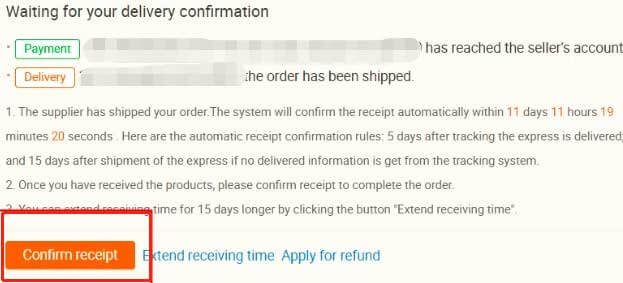 2. If you did not click "confirm" in the order system, then depending on the shipping method, you need to lodge a dispute no later than the following days. As Alibaba will automatically confirm the receipt, even if you do not confirm manually in the system.
By

Express

: 15 days

By

Air Freight

: 30 days

By

Sea Freight/Land transportation/Post Parcel

: 60 days
With the Claim Period in mind, here is how you can open the dispute online: 
Step 1: Go to Orders-All Orders, find the order, then click "View More" to the order detail page, and click "Apply for refund" to open a dispute.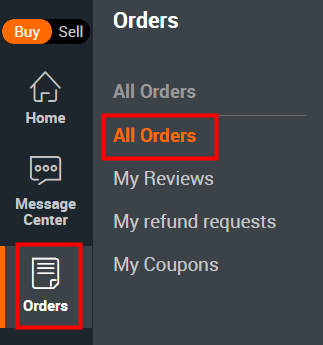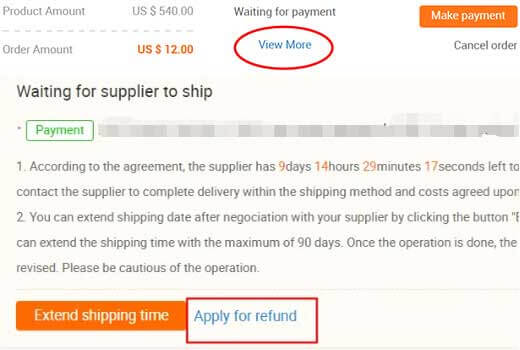 Step2: Fill in the Dispute Form and Upload Evidence 
Be sure to keep below important documents as evidence to ensure a successful dispute solution. Alibaba dispute team will investigate and review this evidence and make the final judgment. 
List of documents for dispute solution: 
A signed copy of a purchase contract or invoice(PO).

Documents related to the

product specifications

.

Documents related to design drawings or files. 

A copy of the inspection report.

A copy of all related communication records with your supplier (eg. texts, videos, etc).

A signed copy of the transaction receipt.

Any pictures or videos of defective goods.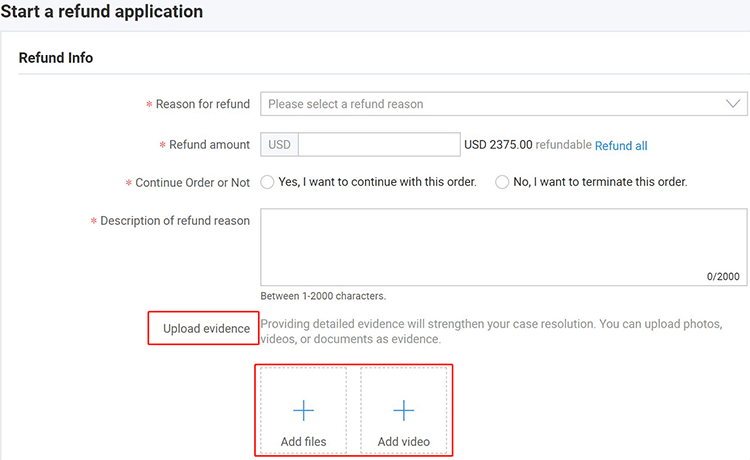 Click to Enlarge
Step 3: Wait for the Suppliers' response or Escalate it to the Alibaba Dispute Team 
After you submit a dispute, usually there will be 5 days for the supplier to respond for a solution discussion. However, if there is no response from the supplier, you can escalate it to the Alibaba dispute team to get them involved.
Once Alibaba intervenes, they'll ask both you and the supplier to submit evidence to further investigate the case. If it is the supplier who's found to be at fault, Alibaba will provide you with a refund on behalf of the supplier.  
Whether it is your or the supplier's fault, it depends on the submitted evidence, especially related to the issue of product quality. Once again, make sure to specify quality requirements in the very beginning, confirm them with the suppliers, and keep all the communication records during the process. 
Infographic for Entire Process of Opening a Dispute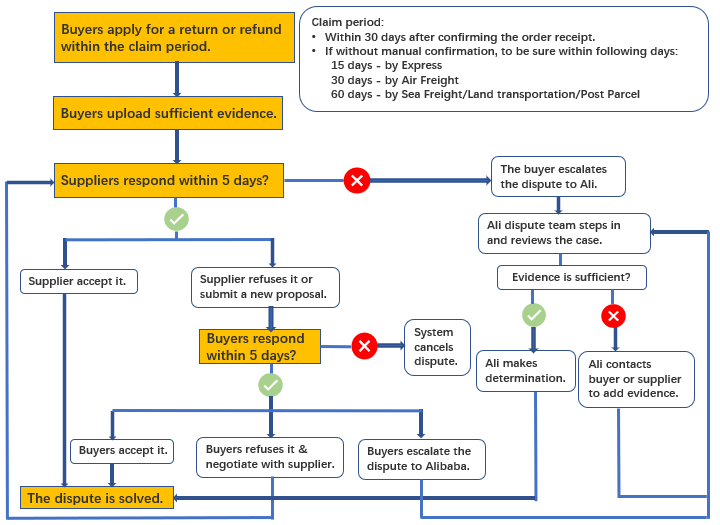 6. How to Inspect Quality before Shipment or after Products Received?
Based on the coverage type (Pre-shipment coverage or Post-delivery coverage) you opt for trade assurance orders, you can choose to inspect products either before shipping or after delivery. 
a. Quality Inspection before Shipment. 
Usually, both supplier and buyer make such a common mistake – do not pay for 3rd party inspection to inspect the goods before shipment, especially for small orders. As they think it costs too much for a 3rd party inspection. 
Under trade assurance, it is very necessary to involve a 3rd party for the official inspection report as evidence. If the inspector finds a quality discrepancy, you can either negotiate with the supplier for a solution or open a dispute for a refund of the initial payment. 
One way is to pay for Alibaba Inspection Service attached to the trade assurance service. You can choose to add inspection service while creating the trade assurance order or before making the initial payment.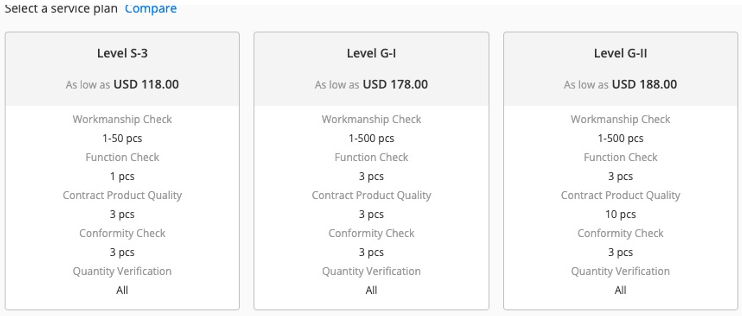 Another way is to hire a 3rd party inspection company, such as Intertek, Asia Inspection, etc. They usually charge $300 for one inspector per day and do sampling inspections based on AQL. You can choose the most cost-effective way based on your order value.
b. Quality Inspection after Delivery. 
After you paid the full order amount, you found the goods arrived damaged or not satisfactory. Before opening a dispute, you need to hire a 3rd party inspection company in your country to issue a quality report, detailing the percentage of the major defect and minor defects, etc., as evidence for filing a dispute. 
If no 3rd party inspection is involved, chances are that it'll be difficult for you to ask for a refund of the full payment. Because the Alibaba dispute team will find it hard to judge which party is at fault, if there is no strong evidence. 
Although both you and the supplier can provide product video or photo for evidence, what if the quality problems happen during transportation. In such a situation, you can only refer to the quality terms in the purchase contract for a negotiation with the supplier. 
7. How to Well Protect While Using Trade Assurance? (Real Case Study)
Case:
Ali completely denied the refund, as the buyer didn't have a clear agreement with the supplier. 
Buyer: "Got the product last Monday. To my surprise, the main part of the product is not what we bought, material-wise. We were buying Gold and received Bronze instead. So, I email the supplier, send him a message on WhatsApp, call him a couple of times, and guess what? No replies… I opened the dispute, and submitted evidence of what we discussed on trade manager/WhatsApp/emails, and how the product did not meet requirements we discussed." 
Suppliers' response to the dispute: "The Alibaba trade assurance contract/order details mention nothing about the Gold part." 
Results: Alibaba closed the case. The buyer did not get a refund, due to a lack of evidence regarding the material. The supplier got money and the buyer got a product they can't sell.
Source: Original Case
Comments: 
Cases like the above happen a lot. No matter whether it is material or color, if only general terms such as "Gold" and "Red" are written in the order, you'll most likely fail in case of quality issues. Instead, you need to specify the color number either using Pantone color and write them into the order details, as specific as possible as future evidence. For the material, you can even state you'll assign a 3rd party to do the material testing to ensure 100% quality compliance. 
Without strong evidence, whatever aspect you accuse, either packaging, material, or any other, you'll not get a refund as expected. 
Final Thoughts
Trade assurance is becoming more and more popular among buyers, as it does provide payment protection successfully as long as the buyer can upload sufficient evidence against the clear requirements specified in the order.
However, for the same reason, some suppliers are still reluctant to accept trade assurance orders, as they face risks associated with it. As such, if the profit is very thin already, some suppliers will increase the product price by 2-3% to compensate for the additional fees and costs under the trade assurance order.
For buyers, although trade assurance provides an additional layer of purchase order protection, it does not mean you can sleep on that. Essentially, no matter whether you choose to use trade assurance or not, it all comes down to selecting a reliable supplier.
If you choose the wrong supplier, who agrees to use trade assurance, but ship out poor quality products, even if you finally get a refund, think about the time spent on the dispute solution. Sometimes it can be an additional 30-day loss back and forth, impacting the normal sales of your products. Not to mention there are possibilities that you cannot get refunded as expected.
Further Reading for A Better Buying Experience on Alibaba