As is well-known, profit in competitive markets demands substantial investments in inventory and advertising. Choosing niche products lowers market entry barriers. Today's article will explain niche products from the following key aspects:
A niche product is like a small and specialized subset of products. It allows you to precisely target consumers within a particular category, so you can focus on meeting these specific, unique needs.
For instance, socks are general consumer goods. Sports socks are tailored for individuals participating in various sports. Depending on the sport, they can be further subcategorized into yoga socks, running socks, basketball socks, skiing socks, equestrian riding socks, and so on.
In this example, you are catering to a narrower but more focused customer base by providing specialized socks, rather than trying to appeal to the general public. This way, you address these consumers' issues and provide what they genuinely desire. As a result, they are more likely to visit your online store for the "right product." Essentially, you're establishing a position in a smaller market segment, known as a product niche, enhancing your competitive edge.
What are niche products examples? (2 real business case analyses)
For instance, candles represent a mass market example, while aromatherapy or scented candles fall under the niche market category. And this can be more specific as crystal aromatherapy candles.
Similar examples include organic pet food, more specifically to be cat or dog organic food. Fishing rods constitute a niche within fishing gear, while Hanfu is a niche within women's clothing. Rechargeable scents target car interiors, and beverage holders cater to sofas. Additionally, there are highly specialized niches that may involve selling 1-3 products and utilizing diverse marketing strategies within that focused segment.
Real niche business case 1
Porkysplash.com  is a Google E-commerce website established in April 2023 according to Whois, only sells a single type of piggy squeeze toy in two available sizes and with specific discounted offers as outlined below.
The business owner is already experiencing success. Why? Well, the specialized niche product incorporates a charming pig design and stress-relief functionality, catering to the growing needs of modern people facing high work pressure and a fast-paced lifestyle.

Notably, this business has effectively utilized social media. On May 28th, 2023, the first short video was released on TikTok. The video updating frequency is one or more days, showcasing the piggy toy being squeezed and tossed to emphasize its stress-relieving functions and good quality. Plus, all videos are shot from a first-person perspective. This way, viewers feel immersed and resonate emotionally, thus generating a buying desire.
Coupled with trending hashtags like #satisfying and #asmr, which also highlight the product's attributes, video views remain steady at a range from 150k+ to 300+ million, accompanied by 800k+ followers. All these boosts both its popularity and sales. This method is certainly worth considering for our own strategies.
The viral trend on TikTok also fueled a sharp increase in global search interest for "Piggy Squeeze Toy" on Google Trends from June to July 2023, reaching a peak score of 100.
Real niche business case 2
Hall Madden is a Google E-commerce website established in 2010. The two founders possess 25 years of expertise in garment fitting and menswear manufacturing. They dedicate themselves to the niche tracks of custom suits, shirts, and tuxedos for a targeted audience.
In terms of marketing, 90% of the traffic originates from Reddit, while a small portion comes from Instagram and LinkedIn, as indicated by Similarweb data.
There is a wealth of valuable, useful information on Reddit, rather than primarily marketing content. It's akin to checking ratings and comments on IMDb for the latest movies.
Hall Madden has actively engaged in Reddit's male fashion advice community, which is precise and the largest men's fashion community boasting 5.5 million members. Although they haven't posted many threads, they provide insightful and professional responses to others' inquiries, garnering over 70 upvotes and comments. Additionally, in May 2023, a customer left a detailed and appreciative review for Hall Madden's custom suits and wedding attire, receiving over 100 upvotes. Moreover, the comments indicate a positive brand influence for Hall Madden.
In addition, Hall Madden has also invested time and money into Google SEO and shopping ads, primarily targeting the US market. Over the years, Hall Madden has been steadily establishing its unique brand identity.
Specific niches vs selling a variety?
Indeed, many entrepreneurs begin with trendy products for quick profits, yet sustainability is often lacking.
This approach is frequent in general stores, selling a dozen or even more types of products and utilizing a dropshipping model at the business start. Imaging the vast array of products, it's hard to maintain inventory for all these items and often drains your energy. Because this business model relies heavily on paid advertising to drive traffic. Once the ads stop, traffic decreases, making it difficult to sustain and build a substantial brand influence.
Moreover, after-sales problems arise as you can't inspect products but entirely rely on your suppliers. Unstable supply chains lead to complaints, impacting store performance and risking account suspension. While there might be some profit, the effort required is significant, and profits can dwindle over time, let alone foster customer loyalty and brand trust.
After gaining experience and capital through selling a variety, businesses often switch to a niche strategy. Different product niches require distinct marketing approaches. If you target US female consumers, consider Pinterest. It's like a visual Twitter, so you'd better ensure your product images are eye-catching enough to encourage users to click.
Even within the same niche item, people may take different approaches due to differences in available funds and expertise. Some are Instagram influencers with substantial followings, while some excel in the operations of the Reddit community, Facebook community, and YouTube videos.
They use their resources and strengths, aligning them with the preferences and demands of their target consumer base to select suitable marketing channels for promoting and selling products, ultimately enhancing brand awareness.
Join Our 3000+ Clients Thriving in Niche Businesses
Advantages of selling products in a niche market
Compared to general items for selling, offering niche items narrows your competition. And you only have to compete with those businesses that include similar items as yours.
Another great advantage of a niche product is that you can focus on satisfying a particular group of potential buyers instead of understanding different customer behaviors.
You can create customer-specific strategies for branding and pricing to attract more potential customers to your eCommerce store.
When you have a niche product to sell, you can concentrate on fulfilling your brand promise. As a result, offering a high-quality niche product to buyers will help you convert potential customers into loyal ones.
If you are able to select a highly demanding niche product with a fewer competition, the chances are that you can enjoy maximum profit margins on selling each unit. In addition, you need to find reliable suppliers for your niche products with quality assured and good prices, so as to achieve your profit goals.
Use JingSourcing for Your Niche Sourcing in China
How to Find Best Niche Products?
1. Select a niche you're passionate about.
For instance, if you enjoy fishing, you would likely know which types of bait or fishing rods sell well and what product description resonates with consumers to prompt them to buy. When it's a market you're passionate about, you know relevant communities and groups well, so it's easier for you to identify opportune moments to promote your products.
2. Get niche ideas via Google, Amazon, social media, and communities
Search a certain product category on Google, Amazon, Instagram, Facebook, TikTok, Reddit, Quora, etc. Then, analyze user behaviors and interests. This will give you the best idea to find a niche product for your eCommerce business.
Take "pet supplies" for example, you can also offer products for rabbits, turtles, parrots, and other pets, not just the mainstream dogs and cats. Furthermore, within pet supplies, you can segment further into pet toys, accessories, clothing, food, and medicines. You can also tailor your offerings for specific holidays, like Christmas-themed cat clothes, beds, and accessories. Keep in mind that niche products should be specific enough without limiting each market to just one item.
By the way, many businesses would like to source niche ideas from professional, large Chinese suppliers like JingSourcing.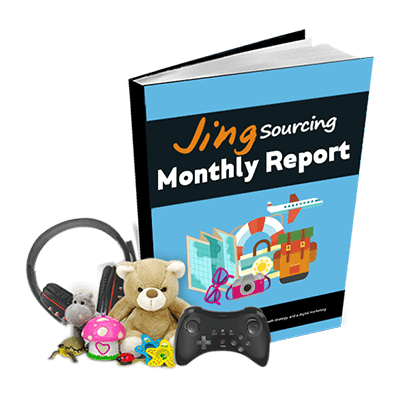 Get product inspirations from Jingsourcing's Monthly Report
After finding a niche product, visit platforms like Amazon and AliExpress. Review customer ratings and feedback to spark creative ideas. Note what works and areas for improvement, shaping your product to match consumer needs.
4. Ensure the product can solve issues of your potential customers
Ask yourself some questions: whether your product can really solve a problem? What advantages do your potential competitors have? What are my strengths and weaknesses?
Remember, your niche product doesn't have to be complex or extensive. A simple yet effective product can have a remarkable impact.
Case Study: Decibullz
Kyle Kirkpatrick, the former Gymnastics coach in the US, designed earbuds in 2014 to make sure that athletes were not distracted when listening to music during their practice.
He launched his own brand, Decibullz, which offered earbuds to fit the ears comfortably and don't lose their place, whether the athletes were running or performing flips on the trampoline. Previously, the product was available, but it was expensive and unable to solve the problem.
However, Kirkpatrick solved a problem by offering a niche product to a specific audience in the beginning. And now his company offers hearing protection devices, attracting potential buyers from other segments, such as public safety and security people.
This case study is one of the best examples of working on a niche product that can enhance your business.
5. Research niche product market status, trend, and profit margins
Utilize keyword tools like Google Keyword Planner to see the monthly search volume for the product. Analyze the product trends using Google Trends before selling in a niche market.
Take "mushroom decor" as an example; Google Trends reveals a growing worldwide interest, peaking at a score of 100 in June 2023. The majority of the interested audience is from Europe and North America, notably the US. This enhances your confidence in the product's market.
Regarding profits, pricier products often yield higher returns. However, with a limited budget, you can seek low-cost products, leading to a high return on investment. Yet, affordability doesn't equate to compromising quality. If with enough capital, you can choose a bit more expensive but profitable products, as they assure high-profit margins compared to economical items.
As a leading sourcing company in China, JingSourcing has helped 4000+ clients source various niche products. Most of them are Amazon sellers in the US and EU markets. Whether you're creating entirely new products or making changes to existing ones such as custom packaging and appearance/functional modifications, we're here to make it happen and set your products apart from competitors.
Equally important, our agents will help you find a factory that can produce them at a competitive price. And we follow up on production, inspect finished products and arrange shipments to your place at the best rates.
Find and source profitable niche products