There're tons of importers purchasing on Alibaba, the worldwide largest B2B site. Have you ever had such an experience: locating the ideal product at the most favorable price but finding shipping costs are so high that inflate the overall cost?
This blog takes you to have a closer look at the following key 7 aspects of Alibaba shipping.
How does Alibaba shipping work?
Alibaba has integrated many freight agents' resources to make cargo shipping easier. And in mid-2020, Alibaba's Logistics platform came into being in cooperation with Freightos. This enables importers to compare quotes on Alibaba and makes the logistics process more transparent.
For ready-to-ship products
Click the "Ship to" button. A pop-up window will appear where you can select the shipping method and delivery destination with just a few clicks. Once you have made your selection, the shipping fee will be added to the order amount, so you can easily see the total cost. It's that simple!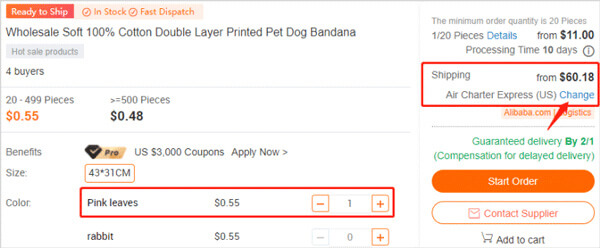 Once the products are shipped, tracking data for the order will be available.
For made-to-order or customizable products
For customizable products, you need to communicate with suppliers to work out the shipping arrangements. Entering the Alibaba Logistics platform, you can search and compare shipping rates in just 4 easy steps as below.
Step 1: input the country and city where you're shipping from.
Step 2: input the country and city where the goods are being shipped to.
Step 3: input the size of each carton box and gross weight, the number of boxes.
Step 4: Choose the right type of cargo.
How long does Alibaba take to ship?
Delivery time is closely related to the shipping methods you choose, the origin and destination, the goods type, etc. Take shipping Alibaba general cargo from China to the USA for example.
Express like UPS and FedEx: 3-7 days.
Air freight: 4-7 days in most cases.
Sea freight: 25-35 days – West USA; 35-50 days – East USA.
"Sea freight Express Combined" method: 16-18 days (very fast); 20-30 days in most cases.
The "Sea freight Express Combined" is a preferred shipping method for e-commerce sellers due to the balance between delivery time and costs. It's faster than traditional sea freight, saving at least 10 days. Once the shipment arrives at the destination port, it will be cleared at customs efficiently and transported by UPS or FedEx to the designated final place.
Why is Alibaba shipping so expensive?
Most suppliers on Alibaba are located in China. Cross-border shipping is expensive due to the long distance involved.
Alibaba offers a variety of shipping methods, such as air freight, sea freight, and courier services. Typically, the quicker it is, the more you pay for shipping. Suppose you select FedEx to deliver 5 sample cups from Alibaba China to your place in the USA. The shipping cost is usually between $30 and $50.
In addition, shipping sensitive and special goods are more expensive than general cargo. Because it requires additional resources and expertise, such as specific certifications, specialized packaging & labeling, special handling requirements, etc. All these result in higher shipping costs.
How to get free shipping on Alibaba?
Free shipping is dependent on Alibaba suppliers and many of them do not offer this service.
If you want it, you need to contact and negotiate with suppliers directly. Some may offer free shipping for orders that reach a minimum value requirement. And it's worth noting that some may simply include the shipping cost in the order total rather than offering true free shipping.
Usually, free shipping is the economical shipping method and means longer delivery times, about 30-50 days in most cases, and 20-30 days in some places.
Last but not least, you can look out for promotional deals on Alibaba, which may include limited-time offers for free shipping.
How to calculate Alibaba shipping costs?
You'll obtain an estimated shipping cost quickly once you fill out your shipment gross weight, carton box size plus number, as well as the places of origin and destination on Alibaba Logistics. This platform can calculate the cost to ship your order automatically.
Usually, you can use the following formula to calculate the shipping cost by yourself.
Fright charges = billable weight x freight rate.
1. Billable weight is the greater one of the actual weight and dimensional weight.
2. Dimensional Weight = Total Shipment Volume (cm³) / DIM Factor
3. The DIM Factor is 5000 for Express Freight/Courier. For air freight, "Sea freight Express Combined", the DIM Factor is 6000.
4. Under "Sea freight Express Combined", shipments are charged per kilogram, different from the ordinary sea freight charge by CBM.
Calculation example for Alibaba shipping costs to the USA
There is 3.2 CBM of general cargo to be shipped from Ningbo port, China, to a designated place located in Los Angeles, US. The actual weight is 480 kg. And use the "LCL Sea Freight UPS Combined" method. Here suppose the freight rate is $1.6 per kg.
Dimensional Weight= (3.2 * 1000000) cm³ / 6000 = 533.5 KG.
The dimensional weight is larger than the actual weight of 480 KG.
So the billable weight is 533.5 KG.
Freight charges = 533.5 KG x $1.6 = 853.6 $
Note that the exact shipping cost is subject to the actual shipment and the freight rate is changing. Strongly suggest you consult logistics service providers or Jingsourcing for the latest and most accurate info.
How to track Alibaba shipments?
To track a shipped package on Alibaba, you can do one of the following:
Log in to your account on My Alibaba and go to Order Management -> Order Details -> Shipping Details.
Use the tracking number to track the package on the 17TRACK website if it was shipped via express.
Note that for orders shipped via ocean, truck, or air, you should check with the relevant logistics provider directly or on their official website. It is also recommended to contact your supplier for updates on the delivery process.
How can Jingsourcing smooth shipping while saving costs?
As a leading sourcing company, Jingsourcing has helped 4000+ worldwide clients source and ship a wide range of products. We can smooth your shipping process while saving costs in the following key aspects.
Offer you the most competitive shipping prices.
We have long-time cooperative freight forwarders who have established partnerships with shipping companies, airlines, express companies, etc. So we can help you acquire discounted agent prices.
Take express shipping for example. We can obtain greater discounts due to our large-volume shipping on a daily basis. The discounted price is up to 20%-50% off the official prices.
Furthermore, we can also offer additional cost-saving services. For example, help you collect goods from suppliers located in different cities in China, and combine them together for shipping. This can reduce your shipping expenses.
Ease your shipping journey with flexible solutions and reliable forwarders.
We support flexible shipping methods as below:
International couriers, such as DHL, UPS, FedEx, EMS, etc.
Ship to your designated port by sea, air, or railway.
Ship to your private warehouse or Amazon fulfillment centers/other 3rd-party warehouses.
According to your demand and budget, we'll assist you in selecting shipping methods that work best for your shipments.
If you are a US-based Amazon FBA seller and need urgent replenishment, we'll suggest you choose the "Air Freight UPS Combined". This is cheaper than Express but won't take much longer than the Express, usually 11-15 days.
If you can wait around 20 days for Amazon FBA replenishment, we'll recommend the "Sea Freight UPS Combined" method. This is one of the main methods to directly ship from China to Amazon FBA because of its fast shipping time and efficient customs clearance.
If your shipments involve hazardous materials such as lithium batteries, liquids, or powders, we'll help you ship them through our cooperative forwarders who have reliable specialized shipping channels. And we'll assist you in preparing necessary shipping documents like MSDS.
Not all freight forwarders can provide the above-mentioned services. But we have professional and experienced forwarders to do that. And we are trustworthy. For any lost parcel, we can help you get compensation for shipping fees and product costs.
Get your best-tailored shipping solution for business growth