Sourcing Best Price Products from China?
As the best China sourcing company, we help you find factories, get competitive prices, follow up on production, ensure quality, and deliver products to your door.
No upfront charges, no experience needed. An agent will guide you every step of the way.
The extras ensure your business goes smoothly and saves money.
Factory & Supplier Audit
We help you travel to the supplier's warehouse for assessment.
1-by -1 Product Inspection
We can reduce the defect rate to 0 and solve the quality problems.
Lifestyle Photography
Our experienced designers help to shoot and create high-quality product photos.
Warehousing & Storage
We offer storage at low rate if you don't want to ship all goods out of China.
How We Grow Your Business
Jingsourcing is not only a China sourcing agent, but also your long-term partner. We tailor our services to best support your different businesses.
E-commerce/Small Business
If you invest over $500 in a product, we will help you find a factory to make your products, customize packaging, and achieve your brand dreams. We can meet all your e-commerce (Shopify, Amazon) requirements.
If you have an annual purchasing volume of more than $500,000 and need a wide range of products, we can offer a lower service rate, credit payment terms, and a team of up to 20 people to grow your business.
If you have a product idea (kickstart, crowdfunding) and the money to produce it but don't know where to start, we will guide you every step of the way, from the prototype to the final product. 
How We Stand Out from Other Sourcing Agents
4000+ Clients Trust Jingsourcing
We have clients with various business all over the world. Listen to what they've said about us.

Steve
Founder of Mywifequitherjob
Using Jingsourcing was 100% worth it. My original supplier had a production delay so I used Jingsourcing to help me find a new factory quickly. And finally, I received high-quality products within 2 months. Jingsourcing has strict production follow-up management. They can solve the quality issues to avoid the risks. That saved me time and money. I am very happy with the work that was performed.

Janelle Thompson
I have been working with Jing Sourcing for a few years now. My contact agent is Sarah, she has excellent English and has sourced quality products for my business at good prices. They source everything and assemble/pack for me and then arrange the shipping. I would never go back to sourcing myself. Sarah is worth more than her weight in GOLD and saves me so much time.
Iconic Retail
Jingsourcing is an easy company to deal with. Especially our agent Marc. He will make sure that the product we get are all A+ and he will tell you if the products are good or bad. 5 stars for this company.

Bilal Mussa
Great sourcing agents. I worked with Christina for the last year to source products. Always reliable and products are of high quality. 3 orders this year and plan on more next year.

Angela Bray
I love how personable they were and very timely. In the first week because of the time difference we set up a time to where we would both be online at the same time so we could message ack and forth. This was super helpful in making the process fast and efficient.

Cynthia Blue
JingSourcing is amazing! I learned this company from YouTube and now I'm working with it and the assigned agent I'm working with is very thorough, capable, knowledgeable and patient! I'm absolutely satisfied with the service and I recommend this company for anyone that does importing!

Teresa H. Neria
I want to thank the team at Jingsoursing who made it possible for me to source from China. The products I received are just as I imagined them! Jeyson was very helpful. The boxes came very well packaged and it showed that they were well taken care of when packaging. Everything met the quality standards that every sourcing company should have, and I recommend jingsourcing to anyone who would like to source from China.

Crystal Smith
I ventured into an Amazon FBA business as a complete NEWB. I had zero experience and using Jing made me so much more confident in the sourcing process. My agent Felix is very responsive and he even caught an error in my design that I overlooked. You can avoid potential mistakes from miscommunication with manufacturers and save time from doing all the sourcing and manufacturer vetting and comparison yourself.

Hanna Zeidan
I've been working with them since 2018 and I have to say that they offer excellent service. They are professional and competent people that care for their customers.I've been making my orders with Su. She is outstanding! A+ company.

Ander Seli
I did a small test order first, everything went very well. I received my first order and everything was fine. My agent Annie was very friendly, helpful, caring and offered better solutions to me. It's always a pleasure working with JingSourcing.
Jingsourcing Works in 4 Easy Steps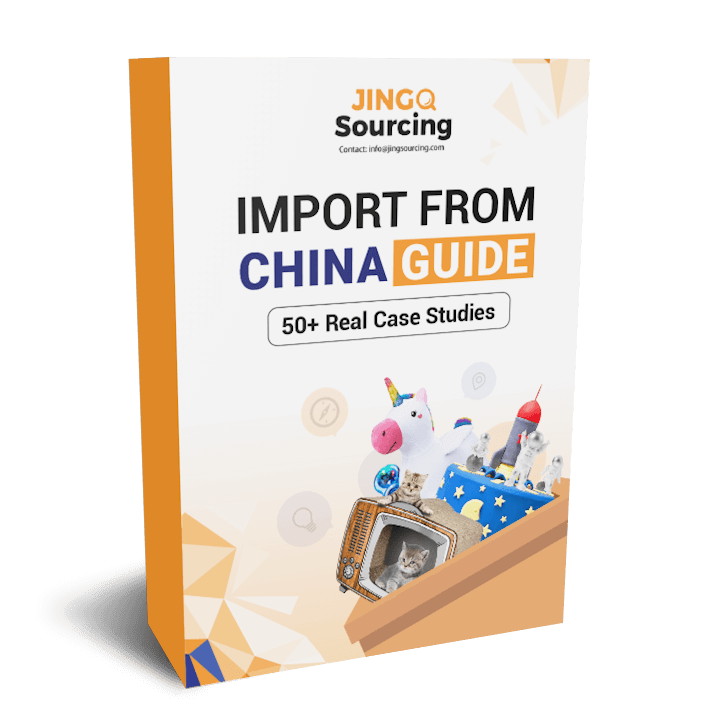 Wondering how to import from China to sell profitably?
Download this ultimate tutorial now. In this ebook, you'll learn:
Ready to Import from China?
Start growing with Jingsourcing today. We can help you wholesale or customize products at the most competitive prices.