If you are thinking about importing products from China, the first step would be to find reliable suppliers, then get quotes from them. But in the international trading industry, there're lots of things to keep in mind for getting precise quotations, when you are purchasing from manufacturers in large quantities.
You may have heard of trade terms like FOB, CIF, DDP, etc., but got confused when it comes to the detailed costs they cover, and don't know the best choice when getting quotations from Chinese suppliers. 
In this post, I will introduce the most frequently used trade terms, and the scenarios they apply. Besides, you can also learn about the 3 common traps that might occur when requesting quotations from Chinese suppliers. I'll share practical tips to help you walk around the hidden traps, and get precise quotes that work the best for you.
1. Why is Choosing the Right Trade Term/Incoterm so important?
When getting quotes from suppliers, you would need to clarify the trade term used for this order. 
Because importers have different requirements on where suppliers should handover the products, either at a port in China or your country, or at the supplier's warehouse. Accordingly, supplier's responsibilities would vary with different trade terms.
In international trading, there are tens of trade terms. And the International Chamber of Commerce (ICC) publishes a book every a couple of years to regulate all the trade terms. 
Don't panic, you don't have to memorize all of them, because many terms are only useful for large quantity trading. In fact,The most frequently used trade terms are FOB, CIF, EXW, DDU/DDP. I'll introduce them one by one and give real-life examples to help you understand the situations in which they apply. 
2. FOB, EXW, CIF, DDP Price, which is the best?
FOB is the most famous term, but a lot of tutorials on the internet are misleading you to go for it ALL the time. The truth is, FOB is not the best choice for everyone, especially not for new e-commerce sellers, small businesses, or people who want to use courier services, like FedEx as the delivery solution. For these importers, FOB would just lead to unnecessarily higher prices. 
FOB is short for "Free Onboard". If the supplier quotes you FOB price, it includes all the costs for sending the product to the vessel in your appointed seaport or the aircraft in your appointed airport. Costs caused during the importing & exporting process are covered as well. 
You cannot simply ask the supplier: "Can you give me an FOB price for these wine glasses?". Because FOB prices are based on a specific seaport or airport, such as FOB Shanghai, FOB Ningbo. That is to say, you should have a preferred port of shipment. If you don't know what port the goods will be shipped from, you can just ask a supplier, let them tell you where is their closest seaport and let them quote you the price based on that.
Here is an example, if you find two suppliers and one of them is in Dongguan in the south of China, he is likely to quote you FOB Shenzhen price, since Shenzhen is only less than 100 KM away. Typically, the supplier from Suzhou (less than 100 KM away from Shanghai) would quote you the FOB Shanghai price.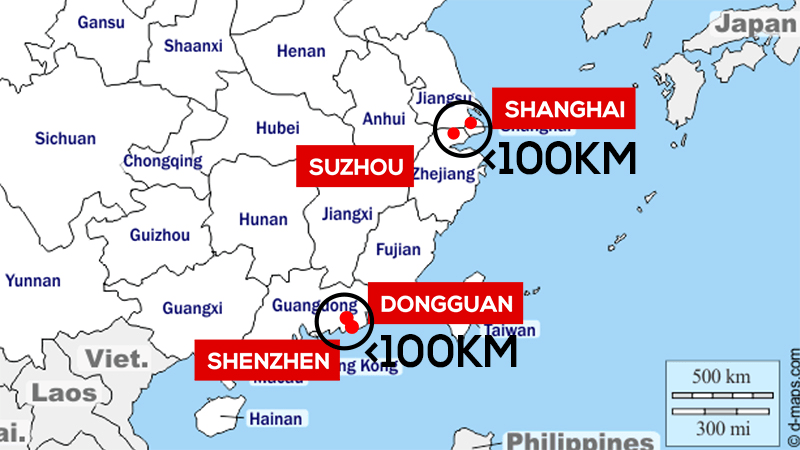 Another case is, if you buy 40 CBM perfume bottles from a supplier in Suzhou, and buy 28 CBM bags from a supplier in Dongguan. You can load both suppliers' products on the same port. So you can ask these two suppliers to quote you FOB Shanghai prices.
If you don't want to spend on sending the bags from Dongguan to Shanghai (which is about 1,000 KM), try to replace the Dongguan supplier with another bag manufacturer locating closer to Shanghai, such as in Yiwu.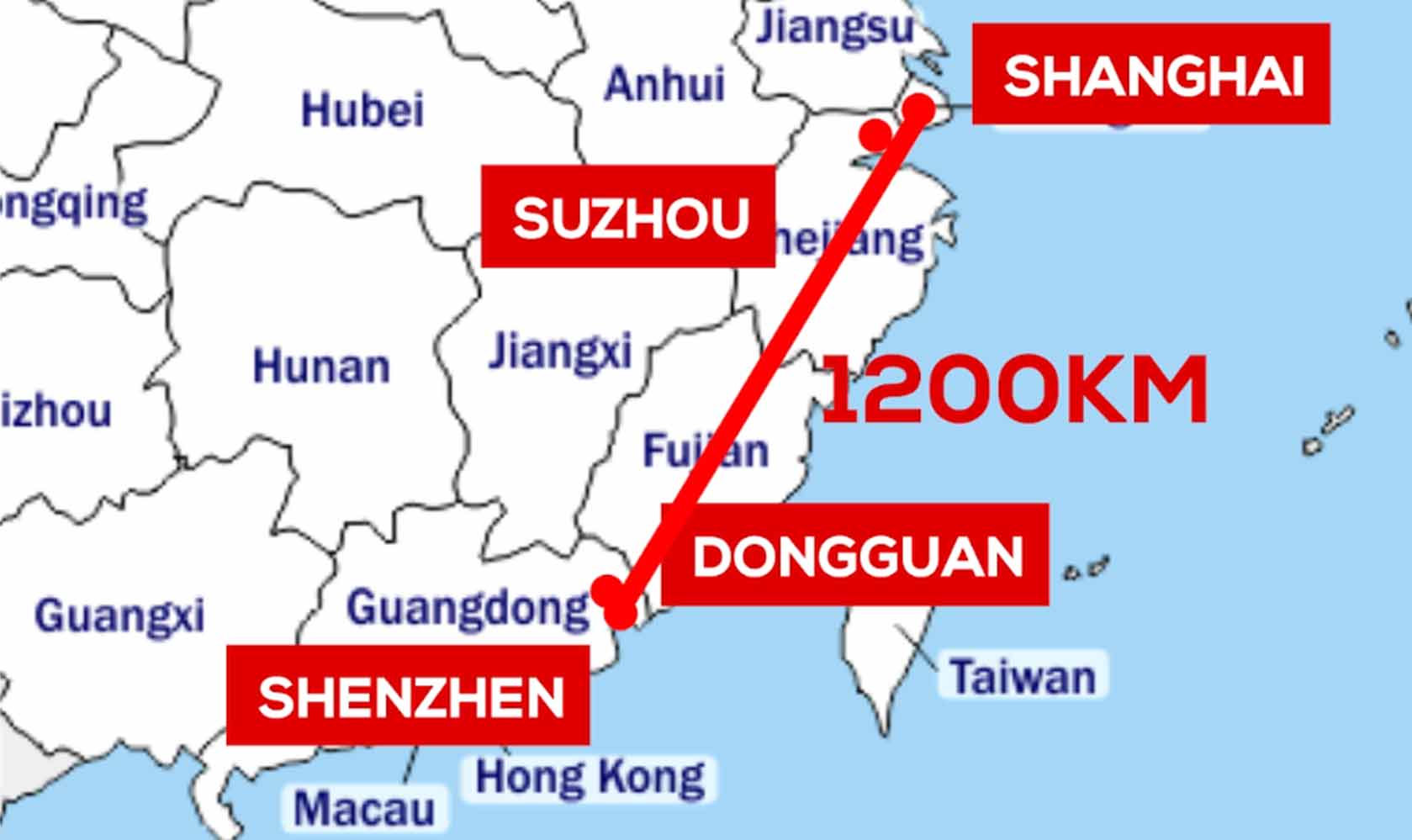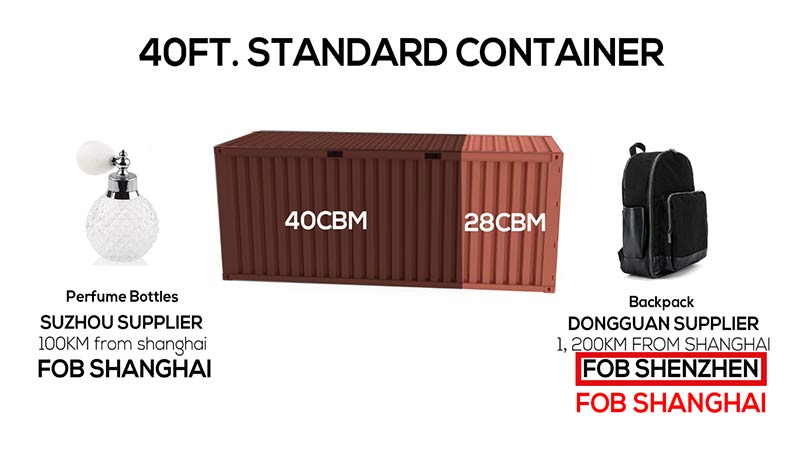 EXW stands for "Ex Works". It's the original manufacturing price of the products without any service or domestic shipping cost. You'll need to find your own freight forwarder to pickup the products at the supplier's warehouse in China.
So, if you want to know the original product price, you should ask your suppliers to quote you the EXW price. Other trade terms are not helpful for your product research.
As I mentioned above, when you are using courier services like FedEx to ship products, remember to let the supplier quote you the EXW price. Because courier companies will travel to pick up the products at the supplier's address.
CIF price is also a very commonly used trade term. It's short for "Cost, Insurance, and Freight". 
For the insurance, I just want to mention that it doesn't help if your products got damaged during shipping. It only helps when the whole shipment gets lost. 
If you don't have a freight forwarder to get the products shipped from the supplier's place in China to your country, or you don't want to bother to do this, then it's better to ask the supplier for CIF price. 
They will ship the products to the appointed seaport or airport in your country. You need to go through the customs check and clearance, and arrange the shipping from the port to your warehouse. You'd better find a local customs broker and logistics company to help you deal with these things.  
Here I need to tell you a fact: The freight cost included in the CIF price is just a very small part of the total shipping cost from the supplier's warehouse in China all the way to your warehouse in your country.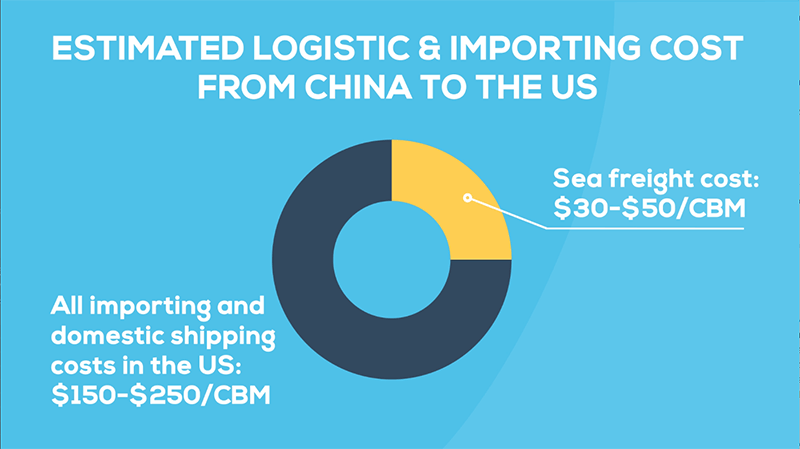 The biggest part of the whole shipping fee includes the costs in the import process, and the shipping fee from your domestic port to your address. 
For example, the sea freight costs included in the CIF price is only around $50 per CBM from China to the airport in the United States. However, the actual total shipping fee will be around 200 to 300 US dollars per CBM.
So, don't be surprised when you find the total cost from the American seaport to your warehouse is times more expensive than the freight costs included in the CIF price. 
DDP is short for "Delivered Duty Paid". It means the price supplier quotes you includes all the costs for sending products from the Chinese supplier all the way to the destination in your country. The supplier will also pay all the costs for the import & export processes and the customs duties. 
It is very suitable for those importers who don't have any shipping company resources or who don't want to bother with the shipping and import & export issues. 
So, if you were doing the product research and want to know how much it will cost to import the products from China, just let the suppliers quote you the DDP prices. 
The DDP price includes import duty paid, but some suppliers still prefer the buyer to pay the customs duty before the product is delivered. In this situation, it's called DDU price, which is short for "Delivered Duty Unpaid".
Even though the trade term DDU is canceled in the Incoterm 2010, it's still widely used. For instance, if the supplier doesn't have freight forwarders to handle the shipping to your place, which means your supplier cannot help you pay custom duty, they would not be able to quote you the DDU price.
Further Reading about Incoterms
3. Get Quotations Based on Quantity
If you are quite flexible about the purchase quantity, but you'd like to know the price offered by the supplier first. Then I strongly recommend you to ask the supplier to give you a price list for quantity breakdowns.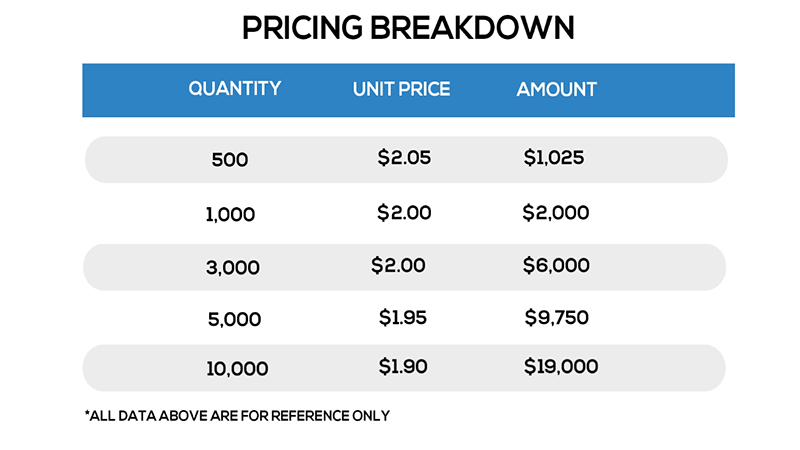 Most Chinese manufacturers or trading companies have MOQs starting from $1,000. And usually, when you can order over $5,000 or $10,000, there will be some related discounts. Ask the supplier about their discount details.
What is the best discount then, if you increase the quantity? It really depends, roughly around 5% or 10% for most cases. Because manufacturing is a low-profit industry, the price would tend to remain stable no matter if you order 10k or 100k units, as it has reached the lowest point.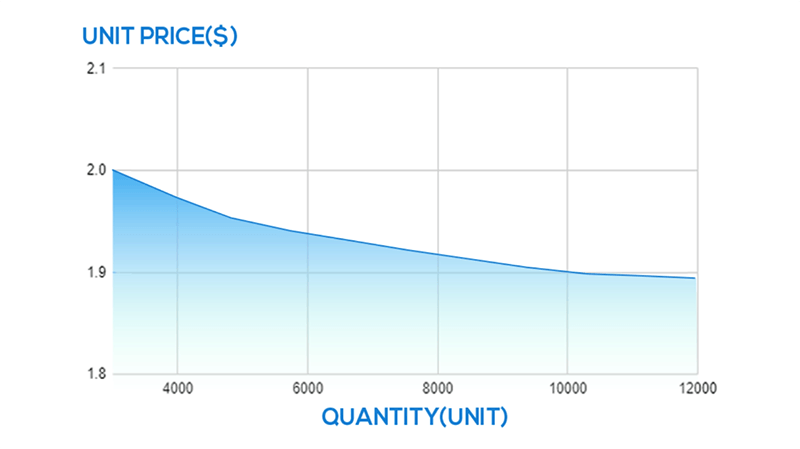 Here is one thing I don't suggest:
You negotiate with the supplier to get a low price for a large quantity like 10,000 units. But eventually, you only place an order for 1,000 units or less, and still want to use the price of 10,000 units. The supplier would feel upset and tricked, which is not good for maintaining a healthy business relationship.
4. Check Packaging & Private Label Costs
When you're getting quotes from suppliers, double-check this: Does the price include packaging costs? And what kind of packaging is that?
Let's take the perfume bottle as an example, assume the supplier quotes you $1.5/unit. You have seen on their website or Alibaba product page that this perfume bottle is packaged in a white box.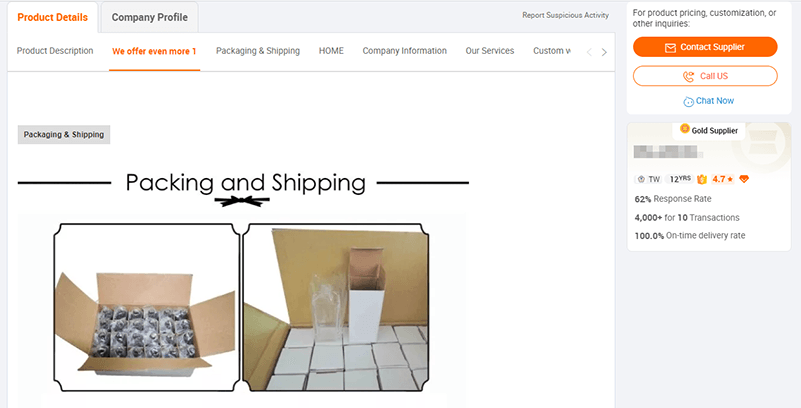 Then you placed an order of 1,000 units but received bubble wrap as packaging eventually. The supplier explained that the bubble wrap is their default packaging, and a white box will cost an extra $0.15, increasing 10% of the product price.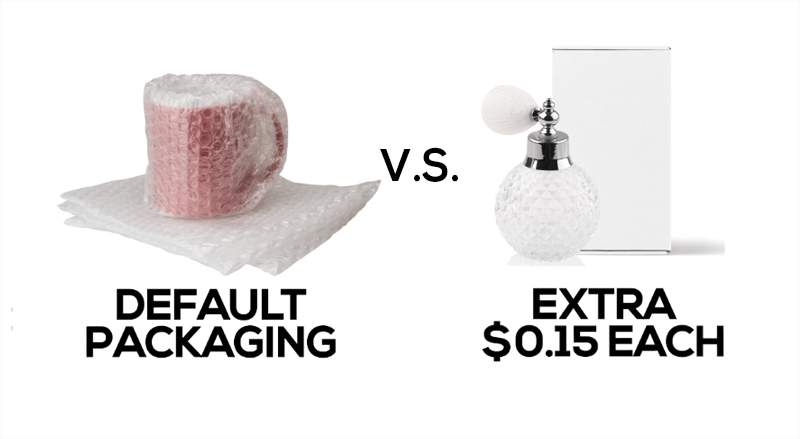 Sometimes you want to make your own private label, by printing a logo on the products, or designed graphics on the packaging boxes. 
If the suppliers told you they can help you with this, often times you wouldn't ask about the cost. And you thought they were doing this for free. After placing the order, sending them a deposit, they start to charge you for customizations, which is not what you expected.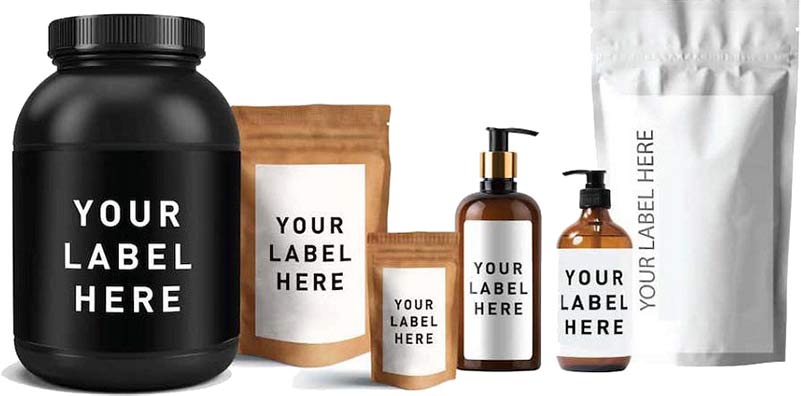 So, don't count on the suppliers to tell you the detailed costs for specific packaging or customizations. Confirm again before placing an order.
5. Confirm the Price is for Inventory or New Production
When you are buying products in quantities, manufacturers usually start production after you place orders. 
Sometimes when suppliers have inventories, they would clean them out at a very low price. Yet the price will recover to 20%-30% higher or even further next time to start a new production.
So, when comparing among suppliers, if one of them offers a super-low price, check if he is selling inventory items. Overstock products left in their warehouse for a long time are more likely to have dust, rust, or other defects.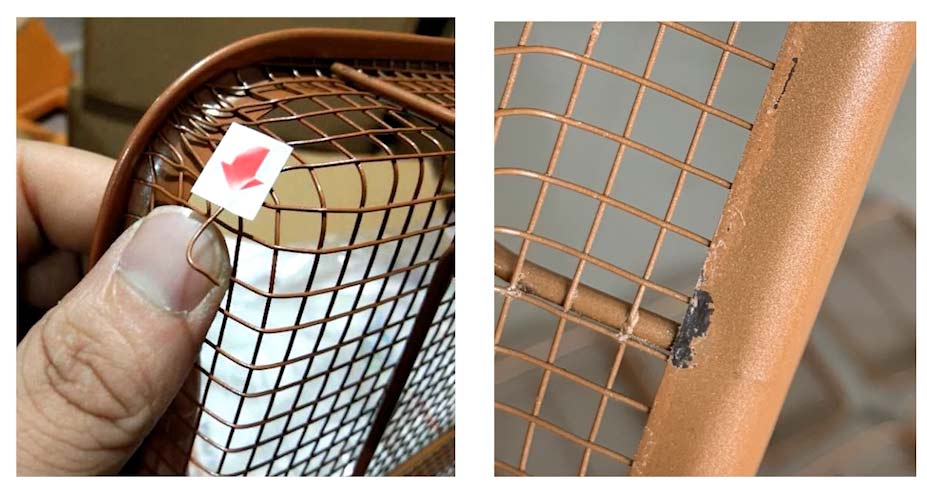 If you are not aiming to get the lowest price, I suggest you to always get newly made products. In this way, you can ensure that the quality will remain consistent whenever you reorder it in the future. After all, you have no idea about what has happened to the overstock products.
Don't always expect the supplier to tell you whether the price is for inventories or new production. You'll have to check first.
I hope you have a clearer understanding of trade terms now, and get more aware of things you need to pay attention to when requesting quotes from suppliers.  If you have any question about today's topic, let me know by leaving a comment below.
We, a leading sourcing company in China, help our clients find the best manufacturers, ensure the quality of products and arrange the shipment to their doorsteps, making the whole sourcing process a lot easier and safer. If you'd like to source products from China, feel free to CONTACT US.