Before reaching a partnership with a supplier and signing a contract, it is best to ask a series of questions to ensure that they are reliable.
In this blog, I will introduce 10 questions to ask during vendor selection.
Questionnaire to check the supplier's background
It's hard to tell if a supplier is a good partner unless you visit him on-site and communicate with him face-to-face. But in many cases, buyers are unlikely to visit suppliers, especially when they just want to buy hundreds or thousands of products. Alibaba is the website they use regularly.
Therefore, it's important to check your supplier's background online to find a reliable partner as much as possible. Just like in an interview, you need to know them by asking vendor questions. I make a questionnaire that lists some points for your reference.
Where is the supplier located?
By browsing the supplier's profile, you can know where they are located. It's very important that your supplier is located in an industry cluster for your product.
Here's a practical tip. If you're looking to source wooden learning & education toys and you search for suppliers on Alibaba, you'll find that over 60% of them are located in Yunhe, Zhejiang province. This means that your desired products are produced in this area and it is easy to find a real factory here.
What are the supplier's product lines?
By checking suppliers' product categories, you can assess if the supplier is specialized in this product category. Note that professional suppliers typically sell similar products and describe their products in detail.
If the supplier's product range is very diverse (as shown below), then your product, for example, portable plastic water bottles belonging to the drinkware, is not his area of strength, and he may not fulfill your order well. Then you can pass him and find another one.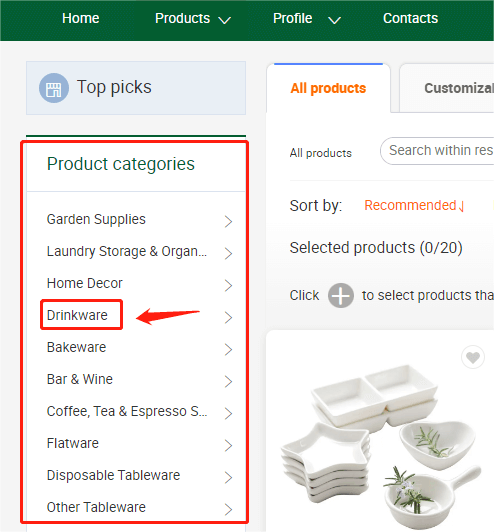 How long has the supplier been in business?
In general, suppliers with long experience have a better understanding of the industry background and can handle problems with ease. You can find out by checking their business license, or their company profile. Besides, you can also go to Whois and search their website domain or email address domain to see when it is registered.
Does your supplier have any compliance certifications?
Many products require related certificates for customs clearance or selling.
For customs clearance, your log cargo needs a fumigation certificate. Electronic products need to have MSDS.
Taking imported toys as an example, if you want to ship them to the United States, you need to have standard tests such as ASTM F963, CPSIA, etc. If your target market is in the European Union, then you need to have EN 71 with CE marking, etc.
If your supplier can not provide these certifications, then you need to hire a customs broker and freight forwarder to help you, which will increase your costs. So I suggest you work with vendors who can provide test reports.
Three questions about the products
Here are some key questions about the product that you should ask the supplier. It can further evaluate whether the supplier is professional and able to produce that meets your needs.
Are suppliers familiar with product materials, specs, features and other details?
Try to ask suppliers sufficient questions about the product. An inexperienced supplier may not be able to answer your questions in detail, especially if your product is complex and specialized. A professional supplier can offer advice in addition to responding quickly to all your questions.
Here I take Xhose as an example. You can ask suppliers what the price is for 50FT, 75FT, 100FT, rubber materials, specifications related to rubber, maximum water pressure, etc., and judge whether they are professional or not from their answers.
Can the supplier make products 100% according to your customized ideas?
If you ask the supplier this question, there is no doubt that they will definitely say "yes". Therefore, when you customize a product, ask them for samples to check whether the appearance, quality, and functionality are okay. In most cases, samples need to be modified.
During this process, you can evaluate whether the supplier can quickly understand your ideas and respond quickly.
How long is product manufacturing lead time?
You need to fully consider the production lead time and determine if there is any possibility of delays, in order to avoid receiving goods too late and affecting your business. Especially when you want to import trending products or create a new product.
When you have several supplier options, and their prices are similar, then it's better to choose the one that has a shorter lead time. Maybe their production capacity is bigger, or their production schedule is not very full yet.
What is the shipping cost and time?
Shipping cost is a significant part of the total charges besides product price.
You can ask several suppliers for shipping quotations and compare them to know a reasonable range. Because some suppliers may use low-priced products to attract you, but charge more for shipping to make profits. Another case is that your supplier has little experience in shipping goods to your country, and he gets a higher quote from the freight forwarder, which will also increase your cost.
The shipping time depends on the shipping method and destination. Typically, express and air shipping takes around one week, while sea shipping takes a month or even longer.
Two questions about payment
Whether the supplier can offer a more favorable payment term?
The most common payment term is to pay the supplier a 30% deposit in advance, and the remaining 70% after the goods are loaded.
Another way is to pay a 30% deposit and the remaining 70% balance against Bill of Lading. This means you don't have to pay the balance until the cargo arrives at the port in your country.
If your order is small and you are doing business with this supplier for the first time, there is no room for negotiation. But if you cooperate with this supplier several times, you can negotiate to get a more favorable payment term.
Buyers with orders as large as $50,000 often pay for orders in another way, like O/A 60 days, which is often used for long-distance shipping. It may take 30 days or more to ship. In this case, you would be able to use this cash for financial turnover.
What payment options do you accept?
Jingsourcing can help you with vendor selection
The above summarizes ten questions to help you select suppliers. It is a time-consuming and laborious process. Large professional sourcing agencies like Jingsourcing can do with this.
Located in Yiwu, the largest wholesale market in China, we have many factories around us and have integrated supplier resources throughout China. There are many that you can't reach on wholesale sites. This means that if you tell us your needs, whether it is for wholesale goods or custom projects, we can quickly select suitable suppliers for you from China's industrial clusters (e.g. Zhejiang province and Guangdong province), all of which have passed our strict factory audits and offer competitive prices.
We will collect samples from these suppliers and send them to you together. Then you can compare and choose the best one, which simplifies the difficulty of supplier vetting.
In addition, we offer many other services, such as production follow-up, quality inspection, customs clearance, and shipping. We can control the entire supply chain, thus greatly improving your sourcing efficiency.
In this process, we will always communicate with the suppliers on your behalf. Whether there are any issues during the production or any questions you have, we will keep in touch with you in time to communicate and solve the problem effectively.
Get Reliable Suppliers through Jingsourcing