Product QC is very important in sourcing from China. It is not as simple as that you buy a bad product in a store and you can ask for a refund or a new one. Especially for Amazon sellers, bad reviews due to defective products will affect your product listing ranking. You might think about suing your suppliers, but such transnational lawsuits are time-consuming and costly. And few people get a happy ending in real business.
So be sure to do product inspections before shipping out of China. And who can help you do this? This article is for you.
Why do you need a quality inspection in China?
Quality inspection is checking the quality of products. It is an important part of quality control. Products can be inspected at different stages of production and before shipping, to discover and improve problems in time, control the defective rate, and ensure that the products you receive meet your quality requirements.
It is very common for products to have quality problems during production. Even a large-scale factory may produce defective products, not to mention that many Chinese factories are small-scale. They do not have strict quality management procedures and standard operating regulations. They do not inspect every key production process. And they even outsource some parts of production to other factories. So quality problems are more likely to occur.
And if the factory you find is not responsible, it may change raw materials during production and the products are not in compliance.
Therefore, you need a quality inspection to help you check products before shipping them out of China. If you just find out the quality problems after receiving the goods, it will be too late. You may not have important evidence to get your compensation, for example, the supplier said that the defects of the goods occurred during the transportation. Everything is very passive, ending up wasting time and money.
Who can provide product inspection service in China?
The 3rd party inspection companies, such as QIMA and Vtrustcan, provide this service. They are widely distributed and have offices in many places in China. They can go directly to the factory to inspect the goods. They can inspect different types of products based on your requirements and issue a detailed quality inspection report to tell you whether the result is Fail or Pass.
Many sourcing companies in China provide both factory audit and product inspection services. Not like 3rd party inspection companies that only focus on inspection, sourcing companies have a complete set of services from sourcing, sample, production follow-up, QC, shipping, etc. In addition to these, they also provide separate inspection services.
JingSourcing vs 3rd party inspection company: QC service and cost
Cost and service of the 3rd party inspection company
The quality inspection company in China charges $200-300 per person a day. If the result of the first inspection is Fail, you need to pay for the second inspection.
These companies have a prescribed inspection process. They conduct a sampling inspection by the "AQL form", issue an inspection report, and then the service is completed. But in fact, there are basically no companies really check in strict accordance with AQL standards.
For example, 3,000 pieces should be sampled from a batch of earphones for inspection. The quality inspection company does not really inspect 3,000 items. If they have checked hundreds of pieces and have not found many defects, they will stop inspection. Only when many problems are found during the inspection, they will increase the quantity, in order to make the quality inspection report look real.
In addition, quality inspectors check products according to the standard, but they have their own subjective judgments about which are major defects, which are minor defects, and whether accept the defects. They lack communication with you and cannot inspect the goods according to your needs, which reduces efficiency.
Take inspecting tables for example. You want to check the stability of the table and whether the legs are balanced and firm. But the inspectors think the small burrs and paint peeling on the table are also defects and count them into the defective rates. So it doesn't meet your needs.
In addition, some unreliable quality inspection companies will accept money from the factory. They will conceal the defect rate and do not tell you the real situation of the goods.
Services and cost of JingSourcing
JingSourcing can provide quality inspection services like 3rd party inspection agencies. We have our own quality inspectors in our warehouse. Except for AQL sampling inspection, we can provide a very flexible quality inspection plan.
For example, if you print a pattern on a vase, you must want it to be clear and without printing mistakes. We will first understand your needs to ensure that we check the product based on your focus, instead of some small flaws. So we can improve the efficiency of quality inspection.
When we are inspecting, we will also communicate with you in real time. For example, when checking a batch of cups, we will send you a video of the whole cups. For every defect we find, we will also send it to you to confirm whether it is acceptable. If you feel OK, we will pass. Compared with the text and data on the quality inspection report, videos and photos will be more intuitive and obvious. And quality inspection companies can't provide this service.
In addition, if you temporarily add other requirements during the inspection, we can also help you without additional charges. For example, it was originally scheduled to sample 300 products, but many defects are found during the inspection, and you want to increase the number to 400 pieces. Or, you want to test the drop resistance of products and want us to do the drop test. For these additional demands, the quality inspection company will definitely charge extra fees, because it increases their workload.
Our quality inspection fee is $40 per person a day. Even if you want a full inspection, it is very cost-effective. If you use our basic or pro service, we only charge a service fee, provide free general quality inspection and inspect a batch of goods multiple times without extra charge.
What's more, if you use the suppliers in our database and buy products from them, we will be responsible for the quality of the products. We inspect the products according to your requirements. For defective products, we negotiate with the factory to modify or reproduce, or compensate you. This is what the 3rd party quality inspection agencies cannot help you with, which is also one of our strengths.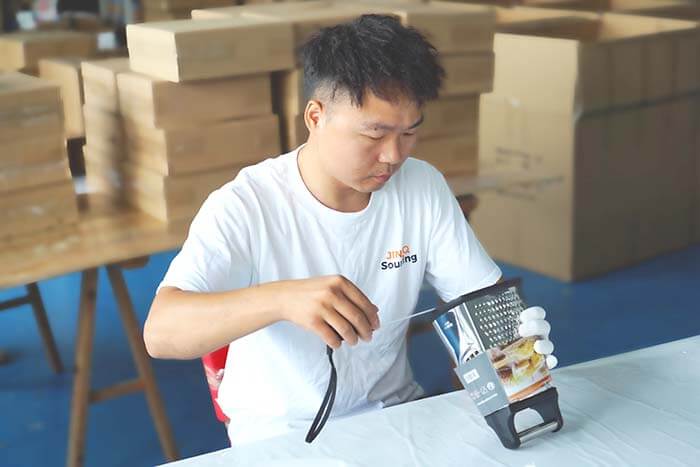 Our quality inspection solution includes:
Pre-production inspection: check raw materials to avoid major problems.
During production inspection: inspect semi-finished products including appearance, shape, size, etc. to avoid mistakes.
Final inspection: Check the finished products to find quality problems before your payment, so that you can make a claim.
Contact JingSourcing for 100% QC