Incoterms are essential to international trades. They will influence the quotation you get from the seller, the shipping of the goods, and the responsibilities of sellers and buyers.
Some new buyers don't have a clear understanding of trading terms. They see others usually use FOB, so they also ask their sellers for FOB price. But actually, they need a CIF price which is more suitable for them. The seller will give a FOB quotation according to the buyer's wrong requirement and description. So there is a failure of communication between the two parties.
In most cases, you will use CIF or FOB, as they are two of the most common shipping terms. In order that you can avoid troubles like the above and correctly use them, we will discuss FOB vs. CIF in this article from the following aspects:
What is CIF and who bears the risk in shipping?
CIF is the short form for Cost, Insurance and Freight. It contains three kinds of fees: costs of goods, freight to the port in your country, and insurance. When using CIF shipping terms, you must add an appointed port in your country, like CIF New York, CIF Los Angeles.
Take CIF New York for example. It means that the seller will pay sea freight fees and insurance and send the goods to Port of New York, and you take the delivery there, deal with import customs clearance, pay import duties, and transfer goods from the port to your warehouse.
As for who should bear the risk of damage and loss, since the seller arranges the shipping, they will be responsible for it until the goods get to New York. If the goods are damaged during shipping, the seller will help you communicate with freight forwarders and solve the problems. In addition, the seller helps you buy cargo insurance and gives you insurance policies. So if the goods are lost, you can claim from the insurance company.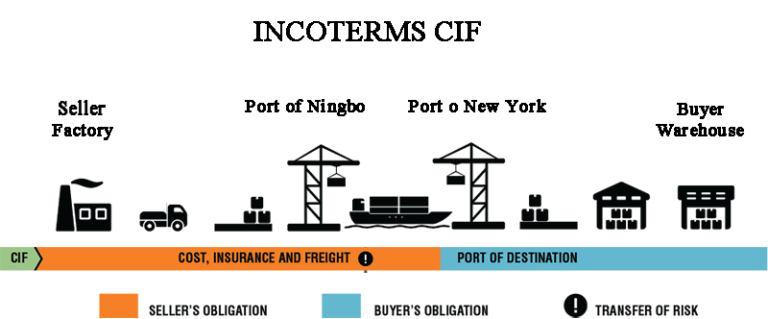 When negotiating the shipping agreement under CIF delivery terms with the seller, you must clearly clarify the port you will pick up the goods, shipping methods and costs, as well as the type and amount of the insurance purchased to avoid any unnecessary disputes in the future.
What is FOB and who bears the risk in shipping?
FOB, or Free On Board, means that the sellers need to deliver the goods to the appointed seaport in their country, while you have your own freight forwarder to complete all things after that, including arranging shipping to your destination, paying sea freight, buying insurance, and dealing with import customs clearance.
When using FOB shipping terms, you should add a designated seaport, like FOB Ningbo, FOB Shanghai. FOB Ningbo means the seller will transport the goods from factory to Port of Ningbo. You take over the goods there and ship them to your destination in your country.
For the risk, before the goods arrive at Port of Ningbo, the seller will be responsible for damage and loss. After the goods are on the ship, you should bear the risk, which is different from CIF. Once your goods are damaged or lost during shipping, you need to contact your freight forwarder or the insurance company on your own.
For example, the seller transfers the goods to the ship by hoisting. If the cargo accidentally falls into the sea before boarding the ship, then the seller shall still be liable for the damage, as the delivery of the goods has not been completed.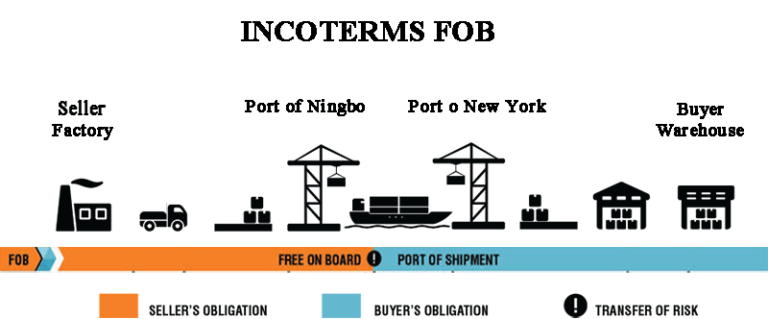 Generally, the seller will send the goods to their closest port under FOB delivery terms. If you don't know it, you can just ask the seller and let them quote you the price based on that. For example, a seller in Dongguan will send the goods to Port of Shenzhen, while a seller in Suzhou will send goods to Port of Shanghai.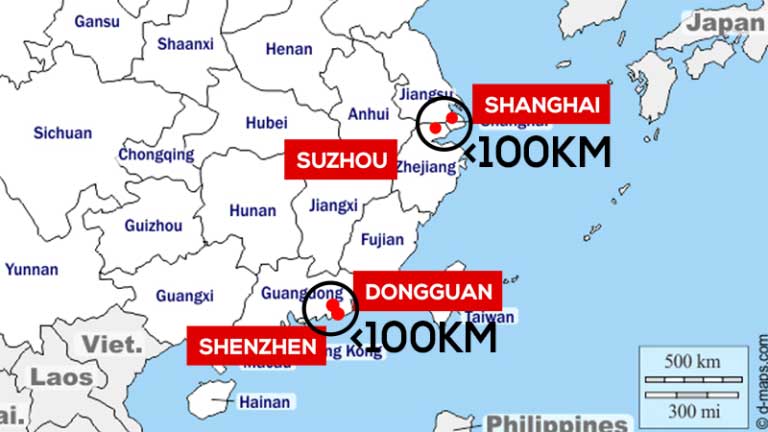 When using CIF or FOB, you must be most concerned about these things: what the responsibilities of buyers and sellers are, who bears the damage or loss of goods during shipping, and how much quotation you get from the seller.
They are the main differences between these two terms. We have already mentioned the first two above. Now let's see CIF vs FOB prices, which contain different expenses.
For example, you buy a batch of goods from Yiwu, China, and will ship them to Los Angeles, USA. Generally, products from Yiwu are exported from Port of Ningbo. So the costs  include:
product price: $10,000
cost from the factory to Port of Ningbo: $500
export customs clearance fees: $300
sea freight from Port of Ningbo to Los Angeles: $2,500
cost of insurance: $250
Under FOB shipping term, the seller has to arrange trucks to send the goods to Port of Ningbo, and deal with export customs clearance. They will add these fees to the price you will pay. Thus, FOB price calculation is:
FOB Ningbo price = product price + costs from the factory to the port of Ningbo + export customs clearance fees.
i.e. FOB Ningbo price = $10,000 + $500 + $300 = $10,800.
With CIF shipping terms, except for sending the goods to Port of Ningbo and dealing with customs clearance, the seller has to pay the insurance and sea freight to Los Angeles. These fees are also included in the price you should pay. So CIF price calculation can be:
CIF Los Angeles price = FOB Ningbo price + freight to Los Angeles + insurance
i.e. CIF Los Angeles price = $10,800 + $2500 + $250 = $13,800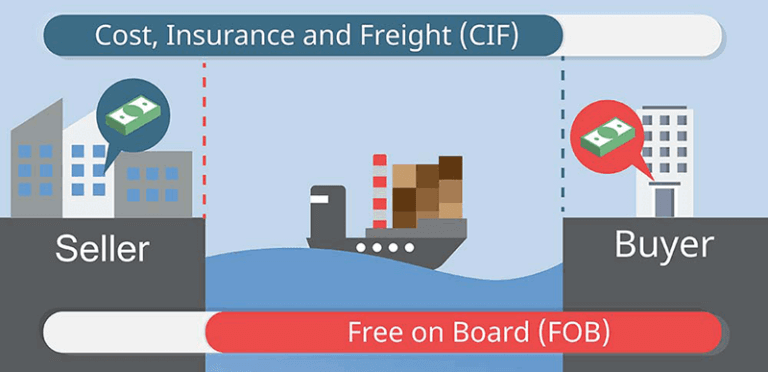 CIF freight and insurance
About freight, it is real-time and updated per week during the epidemic. When you estimate the freight, you'd better inquire to the seller or freight forwarder about the latest freight rate.
Besides, if your goods are shipped by LCL under CIF delivery terms, you may encounter such a situation: The Chinese forwarder charges you very low sea freight first. You think that is all and you won't need to pay him anymore later. But when you pick up the goods at the port, the forwarder charges you again.
In this case, you will feel cheated because it is different from what you think. But in fact, it is not a scam, just because these freight forwarders calculate LCL shipping costs in different ways.
For example, you will transport 3 CBM goods. You ask 3 forwarders and they give you different prices. Actually, they just first charge you part of the total shipping costs, maybe 30%, 10%, or even free, which varies from different forwarders. And they will charge you again for the rest of the costs when you pick up the goods at the port in your country. All these fees are what you should pay to the forwarders, i.e. the total shipping costs.
Therefore, the low price you get from some freight forwarders does not mean it is cheap because you still have to pay the other fees later to make up the full costs.
As for insurance, the seller is required to buy the minimum insurance for goods, which shall be (1+10%) of the CIF price. Therefore, Insurance paid = CIF price × 110% × insurance rate. If you want higher insurance, you have to reach an agreement with the seller or buy additional insurance by yourself.
Jinsourcing can cut your costs for importation from China
long-term cooperative suppliers to get competitive product prices

familiar freight forwarders to provide you with real-time freight rates

right quotation under EXW, FOB, CIF, door-to-door, etc.
Why do buyers prefer FOB/CIF prices and when to use them?
When buying from China, no matter by sea or air, the goods have to be sent from the factory to a China port by truck first, then they can be shipped to your country. However, it is not an easy task. China is a large country with hundreds of ports and the suppliers lie in different regions. If you are unfamiliar with China and lack importing experience, sending goods from the factory to the port will trouble you a lot.
So many buyers don't want to bother to do this and will choose CIF or FOB. Under FOB, the Chinese seller can help you send the goods to the port in China. You just need to know when the goods get to the port and send your ship there to pick up the goods on time.
And under CIF, the seller will directly ship the goods to the port in your country, and you just need to receive your goods there. Both of these can save you from many troubling things.
But pay attention, FOB or CIF is not suitable for everyone. If you want to use FOB, you'd better have your own familiar freight forwarder to ship goods from the port in China to your destination. Otherwise, please ask your seller for CIF price and arrange shipping for you.
In addition, if you need to collect goods from different sellers at the same port in China, and then send them together by LCL or FCL, FOB is a good choice. All your sellers can send the goods to the same appointed seaport where your freight forwarder can collect and load them into the container.
Jingsourcing can help you buy goods from several sellers and package them together, then arrange FOB or CIF shipping for you.
If you have any questions after reading this simple guide on the differences between CIF and FOB, please leave a comment below.
We are Jingsourcing, a leading Chinese sourcing company, with rich experience in helping importers buy, customize, and ship products from China at competitive prices. We are devoted to supporting your business with good solutions to any problems. If you need help, please feel free to CONTACT US.