The Chinese furniture industry is one of the biggest in the world, contributing nearly 40% of the world's furniture production. Due to the rich natural resources and low labor costs, many importers buy furniture from China, including sofas. And here is some information you must know when importing:
5 China's main sofa production bases
The production sites of sofas in China are relatively scattered, with the majority concentrated in the following five regions.
Guangdong
Guangdong is the largest furniture production base in China, with numerous industrial clusters and abundant wood resources, along with a wide-ranging industrial chain. As a result, it houses a large number of sofa manufacturers. Among them, cities like Foshan, Dongguan, and Zhongshan are the most renowned.
Notably, Longjiang Town in Shunde District, Foshan, is known as the "Hometown of Sofas." It produces various types of leather sofas, fabric sofas, functional sofas, and outdoor sofas. And it serves as a large manufacturing base for other furniture as well.
Additionally, next to Longjiang, there is Lecong, which gathers various large furniture wholesale markets, including Lecong International Furnishing City, the biggest furniture market in China.
     Connect direct sofa factories
Zhejiang
Following Guangdong, Zhejiang is the second-largest furniture export province in China. The furniture manufacturing industry there is also quite developed. And it is mainly concentrated in areas like Haining, Hangzhou, Yongkang, and Yiwu.
Haining is a significant exporter of sofas, accounting for half of the total sofa exports from Zhejiang province. The sofas from this region are known for their high quality and diverse range, including leather sofas, fabric sofas, functional sofas, and outdoor sofas. Hangzhou, on the other hand, houses numerous large-scale furniture manufacturing enterprises that are highly favored by both domestic and international consumers.
In Yongkang, sofa manufacturers focus on stable quality and innovative designs, while Yiwu's sofa manufacturers excel in producing middle to low-end sofas.
     Connect direct sofa factories
Jiangsu
Jiangsu is one of the making centers for sofas in China, with manufacturers mainly located in cities such as Nanjing, Suzhou, and Wuxi. Among them, Suzhou is renowned for producing high-end furniture, while Nanjing's furniture industry boasts strong production capabilities and design expertise. The products include double sofas, reclining sofas, sofa beds, etc.
     Connect direct sofa factories
Hebei
Hebei is a well-known furniture production base in China, with many high-quality sofa manufacturers. It is convenient to source raw materials and customize products here, as the industry chain is well-established. Among them, Tangshan is the main producer of genuine leather sofas, renowned for their excellent materials, exquisite craftsmanship, and high comfort level. They offer a wide range of styles, from mid-range to luxurious designs.
Additionally, Hebei has two distinctive furniture wholesale markets known as Mingqing Furniture World and Xianghe Furniture City. These places are ideal for buying various furniture styles, such as Chinese-style furniture and elm furniture, etc.
     Connect direct sofa factories
Sichuan
As part of China's western region, Sichuan has a considerable number of furniture manufacturing enterprises, mainly located in cities such as Chengdu, Deyang, and Mianyang. Especially in Chengdu, in recent years, its sofas, known for their affordable materials and stylish designs, have been selling well overseas.
     Connect direct sofa factories
 JingSourcing supports you with all your customization needs.
As a top sourcing company in Yiwu, JingSourcing has helped over 4,000 clients find and customize products from China factories. Our expertise extends to a wide range of products, with a significant proportion of importers focusing on sofas.
Besides sofa manufacturers in Zhejiang, we have integrated other suppliers all across China, such as Guangdong and Jiangsu. This means we can quickly find chair manufacturers that suit your needs. And we can also help you
Sofa customization with various materials
Most materials used to make furniture can also be for sofa making. And you can choose different filling materials for your desired sofas. The common sofa materials include fabric, wood, leather, metal, etc. And there are also some unique materials to make sofas with remarkable elegance. Take the following for example.
Bamboo. The bamboo-made sofa is simple and elegant, with a delicate texture. It is durable and resistant to wear, suitable for both indoor and outdoor use. Due to its naturally cool material, it is particularly suitable for use in the summer. However, compared to fabric sofas, bamboo sofas are relatively firm, so you can pair them with comfortable seat cushions for a complete set.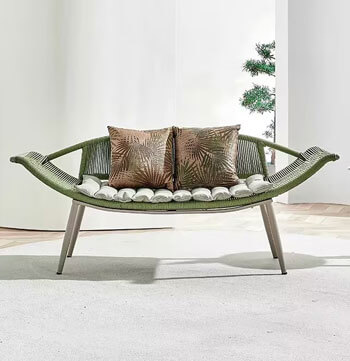 Cats scratch fabric/leather. This is a new type of material when mixing natural fibers with polyester or PP to make. It can achieve a texture similar to wool, fur, or leather. This material is resistant to snagging and watering. It is also durable with a high surface density, thus preventing pets from being able to scratch it. So it is suitable for households with pets. However, compared to regular materials, it comes at a slightly higher cost.
Concrete. Concrete has good durability and ease of cleaning. It shows high stain resistance, making it commonly used in outdoor areas or public places such as bars and restaurants. Due to its cold and hard nature, it is often paired with cushions for comfort.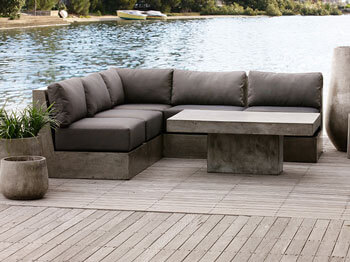 Functional sofas are available.
Functional sofas are currently popular. We can help you customize various types of functional sofas, such as electric sofas, foldable sofas, massage sofas, lazy sofas, etc. We can also add additional features to traditional sofas, like adjustable footrests or flip-out coffee tables on the armrests. As long as you have the requirements, we can make it come true.
For example, we once customized a foldable bed sofa for a customer. This sofa allowed the backrest, headrest, and footrest to be adjusted freely, as the customer required both to sit or lie down comfortably.
The surface was made of linen , providing a cozy and breathable feel. And the interior was filled with a high-density sponge for excellent resilience, making sitting and lying more comfortable. In addition, it came with detachable wooden legs, providing added flexibility when in use.
Discover the perfect sofa for your business.