According to statistics, about 70% of China's exports are traded under FOB terms, and there is a further upward trend. FOB is one of the most widely used trading terms in China's international transactions. To import from China, FOB is the term you must clearly understand. And this article will be a complete guide for you to know it.
What Is FOB Meaning in Shipping?
FOB is the short form for "Free on Board". Shipping under FOB indicates that the seller should send the goods to a port in his country and deliver goods to you or your freight forwarder there. He has to bear all costs and risks before delivery. Once the cargo is loaded on board, you should be responsible for the cargo, including all costs and risks afterward.
FOB Shipping from China Example
Assume you buy 20,000 bottles from China to the USA. They are manufactured in Yiwu, and will be shipped to New York. Let's see the specific responsibilities, risks and costs the buyer and seller should bear under the FOB shipping term.
What Should the Seller Do?
Usually, the seller will pack the goods and send them to the Port of Ningbo by truck, as it is the nearest port to Yiwu. Also, the seller will handle export declaration, and pay all costs incurred during the process.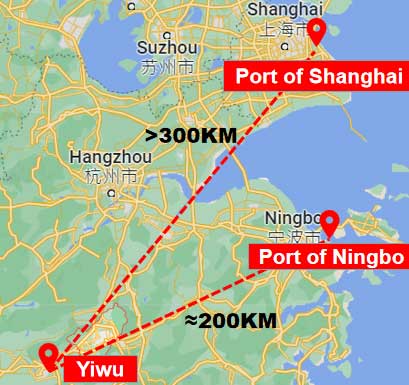 If the goods are damaged before they are loaded on the vessel at Ningbo Port, the seller should be responsible and compensate for this.
What Should the Buyer Do?
As a buyer, you should have a freight forwarder to help you deal with the shipping. You can use your own forwarder if you already have one. If not, you can ask your sellers to recommend one. Because you need to spend lots of time and energy to find a reliable forwarder, just like finding a quality supplier, while your seller usually has some cooperative forwarders.
After the goods are loaded on board at Ningbo Port, it means that you have picked up the cargo. Then you will bear all costs and risks from now on. You should:
Let your freight forwarder help you arrange shipping from Port of Ningbo to your destination
Pay shipping costs to your freight forwarder at the destination, as FOB is "freight collect".
Get the import license, go through import customs clearance procedures, and pay import duties and taxes.
Bear the risks of damage and loss of goods in transit from Ningbo Port to your destination.
Generally, you will buy cargo insurance. If your goods are damaged or lost, you can ask your freight forwarder for claims instead of requesting suppliers to compensate. After all, the seller only needs to ensure that the goods are well when loaded at Ningbo Port. Of course, your seller can help you communicate with the freight forwarder.
However, if you find that the damage to the goods is caused by the seller's packaging, you can negotiate with the seller to get compensation.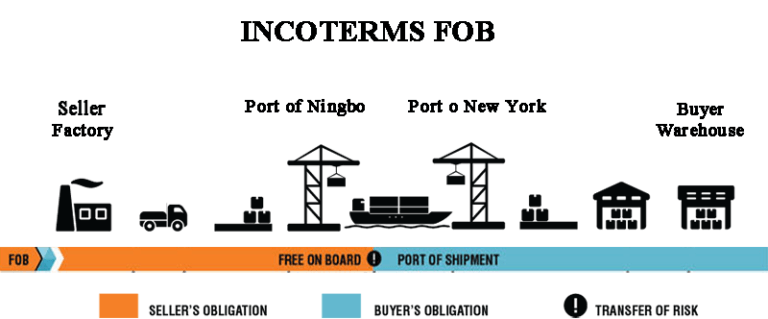 Please note that if your seller ships from Ningbo Port, it should be indicated FOB Ningbo. If your seller chooses to ship from Port of Shanghai, it is FOB Shanghai. The designated departure port should be displayed.
In addition, China has a long coastline (32,000 km) with lots of ports. If you use FOB, be sure to confirm with your seller which China port to ship from. Make sure that your forwarder can pick up the goods at the agreed time to avoid some additional costs.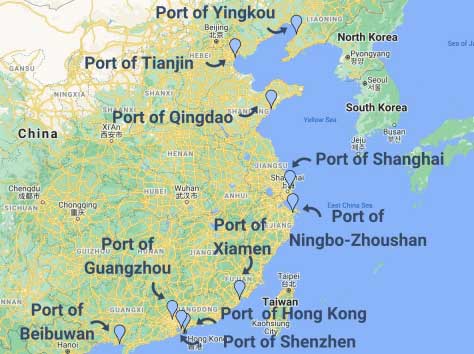 FOB Shipping Point vs FOB Destination
When you search FOB online, you will see FOB shipping point and FOB destination. They are further limitations to FOB term. But actually, they are not commonly used when importing from China. In most cases, you will sign FOB shipping term with your seller as we mentioned above.
FOB shipping point, or FOB origin, means you are responsible for all costs and risks of loss and damage when goods leave the seller's warehouse. It sounds like EXW, under which you will also be liable for everything from picking up goods at the seller's location to your final destination.
FOB destination means that the seller will keep the title of the goods until they are delivered to your place. Therefore, the seller should bear all things from his warehouse to your destination, including all costs and risks. It sounds like CIF, DDU, or DDP, under which you should decide the destination and let your seller directly ship goods there.
Therefore, in practice, if you want the goods shipped to the port in your country, the Chinese sellers will sign with you CFR or CIF shipping terms, instead of FOB destination. If you want the goods sent directly to your door, it is actually DDP or DDU delivery terms. Read on to know the differences in detail.
JingSourcing can help you ship from China under FOB.
To better explain FOB price meaning, let's suppose that you buy 20,000 watches on Alibaba. Your seller is in Guangdong province, China. You and the seller reach a FOB shipping agreement. In this case, the seller will include the costs from the factory to Guangzhou Port and customs declaration fees in the FOB quotation in advance. i.e. FOB price formula is:
FOB price = original product price + costs from factory to Guangzhou Port + customs declaration fees
For example, the original price of a watch is $10, the cost from factory to port of Guangzhou is $800, and customs declaration fee is $500.
FOB price = $10 * 20,000 piece + $800 + $500 = $201,300
Generally, the seller will give you the FOB quotation ($201,300) in two ways.
One is that the seller will charge FOB fees for each product. So the unit price of the product you actually get under FOB term is:
FOB price / 20,000 piece = $201,300 / 20,000 pieces = $10.065 per piece
Another way is that some sellers will tell you the unit price of a watch is $10 and the FOB cost is $1300 ($800 + $500).
Either way, you should pay the seller $201,300, and you don't need to deal with the cargo until it is loaded on the designated ship at Guangzhou Port. The seller will be responsible for everything before that.
Pay attention. FCL and LCL will have some impact on FOB fees. If your cargo is shipped under FCL (Full Container Loaded), the seller will complete the customs declaration for you. But if your cargo is shipped under LCL (Less Than Container Loaded), your overseas freight forwarder will deal with customs declaration and then charge your seller.
For bulk cargo (LCL), if the FOB cost operated by the seller is $400, it will be $600 or even higher if operated by your freight forwarder. Therefore, the seller will reserve a space for the unstable customs declaration fee when quoting.
JingSourcing can source products at competitive prices and ship under FOB.
Why Do Many Buyers Like FOB Shipping from China?
Experienced FOB buyers usually prefer FOB delivery term, because they usually have freight forwarders in their own countries. Their forwarders can easily calculate all logistics and import costs from any port in China to the buyer's warehouse.
Therefore, if the buyer wants to compare the prices of different sellers, such as three sellers located in Yiwu, Shanghai, and Guangzhou, he will want the seller to give the FOB price. As it includes all the export fees and the costs to the China port. This way, it will be easier for the buyer to compare the costs for his importation.
In addition, under FOB, the buyer seems to have a lot of things to do, but in fact, many freight forwarders can help him deal with everything from a China port to his place, including all transportation, customs clearance, etc. The buyer just needs to do some communication with his freight forwarder and wait for delivery in the warehouse. This will save him a lot of trouble.
It sounds like FOB is really good. No wonder so many buyers prefer it. However, FOB is not suitable for all situations. It is better for buyers who have some experience in import and export and have their own reliable freight forwarders. So never use FOB shipping terms only because many people around you use it. There are also many other trading terms you can choose. And now let's see their differences.
JingSourcing can arrange the most suitable shipping solution for you.
CIF is the short form for "Cost, Insurance, and Freight". It is another most commonly used shipping term for buying from China. Compared with FOB, CIF sellers will help you handle more things during transportation.
Under CIF, your seller should ship your goods to the port in your country, pay freight charges and buy cargo insurance for you. He is responsible for the cargo and bears all risks and costs until the goods are delivered to you at your port. Then you need to find brokers to help you clear the customs and contact a truck or express company to deliver the goods to your location.
Usually, if you do not have a cooperative freight forwarder and want your seller to help you send the goods to your country, you can choose CIF. Generally, it is more suitable for new buyers who do not have much experience in international shipping. You only need to deal with the goods when they arrive in your country port, which will be easier for you.
Here, we have to say something about CFR (Cost and Freight). CFR is similar to CIF. The only difference between them is that CFR seller does not need to buy cargo insurance while CIF seller needs to do it. So, under CFR, in order to increase the safety of cargo transportation, you need to purchase certain transportation insurance on your own.
If you sign a DDP shipping term (Delivered Duty Paid) with the seller, actually the seller provides you with door-to-door service. Your seller will deal with all processes from his factory to your destination, including all transportation and costs, import and export customs clearance, customs duties and taxes, etc.
DDP is also very suitable for new buyers. And it is very popular among e-commerce sellers. For example, many Amazon FBA sellers ask their Chinese suppliers to send goods to Amazon warehouses under DDP.
DDU (Delivered with Duty Unpaid) and DDP are always compared together. They are very similar. The difference between them is that the DDU seller will not pay customs duties and taxes for you, while the DDP seller will cover it.
Hope you have a clear understanding of FOB shipping term after reading this article. If you have any questions, you can leave a comment below.
We are JingSourcing, a leading sourcing company in China. We have served 4000+ clients buying or customizing products from China. We can help you follow up the whole importing process, do product inspection and arrange shipment. Our one-to-one sourcing agent and experienced team will help you solve any problem when importing from China. Feel free to CONTACT US if you need.
Further Reading about Incoterms