DDP and DDU are often used in international logistics. However, many people do not understand them deeply enough, which leads to some troubles in the process of import and export. So in this article, we will learn about DDP and DDU from the following aspects:
What Is DDP and DDU in Shipping?
DDP (Delivered Duty Paid) is one of the most commonly used shipping terms. It means that the seller directly sends goods to your appointed destination, such as your home, your company, your warehouse, etc. When you receive the goods, the seller has already handled all relevant importing procedures for you.
Since your seller is responsible for the entire shipping process to your warehouse, he should pay all the costs, ensure the safety of transportation, and bear all the risks of loss and damage of goods during the process until the goods are delivered to you.
While all you need to do is wait for your goods at your warehouse and actively assist your seller so that he can obtain the import license or other official documents required and deal with import customs clearance for you.
DDU is also door-to-door. Though it is eliminated and replaced by DAP (Delivered at Place) in Incoterms 2010, it is still widely used in practice. The seller will also transport the goods to the final destination. They will help you deal with all importing procedures except going through customs clearance and paying import duties,  while you have to do these two things. And you should bear the additional costs and risks if you fail to timely pass customs clearance.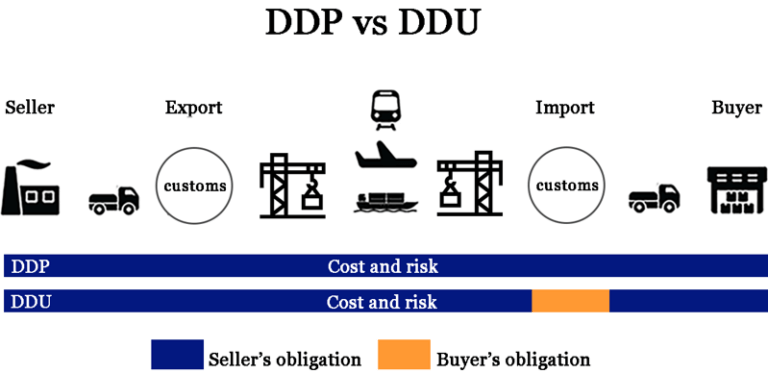 The main difference of DDP vs DDU (DAP) is: under DDP, the seller deals with import customs clearance and pays customs duties, while under DDU or DAP, the seller leaves import duties to be paid by the buyer.
A Real Example of DDP and DDU
You buy 2000 cups from Yiwu, China, and will send them to your warehouse in New York by sea.
Under the DDP delivery term, your seller will deal with all the things for you, including:
Arrange trucks to send your goods from the factory to Port of Ningbo (the nearest port to Yiwu).
Handle export customs declaration, including random customs inspections.
Arrange shipping from Port of Ningbo to Port of New York.
Handle import customs clearance and pay all import duties and taxes.
Send your goods from Port of New York to your warehouse.
While under DDU or DAP delivery term, the seller will first ship your goods to Port of New York. After you go through customs clearance, they will help you send the cargo to your warehouse. So you have to:
Buy customs

bonds

Declare to the customs
Prepare and submit customs declaration documents (

B/L

, Commercial Invoice, Packing List, Arrival Notice, etc.)
Pay import duties and taxes when receiving goods
How to Calculate DDP And DDU Price?
We have mentioned above that the seller pays all the fees from his warehouse to your destination. He will contact the freight forwarder, arrange transportation, pay various fees during this period, and deliver the goods to your door. But actually, he will include all these costs in the quote he gives you.
For example, in the example above, you will buy 2,000 cups and ship them from Yiwu to your warehouse in New York. Under DDP terms, your seller will usually tell you the unit price of the product, such as 5$ per piece, and the shipping freight from Yiwu to your warehouse, such as $20,000. This $20,000 specifically includes a lot of expenses during transportation, such as:
Cost from the factory to Port of Ningbo
Export Customs Declaration fees
Sea freight from Port of Ningbo to Port of New York
Import Customs Clearance fees
Customs Duties/VAT
Costs from Port of New York to your warehouse
Other fees
So, the DDP price you get from your seller is:
DDP price = 5$/piece * 2000 pieces +$20,000 = $30,000
Some sellers will spread this $20,000 shipping fee to each product, and then quote you a unit price of $15, that is (5$/piece * 2000piece + $20,000) / 2000 piece
DDP price = 15 $/piece * 2000 pieces = $30,000
If import duties and taxes in this example are totally $3300, then:
DDU (DAP) price = DDP price – import duties & taxes = $30,000 – $3300 = $26,700
The fees involved in DDP and DDP prices are very complicated. Generally, just like the example above, the seller will not tell you the cost of each importation and shipping process. If you want to know the specific fee details, then you can ask your seller.
JingSourcing can help you ship goods under DDP/DDU term at a competitive price
When to Use the DDP and DDU Shipping Term?
International shipping is a complex and important part of import and export. Take shipping from China as an example. It involves a lot of parts, such as sending from the seller's warehouse to the Chinese port, shipping from the Chinese port to your country's port, delivering from the port to your warehouse, dealing with import and export customs clearance, and paying import duties, etc.
If you are a new buyer and don't have any shipping resources, or you are afraid of trouble and don't want to worry about these things, then door-to-door shipping is suitable for you. When your seller is willing and able to complete import declarations and pay duties, you can choose DDP. But when your seller is reluctant to do these things, you can choose DDU.
In addition, if the tariffs on your goods are very high but your funds are limited, instead of paying this fee upfront, you want to keep the money for other usage and pay when you receive the goods. Then DDU is also suitable for you.
But if it is difficult and time-consuming for you to go through customs clearance in your country. It is not recommended to use DDU. You may not be able to complete the customs clearance procedures timely and smoothly. Then you have to pay additional costs for it and your seller can not deliver your goods on time at the destination.
What's more, you can ask your seller CIF price and DDP price at the same time and choose a cheaper one. CIF price only covers the costs from the seller to the port in your country. You still have to pay the costs from the port to your warehouse and the import duties, which will be very high. Therefore, it is very likely that total costs under CIF will be more than DDP price. In this case, we would recommend you to use DDP, which can save you time, money, and energy.
When you are choosing which shipping terms to use, be sure to calculate all the costs from the seller to your hands. The costs are complicated and you'd better ask your seller, freight forwarder or sourcing agent directly.
JingSourcing can help you ship from door to door.
We have one-on-one sourcing agents to help you solve problems.
By Truck Or by Express, Which Is Better to Get Goods from Your Port to Your Door?
We know that DDP and DDU are door-to-door. Generally, your seller will first ship your cargo to your country by sea, air, or rail, and then send them to your door by truck or express.
Let's take sea freight plus truck and sea freight plus express as examples. From China to the USA, the former takes about 30-40 days, and the price is $1.2/KG-$1.8/KG, while the latter takes about 20-30 days, and the price is $2/KG-$3/KG. As you can see, if both are first shipped by sea, then delivered by truck is cheaper but takes longer time than by express.
By truck or express, you should make your decision based on your goods volume, time limit, and cost. Generally, if your cargo is less than 2CBM, the volume is too small and you can use sea/air/railway freight plus express. There is no need to use a truck. Otherwise, you can consider delivering by sea/air/railway freight plus truck.
Therefore, if you are e-commerce sellers, especially Amazon FBA sellers, sea/air/railway freight plus express is also more friendly to you. Because usually your cargo is small and you have higher requirements for timeliness.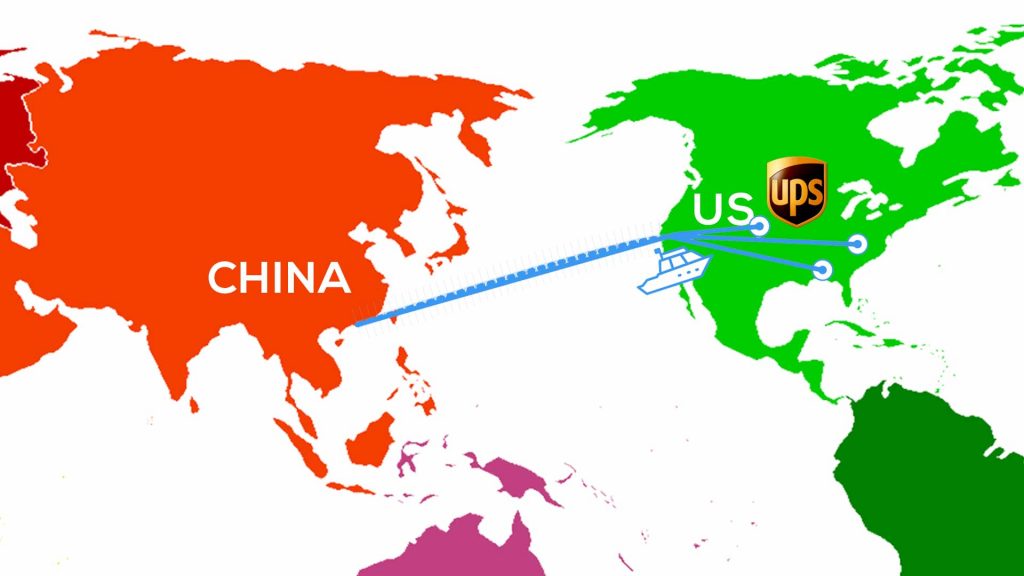 For example, you can send a small cargo from China to an Amazon warehouse in the USA by sea freight plus express. It will be faster than traditional sea freight and cheaper than direct express shipping. 
The Chinese freight forwarder will collect goods from several buyers, loads them together in one container, and ships them to a warehouse in Los Angeles. Then, their cooperative courier company in Los Angeles will help them deliver these goods to different buyers' destinations, including your Amazon warehouse. In this way, you can even ship small cargo of around 50-100kg directly to your door.
We hope that this article can give you a clear understanding of DDP. If you have any questions, you can leave a comment below.
We are Jingsourcing, a leading sourcing company in China. We specialize in buying and customizing various products for you at competitive prices. Also, we can help you inspect product quality and ship them to your destination. Just feel free to CONTACT US whenever you need support for importing from China. We can offer you good solutions to any problems.