After you finish the product research, you can make a decision about what product to sell. And then the very important step is to find a reliable supplier in China to make your products, because China has the best environment for making good-quality products, but at a very low cost.
With the development of the Internet, it's not necessary for you to come over to China to find suppliers. There are still a lot of ways to find them through the internet. Many of you may have only heard about Alibaba, which has so many suppliers that you barely know whom to work with, and the process is quite complicated.
Sometimes the MOQ is also too much for a lot of beginners, so it's not suitable for everybody. So in today's post, I will introduce 4 methods available for finding Chinese suppliers online, not just Alibaba. All these methods can be applied to small businesses even though they only have a $100 budget, as well as middle to big size business, like over $100,000.
Method 1: Find suppliers from Aliexpress and DHgate
A brief introduction of Aliexpress and DHgate
Aliexpress or DHgate will be the best option for those who are doing small businesses or only want to purchase a very small quantity to find Chinese suppliers and get those products imported from China. Because these two sites are designed for small quantity buyers, and they are very easy to use, just as simple as you're shopping online.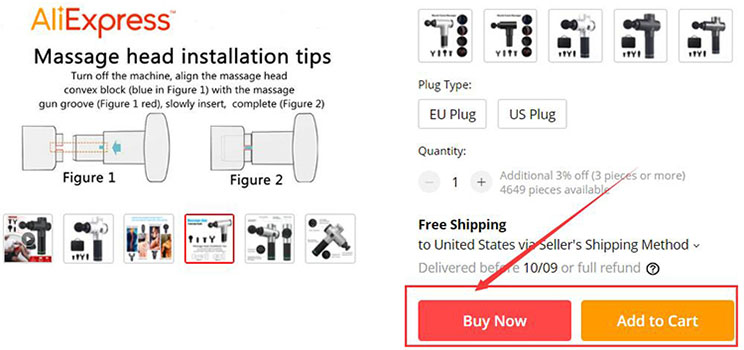 You don't need to communicate too much with suppliers and what you need to do is just looking at their selling history and the reviews, and then you can finish the whole purchasing process by clicking your mouse.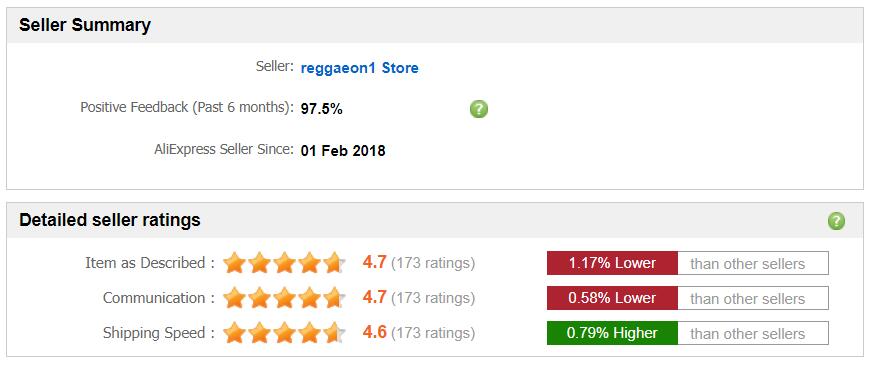 The international shipping cost will be automatically calculated when you choose the quantity or shipping solutions. You don't need to know any knowledge about import & export, because all the packages are either sent by the China post airmail or sent by courier companies like FedEx or DHL. If you are not satisfied with the product quality you received, you can easily get a refund.
Further reading
Aliexpress and DHgate, which one works better for you?
Firstly, Aliexpress is more suitable for small orders that are less than $100, even it's fine to buy just one product for your personal use. In most cases, if you buy the same product, there's no big price difference between buying just 1 unit or 100 units. And if you are doing the dropshipping business, then it's no doubt that you need to choose Aliexpress.
While DHgate is more suitable for orders between $100 to $1,000. It's very easy to find that many suppliers on DHgate would set price breakdowns for different quantities, such as 10, 50, 100, or 200.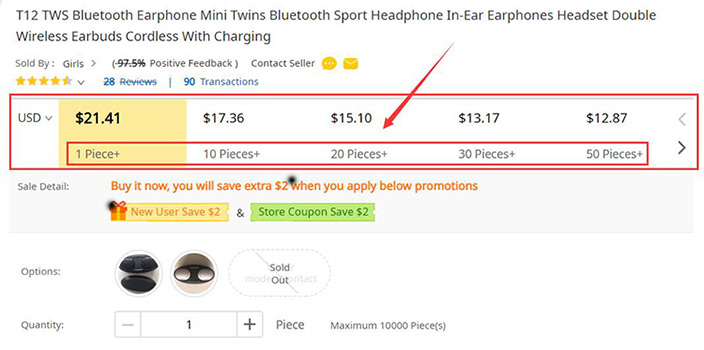 When you think the MOQ of Alibaba suppliers is too high and the wholesale price on Aliexpress is too expensive, then DHgate will be quite a nice place for you to check it out. This website is very suitable for small business owners, especially when you are running a retail store on the street.
Let me give you a product example. The resistant bands set, it's a very hot-selling product for the past few years, no matter for Amazon selling or dropshipping business. If you just buy one set from Aliexpress, it costs around $8 and 30 days to deliver to America.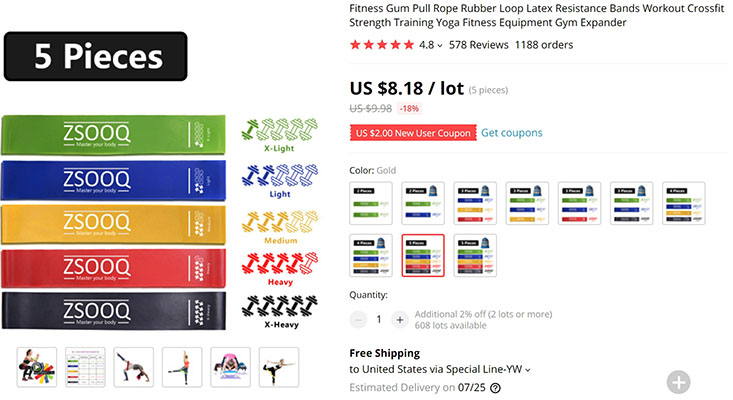 On DHgate, for the same product, it only needs $4.5 to $5 including the shipping cost. And if you can buy over 100 sets, the supplier can ship you by DHL, which only takes 7 days to get to America.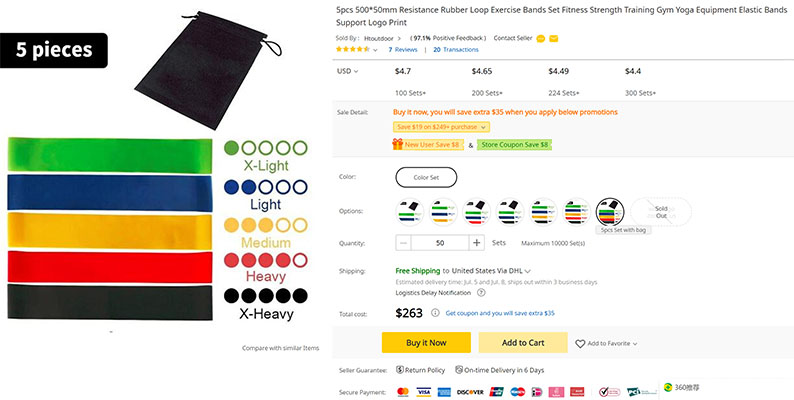 The second difference between these two sites is that Aliexpress has a bigger number of suppliers and also a greater variety of products than DHgate.
Because Aliexpress belongs to Alibaba Group, which also owns Taobao. Alibaba Group encourages Chinese suppliers to move all the products from Taobao to Aliexpress. Then Chinese suppliers can easily translate all the product descriptions from Chinese to English by using tools.
However, DHgate is just an independent company, so normally, sometimes you cannot find exactly the same product that you are looking for on DHgate.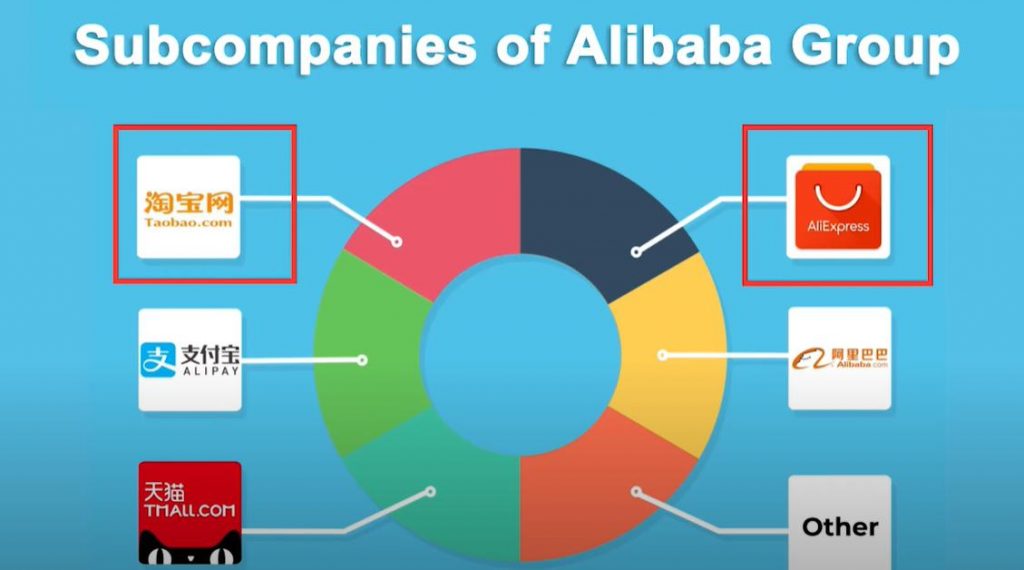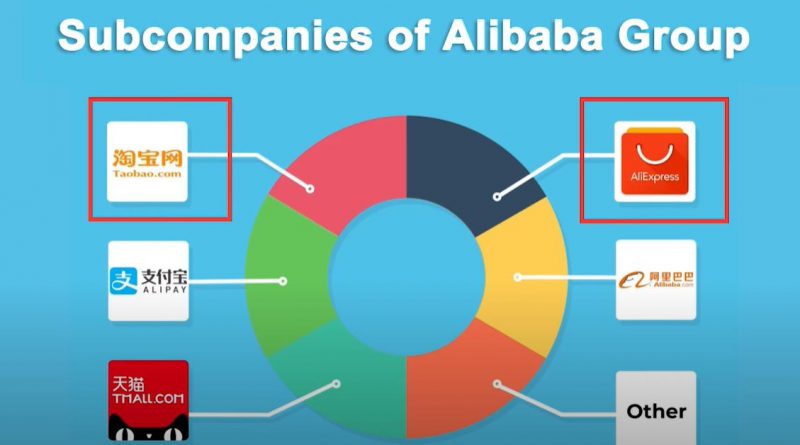 But I have to say, these two websites are not suitable for a fast-growing business, because most sellers of these two sites are wholesalers instead of manufacturers. They usually get products from different kinds of manufacturers or trading companies. So, it's not easy to ensure that the products you are buying in different batches have the same quality.
And if you are planning to do a long-term business for a certain product and want to buy a few thousand dollars for the same product in the coming months. In this case, these two websites for small quantity wholesale are not a very good option.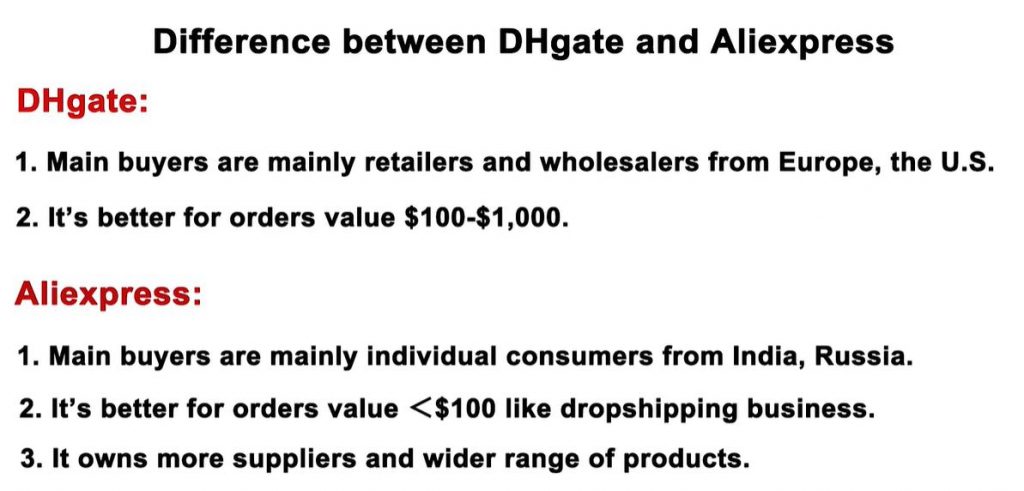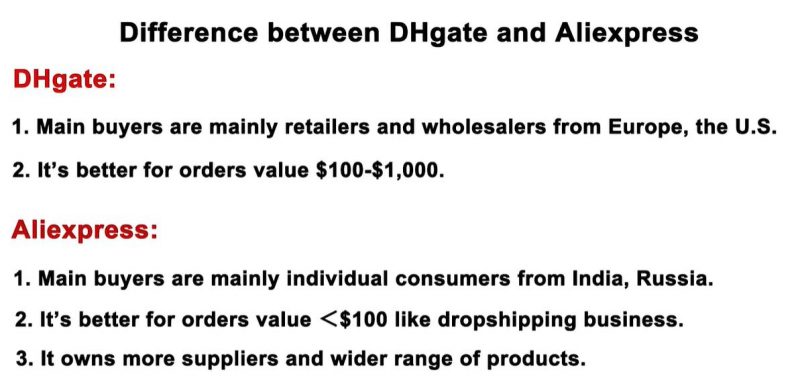 Method 2: Find suppliers from Alibaba or other B2B trading platforms.
If you have prepared a few thousand USD budgets to develop a long-term and fast-growing business. It's no doubt that you need to use Alibaba or similar B2B trading platforms to find reliable manufacturers or trading companies as your suppliers.
Alibaba is kinda like an online trade show, and you can only choose suppliers just by looking at their product images and product descriptions.
Before you place orders, you need to use email or Alibaba trade messages to communicate with suppliers about the price for different purchasing quantities, or how to customize products with your own design or packages.
The supplier will help you create the invoice and contract, and after they get your payment, they will start to make brand new products and then arrange shipping to your country. This is a very common process of how a traditional trading business works.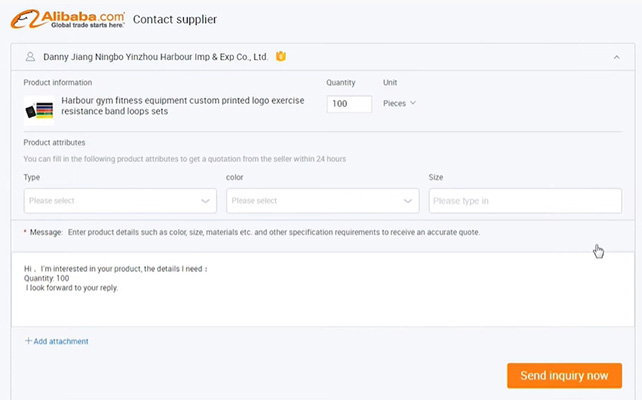 2 Main types of suppliers on Alibaba
On Alibaba, there are two main types of suppliers,
Manufacturers
Trading companies
The manufacturer is the one who makes products and sells products to foreigners directly. While trading companies, they don't make any products but get products from manufacturers that they cooperate with and resell the products to foreigners.
Trading companies always choose those manufacturers who don't have English salesmen, and their prices should be very competitive. It's hard for you to find this kind of manufacturers on Alibaba. That means even though you are buying from trading companies on Alibaba, the price won't be much higher than buying from manufacturers. Let alone those trading companies can offer more professional and high-efficient service.
2 Ways to find suppliers on Alibaba
There are two ways to find suppliers on Alibaba. You can either directly search the product keywords and contact suppliers one by one, or you can use RFQ to submit your purchasing inquiry and let the best-matched supplier reach out to you.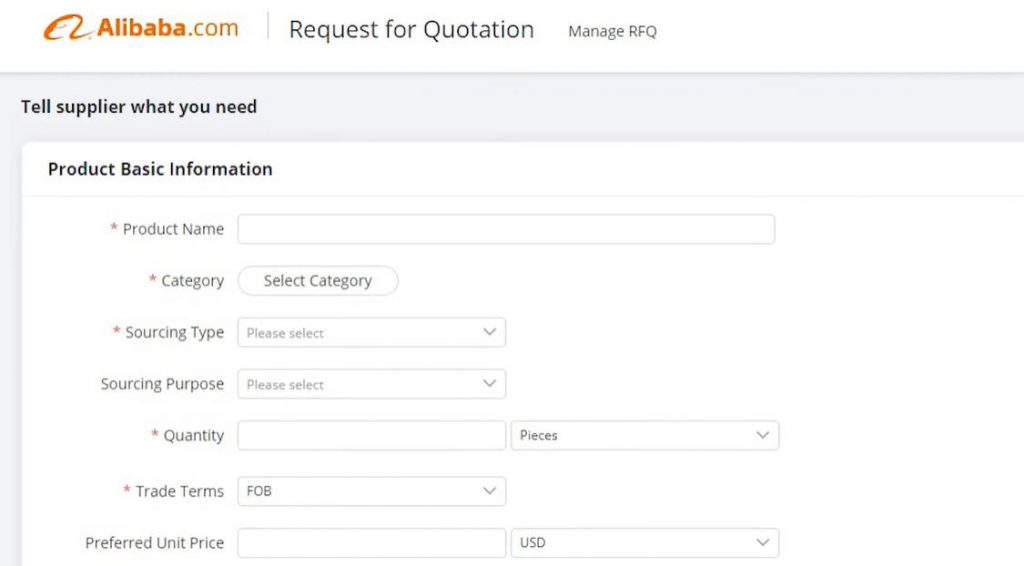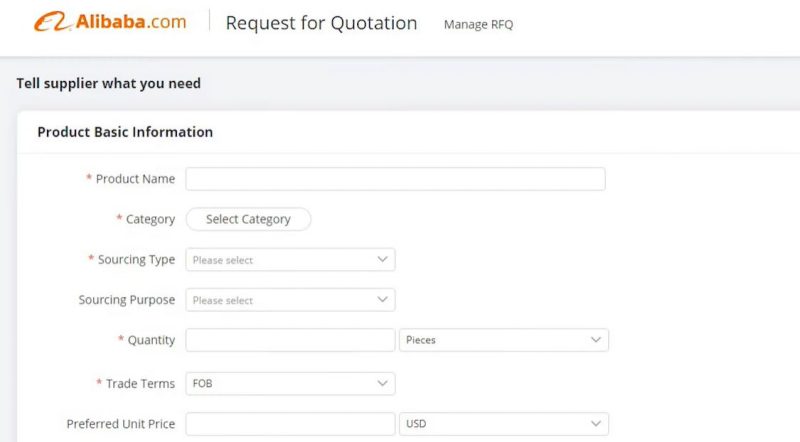 Transaction on Alibaba
When you place orders, you can finish the transaction just like traditional trading that sends money through the wire transfer to the supplier. It sounds not safe because there's no third-party company to protect you.
Or you can use Alibaba trade assurance to process your transaction. If you don't receive your product on time, or you receive bad-quality products, you can get a refund through Alibaba.
Other B2B trade platforms
Alibaba has the biggest number of suppliers and products than any other B2B trading platform, and it can satisfy the need of most buyers. But if you really want to try some alternatives, then the Global Source and Made in China will be the only two that you can consider.
Made-in-China has more advantages of machinery products, and for the past 10 years, they lost the competition with Alibaba in the B2B trading platform. So, they have to focus on the machinery industry, which is not focused on by Alibaba. You probably can find more machinery suppliers in Made in China.
Global Sources is better for gifts and electronic products. On this website, it will be easier to find some old but big-scale manufacturers, because the platform will charge suppliers around $30,000 membership fee per year. This cost is too much for small trading companies or manufacturers to afford. While Alibaba only charges around $4,000 per year for the membership.
Method 3: Find suppliers by using Google search
Someone may wonder why B2B trading platforms like Alibaba can gather so many suppliers?
That's because they have big traffic of potential buyers.
Alibaba's famous makes it get so many traffics because when people are planning to find suppliers, they just recall the name of Alibaba in their mind. They have spent 20 years and countless money to build this big brand.
Another big reason is that Alibaba gets huge traffic from Google, no matter it is organic search or paid advertisement.
Alibaba sells these buyers' traffic to suppliers through annual member fees between $4,000 to $10,000 per year, and also PPC advertisements to let the suppliers compete with each other. In short, Alibaba is making money by getting buyers traffic and reselling to suppliers.
For the past few years, the competition between suppliers on Alibaba has been very fierce, and their cost to get inquiries of qualified buyers has also become very expensive.
So, some of them realized that they can also build a company website and use Google Ads or Google SEO to get more potential customers at a low cost. They can get more exposure to customers, and also less competition than staying on Alibaba.
How to find Chinese suppliers on Google?
You can find Chinese suppliers on google by searching the product keywords and combining my following suggested keywords. Then look at the Top100 search results no matter it's organic search results or advertisement, and pick out those websites that look like Chinese manufacturers or trading companies.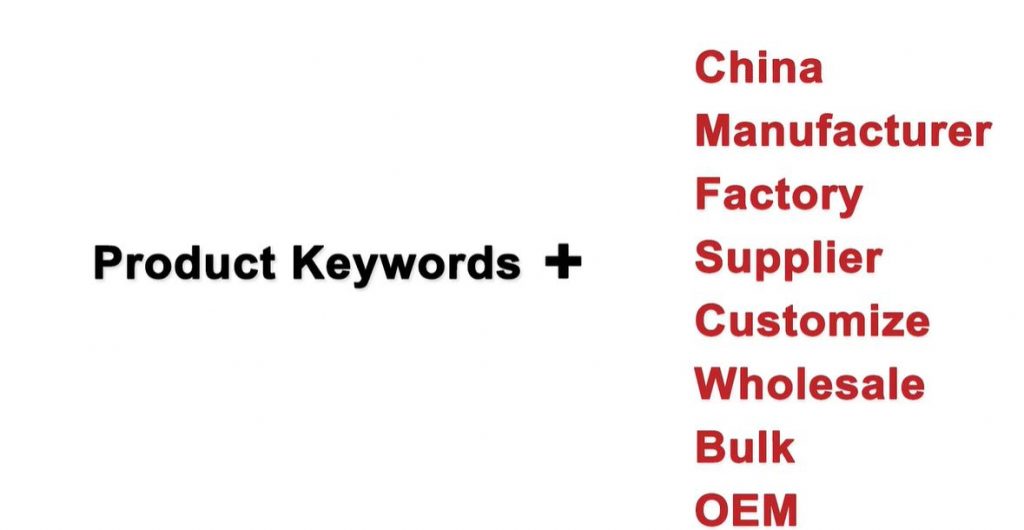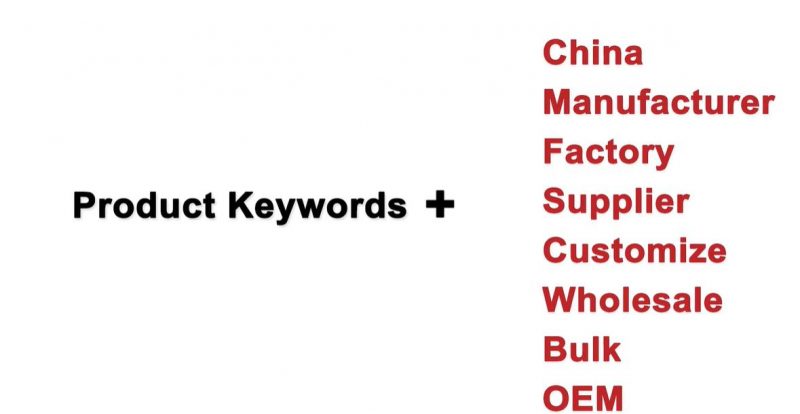 You can contact them by email or send your inquiry on their website, and usually you can get their replies in 1 or 2 working days.
How to evaluate suppliers from Google Search?
However, if you use Google to search suppliers, the biggest problem you will face is how to identify if the supplier is reliable because there's no third party to ensure if the supply is legit. Let me tell you some practical tips.
You can ask them if they have an Alibaba store. If they have, then you can use the Alibaba trade assurance to process the transaction. Otherwise, you can persuade them to use PayPal for a safe transaction.
But actually, most Chinese suppliers are not willing to accept PayPal payment for over $1,000, because they have heard many bad stories about the sellers getting scammed by buyers. Such as some scammer buyers received the products, but they still applied for refunds for all kinds of fake reasons.
Besides, you can still use the Whois to check when the supplier's website domain is registered. The longer the domain was registered, and they are still doing the business, the less possible they will be scammers.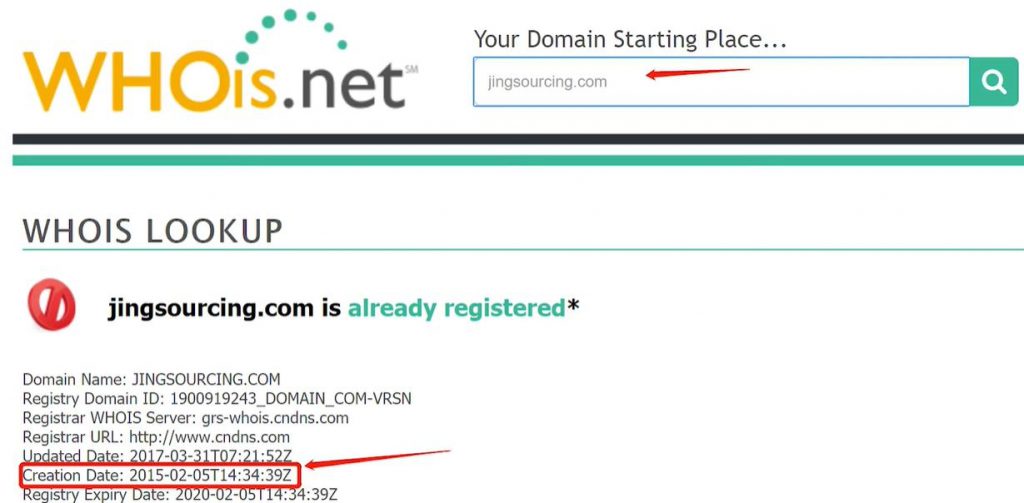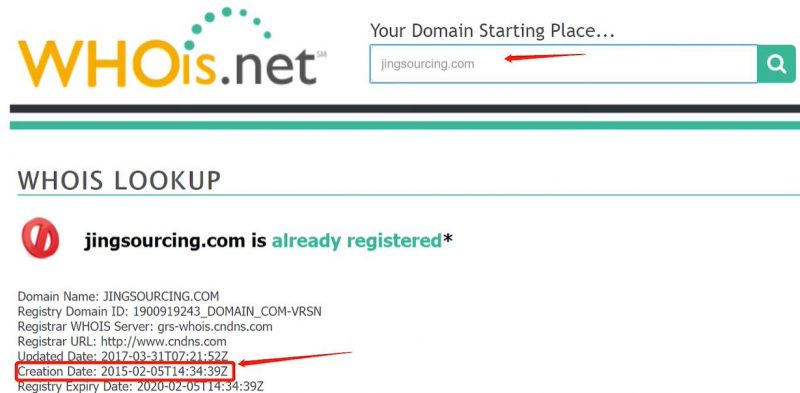 When you are visiting their websites, you can see their real address in China, or you can see their photos of their office, manufacturers or team members. Or they post a lot of photos and information about their attending different trade shows. Then they should be more reliable.
Similarly, you should be very careful when dealing with those suppliers that never post their company or team photos on their website. They are probably just one person's business that works from his home office.
On Alibaba, there are too many suppliers for the same product, and many of them are wholesalers. So, it's hard to choose those professional ones from these hundreds of suppliers. Sometimes it will be more efficient to search suppliers on Google than Alibaba, especially if you don't have a specific product that you want to buy, but you only want a professional manufacturer to help you develop a brand new product.
Method 4 : Find suppliers from LinkedIn or Facebook.
Chinese suppliers are so hungry of foreign buyers, for most of them, Alibaba and the Canton fair are the only two effective ways to get connected with foreign buyers. Some of them start to try any kind of way they heard of that has a chance to find clients instead of staying in the same place with too many competitors.
LinkedIn and Facebook are the two most common place they usually go to find customers because it's free. They usually search the keyword that has a relationship with the product or their industry to discover potential buyers. And then try to get the attention of more potential customers by promoting their products, or posting their company's product information or publishing articles about their product.
So,you can also use the same way to find them on LinkedIn or Facebook. Just simply search the product keywords and combine these business related keywords to discover if there is any Chinese suppliers are posting related information.
Let's take the perfume bottle as an example. You can search the keyword "perfume bottle manufacture" on LinkedIn. It's very easy to find salesmen from glass bottle manufacturers or salesmen from cosmetic packaging trading companies, or even find the business owners. You can also find a lot of product information or manufacturer photos posted by suppliers.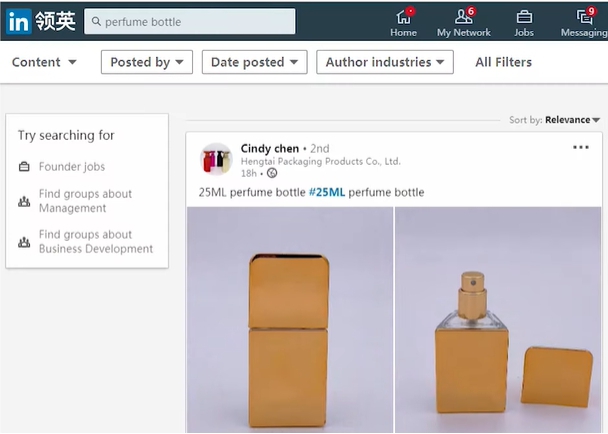 However, there are many disadvantages to searching for suppliers in this way. You cannot find too many suppliers when compared with Alibaba search or Google search. It's also very hard to understand the suppliers' company background or their product line just by simply looking at the salesman's Facebook page or LinkedIn page.
You have to contact them one by one to let them send you their product catalogs. Or you ask them if they can help you make the exact product that you are looking for.
Now it's your turn
Thank you for reading. I wish you can benefit a lot from my post. You can share your opinions or stories below, we can discuss together to help you find the right solution.
I'm Jing, the founder of Jingsourcing, we are the best sourcing company in China. If you need any help about importing from China, free to contact us.