China produces almost 60% of clothes in the world. Many designer fashion brands like Burberry, Armani, Prada have OEM factories in China. China clothing manufacturers are popular for their low-cost labor and also increasing product quality.
In this article, I'll analyze the garment industry in China and share some information about importing clothing from China. I bet you'll benefit a lot.
1. Analysis of Garment Industry in China
The clothing industrial clusters in China mainly gather around the Yangtze Delta and Pearl River Delta. If you want to import clothing from China, I recommend you to cooperate with suppliers located at the industrial clusters. Why?
There are mainly three advantages to wholesale clothing from Chinese factories located in industrial clusters.
China has abundant and cheap labor. Thus, clothing factories in China can offer you a better price for the products. The whole cost is lower to cooperate with Chinese clothes manufacturers even if you add the shipping fees and customs tax.
Moreover, you can have more price choices and select a more competitive one as there are many similar manufacturers in the same district.
Generally speaking, the machinery and equipment of suppliers in the industrial belt are definitely at the forefront of the industry. Therefore, they can meet your requirements of the clothing style and techniques better.
High efficiency to customize
Cooperating with manufacturers will be more efficient especially when you need customization. Wholesale clothing manufacturers in China usually have a professional research and development team. Hence, you can tell your product idea to them directly, and then they can help you design and produce.
In contrast, if you work with trading companies, you need to tell your ideas to them, and then they can convey your ideas to the clothing factories. It's time-consuming to reach the agreement for the product detail, and you may cause some misunderstanding about the design.
In addition, I summarize the clothing industrial clusters in China according to the category in the chart below. When you search for Chinese clothing manufacturers online, the following data will help you judge whether the factory is in the clothes cluster.
| Clothes category | The main industrial cluster distribution |
| --- | --- |
| Men's apparel | Zengcheng; Guangzhou; Hangzhou |
| Women's apparel | Guangzhou; Humen; Hangzhou |
| Children's apparel | Guangzhou; Hangzhou; Changshu |
| Wedding Apparel | Suzhou; Xiangcheng; Jinchang |
| Underwear | Hangzhou; Foshan; Nanhai |
| Shirt | Puning; Yiwu; Shaoxing |
| Leather apparel | Haining; Xinji |
| Cowboy wear | Xintang; Changzhou; Zhongshan |
| Woolen sweater | Dongguan; Tongxiang |
| Down coat | Gaoyou; Changshu; Hangzhou |
| Trousers | Quanzhou; Shishi; Guangzhou |
| Sportswear | Shishi; Xiamen; Guangzhou |
| Swimsuit | Jinjiang; Xingcheng; Yiwu |
| Replica clothing | Guangzhou; Humen; Dongguan; Putian |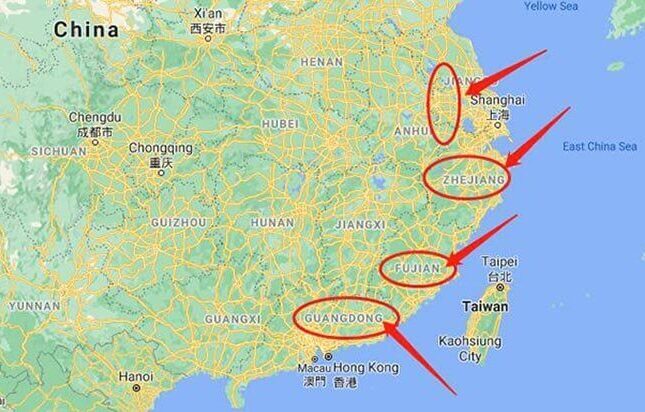 2. Where to Find China Clothing Manufacturers?
When it comes to finding China clothing manufacturers, there are different channels for you to choose from. You can select the most suitable way based on your business.
Chinese wholesale websites
Sourcing agent
Trade fairs
Industrial clusters/China wholesale markets
Chinese Wholesale Websites
Alibaba is one of the largest B2B e-commerce platforms in China. You can buy various clothes on the platform at a very competitive price. If you want to find custom clothing manufacturers in China, Alibaba is a good place.
However, there are also many trading companies on Alibaba, which may declare they're factories. So you should learn to identify them. Here are two solutions to check whether the supplier is a factory or a trader.
First, if you find a supplier who only focuses on a certain category, then it is a clothes manufacturer. While in the picture below, you can notice that the products on the website include wedding clothes and beauty products, so the supplier is more like a trader than a factory.
Besides, most clothes manufacturers on Alibaba usually will set a high MOQ to ensure their profit. While traders may set a MOQ as low as just dozens for products in stock.
If you just want to find China clothing manufacturers with small quantities, DHgate is a suitable website you can choose. You can also find many Chinese clothing factories on it, and the requirement of MOQ on DHgate is lower than on Alibaba. Before using it, please learn some tips for safe buying on it. 
Tips: no matter which wholesale platforms you choose to buy on, you can negotiate with the suppliers about the quotation. Generally, the more you buy, the more competitive price you will get.
Apart from the above online platforms, you can also consider cooperating with a China sourcing agent. And you can find China sourcing agents by searching on Google or search on some freelancing websites like Upwork and Fiverr.
Sourcing agents can help you find more China clothes manufacturers, which you can hardly find on wholesale websites. Moreover, they can help you follow up the production, inspect product quality, arrange the shipment, etc.
Besides, a sourcing company can usually source and customize typical styles of clothes in simple design, as designing and producing a brand-new fashion style is expensive and time-consuming. 
We're Jingsourcing, a leading sourcing company in Yiwu. With abundant clothing factory resources around, we can help you source and customize typical clothing like T-shirts, hoodies, jackets, and functional garments like sportswear, underwear, various leggings, etc.
Industrial Clusters / China Wholesale Markets
wholesale marketsIf you come to China, you can visit the clothes industrial clusters. I've introduced the location of industrial clusters and their specialized category in the last chapter. You can select the one you need. Besides, despite visiting the clothing factories directly, you can also find many wholesale markets in the industrial clusters.
The largest wholesale clothing markets in China are mainly in Guangdong. Guangzhou clothing markets are the most famous and largest-scale in China. Many suppliers on clothing markets in other cities are also sourcing from them.
Below are some markets to buy wholesale clothing from China:
Thirteen Hong Market (十三行)
Shahe Market (沙河)
Baima Market (白马)
Jindu Clothing Wholesale City (锦都服装批发城)
Sungang Taoyuan Foreign Trade Clothing City (笋岗桃园外贸服装城)
Moreover, if you want to buy clothes at lower prices, you can go to the leftover markets. I'll introduce some for you in part 5 of this blog.
If you have enough time and budget, it is a recommended way to attend Chinese fairs. At fairs, you can have a face-to-face talk with China clothing suppliers, which is beneficial for you to judge whether the supplier can meet your demands well.
Generally, the suppliers attending fairs are experienced, and you can find many clothing factories that don't have an e-commerce store on online platforms.
Canton fair is the most recommended one, and it will be held twice every year. It includes 3 phases every time, China wholesale clothing suppliers will attend the fair on the third phase, usually every May and November.
3. How to Customize Clothing with China Manufacturers?
There are mainly 5 steps to customize and private label clothes from China clothing manufacturers:
Convey concepts or send your samples
Tell your customization requirements for clothing to several suppliers( at least 2-3 suppliers) or show them your sample. If you can't draw the design manuscript, you can send the customization clothes' picture to the China clothing supplier directly.
Confirm the details and get a quotation
Communicate with factories about the clothes detail, then select the most suitable one to cooperate with according to their quotation, communication, etc.
Make a pre-production sample
After you choose a factory, the factory will send a PP sample for you to check the pattern and material. In general, the supplier will charge the fees for the sample. And after you place an order, the sample fee will be refunded.
Arrange mass production
Then, the factory will source the required fabrics and materials of clothing and start the mass production.
Quality inspection & arrange shipment
After finishing the mass production, the QA and QC team of the factory will do inspect the stitching, fabric making, accessories, etc.
4. Where to Buy the Cheapest Clothes in China?
If I tell you there are some Chinese suppliers selling clothes by weight, you must be very surprised. In fact, it is a normal phenomenon in China. There are 4 famous leftover stock markets in China. If you want to buy cheap clothes, I strongly recommend these markets to you.
Yiwu Wuai Leftover Stock Market
It is located in Yiwu, the number of inventory stores here is the largest in China.
Yiwu Mehu Leftover Stock Street
It is also located in Yiwu, and it is the first street specialized in selling leftover stock in Yiwu. You can find all kinds of clothes categories here.
Guang Da Clothing Trade Center
It is located in Guangzhou, established in 2005. And you can buy various cheap clothes like jackets, down coats, etc.
Jindong Garment Trade Center
Located in Guangzhou with an area of over 100,000 square meters, it sells many kinds of clothes. Especially for sportswear, you can notice that many stores sell it.
The seller will purchase the leftover stock or some clothes with minor defects but can be used normally from clothing factories, and then resell them in the inventory market. In this case, MOQ will reach tens of thousands of pieces.
Actually, this is just a kind of way to handle leftover stock. it does not mean the quality of the clothes is very inferior. If you run an offline store or street stall business, I strongly recommend you to buy clothes from Chinese leftover stock markets. You can find many high-quality and inexpensive clothes here.
In addition, not all clothes are sold by weight in the inventory market, many of them will still be sold by the piece.
5. How to Find China Clothing Manufacturers for Startups?
It's not wise for a new start-up to cooperate with manufacturers. Although cooperating with manufacturers is good especially when you want to customize the clothes according to your need, there are still some demerits.
The biggest disadvantage is the high MOQ. The clothing factories in China need to set a high MOQ to cover their production cost, which will let you invest more funds in the beginning.
In addition, you can't judge whether the clothes you sell will get an active market reaction at first. Under such circumstances, if you store many clothes, you will need to undertake the risk of the stock. Hence, cooperating with clothes manufacturers is relatively more suitable for those growing businesses or mature businesses.
The advisable way for start-ups or small businesses is to cooperate with trading companies or drop ship from China at first. Besides, you can test the market reaction through a small number of clothes without huge stock and fund investment. With the development of your business, you can choose to cooperate with a reliable Chinese clothes manufacturer, which is beneficial to your long-term business.
6. How to Buy Small Quantities from China Clothing Manufacturers?
Most small quantity buyers prefer to find small order clothing manufacturers online to save costs. Actually, many buyers with larger businesses seldom source products by coming to China. They usually hire an agent in China to help them manage the supply chain. Thus, it's better to source online if you only need small quantities.
Besides, a large-scale or medium-scale factory only accept large order to ensure profits. In contrast, small-scale workshops may have a small MOQ and can produce according to customers' needs.
However, in that case, the prices of the clothes will be much higher or the quality can't reach your requirement. Thus, you can only find small clothing workshops to buy small quantities but you need to pay more money or be careful of the product quality.
So why the cost of buying small quantities of clothes is much higher? That's because the factory needs to consider the costs of labor and materials.
For instance, the clothing factory needs to source the required materials like zippers and buttons from material factories. And these material factories also set a MOQ. If the factory can't use up these materials, then the rest materials will be wasted.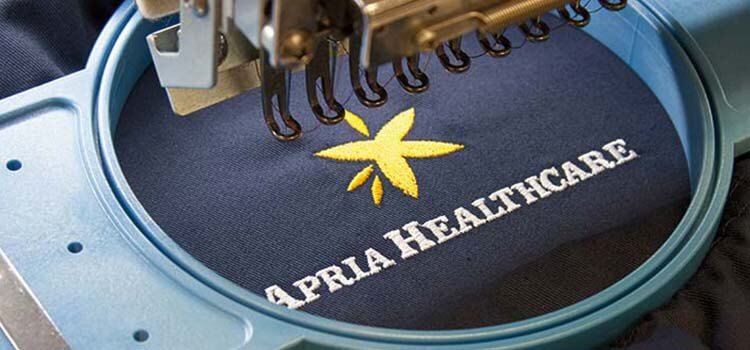 Besides, take an example of customizing T-shirts. If you want to find manufacturers of private label clothing and print a logo on T-shirts, there are 2 common methods — embroidery and screen printing. However, the prices of processing the T-shirts will be different if your order is small.
For example, we once helped a customer embroider a logo on the T-shirts. And the embroidery factory charged a fixed fee of about $30-40 to process 100 pieces of T-shirts while $150-160 for 1000 pieces. Then, producing a piece of T-shirt will have higher cost with a small order.
7. How to Wholesale Designer Clothing from China?
Nowadays, there is no professional wholesale website specializing in providing replica brand clothes in China. But there are still many China clothing suppliers providing replica clothing. You find them on some online marketplaces for replicas such as Alibaba, DHgate, Made in China, etc.
However, you should know if you want to buy such replica clothing in large quantities, it will be a little troublesome during the process of customs clearance, particularly in customs checking. In addition, not all freight forwarders can help you with the replica clothes' customs clearance. So you should find a freight forwarder that has their special ways to ship your replica goods.
8. Are Clothing Made in China Good Quality?
Some importers may hold a bad view on "Made in China" or "Made in PRC". Thus, they worry about the quality of clothing made in China. But the stereotype is changing now.
According to news on quartz, a business-focused international news organization, the quality of clothing in China has improved significantly in recent years.
It pointed out that China's garment industry has invested a lot of money and technology in training staff and garment production, and the working conditions of China garment factories have improved in recent years. With the increase of China's export of clothing year by year, the factory will pay more attention to details.
Perhaps it does not necessarily mean that Chinese goods are of absolute high quality. But China's entire garment manufacturing industry is developing, and the buyers are increasingly expecting Chinese-made goods.
9. List of 16 Clothing Manufacturers in China.
Below I list some wholesale clothing manufacturers in China for your reference. But if you want to know whether they're good suppliers for you, you still need to communicate with them on your own to learn about their actual situation. The most important thing for you is to learn how to tackle the above problems rather than just focus on searching for a factory list.
Appareify is a leading custom clothing manufacturer headquartered in Shenzhen, specializing in a broad range of women's apparel and other clothing categories. They collaborate with clothing brands across 50+ different countries, with a production capacity of up to 400,000 pieces per month, and fast lead times ranging from 7 to 20 days.
Appareify manufactures high-quality t-shirts, leggings, swimwear, activewear, jeans, and many other clothing types. As one of the best clothing manufacturers in the world, they produce garments using comfortable, durable, and sustainable fabrics, and offer private labeling and OEM services to accommodate various customization needs. And their low minimum order quantity policy can be of great help to those looking for small trial batches or to minimize their budget and inventory pressures.
This clothing manufacturer focuses on high-end women's wear including blouses, dresses, pants, jackets, etc. They own 2 factories separately in Ningbo and Guizhou. If you need customization, they can provide OEM & ODM services.
Moreover, the MOQ varies from fabric. Usually, they can accept 300 pcs/color/style. But if there are stock fabrics, they can also accept 100 pcs/color/style with surcharge. Their main markets are Europe and South America. They can also source different fabrics for you.
This is a clothing factory located in Humen, one of the clothing clusters in China. They mainly deal in women's clothes like dresses, skirts, blouses, sportswear, etc. They have passed certifications like ISO 9001 and BSCI.
Moreover, they can offer OEM and design services. Their main markets are North America, Oceania, etc. You can find them on Alibaba.
This company set up an office in Hongkong, and they also have a factory in Guangzhou. They have a designer team to create the fashion styles for you. The styles they can make include high technique stitching, lace wear, ruffled details, chiffon, woven mesh, embroidered, and so on.
Arlisman is an OEM garment factory in Guangdong that can provide clothing processing, customization, and design service. The main types of men's garments produced in this factory cover knit sweaters, sweatshirts, T-shirts, Polo, casual pants, jeans, clothing accessories, etc. The MOQ is at least 100pcs per color and model.
This factory is in Guangdong. It mainly deals in men's hoodies, T-shirts, Sweatshirt, Tank tops, jackets, etc. They own the ISO9001 and ISO45001 certifications. The main market them is North America and Western Europe.
Petelulu has a factories in Foshan. It can produce OEM orders, design new models, or even create a new brand for customers. The main products they produce are organic cotton baby rompers, pajamas, shirts, and Sweatshirt. The main market they focus on is North America and Oceania.
Kimi Dog is located in Zhili, the largest production base of kid's clothing in China. They can accept small orders, which is suitable for small businesses. They mainly deal in boy's T-shirts, pants, jackets, and girl's dresses, etc.
Anbu Safety is a leading custom coverall manufacturer in China, specializing in a broad range of workwear and other safety clothing. They collaborate with working clothing brands across 30+ countries, with a monthly production capacity of up to 100,000 pieces. This company's main types of workwear are safety coveralls, work suits, flame retardant coveralls, work shirts, lab coats, scrubs, etc.
Yotex has a business office based in Shanghai and an ODM&OEM factory mainly located in Fujian. They mainly deal with the US, CA, and European markets. Their products range from sportswear, activewear, swimwear, etc.
Moreover, the MOQ depends on the fabrics and styles. In general, MOQ for cut and sew styles is 200 pcs/style/color or 500 pcs/style; while for seamless style is 500 pcs/color/style.
This manufacturer is located in Guangzhou and specializes in designing, developing, manufacturing, and selling garments. They sell to both domestic and overseas markets. The main market they focus on is North America and West Europe. And products they sell are mainly men's sportswear like Soccer Jersey, Basketball Jersey, Sports Tracksuits, Windbreaker, Volleyball Jersey, etc.
Unijoy has been an OEM & ODM custom activewear & swimwear manufacturer since 2008. Their factory has passed BSCI, FAMA, and OEKO-TEX audits, located in Jinjiang, China, a swimsuit and activewear production base. Here there is a complete activewear & swimsuit supply chain.
They provide one-stop customization services, handling everything from sampling to global shipping. Every season, they manufacture millions of custom high-quality swimwear and activewear designs for customers worldwide.
Yinshan Sports is specializing in designing and manufacturing custom sportswear, sports teamwear, customized workwear and uniform, promo events clothing, fitness, and activewear. Yinshan Sportswear is the official teamwear supplier for Formula One, Formula E, MotoGP, Nascar, Boston Marathon, Queensland Basketball Associations, etc.
ApparelCN belongs to Shine Bright Group and is one of the world's leading clothing manufacturers and wholesalers with an 18-year factory. It provides one-stop garment manufacturing services including design, material sourcing, prototyping, production, quality control, and global shipping. The products they offer range from casual wear to sportswear and activewear.
Young Source is an underwear and lingerie manufacturer located in Shenzhen. Their main customers are from Western Europe and North America such as UK, Switzerland, Germany, and Canada.
The MOQ depends on the item's complexity. They usually require 1000 pcs/style/color, with a total order quantity of 3000 pcs. And they sometimes charge $200 for a sample. Besides, you can choose from hundreds of embroidery and lace designs to produce a custom style.
Ladymate set up the office and OEM factory in Shantou, Guangdong. It is specialized in producing various classes of knitting clothes, bras, and underwear. Their main market is Southeast Asia, Europe, the USA, etc.
Furthermore, their main product range is bra Sets, shapewear, sexy lingerie, and sports bra. And they have passed the certifications like ISO9001 and BSCI.
To the End
I hope you can benefit from my post, and get the knowledge you need. If you think the post is helpful, welcome to share it with others. Besides, if you have any questions, feel free to share them with us by leaving a comment.
We're Jingsourcing, a leading sourcing agent in China. We can help you find various China wholesale manufacturers with competitive prices. If you want to wholesale and customize clothes, feel free to CONTACT US.