Many new start-ups will ask me for a list of China clothing manufacturers or let me recommend the best China clothing factories. In fact, I can't provide such a list for you. Even if you do get so-called list on Google, regardless of its data credibility, it is not helpful for you in essence.
If you want to find a good China clothes manufacturer to cooperate with, you must know the actual situation of the factory. For example, you should know where they are located, where to find them, how to identify whether they are good, etc. That is to say, the most important thing for you is to learn how to tackle the above problems rather than just focus on searching for a factory list. Essentially speaking, no one can provide you a valuable list.
So in my today's post, I will tell you all things about China clothing manufacturers. I bet you will benefit a lot.
Without further ado, let's begin to read the post.
1. Why work with Chinese clothing manufacturers?
Lower purchasing cost
China has abundant and cheap labor, so even if you adding the other cost generating in the whole importing process like freight and customs tax, the whole cost will be cheaper to cooperate with Chinese clothes factories than other countries in the world.
More efficient than clothing traders for customization
Manufacturers will usually have a professional research and development team. So you can just tell your product idea to them directly, and then they can help you design and produce them.
However, if you work with other types of suppliers like trading companies, you need to tell your idea to them, and then trading companies contact factories. By doing so, it will take more time to reach the agreement for the product detail. In addition, it may cause some misunderstanding about the product design.
2. Where to find China clothing manufacturers?
Online channels:
If you are an e-commerce businessman or you just have a limited budget, the best way for you to find China clothing manufacturers is to search on Chinese wholesale websites. These websites are very similar in essence, I will list two of them, Alibaba, DHgate.
Alibaba is one of the largest B2B e-commerce platform in China. You can buy various clothes on the platform at a very competitive price. If you want to find China custom clothing manufacturers, Alibaba is also a good platform to use. There are many clothing manufacturers on the platform.
Here is a tip for you to identify whether the supplier is a factory or a trader. When you browse the supplier's website, if you notice that the supplier just focuses on a certain kind of clothes category, then the supplier is a clothes manufacturer in essence.
But as the below picture shows, you can notice that the products on the website include wedding clothes and beauty products, so the supplier is more like a trader than a factory.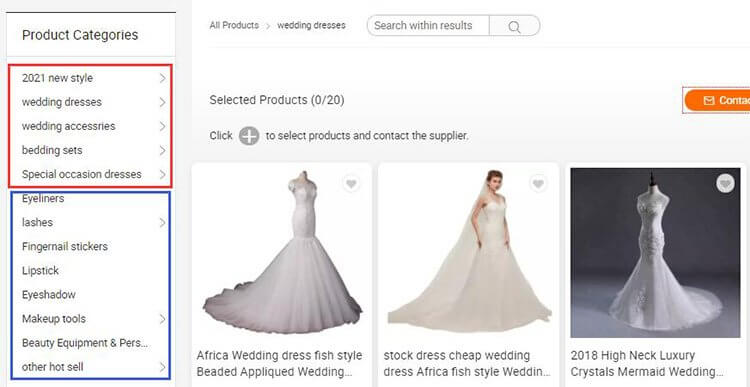 Most clothes manufacturers on Alibaba usually will set a high MOQ to ensure their profit. But traders may set a low MOQ even just dozens for those products in stock.
If you just want to find China clothing manufacturers for small quantities, DHgate is a suitable website you can choose. You can also find many factories on it, and the requirement of MOQ on DHgate is lower than Alibaba.
Tips: no matter which platform you choose between Alibaba and DHgate, you can negotiate with the suppliers about the quotation. Generally, the more you buy, the more competitive price you will get.
Sourcing agent
Apart from the above two channels, there is another efficient way to find Chinese clothes factories. That is, you can cooperate with a China sourcing agent. Through sourcing agents, you will be more likely to find more Chinese clothes manufacturers which you won't find on online platforms. Moreover, sourcing agents can help you follow up the production, inspect the product quality, arrange the shipment, etc.
And you can find China sourcing agents by searching on Google, some freelancing websites like Upwork and Fiverr.
Offline channels:
Fairs
If you have enough time and budget, attending Chinese fairs is a recommended way to find reliable Chinese clothes factories. At fairs, you can have a face-to-face talk with suppliers, which is beneficial for you to judge whether the supplier can meet your demands well. Generally, the suppliers attending fairs are experienced, and you can find many factories that don't have an e-commerce store on online platforms.
Canton fair is the most recommended one, and it will held twice every year. It includes 3 phases every time, clothes suppliers will attend fair on the third phase, usually every May and November.
Industrial cluster
Clusters are geographic concentrations of interconnected companies and institutions in a particular place. That means you will find many factories with the same industry in a particular place. There are many industrial clusters in China for different industries. Of course, there will also be many clothes industrial clusters in China. I will analyze the industrial cluster in detail next.
3. Why cooperate with the suppliers located at industrial cluster?
There are two main advantages for buying clothes from factories located in industrial clusters:
Lower purchasing price
There is relatively more abundant labor in the clothes industrial cluster, so factories can save a lot of labor costs. Accordingly, the selling price of the clothes will be cheaper.
In addition, there will be many manufacturers in the same industry located in the same district and will have a price competition among them, which can let you have more choices and get a more competitive quotation.
More advanced equipment
Generally speaking, the machinery and equipment of suppliers in the industrial belt is definitely at the forefront of the industry, and they can meet your requirements of the style and techniques of clothes better.
So it is important for you to learn about clothes' industrial clusters distribution in China. The following chart is my summary of the main industrial clusters in China for several main clothes category. When you search for clothing manufacturers on Alibaba, the following data will also help you judge whether the factory is located at the clothes cluster. Then you can be more likely to choose a good one.
| Clothes category | The main industrial cluster distribution |
| --- | --- |
| Men's apparel | Zengcheng; Guangzhou; Hangzhou |
| Women's apparel | Guangzhou; Humen; Hangzhou |
| Children's apparel | Guangzhou; Hangzhou; Changshu |
| Wedding Apparel | Suzhou; Xiangcheng; Jinchang |
| Underwear | Hangzhou; Foshan; Nanhai |
| Shirt | Puning; Yiwu; Shaoxing |
| Leather apparel | Haining; Xinji |
| Cowboy wear | Xintang; Changzhou; Zhongshan |
| Woolen sweater | Dongguan; Tongxiang |
| Down coat | Gaoyou; Changshu; Hangzhou |
| Trousers | Quanzhou; Shishi; Guangzhou |
| Sportswear | Shishi; Xiamen; Guangzhou |
| Swimsuit | Jinjiang; Xingcheng; Yiwu |
| Replica clothing | Guangzhou; Humen; Dongguan; Putian |
Note: I just list the first districts for each category. Of course, there are many other industrial clusters spread over China. But it mainly focuses on Jiangsu, Zhejiang, Guangdong, Fujian province. When you search for clothes manufacturers online, you can filter according to the industrial cluster.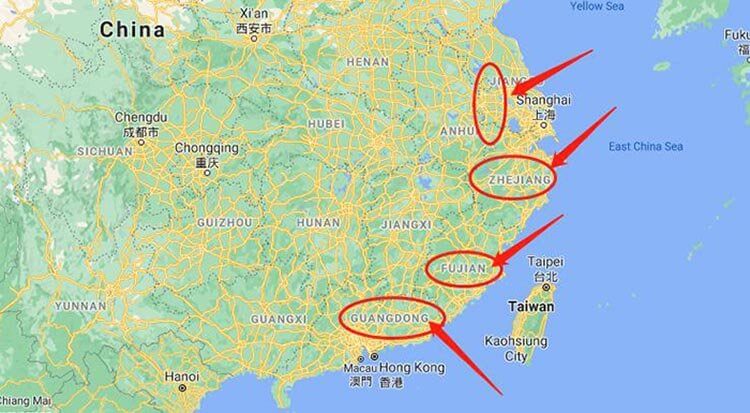 4. Five FAQs about clothes manufacturers in China
How to customize or private label the clothes in China?
If you want to customize the clothes in China, there are mainly 5 steps,
Tell your customization requirements for clothing to several suppliers( at least 2-3 suppliers). If you can't draw the design manuscript, you can send the customization clothes' picture to the supplier directly.
Communicate with factories about the clothes detail, then select the most suitable one to cooperate with according to their quotation, efficiency of communication.
Make a pre-production sample
If you are satisfied with the sample, you can let the factory arrange mass production.
Quality inspection & arrange shipment
How do I choose a clothing manufacturer?
In fact, there are no so-called best China clothing manufacturers. The most important thing for you is to choose a suitable supplier according to your own actual situation.
Here are 3 main characteristics of a good clothes manufacturer.
Located at clothes cluster
Professional knowledge in clothes
Timely communication and good responsibility
Are there any recommended clothes manufacturers for start-ups or small businesses?
If you are a new start-up, cooperating with manufacturers is not the most ideal way.
Although there are many advantages for cooperating with manufacturers such as you can customize the clothes according to your need, there are still some demerits. The biggest disadvantage is the high MOQ. The reason is that factories need to set a high MOQ to cover their production cost, which will let you invest more funds in the beginning.
In addition, you can't judge whether the clothes you sell will get an active market reaction at first. Under such circumstances, if you store many clothes, you will need to undertake the risk of stock piling up. Hence, cooperating with clothes manufacturers is relatively more suitable for those growing business or mature business.
The advisable way for start-ups or small businesses is to cooperate with trading companies or dropshipping from China at first. Besides, you can test the market reaction through a small quantity of clothes without huge stock and fund investment. With the development of your business, you can choose to cooperate with a reliable Chinese clothes manufacturer, which is beneficial to your long-term business.
Where to buy the cheapest clothes in China?
If I tell you there are some Chinese suppliers  selling clothes by weight, you must be very surprised. In fact, it is a normal phenomenon in China. There are four famous leftover stock markets in China, if you want to buy cheap clothes, these markets are strongly recommended to you.
Yiwu Wuai Leftover Stock Market
It is located in Yiwu, the number of inventory stores here is the largest in China.
Address: Google map location
Yiwu Mehu Leftover Stock Street
It is also located in Yiwu, and it is the first street specialized in selling leftover stock in Yiwu. You can find all kinds of clothes categories here.
Address: Google map location
Guang Da Clothing Trade Center
It is located in Guangzhou, established in 2005. And you can buy various cheap clothes like jacket, down coat, etc.
Address: Google map location
Jindong Garment Trade Center
Located in Guangzhou with an area of over 100,000 square meters, it sells many kinds of clothes. Especially for sportswear, you can notice that many stores sell it.
Address: Google map location
The seller will purchase the leftover stock or some clothes with minor defects but can be used normally from factories, and then resell them in the inventory market. In this case, MOQ will reach tens of thousands of pieces.
Actually, it is just a kind of way to handle leftover stock, that not means the quality of the clothes is very inferior. If you run an offline store or street stall business in your local market, it is strongly recommended for you to buy clothes from Chinese leftover stock markets. You can buy many high quality and inexpensive clothes here. In addition, not all clothes are sold by weight in the inventory market, many of them will also be sold by the piece.
What are the best replica clothing sites?
Nowadays, there is not a professional wholesale website focus on providing replica brand clothes in China. But you can find many suppliers providing replica clothing on some online wholesale marketplaces such as Alibaba, DHgate, Made in China, etc.
But you should know that if you want to buy such replica clothing in large quantities, it will be a little troublesome during the process of customs clearance. In addition, not all freight forwarders can help you with the replica clothes' customs clearance. So you should find a freight forwarder that has their special ways to ship your replica goods.
To the end
I hope you can benefit from my post, and get the knowledge you need. If you think the post is helpful, welcome to share it with others. Besides, if you have any questions about finding Chinese clothes manufacturers, or you have Chinese clothes manufacturers to recommend, feel free to share with us by leaving a comment.