If you are importing daily used products from China (less than a container for each product type), your manufacturers are probably very small. One thing that you shouldn't do is believe everything your supplier tells you about them. For instance, a supplier may claim to be operating on a large-scale basis, employing a multitude of workers. Don't be lured with a picture of employees and the manufacturing plant, unless you personally visit their production plants or stores.
When sourcing on Alibaba, you're likely to encounter trading companies or middlemen who lie to you they are factories. They will even include lots of photos to back this claim and convince buyers that they are a huge manufacturing company offering quality products. However, most of these photos are usually products of Photoshop. They are doing this as most buyers will not come to China to visit them.
I have been sourcing products for foreign small-scale businesses and customers for years. During this period, I have visited hundreds of small-scale factories that deal in all kinds of products. I know lots of tricks that Alibaba suppliers are playing. And guess what? I would like to share some of the experiences I've had with these small-scale factories.
1. Who do small-scale factories serve?
Big buyers and international retail companies such as Walmart and IKEA usually tend to buy from big factories. These big companies always put high value on the factory's quality management system. In order to become a supplier to any of these big players, your factory must first be inspected by their inspection company of choice. This is to assure them of your eligibility. As a result, small-scale factories are likely not to become their suppliers.
However, there happens to be a different and very interesting scenario here. The big factories that usually qualify as suppliers of products to these big buyers may at times ask small-scale factories to produce or supply a part of the supplies needed. This is especially when the buyer's order is big. Even though the small-scale factory did not meet the 'requirements' needed to supply the big buyer, the quality of products produced is similar to that of big factories.
Big factories always have high MOQ. Due to this, the pricing for a similar line of quality will be much higher than that of small-scale factories. In usual circumstances, large-scale factories always specialize in certain product categories where orders may at times amount to more than $50,000. If you buy daily products that are less than a container, small-scale factories will be more suitable for you since their orders usually range from $1,000 to $30,000. But the quality of products will vary depending on how you source and choose these factories.
For products such as cheap craft, Christmas gifts, and low-value toys, small-scale factories are the best place to look out for. This is true because small-scale manufacturers usually depend on material and labor costs, something that renders large-scale producers less competitive. However, if you are looking for products such as machinery and construction materials, large-scale factories are the most probable places to find them.
2. Three types of small-scale factories in China
Lots of news and blogs are circulating the web saying that the environment of small factories in China is terrible. This has resulted in some unrest and tension among customers. They are no longer sure whether these small-scale manufacturers have what it takes to produce reliable and high-quality products. In this regard, I will be sharing the three common types of small-scale factories in China in a bid to help you source and inspect the quality of suppliers.
1.  Home-based workshops/factories
A few months ago, we helped a customer source over 40,000 pieces of the flying lantern. From our experience, low-value craft products like flying lanterns are probably produced in Yiwu. After comparing quotes from different factories, we finally contacted a supplier named Jiang. We visited him in a village just 20km away from our office. To our surprise, we found that the products are produced right here in the village.
Jiang has been doing the flying lantern business for about 6 years now. Whenever he gets an order from trading companies, he will deliver all the required materials to other neighboring homes in the village. Once they are done, the complete flying lanterns will be returned to Jiang's warehouse and packed in cartons. According to Jiang, labor and materials are the biggest costs for this product. Thus, producing them in the village has helped reduce up to 30% of the cost that would have been incurred for renting a factory house and hiring full-time workers.
We visited one of the villager's homes and he was busy working when we arrived. We found him packaging the flying lanterns for a trading company from Shantou, Guangdong. These products were eventually destined for Russia. He said he had worked on this product for 4 years. When business is at peak, there are usually around 100 villagers like him working for Jiang.
| | |
| --- | --- |
| | |
| A villager is packing flying lantern at home | Our team member is checking quality in Jiang's warehouse |
I prefer to call them home-based workshops or factories rather than manufacturing companies or factories. These kinds of home-based factories are very common in Zhejiang Province because most low-value dairy products are produced in this region. These types of products usually demand low technology or skills so they can easily be produced by anyone.
It is recommended to opt for a home-based factory that has been in business for quite some time. This will present you with a better choice of products thanks to the high quality available and the competitive prices on offer.
2. Well-organized small-scale factory
One of our main suppliers is actually a very good case for describing this kind of small-scale factory. The factory is also located in a village just 3km away from the flying lantern village. This factory only produces five types of Turtle Projector Lights and it has been in business for about 5 years now. According to the owner, this is the biggest and most well-organized turtle projector light small-scale factory in Zhejiang Province.
| | |
| --- | --- |
| | |
| Factory building of our turtle light supplier | The turtle projector light our customer purchased |
|   |   |
| Cotton stuffing machine | Turtile projector light producing line |
The 6-storied building with naked bricks in the photo above is the supplier's factory. The first and second floors are used as warehouse space while the third and fourth floors are production areas and sales office. The fifth and sixth floors are dormitories for the 30 workers employed here.
Although the factory is small, all tasks including and not limited to filling cotton, assembling products, sewing and quality control have been distributed very well. They are all finished by different people. There is also a conveyor on the production line, thus, all workers can work very efficiently.
These kinds of small-scale factories are the best for small businesses. The quality of products on offer is good because they are well organized and specialized in certain products. The pricing is also very competitive because of their small scale of operation. These companies exist in every place you visit in China.
3. Mystery electronic products workshops
For people with some trading knowledge about China, they must know that Shenzhen is well known as the capital of electronic products. It manufactures 90% of all no-brand electronics in the world, for instance, tablets, mobile phones, cameras, memory cards, etc. When you are sourcing Chinese electronics suppliers on Alibaba, you will see lots of photos of nice production lines and factory workshops.
Don't fall for these photos easily since some of them are at times fakes. Unless you want to start your own shop or you are buying in large quantities, you won't consider buying from authentic factories with well-managed production lines. There are also others probably made by "mystery workshops", however, this kind of situation also depends on the products.
We helped a customer source 1, 500 pieces of low-price car cameras costing around $7 each. We visited the supplier in their office in Shenzhen. The supplier refused our request to visit their factory because it's the kind of rule that all suppliers in Shenzhen know. For no-brand electronic products, they are usually copied from international brand prototypes and then produced secretly in "mystery workshops".
However, these kinds of products (like our car cameras) are without any quality problems – they have CE certification. In addition, overseas customers usually ask reputable quality inspection companies to their offices to check these products. The supplier only showed us the GPS tracker workshop thanks to the fact that they have their own brand and patent. However, the price is higher as compared to the no-brand GPS trackers produced by their competitors.
For most no-brand electronics, the producer just needs to buy electronic circuit solutions from engineers, components from different suppliers, and assemble all parts in a small workshop. Products usually won't have big problems nowadays, because all parts are mass-produced by professional factories. In addition, assembling all parts is not a difficult job and it can easily be finished at a small studio in Shenzhen. And that's the main reason why Shenzhen became the capital of all types of global electronic products.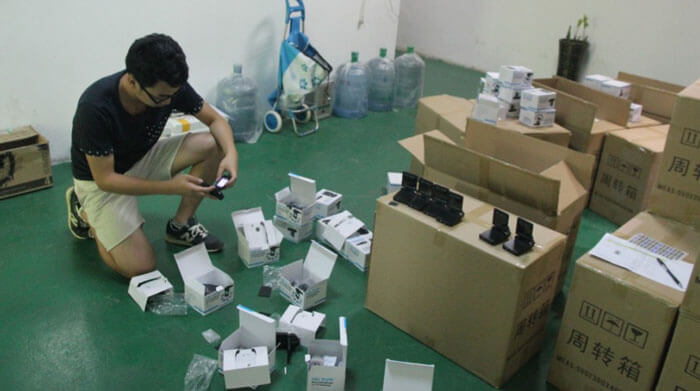 Our team member is checking car camera quality for our customer