Replica products business has a huge market, but as sellers, do you know where to wholesale replica products? In fact, 90% of replica products are made in China around the globe. Many luxury brand companies have foundry in China. But you must have such questions: where to find replica products in China? What should I pay attention to when I wholesale replica products from China? Moreover, currently there is no good answer on Google.
That's why I write the article. I will tell you the top Chinese replica websites and give you some tips to wholesale replica bags, clothing, watches. I bet you will benefit a lot from today's post.
Without further ado, let's learn together.
1. Why import replica products from China?
Besides the competitive price of the counterfeit in China, the quality is the more important aspect buyers will consider.
As China has a complete industrial chain, the factories can work together to finish the production of a replica product. A replica product usually won't be manufactured in the same factory. For example, if they plan to make an LV replica bag, the whole manufacturing process will be completed by several factories. Some of them are specialized in the zipper industry, some in the leather industry.
So the quality will be satisfactory. Of course, there are several grades from A to AAA grade. For AAA grade replica products, it is very difficult for you to differentiate between the real and the fake ones.
But there is a thing you need to know, you had better not sell the replica products on some online stores especially some e-commerce platforms with strict regulation policy like Amazon, Shopify, etc. Once your store receives the complaint from the brand company, your store will be forced to close by the platform. So you had better sell it through some offline ways.
2. Where to find replica products?(bags, clothes, watches)
Because of the property right, the sellers will make some adjustments for the image like blurring. Usually, the logo won't be displayed in the product details. Or they will make some adjustments to the original style.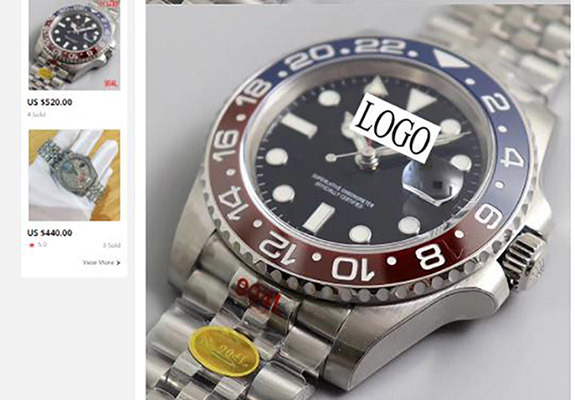 You may find there are some independent online stores on Google, but in fact, they are from some countries that lack good regulation policy. There are not such online stores major in providing a certain counterfeit category because of the property rights regulation in China. But you can buy such products from some Chinese B2B or B2C websites as follows,
| Website | Main Replica Product Category |
| --- | --- |
| AliExpress | Bag; Clothes; Watch |
| DHgate | Bag; Clothes; Watch |
| Made in China | Clothes; Bag |
| Alibaba | Bag; Watch |
| eBay | Bag; Watch |
| Global Sources | Watch |
| 1688 | Bag |
| DIY trade | Bag; Watch |
Note: the list is just for your reference. Because of the strict property rights policy, we couldn't make sure you must find replica products on the above websites.
3. How to search replica products on the websites?
After knowing where to find replica products, you should learn how to search counterfeits on these websites. People will take it granted that they can enter the brand name to search. In fact, it is not the right way. Most websites blocked almost all famous brand names on the searching system. 
You can use some keywords like "luxury brand + product category" "AAA +product category" "replica + product category" "Europe luxury brand + product category""abbreviation of brand+ product category", etc.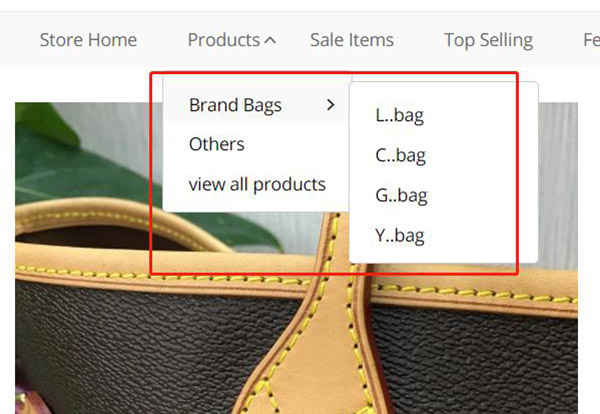 In addition, many sellers will show their WeChat, Whatsapp account in the product listing. You can discuss the product details with them on the chatting app.
They will also provide you more styles to choose from. Through communication, you can confirm some details with the suppliers like warranties and guarantees policy, which is very important.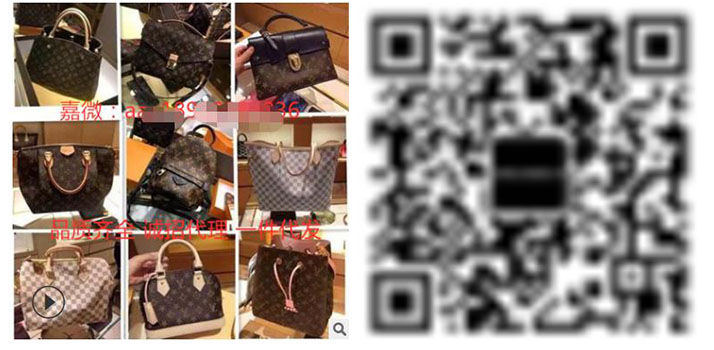 Another thing you should pay attention to: 1688 is for Chinese buyers essentially, which belongs to Alibaba. So the language is Chinese, when you use 1688, you should translate it into English first as the following picture shows. You can have a right-click and click "翻成English".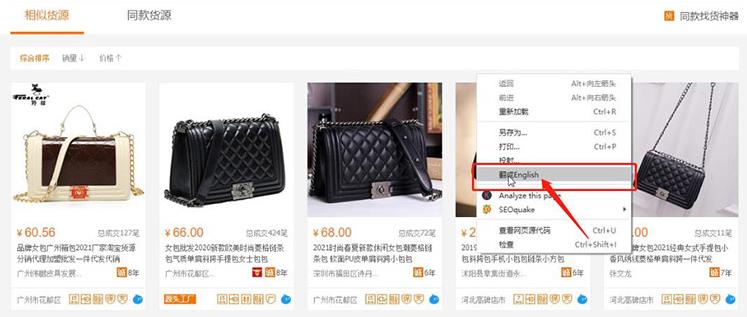 Then the page will be displayed in English as follows,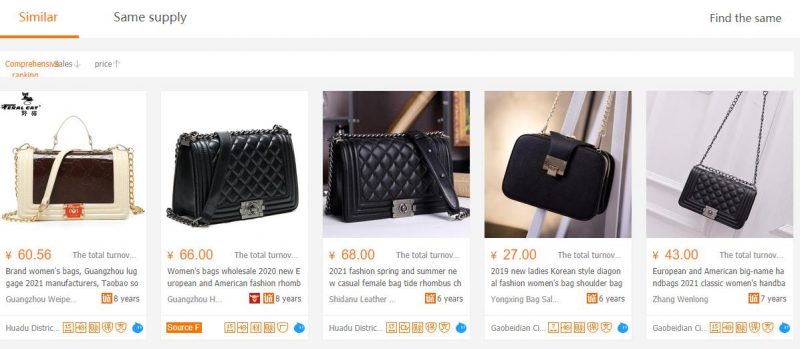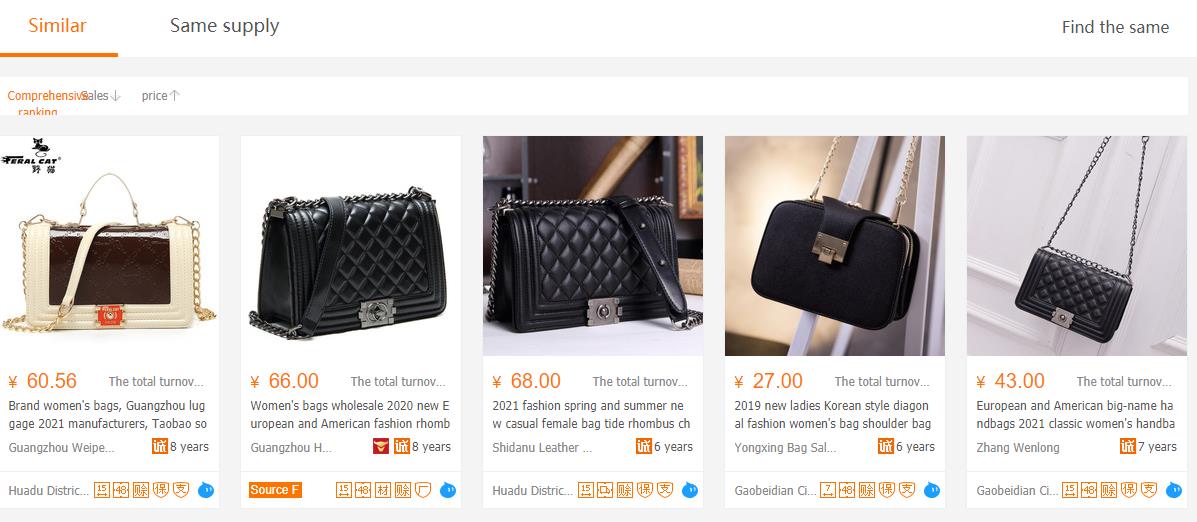 Many sellers won't display all the products in the store, and they won't show the product logo. But it doesn't mean that the seller is unreliable. The reason why they do so is mainly to avoid the punishment from e-commerce platforms caused by selling replicas.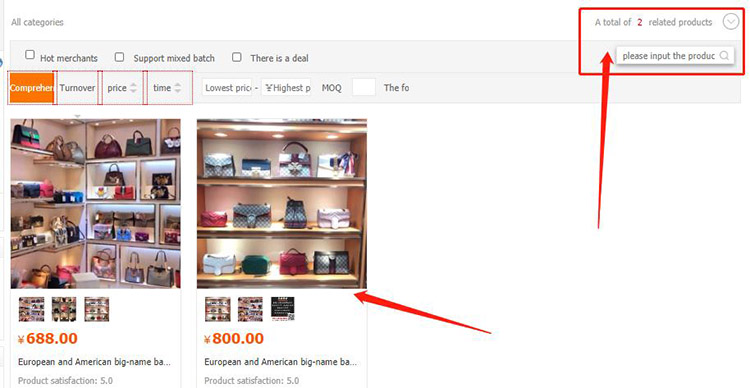 Under such a circumstance, as I mentioned in the above, you can communicate with the seller about the product details on WeChat/ Whatsapp. Moreover, many sellers will explain that you can contact them if you have special requirements just like the below picture shows.

4. Tips for wholesaling replica bags, clothes, watches
Tips for buying replica bags
When you search bags, you can filter the suppliers according to the location. Usually, bag sellers are located in Guangdong, China.
In addition, the price of the bag varies, so you should learn the production cost and average price of a bag before you place an order. For example, if the average price of a replica bag is $130, but the price shown on the store is just $50. Under such a circumstance, you should consider the difference seriously. You can compare it with the products displayed in other stores.
Although it looks alike, perhaps the leather is completely different. There are many kinds of leather like Cowhide leather, sheepskin or original leather. So for bags made from different leather material, it touches quite different.
Moreover, it is a complicated process to manufacture a replica bag. Each step will be completed by different factories during the whole manufacturing process, some for hardware, some for sewing, some for leather processing, etc. So the whole production cost won't be very low.
For example, when you want to buy a cheap Louis Vuitton bag from china, you will notice there will be two stores selling it as the following picture shows. But you can notice that the price is very different. Generally, the quality of the cheaper bag might be worse than the more expensive one. (Excluding the following condition: the quality doesn't match the price. That means, the seller quotes a high price but the product is of bad quality.)

Tips for buying replica clothes
The main replica clothes manufacturing base is in Guangzhou, China. So you can wholesale replica clothes from the suppliers located in Guangzhou.
In addition, when people buy clothes, they not only focus on the brand but also the style. Therefore, before you place the order, you need to conduct a research about which styles of the brand are more popular in the market. Only when you sell those trendy or popular styles, can you make good money. Otherwise, you may have a lot of excessive inventory.
Moreover, you had better not buy all replica clothes you need from the same store. The reason is that it may coexist 1:1 (AAA) grade clothing with some A grade clothing in the same store, which is a very common phenomenon.
The material is also an important aspect you should consider before you place the order rather than just focus on the low price. As we all know, the price for different material must vary greatly.
For example, you want to buy a 100% silk dress, but when you place the order, you just notice the low price and ignore the material. In the end, you receive a dress made from 100% linen. And the products are unsatisfactory, under such a circumstance, no matter you buy for your own use or sell, both will bring you a great loss.
Hence, you should read the product details carefully before you place the order.
Tips for buying replica watches
Depending on the material, workmanship, Chinese sellers divide replica watches into the following 3 grades. The price will vary greatly accordingly.
A Grade: similar to the real one in appearance, but easy to identify whether it is real.
AA Grade: good workmanship and performance, difficult to identify real or not for layman. Accounting for the greatest quota in the replica watch market.
AAA+ Grade: the most expensive category with the best workmanship among the three grade products. Up to 95% similarity to the real one. Only specialists can identify the difference between the replica watch and the real one.
When you plan to place order, you can look through the customer reviews in the store to judge the watch quality roughly. In addition, you should compare the product in different stores rather than just focus on one store.
As I mentioned in the above, when you buy replica products, you should know the information about warranties and guarantees, especially for electronic products like watches, which appears especially important. You can judge the watch quality roughly according to the time of warranty period. Generally, if the warranty period is longer, the component like electronic chip of the watch tends to be better.
5. FAQs about Chinese replica websites
How to ship replica products from China to my country?
Because of the property right, the customs clearance process of replica products is a little special. It can't be exported through the normal channels. Hence, you should find forwarders with special channels to help you handle the import and export of counterfeit products. The most convenient way to find this kind of forwarder is to ask your supplier if they can recommend to you.
Which is the best Chinese replica website?
If you ask me which one is the best replica clothing site, replica watch site or replica bag site, honestly speaking, I can't give you the answer directly. It must coexist good quality and bad quality product on every website.
No matter which website you use, you should know one truth: the ways for buying replica products are the same. In addition, the standard for judging whether the replica product is good or not depends on your expectation. If you spend $20 buying a LV Neverfull and you feel satisfied, then it is worthwhile to buy it. Instead, if you have a high requirement for the quality, perhaps you need to spend even $300 buying a satisfactory Neverfull.
Is it legal to sell replica products?
Obviously, it is illegal to sell replica products. As I mentioned in the above, most replica products won't come up on regular websites like Amazon, Shopify in those countries with a strict regulation policy. If you sell them on such websites, your store will be risky of closing. So you had better sell them via some offline channels like street stores or stalls.
To the end
I hope you can benefit a lot from my post and know where to find a replica product in China and how to search for them better. If you think the post is helpful, welcome to share it with your friends. 
We, Jingsourcing, a leading sourcing company in China, are dedicated to helping our clients to source good products from China with the most competitive prices. If you want to wholesale or dropship from China, please feel free to contact us.
Attention: we won't provide service for replica products. The article is just for providing some useful information for your reference.