Many buyers will have such questions: is DHgate safe? is DHgate legit? Actually, the same as Alibaba, DHgate is a legal B2B platform. But Alibaba focuses on big orders, DHgate on small wholesale.
After I read tens of thousands of negative reviews about DHgate, I summarize the reasons why DHgate makes buyers angry and lack a sense of security into 6 aspects.
Customers can't get timely responses from sellers or even are ignored by sellers directly.
Customers think the customer service can't help tackle the dispute between the sellers and them well.
Customers have difficulty in getting refund for unsatisfactory products, damaged packages, or the delivery time beyond the promised time.
The delivery time is too long.
Sellers charge shipping fees but the product listing showing free shipping.
The unit price on the product list is wrong, and sellers raise the price when buyers place an order.
The same as Aliexpress, many customers are interested in buying products on DHgate because of the cheap price. But there are also many problems on DHgate like other platforms, which will let customers doubt if DHgate is a reliable platform.
There is an opinion on Google:DHgate is simply a platform used by different Chinese and international manufacturers in many different industries. You should ask yourself, "Is this seller on DHgate real or fake? rather than ask, "Is DHgate legit?" I quite agree with the opinion. DHgate is absolutely a legit platform, but the most important point is to find a reliable supplier before you buy.
In my today's post, I will introduce DHgate objectively from 6 aspects. Keep reading and you'll benefit a lot.
1. Why is DHgate so cheap?
As we all know, China is a "world factory". 90% of sellers on DHgate are Chinese, and they sell good quality products at a competitive price to people from every corner of the world through all kinds of online platforms like DHgate. Besides, products are shipped from China directly without 1st middle man or 2nd middle man.
It is unwise to define DHgate as an unreliable site just because of the cheap price on the platform. Taking USB cable for an example, you can buy a good quality USB cable at $1.5-$2.5 in China, but you may need to spend $9 in buying the same style of USB cable in Occident.
2. Why do some buyers think DHgate is a scam site?
As I mention at the beginning of the post, there are mainly 6 aspects making buyers think it is a terrible experience to shop at DHgate. In the section, I will explain these aspects in detail.
Customers can't receive a prompt reply or even being ignored by sellers

Many buyers will inquire sellers immediately if they don't receive the package or the actual item is not the same as the description in the product listing. But sellers answer to their questions after several days or don't give any reply directly. In fact, such a phenomenon indeed exists.
As many small or individual sellers will set up an e-commerce store on DHgate, there may be just one person running the store and completing all the whole process including arranging shipment, after-sale service, etc. Hence, they can't respond to the buyers' questions timely.
Besides, there is another type of supplier, whose e-commerce store is like an online grocery shop. They will display many kinds of products and thousands of hot-selling products on their online store. Generally, for such online stores, they couldn't provide good after-sale service.
In addition, some sellers just want to make quick money by selling some hot-selling products. They will remove the products from their e-commerce store immediately when the products become unpopular. For such sellers, they won't pay much attention to after-sale service.
Moreover, some sellers' main online sale channel is Alibaba. DHgate is just an extra channel for them to deal with the inventory. Accordingly, they won't invest much time in running the store on DHgate.
For example, many suppliers operating B2B business run a store on Alibaba, where their orders are mainly from. But if they have abundant inventory, they can clean up the inventory on DHgate or Aliexpress. So they won't care more about after-sale on DHgate or Aliexpress.
Customers think the customer service can't help tackle the dispute between the sellers and them well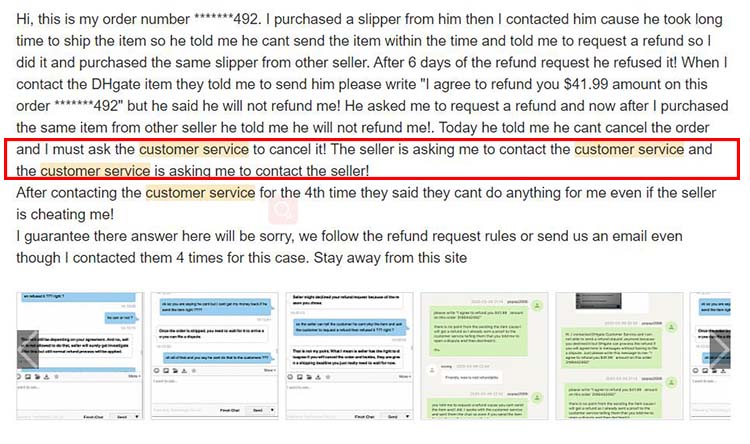 Buyers often encounter such questions: the dispute between them and sellers cannot be tackled by themselves. Then they will request DHgate to mediate in the dispute, as DHgate is not the party involved, they judge who should be responsible for the problem just according to the evidence provided by sellers and buyers. Sometimes, both sellers and buyers are unsatisfied with the judgement result.
Hence, as buyers, you should maintain abundant evidence to prove that sellers should be responsible for the problem, including the chatting records, videos about unpacked the box, relevant pictures of the defective item, etc. In part 3, I will explain buyer protection in detail.
Customers have difficulty in getting refund for unsatisfactory products, damaged packages, or the delivery time beyond the promised time.
Generally, the reason for applying for refund can be summarized into 5 types.
The actual item is not the same as described in the product listing.
Defective items
Packages being damaged during the transit
The delivery time is beyond the promised time
Shortage of products quantities
Generally, if you encounter the above problems, responsible sellers will refund you directly to avoid disputes or bad reviews. But if the item has a high value, you may need to return the product back to China or the seller's warehouse in your local country. After sellers receive the item, they will arrange a refund.
For example, you buy 10 Xiaomi mobile phones from China, but sellers send you the wrong one. Then the seller will arrange the refund after you return the product back according to their requirement.
But if you just buy some low-value products like 20 bottles of nail polish with a $2.5 unit price, it is impossible for you to return the goods back to China because of the high shipping fee. Besides, if you return the products back to China, which will experience the importing process. It will take a long time to deal with the customs clearance process. Hence, for such products, a good seller will refund you directly or resend products to you.
You may encounter such a situation as the below picture shows: some sellers may require you to return the products with low value back to China and you should be responsible for the high shipping fee. Usually, the shipping fee will be higher than the product value.
We can regard such suppliers as irresponsible sellers as they don't want to tackle the problem from the bottom of their heart.


Although there are many rules for protecting buyers on DHgate, the problem also will be tackled flexibly according to the actual situation. DHgate will allow sellers and buyers to deal with the dispute at first within the agreed time between them both.
For example, because of the COVID-19 in February, 2020, if you buy products on DHgate from March to May, it may take over 3 months for you to receive the product by China Post. Even if you choose some commercial express like UPS, DHL, you still may not receive the product within 5-7 days.
So under such a special case, although the delivery time has been beyond the promised time, DHgate can't judge that the seller should be responsible for the time problem directly.
In a word, it is inadvisable to return back low-value products to China. For such products, there are two common and reasonable solutions: the first kind, according to the actual situation, you can negotiate with sellers about the refund amount: full refund or partial refund. The second kind, if you aren't in need of the product urgently, you can let the seller resend a new one. Usually, a reliable seller is willing to tackle the dispute.
But there are another two situations just as the below picture shows, and it shows that the seller won't deal with the problem well.


Delivery time is too long

If you choose commercial shipping way like UPS, DHL, FedEx, you can get a relatively exact time, usually 5-7 days. If you just buy 1-2 pieces of products with low value, the shipping way usually will be economic shipping ways like ePacket. However, for economic shipping ways, the delivery time will be long. In addition, the package may be delayed, damaged, or even lost.
There are some factors causing the package delay.
The delay of transfer flights
A long time is needed for the full aircraft logistics warehouse
Low efficiency of customs clearance
Major holidays & major shopping days & major events
And more…
If you want to learn the detailed explanation for package delay, you can read the section 2 of my post: Is Aliexpress safe?. For the economic shipping way, you can't track the delivery information in the destination country. That is to say, it is difficult to find out which step there is something wrong with the parcel.
If you don't receive the parcel when it reaches the promised time, the seller usually will arrange the refund.(some special conditions excluded)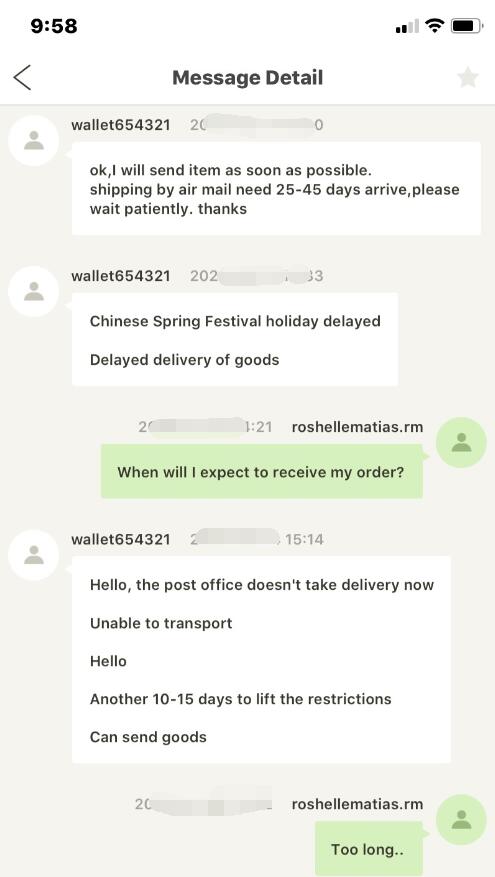 Sellers charge shipping fees but the product listing showing free shipping.
The shipping fee is related to the shipping way and the goods volume. If you choose the free shipping service on DHgate, it usually will be shipped by economic shipping way like ePacket, China Post. Sellers usually won't provide free shipping if you choose commercial express like DHL, UPS. Only when the product has high value, may the seller provide free commercial express.
Most sellers state in the product listing that they will provide free shipping, which is just a way to attract buyers. In fact, they won't provide free shipping for all shipping ways.
The unit price on the product list is wrong, and sellers raise the price when buyers place an order.
Some small-scale and grocery sellers may have such a situation: the unit price on the product list is wrong, and they will raise the price when buyers place an order.
For example, the unit price in the product list is for 1 lot. In fact, it is one-piece unit price. Or they provide the wrong product specification. Only when they confirm the order from buyers, will they find the wrong information and explain to them. But then the buyers will usually think it is a scam.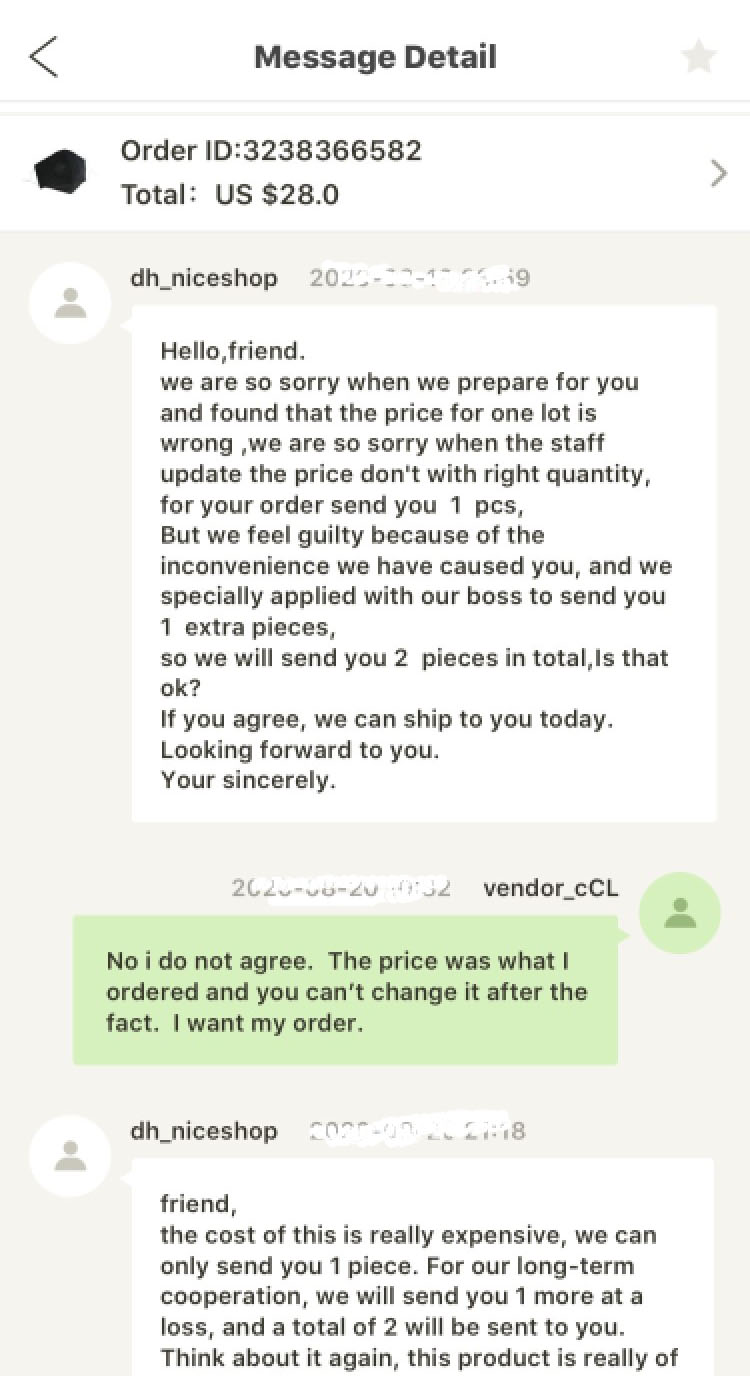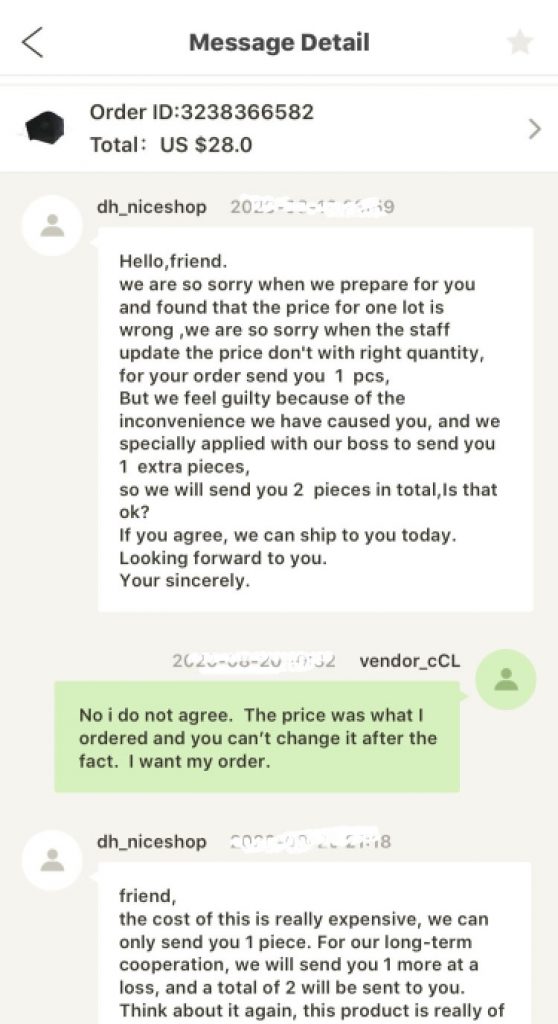 Why do such problems occur? As many small-scale and grocery sellers will hire some staff to upload the product images and information to the online store on DHgate in batches, and they are unfamiliar with the product. Hence, they can't identify the mistakes about product information and unit price.
But large-scale sellers or factories won't make such mistakes, the reason is that their staff are usually familiar with products. Besides, such companies have a specific team to check the mistakes to ensure accurate data.
3. Things you must know about the buyer production of DHgate
There are indeed some aspects of customer service on DHgate letting buyers unsatisfied, but many misunderstandings also exist resulting from the buyers' unfamiliarity with DHgate. To get a good shopping experience and protect yourself better, you really need to know some details about the buyer protection policy before you buy from DHgate.
I will list the most common 4 problems as below and teach you how to deal with them.
How to cancel an order that the seller has not shipped?
Select the order you want to cancel and then click the "Request Refund" button.

After submitting the request, the seller will be given 10 days to respond to the proposal, once the seller agrees with the cancellation, the system will refund automatically.
Notes: If no response from the seller within 10 days or sellers can't reach an agreement with you in system over 10 days, the order will be closed automatically.
And sellers can ship out the package before the shipping deadline(10 days), and you won't get the refund. But if it has been beyond the shipping deadline(10 days), you should request the refund again, and your refund will be completed within 24 hours.
So what you need to do is just to master the time schedule instead of worry, and your refund won't be lost.
The following chart is the rule about refund time for your reference.
| The refund method | Refund time |
| --- | --- |
| Credit or Debit card | 3-7 business days |
| Local Payment | 1-2 business days |
| DHgate Account | Real-time |
Why does the tracking number not updated after placing an order?
The tracking information will appear on the shipping carrier's website after 5\7\10 business days, depending on the shipping carrier that was used.
Who is going to bear the Customs & Import Taxes?
Customs taxes are not included in the price of the item or in the delivery costs. You will probably pay the customs fees on items ordered from DHgate, and your purchases on DHgate are considered imports since the packages are shipped from overseas.
To avoid any unforeseen surprises, pay attention to the following:
Ask the seller if you need to pay any additional import duties, taxes or other customs-related charges.
Sellers are not responsible for delays caused by the customs department in your country.
Some sellers offer domestic delivery. This means that they will send your order from a warehouse in your country. In this case, you won't be asked to pay for any additional customs duties and taxes.
What kind of evidence do you need to provide for different claims?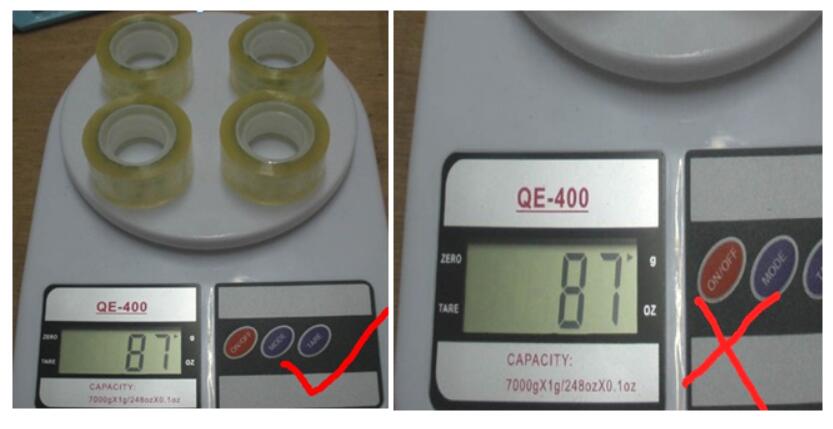 The evidence needed varies from the actual package situation. But there is a common thing, no matter the evidence is a short video or photo, which should clearly show the problem. Click here to learn more about the evidence you need to provide for different claims.
4. How to find a reliable seller on DHgate?
From the above several scams, it is obvious that those problems usually exist in small-scale sellers and grocery stores. So it is better for you to choose large-scale and professional sellers to cooperate with. By doing so, you are more likely to get good quality products and reliable after-sales service.
There are 4 tips to identify a professional seller on DHgate.
Just sell one category of product
Generally, professional sellers have one thing in common: they just sell one category of product on their store. For example, when you search "led light" on a store, you will find all of the products on the store are led lights.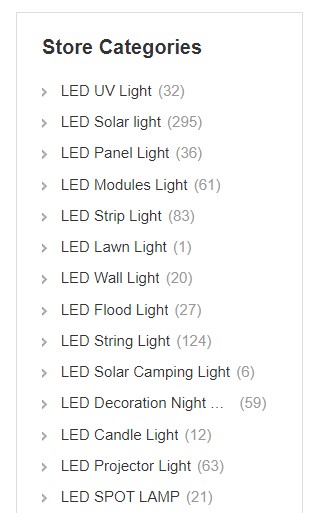 When I search " diaper bag" on DHgate, then after I click into one of the sellers' store, I find there are 4 different categories of products, and there are large quantities of products under the same product category respectively.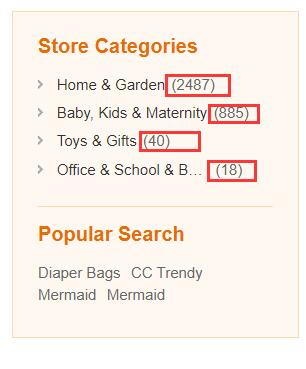 I have mentioned that such grocery sellers have unsatisfactory after-sales and they can't give prompt response to the buyers. Besides, because of too much product category, they can't manage products well and may provide wrong product information.
Natural and real image, clear product information
A professional seller will provide a good product listing, including the natural and real appearance picture and clear product specification. And they will provide a clear after-sales policy.
In addition, a reliable seller won't provide ambiguous product information or urge you to place an order by some unreal photos.
Check their bad reviews
You should pay attention to the bad reviews on the store rather than focus on the good reviews too much. As people may not leave good reviews if they are satisfied with the product, but if they unsatisfied with the product, they will leave bad reviews stating the defect or their buying experience.
Sellers have the warehouses in your country
Generally, only big -scale sellers will rent an oversea warehouse, most of whom have a plan to run a long-term business. In addition, their product may have a better potential market.
Summary: The above 4 tips are just to help you identify whether the seller is professional not to tell you that other small-scale sellers or grocery sellers are unreliable. But when compared with those small-scale sellers or grocery sellers, professional sellers are much easier to identify for you.
5. DHgate vs Aliexpress, which one is better?
User experience in retail
Even buyers can negotiate with sellers about small wholesale on Aliexpress, but strictly speaking, Aliexpress focuses on retailing. Therefore, if you just want to buy products from China for your own use, you can try Aliexpress.
Besides, compared with DHgate, Aliexpress is a relatively newer cross-border e-commerce platform, the user experience is better than DHgate.
 User experience in wholesale and dropshipping
Objectively, if you can identify whether it is a good supplier, you can try these two platforms.
Delivery time
The shipping methods on DHgate and Aliexpress are the same, including Saver shipping,Standard Shipping,Premium Shipping(UPS, FedEx, DHL). So the needed shipping time is almost the same on the two platforms.
6. Can you buy brand or luxury replica products from DHgate?
I have received many messages from overseas friends that they want to buy brand or luxury replica products from China because of its good performance and low price. In fact, such products are popular not only for overseas people but also for Chinese.
There are many luxury replica product sellers on DHgate. And there isn't a standard price for such luxury replica products. The price of the same product may range greatly from different sellers. Generally, the more expensive the product is, the more real it is.
But the most important thing is to find a reliable seller at first. So you shouldn't buy too much when you buy replica products on DHgate in the beginning. It is advisable for you to buy one piece from a seller to check its quality, if the product is satisfactory, you can buy again from the store.
And you should know replica products are not real products essentially, you couldn't judge its quality according to certified products' quality standard. That means, you can't buy a real Nike shoes at $10 or buy a real LV bag at $100. In fact, as long as the quality matches the price and your expectation, you can buy it.
For more about experiences of buying luxury replica products from DHgate, there are many videos sharing how to buy replica products from DHgate on Youtube like the following video.
To Wrap Things Up
I have wrote many similar posts like "Is Alibaba Safe?" "Is Aliexpress Safe?.
Actually, no matter Alibaba, Aliexpress, DHgate or other cross-border trade platforms, there must be some unsatisfactory points. But you can't regard these platforms are liars just because of dissatisfaction.
The first thing you should do is to choose a reliable seller. And the international purchase is different from buying from your local country, which will be influenced by some unavoidable factors.
Thanks for reading, if you have other concerns for DHgate, welcome to tell me by leaving a comment.
We, the leading sourcing companies in China, help many small businesses find the best manufacturers, ensure the quality of products and arrange the shipment to their doorstep, making the whole sourcing process a lot easier and safer. If you'd like to source products from China, feel free to CONTACT US.