China is the world's largest producer and exporter of clothing. The large scale of the clothing market is mainly due to China's advantages in low-cost production, complete industrial chains, flexible production capacity, and advanced clothing production technology.
Therefore, you can import high-quality and low-priced clothing from China to gain profits. Before importing, you should also be aware of:
Where is the clothing wholesale market in China?
The clothing industry clusters in China are mainly concentrated in provinces such as Guangdong, Zhejiang, and Fujian. These provinces have been traditional textile and clothing production bases with a profound cultural heritage and a mature industrial chain. Moreover, their geographical proximity to ports facilitates international trade and logistics distribution.
You can find many clothing manufacturing factories in these regions that have advantages in terms of scale, variety, quality, and price.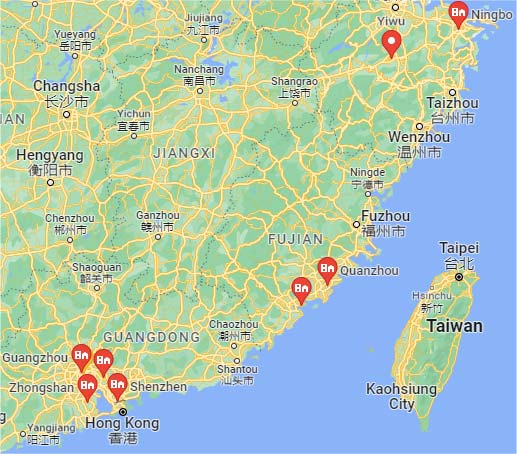 China Clothing Wholesale Markets
Top 5 wholesale clothing markets in China
Below I list the top five most famous clothing wholesale markets in China for your reference.
Guangzhou Baima Costume Market(广州白马服装市场)
The Guangzhou Baima Costume Market is not only a center for the wholesale and retail of mid-to-high-end clothing, but also a center for clothing brand chain franchising.
Baima Clothing Wholesale Market attracts numerous domestic and foreign customers to come due to the rich product variety, flexible transactions, and convenient transportation. Some shops have professional and brand designer teams, providing personalized customization and brand design services.
If you want to buy some high-quality women's clothing, you can come here.
Shahe Clothing Wholesale Market(沙河服装批发市场)
Shahe clothing wholesale market is located in the most prosperous area of Guangzhou, Tianhe District. It consists of several large wholesale markets.
The most famous one is WanJia Clothing Wholesale Market, which mainly deals in dress pants, sportswear, and fashionable underwear. Among them, the wholesale volume of denim clothing ranks first in the country. If you plan to buy denim pants of different grades, this place can meet your needs.
Guangzhou Thirteen Hong Clothing Market(广州十三行服装批发市场)
Guangzhou Thirteen Hongs Clothing Wholesale Market is the longest-standing clothing wholesale hub in Guangzhou's history. The most important wholesale buildings are the New China Building and Hongbian Tian Building. The market mainly focuses on trendy women's clothing and specializes in mid-range brands. Other items sold include sportswear, pajamas, children's clothing, leather boots, belts, hats, bags, and jeans.
Yiwu Huangyuan Clothing Market(义乌篁园服装批发市场)
The predecessor of Yiwu Huangyuan Clothing Market was Yiwu Binwang Clothing Market, located in the bustling Xiu Lake commercial district of Yiwu City. It is the largest professional clothing market in central Zhejiang.
The market is laid out on 5 floors, with the first to fifth floors specializing in jeans, men's clothing, women's clothing, sleepwear, and children's clothing respectively. It integrates various business models such as wholesale, foreign trade, and retail, to meet the different needs of domestic and foreign clothing buyers.
Shishi International Clothing City(福建石狮服装城)
Shishi International Clothing City is a comprehensive market that integrates clothing wholesale, exhibition, design, and processing. It mainly deals with multiple categories of clothing such as men's, women's, children's, sports, and underwear, covering a wide range of styles including casual, fashionable, sports, and business.
Shishi Clothing City offers a rich variety of products at affordable prices, and also provides customized production services according to customers' needs.
China clothing wholesale websites online
Alibaba, Made-in-China, Aliexpress, and DHgate are several commonly used wholesale websites in China. You can find many clothing suppliers on these websites, offering various fabrics of clothing and accessories that can basically meet your needs.
In addition, you can also find clothing suppliers through the Yiwugo website. It is the official website of the Yiwu market. You can find a corresponding online shop for most physical stores in Yiwu International Trade City and other markets.
You can click "Yiwu Markets" and choose "Yiwu Huangyuan Market" to find the product category you want and compare multiple stores to choose from.

There are some online clothing wholesale in Guangzhou, which mainly serve Chinese retailers and wholesalers for product testing the market. Most importers go directly to Guangzhou clothing markets or search for suppliers on well-known wholesale websites such as Alibaba.
Choose Jingsourcing as your clothing wholesale agent
Many of our clients have told us about their experiences of being scammed on Alibaba, which has led to their lack of trust in these platforms. In fact, the most reliable way to wholesale clothing from China is to find a professional sourcing company like Jingsourcing.
We can provide one-stop services, from supplier selection, production follow-up, and quality inspection to shipping. Our advantages are as follows:
We have a rich and professional supplier database.
We are located in Yiwu, which is surrounded by many professional clothing factories. Moreover, we have integrated clothing suppliers all over China, such as Guangdong and Fujian, many of which can not be found on wholesale websites.
These suppliers have been in the industry for many years. They are very professional and offer competitive prices. They have also passed our strict factory audit and are very reliable, so you don't have to worry about being scammed.
We will package clothing samples from different suppliers and send them to you together, allowing you to compare them at the same time. This will save you a lot of time and costs.
Get Reliable Suppliers by Jingsourcing
If you only need to wholesale a small quantity of clothing, going directly to the factory may not meet their MOQ, and they may refuse you. However, we can negotiate on your behalf because we have worked with many clothing manufacturers many times and have a good relationship with them. Even if the MOQ is small, they are willing to produce for us.
We are professional in sourcing various clothing.
We have helped our clients wholesale many conventional clothing items such as t-shirts, jeans, ladies' dresses, and jackets. In addition, we have also procured many special functional clothing items, such as medical protective clothing, UV-resistant clothing, and radiation-proof clothing. If you have such requirements, we can help you find professional factories to produce them.
Get Your Functional Clothing by Jingsourcing 
We support clothing customization with different printing methods.
Make Your Clothing Unique by Jingsourcing