OEM and ODM are two items that you must have heard about, but you may be confused about them both. There isn't a complete post on Google explaining them or helping you understand them by means of many typical examples. Actually, OEM and ODM are two important and common kinds of cooperation models in industrial society, especially in international trade.
In my today's post, apart from explaining the definition of OEM and ODM, I will tell you the roles they are playing in our actual life and help you understand them better by listing many real-life examples. The post will explain problems that all of you concentrate on mainly from the following 3 aspects.
1. What is OEM and ODM meaning?
OEM meaning and examples of OEM
OEM means original equipment manufacturer, in my words, brand owners utilize the core technology to conduct design and development, control sales channels. They will cooperate with other companies to help them complete the production. The factories just focus on the manufacturing without participating in the design.
For example, Nintendo, a famous company in Japan specialized in the development of computer games, completes the software design and development by itself. They just provide firmware, equipment for Foxconn, and assist Foxconn in analyzing statistics and testing products. And Foxconn just completes the manufacturing, without any opportunities to access to source code.
Besides, many processes are dominated by Nintendo, such as choosing the type and price negotiation of CPU, DDR or other components. Foxconn just conducts Nintendo's decision accordingly.

Hence, the typical characteristic of OEM model is that the brand company has the ability of design and R&D, and they just cooperate with a factory located at human resource intensive areas to help them conduct the manufacturing process. The cooperation model between Foxconn and Nintendo is a typical OEM model.
You may think such examples about famous brand companies are uncommon for small business. Let's take another example, last year, we received an OEM order from the middle east, and they wanted to customize a kind of brand new design ring. But the design would be provided by themselves.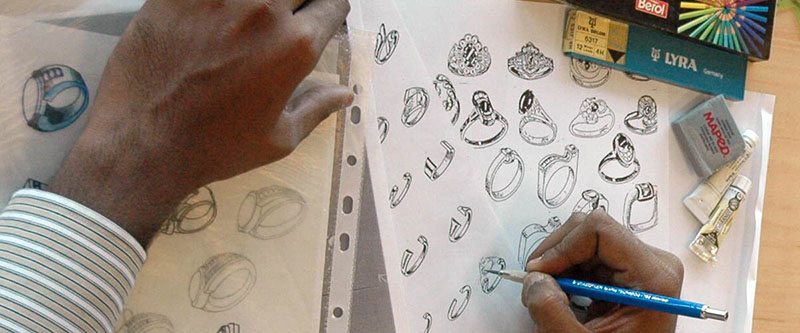 (For the privacy of client, the actual design couldn't be shown, and the above image is just from Google.)
They prepared the ring's design manuscript in advance, specifying specific parameters of the product, like length, width, diameter, material selection, the logo carving, etc.
What they wanted us to help them was just to find a reliable factory with a competitive price, help them follow up the production, arrange shipment, etc. Just like Nintendo, the client was in charge of the product design, and we helped them follow up the factory's production and shipping.
ODM meaning and examples of ODM
ODM means original design manufacturer. Under this model, the brand company needn't design and R&D. The factory will finish the whole process from design to maintenance, and provide several existing styles of products for the brand company to choose.
This process is similar to booking a cake. when you want to book a cake, the staff usually provides you several styles to choose, then you will choose a style and want to make some changes, like the material. 
Just like the above example, small businesses that choose ODM usually lack R&D ability. They usually will buy from the current products from China, and make some small changes to products' accessories or other aspects, then they will print their own logo before sale. Especially for some ordinary small items, what you need to do about customizing is just to tell the factory about your demands.
For instance, one of our customers intended to purchase beer bottle sleeve from China, but he found the existing product style was unsatisfactory. Then he wanted factory to add an element: bottle opening function as the following picture shows:

Another example, there are many e-commerce courses telling you a tactic to make money by selling online: to increase your products' competitiveness, you should sell products with your private label. Such products with private label are also called ODM products.
You needn't make a clear distinction between ODM and Private Label. Both of these two models' essence is that sellers make improvements against an existing product for adapting to the end customers' needs and sell the products under their own brand name. Actually, many foreign clients of us also refer to "ODM" as "Private Label".
Why OEM?
It is costly to invest in constructing a factory, and the risk is uncontrollable. Besides, it is an uneasy to recruit and manage tens of thousands of workers. Many companies will adhere to a principle: professional works should be distributed to major companies.
For example, such companies that focus on R&D and innovation like Apple, Nintendo, Microsoft, IBM will let foundries like Foxconn, Pegatron, Flextronics, Inventec finish the production and assembly.
Why ODM?
There are 2 situations for adopting ODM.
Situation 1
Brand companies have wide sales channels and market operation ability, but they lack R&D ability. Then they will find a factory with strong R&D capabilities to make the product according to their demands.
Situation 2
Brands companies have R&D capabilities, but some low-end products with low profit are not worthwhile for them to invest a lot of time or labor into completing it. Then they usually choose one type from other companies' existing products and make some adjustments, then sell products under their brand name.
Summary: in international trade, for many ordinary products like beer bottle sleeve, many companies usually make some small changes to existing products. Such a model is called ODM.
2. Where to find the ODM & OEM manufacturers? How to identify a good one?
Through the explanation of OEM and ODM in the above section, you must have known that every kind of business needs OEM and ODM to make product idea into reality or lower product cost, no matter for big or small business. In this section, I will focus on teaching small business operators or startups about how to find reliable ODM or OEM manufacturers and how to identify them.
Where to find them?
There are 3 main channels finding OEM and ODM manufacturers.
Online B2B websites
Offline trade fairs or wholesale markets
Souring agents
Online B2B websites
For small business operators, searching suppliers online is the most convenient and economical way. There are many factories for you to choose to cooperate with. 3 main B2B websites as follows,
Alibaba
Global Source
Made in China
Most suppliers on these websites will explain whether they provide OEM, ODM, Customizing, Private Label service in the product listing page. If they don't state clearly whether they can provide the service, you can ask suppliers directly if they offer this service.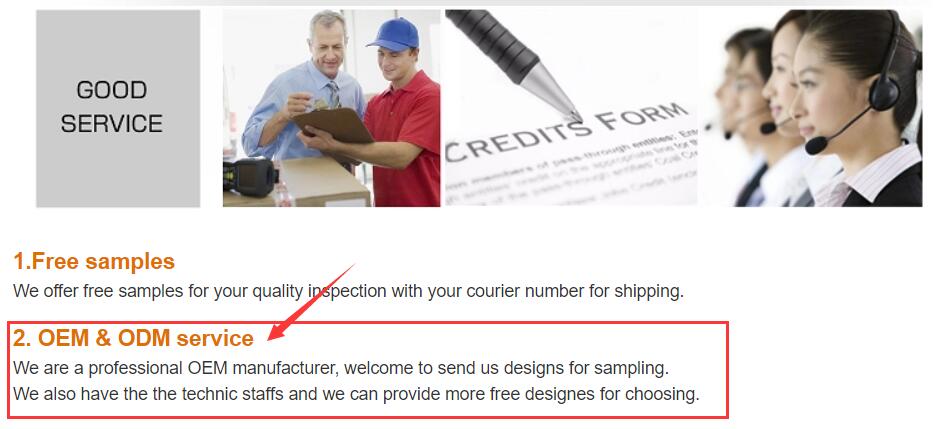 In the meantime, you can try finding suppliers from Google or some social media. Although there are not as many suppliers as wholesale websites, you also can have a try and find good suppliers.
Google
Some social media like LinkedIn or Facebook
Offline trade fairs or wholesale markets
If you think finding suppliers online is not a reliable way, you can visit your local wholesale markets to find suppliers. There are two reasons for choosing the way: convenience and high efficiency.
If you can come to China directly, you can attend some Chinese fairs or visit wholesale markets. Comparing with finding suppliers in your country, it may be more troublesome to find suppliers in China.
Such as language barrier, much more expenses on hotel and transportation. Besides, you need to know the main district the wholesale markets and fairs located at, Shenzhen, Guangzhou, or Shanghai. So, you need to make a detailed agenda before visiting China.
But there are also merits for you to visit China. The most advantageous point is that you can have more OEM or ODM suppliers to choose from and get products at a very competitive price.
Souring agents
In recent years, sourcing agents are popular among importers, especially for new importers. A professional sourcing agent has abundant OEM or ODM factory resources. They can help you select the right manufacturer to make your products, negotiate price, follow up production, control quality, test product, arrange shipment, etc.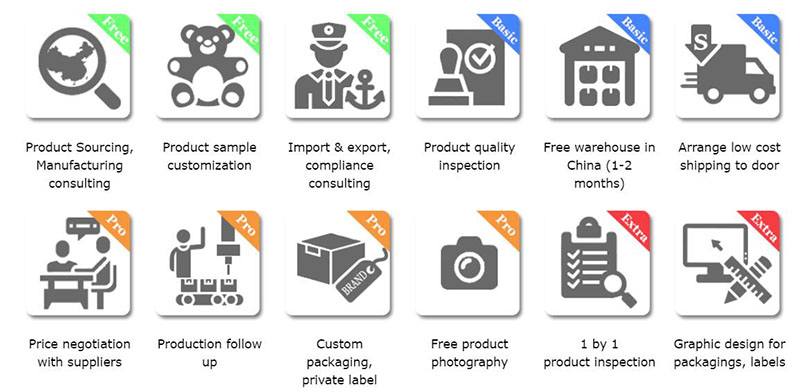 How to identify a good supplier?
No matter you find OEM and ODM suppliers online or offline, remember these 5 critical points of selecting a good manufacturer to cooperate with.
A good balance of the quality and price
Good communication
A good attitude towards problems and ways of solving them
Own complete factory qualification authentication
If use new mold, make sure the mold can fetch back or not
Warm prompt: big factories are not always suitable for you, and you should select the best one according to your actual situation. Remember to choose the factory that is serious with your order and patient to communicate with you.
3. OEM or ODM in China? What's their process?
Here are 7 main steps in the process of OEM & ODM products. There will be a little different in some steps for different products.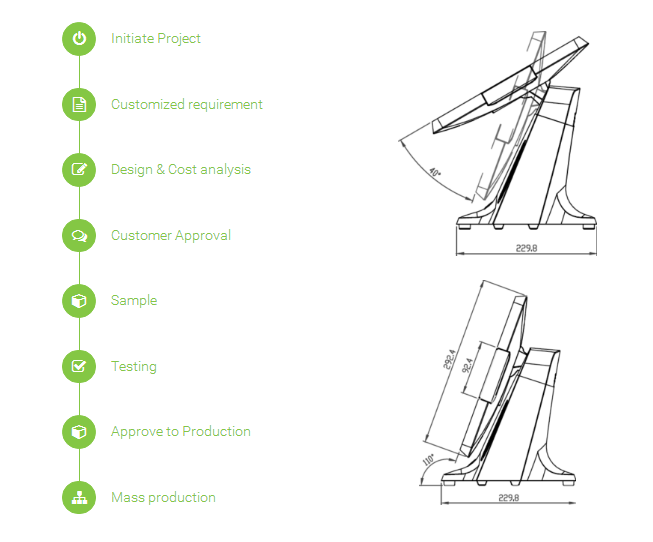 Taking cosmetics for an example, I will tell you its ODM and OEM working process. But I will mainly focus on explaining the process of ODM as both models' process are similar.
Step 1: The factory will choose the suitable cosmetic formulations and make a sample according to your requirements for products, and then give it to you for a test.
Step 2: After the test, if you are satisfied with the cosmetic sample and the price, it will be necessary for you to come to the factory for an inspection in person, including R&D ability, production capability, the workshop, etc.
Besides, as make-up will be directly used on the skin and its security must be guaranteed, it is very important for you to cooperate with reliable and qualified factories. But if you import some other small items like beer bottle sleeve mentioned in the above, you can choose not to make a field visit to the factory.
Step 3: After the field visit, you will sign the contract with the factory. In the meantime, the factory will charge a certain deposit. (Notice: the sum varies from different factories.)
Step 4: Factory will be responsible for the package design and sourcing package material, which is usually a free service provided by factories. Of course, they will design the package to meet your demands and then let the professional package factory make some package samples for your choice.
Step 5: After confirming cosmetics material, ingredients, and package design, the factory will go to FDA for product test and filing.
Step 6: After through the test and filing, the factory will conduct the product fill, packing and QC process. Generally, it will take 15-20 days to complete the whole process. After finishing the whole manufacturing process, you need to pay for the balance.
Step 7: Factory will arrange the shipment, and they will choose the best shipping method according to the delivery time and goods volume. The cosmetics are usually shipped by sea.
If you want to learn more details about OEM and ODM in China, you can check my previous post: Develop and Manufacture a New Product in China.
In Closing
Thanks for reading, if you have any questions about ODM and OEM, let me know by leaving a comment below. Or you can consult us about what you want to know about OEM and ODM products in China.
We, the leading sourcing agent in China, have helped many clients source and customize products in China in the past years. If you want to find OEM/ ODM suppliers from China, feel free to contact us.