Lithium batteries are used in many daily products because of their lightweight, high power density, and relatively low cost. And with the development of the e-commerce industry, more and more lithium batteries and lithium battery products are shipped internationally.
However, many people may don't know that they should ship the lithium batteries products under lithium batteries shipping regulations, as lithium batteries are sensitive products, and belongs to the class 9 dangerous goods. So they can pose a high risk during shipping. Now follow me to learn about lithium batteries and ways to ship them safely and securely.
What are 2 types of lithium batteries?
Lithium batteries are a series of the battery containing lithium. And there are mainly two types: lithium-ion batteries and lithium metal batteries.
Lithium metal batteries and daily examples
Lithium metal batteries contain lithium metal or lithium compounds as their anodes. Most lithium metal batteries are non-rechargeable. So you can use the batteries only once. While we can probably use the rechargeable lithium metal batteries in the future because they are under development.
As lithium is a kind of very active metal, the chemical characteristics of lithium metal batteries are also very active. So it requires a high environment to produce, store, ship, and use the lithium metal batteries.
We can see the applications of lithium metal batteries in small, portable electronic devices:
 Watches
Calculators
Car keys
Toys
Lithium-ion batteries and daily examples

As the name says, lithium-ion batteries or li-ion batteries contain lithium-ions. The batteries mainly rely on the movement of lithium ions between the positive and negative electrodes. And they are rechargeable, which is the most distinguishing feature.
It is common to see the usage of lithium-ion batteries in portable devices and electric vehicles. And most of the batteries used in electronics are lithium-ion batteries. Here I list some for your reference.
Cell phones
 iPads
Laptops
Electric toothbrushes
Wireless headphones
Cameras   
Power tools
E-bikes
E-cars   
Two situations can ship lithium batteries.
Here are 2 common situations when you can ship your lithium batteries internationally.
Transport lithium batteries as dangerous goods.
People can ship lithium battery goods by air, sea, road, and express as dangerous goods. It is a must to pack and label your lithium battery goods according to the dangerous goods regulations. And here are some types of lithium batteries you may ship with the respective UN numbers.
UN3090 Lithium metal batteries
UN3480 Lithium-ion batteries
UN3091 Lithium metal batteries contained in equipment
UN3091 Lithium metal batteries packed with equipment
UN3481 Lithium-ion batteries contained in equipment
UN3481 Lithium-ion batteries packed with equipment
Transport lithium batteries as general goods.
Only when lithium battery goods meet one of the below requirements, you can ship them as
general goods
.
UN3480 Battery cell ≤ 30 Wh, battery ≤ 100Wh.

UN3481 Battery cell ≤ 30 Wh, battery ≤ 100Wh.

UN3090 Lithium content of the battery cell ≤ 1g, lithium content of battery ≤ 2g.
As we have known, you can ship lithium batteries by air, sea, and express. Since people often ship lithium battery cargo by air and sea, and most express companies also ship by air, I'll introduce some basic requirements of shipping lithium batteries by air and sea. As the regulation changes from time to time, you can contact your supplier or
sourcing agent
for real-time information.
What lithium battery certifications are needed?
To make lithium battery goods shipped safely and legally, you have to get more product certifications than general goods. Here are some certifications you need.
Un38.3 Certification is an international safety and performance test. It is the prevailing United Nations standard that lithium batteries must meet for safe transport. As long as your goods contain lithium batteries, whether batteries are installed in devices or devices packaged with batteries together, you need the UN38.3 test.
According to Un38.3, if the lithium battery is not installed in the equipment, and each package contains more than 24 battery cells or 12 batteries, it must also pass the 1.2m free dropping test. Moreover, if you transport batteries separately, the gross weight of each package should not exceed 10 kg.
You can find a third-party testing organization designated by civil aviation, or ask a battery manufacturer with the testing capability to do it.
Material Safety Data Sheet
We can also call it chemical safety specifications or chemical safety data specifications. It tells us how hazardous the products are, how to use them safely, how to deal with accidents, and so on. Oftentimes, your supplier or manufacturer would offer the Material Safety Data Sheet.
However, to ensure the accuracy and standardization of the report, you can ask professional organizations to write it.
Report for Safe Transport of Goods
If you ship lithium battery goods from China excluding Hong Kong by air or sea, you need this report. Before applying for the report, you need a UN38.3 test report. With the Un38.3, you go to the Dangerous Goods Management institution for the Report for Safe Transport of Goods.
The standards and requirements of the report are set according to IATA's DGR, IMDG Code, MSDS, GB list of dangerous goods, and so on.
If you import lithium batteries from China, chemical research institutes such as Shanghai Chemical Industry Research Institute and Qingdao State Administration of Work Safety chemical Identification Center can offer the report. Normally, it takes 2-3 working days to get the report. Of course, you can get it within 6-24 hours if it is urgent.
Inspection Certificate for Packing Functions of Outbound Goods
Shipping lithium batteries by air and sea are all in need of this packaging certificate. The certificate means the proper packing of lithium batteries as required. And it's very important because proper packaging can avoid potential accidents during transport.
You need to offer the certificate when you book cargo space and make the dangerous goods declaration for your lithium battery goods. Without it, your goods are prohibited from exportation.
However, if you send your lithium battery goods sample by air, your manufacturer may refuse to offer the certificate because of the low quantities. You can choose the UN-free inspection box to package your goods. In this case, you don't need to offer the certificate.
Usually, the manufacturer applies to the local Commodity Inspection Bureau for the inspection certificate. It takes 5 to 7 working days, at most two weeks. But you can get it within 3 to 5 working days if you pay more money. It's a little complex to get this certificate and needs some other certificates we mentioned above. 
An example for your reference.
If you place a big order of lithium batteries in China. After the manufacturer finishes the production of the batteries, the manufacturer needs to package your products. As the lithium batteries are class 9 dangerous goods, the manufacturer buys the compliant UN packaging boxes from the certificated UN packaging factory. There have to be the UN logo and code in the boxes. Then the packaging factory offers the packing performance report.
And then, the lithium battery manufacturer applies to the local authoritative department for a Classification and Identification Report for Hazards. You can get information such as UN number, class, and packaging group for the inspection certificate. For example: UN3480, Class 9, Packaging group II.
At last, the lithium battery manufacturer provides the packing performance report, Classification and Identification Report for Hazards, MSDS, and qualification to run and produce the dangerous goods and so on to the local Commodity Inspection Bureau.
Generally, people in the Bureau will inspect the goods at the factory warehouse to check the product quantities, packaging group, UN number, dangerous goods labels, etc. If everything is OK, they will give you the certificate.
JingSourcing can help you prepare certifications needed
How to pack and label lithium batteries?
In fact, if your lithium battery products pass all of the tests above, it means you have already packaged and labeled the goods properly. Here are the details of how to pack and label them.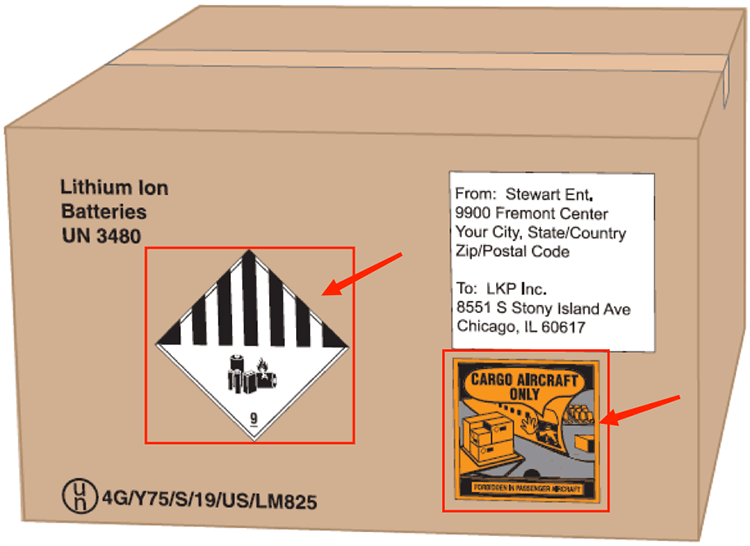 1. Place the class 9 dangerous goods labels and UN number on the outer package. If you ship by cargo aircraft, you should also stick the "CARGO AIRCRAFT ONLY' label.
2. Pack the lithium battery with waterproof cloth and insulating shockproof materials, and stick warning signs such as no inversion, waterproof, anti-dumping, no heavy pressure, etc.
3. Fasten batteries with fill openings and vents facing up to prevent short-circuiting or overheating. For many batteries, put side by side, separated by non-conductive dividers such pasteboards.
4. The package is hard enough to prevent bursting during shipping and equipped with effective measures to prevent short circuits. For example, UN boxes.
5. Load the lithium batteries on pallets to avoid strong shaking during handling, and the vertical and horizontal edges of the pallets shall be protected by corner guards.
6. Single package weight should be less than 35 kg by cargo aircraft. As for sea shipping, the lithium battery loading container shall be reinforced, and the reinforcement method and strength meet the requirements of the importing country. 
For example, if your lithium batteries are shipped from China to the US, your goods have to meet the requirements of such as the ARR, B.O.E, and USDOT. If the shipper reinforces your goods improperly, the container will be detained at the port of the USA, and that will cost you a lot for the fee of wharf operation, stacking, container removal, and re-reinforcement.
Here are further requirements for lithium batteries contained in equipment.
Make sure the lithium batteries don't move out of the equipment. And put a cover over the switches to keep the equipment off.
The outer packaging shall be waterproof or packed with leakproof inner packaging such as the plastic bags unless the equipment itself is waterproof.
Load lithium batteries on pallets to avoid strong shaking during handling, and the vertical and horizontal edges of the pallets shall be protected by corner guards.
Note: You can't ship damaged lithium batteries or electronics containing damaged lithium batteries. And it is prohibited to transport lithium battery products with inflammable, explosive, and sharp metal articles.
JingSourcing can help you label, pack, and ship lithium battery products.
Can I send lithium batteries by DHL, FedEx, or UPS?
Can I ship lithium batteries shipped fully charged?
No, all lithium-ion batteries should not exceed 30% SOC during transport. While the lithium metal batteries ship with a full charge which is more dangerous, so you have to pack them properly.
Can I ship lithium batteries in passenger aircraft?
Yes, if you travel by air, it's OK for you to carry electronic products with lithium batteries such as mobile phones, cameras, and laptops in your hand luggage. As for spare batteries, you can only carry no more than two pieces that are well packed to avoid a battery short circuit. However, you are not allowed to ship lithium batteries in the checked luggage.
Is it expensive to ship lithium batteries?
Yes, it typically costs more. Because the shipment needs more shipping service and additional documents.
As you have learned above, you have to document, ship, package and label lithium battery products properly and legally which is not easy.
We are a leading sourcing company in China, dedicated to helping our clients source good products from China with the most competitive prices and offer reliable shipping service. If you wholesale from China and need help with lithium battery products, feel free to CONTACT US.