Shipping Container Types
14 Most Common Container Types
5 Further Special Containers
In addition to the familiar dry container, new types of containers with such functions as refrigeration have come into being in recent years. A range of special-purpose containers can not only further reduce the loss of goods but enrich the types of carried cargo.
You have come to the right place. This is a practical list of the 14 most common types of containers for shipping and 5 further shipping container types for special purposes. You'll see different container types including their manufacturing materials, features, and types of cargo suitable for loading.
Quick List
5 Further Special Purpose Containers
Remark
In general, the 14 most frequently seen types of containers in logistics as mentioned below come in such sizes as 20ft, 40ft, 45ft, and high cube containers (knowns as HC). Inside the brackets are the common sizes for each container type listed here.  
You can check the Shipping Container Dimensions guide to get an intuitive understanding of the specific container CBM, sizes in feet and meters, as well as container types and capacity in lbs, kg, and tons.
GP - General Purpose/Standard Container/Dry Container (DC)(20ft, 40ft, 40HC, 45HC)
Containers for general purposes are abbreviated as GP, also known as standard containers or dry storage containers (DC). It's made from COR-TEN (corrosion-tensile steel), which is atmospheric-corrosion-resistant and high-strength. We often see 20GP & 40GP, which are container types codes for 20ft and 40ft.
As the most widely used container type, GP occupies almost 70 – 80% market share. It's used to ship general cargo, from cultural goods, daily necessities, medicine, textiles, handicrafts, chemical products, hardware and electricity, electronic machinery, instruments to machine parts. But remember frozen goods, live animals, and plants are excluded.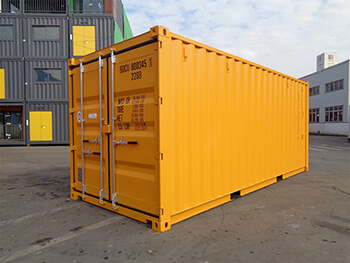 ISO RF - Reefer/Refrigerated Container (20ft, 40ft)
RF is manufactured to ship such perishable cargo as meats, fruits, and vegetables within the regulated temperature. It's quite suitable for the shipment of butter, chocolate, frozen fish, condensed milk, margarine, and other items in summer. It's allowed to keep the temperature at your demand (from – 60 ℃ to + 30 ℃).
Besides commonly used weathering steel COR-TEN, RF is also made from MGSS (Muffler Grade Stainless Steel), HGSS (High-Grade Stainless Steel), AL, and polyurethane (the insulation material).
There're 2 types: external and built-in. Built-in RF can start the refrigerator at will during transportation to keep the container at the specified temperature. However, the external type relies on the refrigerator equipped on the special container vehicle, ship, special storage yard, and station.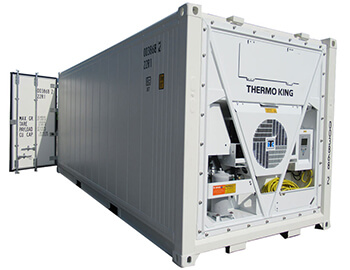 OT - Open Top Container (20ft, 40ft)
OT is specially designed to load cargo from the top. It's featured with the roof made of canvas, plastic cloth, or plastic-coated cloth under the support of foldable roof bows, without a fixed container roof.
It's suitable for over-high cargo or heavy goods (e.g. machinery, steel, cement pipes, glass plates, etc.). With the help of cranes, such cargo can be loaded and unloaded on the container roof. In the process of shipping, the container roof is covered by waterproof cloth, whose water tightness requirements are the same as those of GP.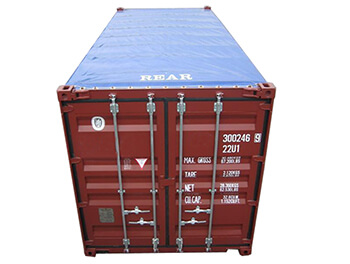 FT - Flat Rack (20ft, 40ft)(FR VS OT)
FR breaks through the sealing of traditional containers. The roof and side walls are removed, with only the floor and 4 corner posts left. Some even remove end walls. With a metal frame around, FR's base is made from super thick steel that can hold bulky and heavy cargo. FR also facilitates the loading of livestock and nude cargo like steel.
FR is used for over-wide, over-long, or over-high materials, or cargo that cannot be loaded through the top. FR sizes are the same as standard containers, 20ft and 40ft available.
FR VS OT: OT and FR are similar in many ways. Both are your excellent option to ship heavy or high cargo. Which one fits your needs? It's determined by your demands.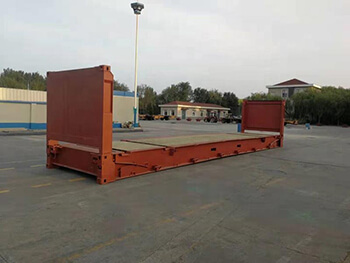 OS - Open Side Containers (Side Door Container) (20ft, 40ft)
Similar to GP, open side containers (OS) are featured by the door design that can be completely open. Hence, manufacturing materials are similar.
Such containers are suitable for extra-large cargo that can not be loaded or unloaded through regular doors.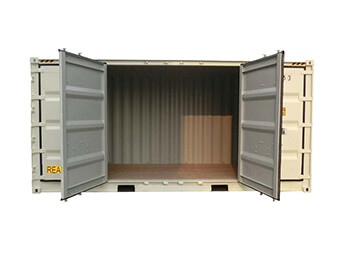 DD - Double Door Container (Tunnel Containers) (20ft, 40ft)
DD highlights itself by cargo doors on both ends of the container. It's also called "Tunnel Container".
It's constructed the same as standard containers, with steel as manufacturing materials.
Double door containers are only fittable in new or "one-trip" settings. 20ft and 40ft are commonly seen sizes.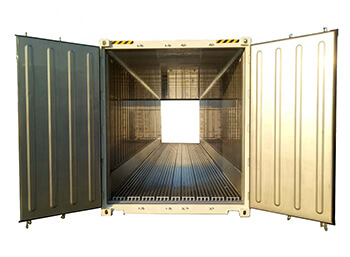 HH - Half-height Container (20ft, 40ft)
It's designed to transport heavy cargo with low volumes, with wide-range use in the mining industry and heavy cargo industry, such as the shipment of minerals.
20ft and 40ft sizes are available. For example, 40ft half-height containers have the same size as 40GP, applicable to sea shipment. The design of 8 corner posts endows containers with more security of heavy lifting, compared to 40GP. A 40ft half-height container can hold 36.75-ton cargo. As long as the two are properly configured, the load loss of the vehicle plate can be zero when being stacked.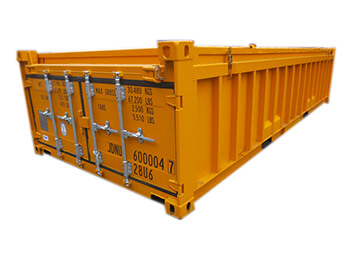 ISO TK - Tank Container (20ft)
TK, also known as Liquid Container, is manufactured to ship food, medicine, chemicals, and other liquid goods.
Concerning the structure, a liquid tank is fixed in a metal frame. ISO Tank, as one of the iso container types, is a stainless steel pressure container installed in a fastened external frame. Specifically, the tank liner is usually made from 316 stainless steel.
Most tanks possess steam or electric heating equipment, inert gas protection devices, pressure reducing devices, and other optional equipment required for fluid transport, loading, and unloading.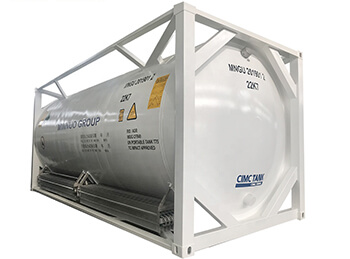 PW - Pallet Wide Container (20ft, 40ft, 45ft)
PW is specially designed to carry wooden Euro pallets. The pallets are usually used within Europe, and the size is 1200x800x144 (mm).
A PW is about 5m wider than the standard ones (inside). A 20ft PW can load 15 Euro pallets, 4 more than a 20GP. A 40ft PW can load 30 Euro pallets, 5 more than a 40GP. A 45ft PW can load 34 Euro pallets, 7 more than a normal 45ft container.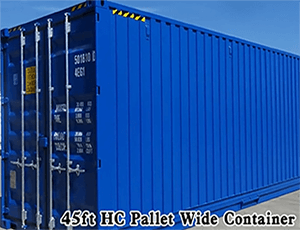 PC - Platform Container (20ft, 40ft)
Looking like a railway flatcar, a platform container is constructed with a floor that possesses a high bearing capacity, without superstructure.
It's suitable for overweight (max. 40 tons) and super long cargo (LxWxH: 6x4x4.5m). 80 tons of cargo can fit in a 2-connected platform container. Notably, it's very convenient to transport cars.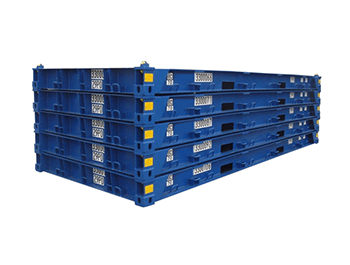 VC - Ventilated Container (20ft)
VC is a closed container similar to GP. In addition to the door design, there're also 4-6 vents on the outer wall and a plastic layer within the inner wall. Most of such containers are made from FRP (Fiber Reinforced Plastics) Plywood. So the thermal insulation effect is good.
It's a good choice for you to ship suitable to load animal skins and other goods that will exude juice during transportation, food (e.g. fresh vegetables, fruits) that need heat insulation or ventilation, plus goods that may cause moisture. It's one of the widely used types of containers for food.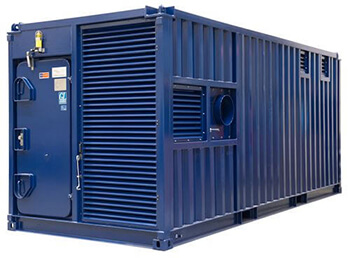 IC - Insulated Container (20ft, 40ft)
Design highlights of insulated containers include an insulating layer within the inner wall, adjustable inlet, and outlet on the roof to adjust temperatures by outside air.
Goods sensitive to humidity and temperature are fittable to such containers.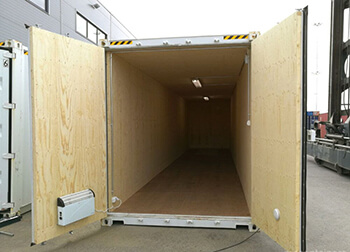 HT - Hardtop Container (20ft, 40ft, 40HC)
A hardtop container features itself with a solid but removable hardtop, different from the OT's canvas roof. Together with rubber fillers around the top, the hardtop container's water resistance is the same as GP's. Generally, the manufacturing material is steel.
Cargo suitable for loading:
All cargo fittable to OT, except ultra-high goods, because the top is solid (although it can be removed).
It is most suitable for the shipment of precision machinery cargo.
Bulk cargo can also be loaded when necessary. But you should pay attention to a large opening on the top and the lower strength of sidewalls than GP's, as the opening part might be deformed due to the pressure on the sidewall when loading bulk cargo, thereby making it difficult to cover the top.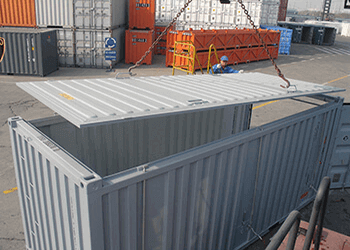 Swap Body (Exchangeable Container/Interchangeable Unit) (20ft, 40ft)
It's used for road and rail transport. A swap boy is featured by folding legs under the frame, without upper corner fittings. Swap bodies cannot be stacked (not available by sea) and must be lifted by the bottom frame.
Bigger than the average shipping container, a swap body is slightly higher in price than a container from the intermodal line. But its design lowers fuel consumption and thus helps reduce transportation costs to a certain extent.
A swap body can carry anything. Recommend to transport goods with high values, as swap body containers are more secure than other shipping container solutions.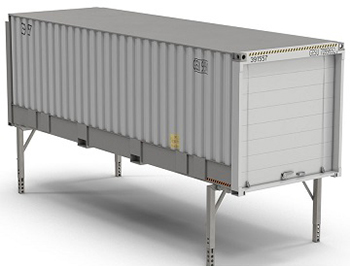 5 Further Container Types For Specialized Purposes
BC - Bulk Container (Free-flowing Bulk Material Container)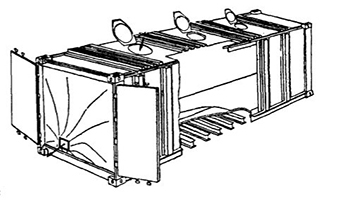 Generally equipped with 2-3 small hatches (diameter 500mm) on the top for loading.
Container lining made from waterproof plywood that is added with FRP to facilitate bulk cargo removal and cleaning.
A lifting frame at the bottom (raised to an inclined angle of 40° for unloading).
Very suitable to carry bulk goods such as grain and cement. If you want to carry out plant quarantine, you can also

fumigate

and steam in the container.
A free-flowing bulk material container is the same as a bulk container. The only difference is that nozzle and suction pipe are used for loading and unloading.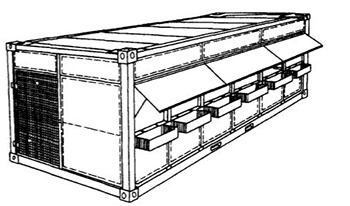 Specially designed to carry live livestock, such as cattle and horses.
Equipped with ventilation facilities plus feeding and fecal removal devices.
The top and sidewalls are made of FRP, which can block the direct sunlight and facilitate cleaning and hygiene maintenance. Doors are available on two sidewalls, made of steel frames and barbed wire mesh. The door can be fully opened and locked.
Generally, the pen container strength is low, and only one layer is loaded on the ship.
HT - Hanger Tanker Container
Used to carry clothing.
Inner lining plate to prevent clothes from moisture and condensation on the wall.
Steel rod installed on the top of the internal container for hanging clothes.
Many crossbars on the sidewall (each crossbar has several belt buckles, nylon belt buckles, or ropes to facilitate hanging clothes).
Not many shipping companies provide such services. Generally, you need to book 1-2 weeks in advance, and then the shipping company will refit.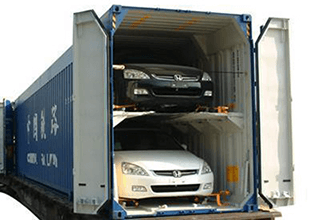 Specially designed to transport car.
Generally constructed by the frame and bottom only. 
One or two layers are loaded according to the car's height.
Major manufacturing materials: Al, steel (including stainless steel), wood (including plywood), FRP, etc.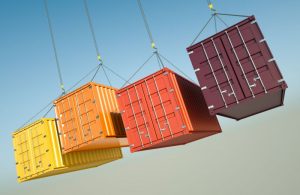 Refers to containers loaded with cargo one time, with single shipping.
Put up for sale once they reach destinations.
Lower in price compared to brand-new containers.
Much longer lifespan than used containers.
4 Important Factors You Should Consider Whether Hire or Buy Shipping Containers
The Right Container Type Meeting Your Needs.
Containers for general purposes or special purposes? Seemingly, the price of a GP is lower than the rarely accessed container types with specialized designs. It's up to your actual demands.
The standard container size type or custom types? It's determined by your cargo. There exist differences among the container size for tomatoes, plants, peppers, and other cargo types you import.
The Duration of Container Use.
Although the purchasing price is higher than the renting, it's not always cost-effective for you to rent. If you use it for a long time, it's more economical to buy.
Ensure You Have Enough Space for Effective Delivery of the Container.
Overweight issues might cause extra fees, and more seriously, the container would be consigned back, thereby causing shipping delays. Some shipping companies directly ask the consignor to tow cargo and leave the port. These expenses are hard to control.
If your cargo is indeed overweight and cannot be divided, you can choose heavy container loading by adding extra costs.
If overweight within a certain range at the port, you can negotiate to pay a fine or unload (reload) cargo. In the case that the crane at the port of destination can not load containers, you could only unload them at the nearby port or go back by the same route.
The Suitable Shipping Container Supplier.
Most shipping containers (about 95%) are made in China, and you can find the appropriate container type suppliers at a good price.
The worldwide largest container manufacturers are located in China. CIMC (China International Marine Containers Co., Ltd), Singamas Group, Shanghai Universal Logistics Equipment Co., Ltd, and CXIC Group Containers Company Limited are the top 4.
Particularly, CIMC supplies half of the world's container manufacturing.
Warm Prompt: We've supported many clients in product purchasing and shipping from China. If you're confused about how to choose the right container type for your shipments, you're welcome to directly ask our sourcing experts. And you can check our blog How to Ship from China to get practical shipping solutions that I only share with my clients.
Containers Types Classified by Manufacturing Materials/Structure/Total Weight
According to manufacturing materials (with the focus on major parts of a container – sidewall, end wall, and top/roof), containers widely used in the world are mainly classified into the following 3 types.
Steel Container
–  Its frame, front sheet, and end sheet are made from steel with a full welding structure. The corrugated plate is used to enhance the rigid strength.
Pros:
High strength, firm structure
Hard to deform due to high weldability
Watertight, airtight
Durable and strong
Easy to repair even if damaged
Low cost
Cons:
Heavyweight
Not so good corrosion resistance
Decreased strength at the place where the bolt is tightened
Aluminum Container
–  There're 2 types: one is the steel frame aluminum plate, and the other is steel only at both ends of the frame and aluminum for the rest.
Pros:
Lightweight, beautiful appearance, anti-corrosion, long lifespan
More cargo loading compared with containers made of other materials
More suitable for grid ship transportation with good elasticity
Low processing and repair costs
Cons:
Easy to be damaged in case of collision or friction
High cost
Not so good welding performance
FRP Container
– With a steel frame in the welded structure, its wall panel is made of plywood coated with glass fiber on both sides. The wall panel and frame are connected with special rivets or bolts.
Pros:
Thinner wall & larger internal volume (compared with containers made of other materials)
Good heat insulation performance due to plastic lining, less dampness in transit
Good at anti-corrosion
Cons:
Heavyweight (similar or slightly higher than Steel Container
High cost
According to structures, containers widely used in the world are mainly classified into the following 3 types.
Interior/Outsider Post Type Container
The former is featured with a side post or end post located in the sidewall or end wall. Otherwise, it's Outsider Post Type Container.
Collapse Container
Its main components (sidewall, end wall, and top) can be folded or disassembled. And it can be easily combined when reused.
Monocoque Container
With all parts formed into a steel body, it's lightweight and can adapt to the torque without permanent deformation.
According to the total weight, containers widely used in the world are mainly classified into 30-ton containers, 20-ton containers, 10-ton containers, 5-ton containers, 2.5-ton containers, etc.
I hope you can benefit a lot from this article. If you're still confused about shipping container types, leave comments below. I'll answer your questions. We are always here to support you.
The Jingsourcing team excels in helping small-medium-large businesses to import and ship goods from China. Should you have any needs, please feel free to Contact Us.