Tips for Your Trip to China
Check Out the Border Entry & Exit Restrictions.
Due to the unexpected outbreak of the COVID-19
, many countries closed their borders. So the first thing you should do before visiting China is to make sure you have the necessary border entry and exit permissions. To do that, you just have to make an inquiry about the related policies with the Chinese embassy in your country.
Get a VPN
In mainland China, access to websites such as Google, Facebook and YouTube are limited by the government. S
o if you want your phone or laptop to work out as the same way back in your country when you are visiting China, you'll have to install a reliable VPN on them. And just in case you don't know where to find a capable VPN,
Astrill
seems to be a good option, it's not free, but it's worthy.
Get an Interpreting App
For this scenario
I highly recommend the iFLY Voice Input App, it can interpret Chinese into English on a real-time basis and it's totally free. 
Nevertheless, if you have enough
budgets, hiring an interpreter might be an expensive, about $50 to $100 per day, but more efficient option. 
1. Find Suppliers in China Trade Shows
N
o matter how small or how big your business is, attending trade shows is always the most effective way to find suppliers offline.
Because suppliers on trade shows are either manufacture
r or

trading companies

, so you can always expect a relatively competitive price offer as long as you can purchase a minimum order quantity from them which is normally around $500 to $
1,000
for one product.
There are thousands of trade show
s going on every year in China.
G
enerally, these trade shows can be classified into two types:
comprehensive trade shows
with a wide range of product categories and
specialized trade shows
focusing on a specific industry.
The largest trade show in China
Canton Fair is the largest comprehensive trade show with incredibly wide-ranged product categories. The Canton Fair is held twice a year in Guangzhou with three phases each time. 
Automotive, Electronics, Building & Construction, Industrial Products, Engineering

Home & Office, Furniture, Toys & Games, Gifts, Cosmetics, Arts & Crafts

Home & Office, Food & Beverage, Fashion & Beauty, Health Industry, Textile & Fabrics
Different product categories will be exhibited in different phases. And there is a three-day gap between two different phases, which means if the products you are interested in are exhibited in different phases, you'll have to add extra waiting days to your schedule. 
Recommended Trade Shows in Hong Kong
Except for g
oing to Guangzhou to visit the Canton Fair, Hong Kong is also a much recommended city for you to find Chinese suppliers in trade shows, because it has a number of different kinds of trade shows for specific industries. 
Here I only recommend the following specialized trade shows.
Hong Kong Electronics Fair
Date: 13 April – 16 April (Spring) / 13 October – 16 October(Autumn)
Address: Hong Kong Convention and Exhibition Centre, 1 Expo Dr, Wan Chai, Hong Kong
Reason for recommendation:
It is one of the trade shows favored by Chinese manufacturers and trading companies. In this trade show, you can find all types of electronic products. And visiting Hong Kong Electronics Fair might be a good way to fill the waiting gap of the Canton Fair a little.
Hong Kong Gifts & Premiere Fairs
Date: 27 April – 30 April
Address: Hong Kong Convention and Exhibition Centre, 1 Expo Drive, Wan Chai, Hong Kong
Reason for recommendation:
It is also one of the most famous trade shows. Trade shows in the gift industry always have very wide product categories. You can always see products like electronics, toys gifts, party products, and more. This trade show is hosted during the three-day gap between Canton Fair Spring Phase Two and Phase Three.
MEGA SHOW
Date: 20 October – 23 October
Address: Hong Kong Convention and Exhibition Centre, 1 Expo Dr, Wan Chai, Hong Kong
Reason for recommendation:
It is the largest and sourcing trade events in Hong Kong held in every October for gifts, premiums, housewares, kitchen and dining, lifestyle products, toys and games, Christmas and festive, sporting goods and stationery in the Asia-Pacific region. And it held is between Canton Fair Autumn Phase One and Phase Two.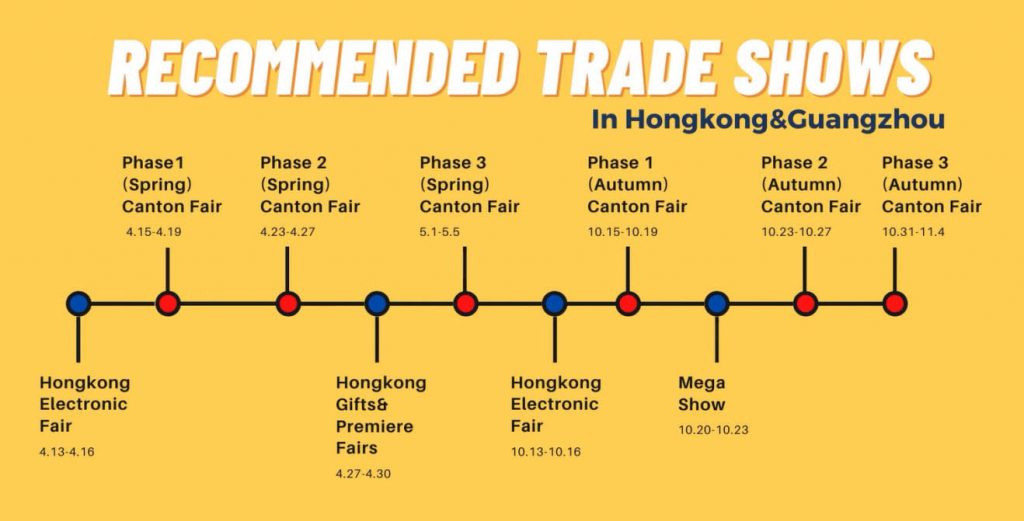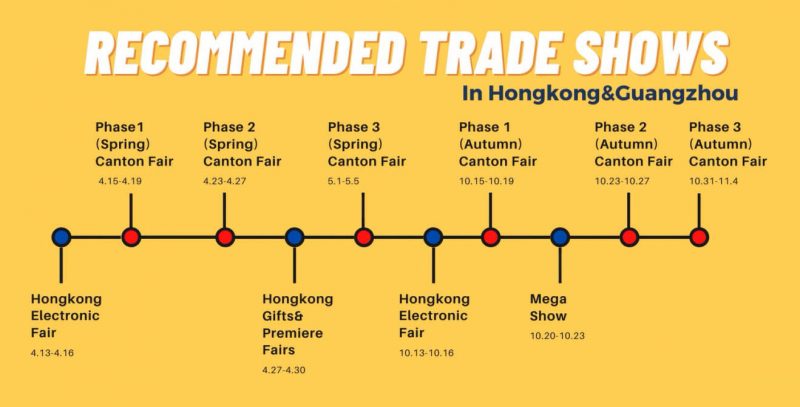 As you can see, all these trade shows
in Hong Kong are held before or after different phases of Canton Fair. 
So it's
highly recommended for you to apply for a Chinese visa, which allows you to visit trade shows in both Guangzhou and Hong Kong in April and October. And it just takes one hour traveling by train between these two cities.
Find More Trade Shows
If you want to know about more trade shows besides the above, this detailed
gui
d
e about China trade shows
may give you some help.
Also there are ways to find the information you need online
.
For
other trade shows in China, you can access
10time
s
.com
or
Qufair.com
 

The former is the best website in the world to find information about trade shows or events.
T
he latter is designed for Chinese only, but you can use Google to translate the website into your language for valuable
information. 
Tips for Dealing with Suppliers in Trade Shows
If you haven't been to any trade show before, here are some tips for you to deal with China suppliers on trade shows.
Make a note about the minimum order quantity and the price of the products you are interested in as well as the contact information of the supplier in the middle of the trade show for later negotiation.
Buy your product sample right before the show ends, then you'll probably get the lowest price because the sellers are willing to get rid of their samples instead of carrying them home.
Negotiate with suppliers about the final price and purchasing quantity after the show ends, which gives you more time and space to get a lower price than placing an on-spot order in trade shows.
2. Find Suppliers in Chinese Wholesale Markets
F
or those who are not able to attend trade shows or just want to buy multiple kinds of products in a relatively small quantity, wholesale markets with fewer limits of product categories and MOQ are definitely worth trying. 
Well, what Kind of Wholesale Markets Should You Visit in China?
Similar to trade shows,
the wholesale markets can be classified into comprehensive ones and specialized ones, and the sellers in wholesale markets are either manufacturer or trading companies. 
T
here are wholesale markets in almost every city in China, but over 99.5% of them are not worth visiting because they are targeted at the local small quantity wholesalers. 
So
I only recommend the wholesale markets of Yiwu and Guangzhou for you to
explore
.
Visit Wholesale Markets in Yiwu
The
Yiwu Market (Yiwu International Trade City) has been identified as the world's largest small commodities wholesale market with over 50,000 suppliers for all kinds of product categories, and it opens whole year-around with only a 15-day shutdown during the Spring Festival. 
The target client
s of this market are 50% overseas and 50% domestic. So in here you can see a lot of foreign importers coming from different countries and many of them have lived in here for years.
The Yiwu International Trade City is a 5.5 kilometers long building with 4 floors. And all products are well
classified into different areas of this market. So it would be rather easy and convenient for you to find any imaginable consumer products inside.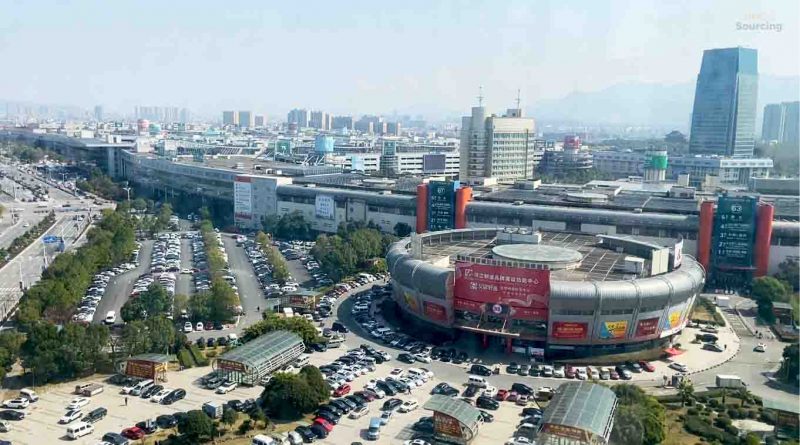 Visit Wholesale Markets in Guangzhou
If you want to source products like
apparels, shoes, bags, cosmetics and watches, I highly recommend the wholesale markets in Guangzhou for the reason that most of the manufacturers for these kinds of products are located in or close to Guangzhou. Although you can possibly find these products in Yiwu too, the price will be relatively higher.
Searching suppliers in Guangzhou
's wholesale markets can be a real headache sometimes because the markets there are so scattered around that you can't easily tell what are they selling or which one sells at lower prices.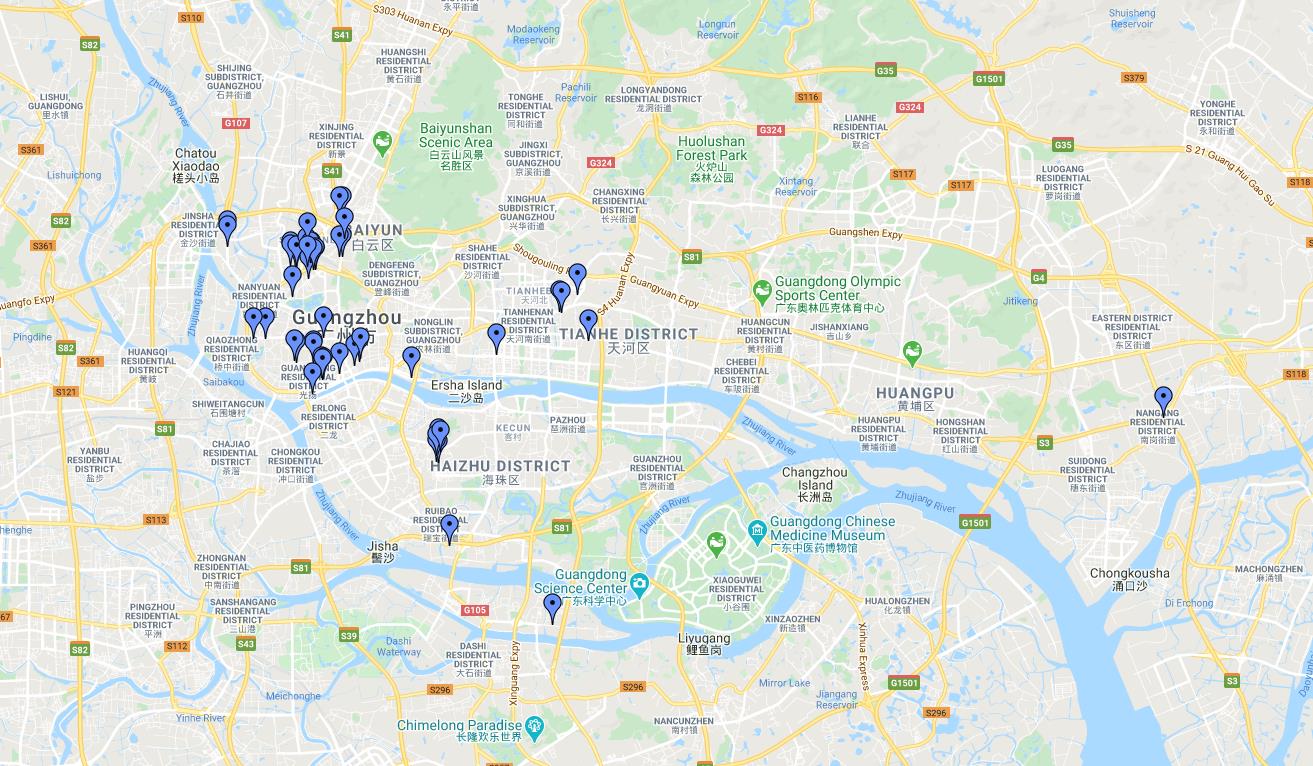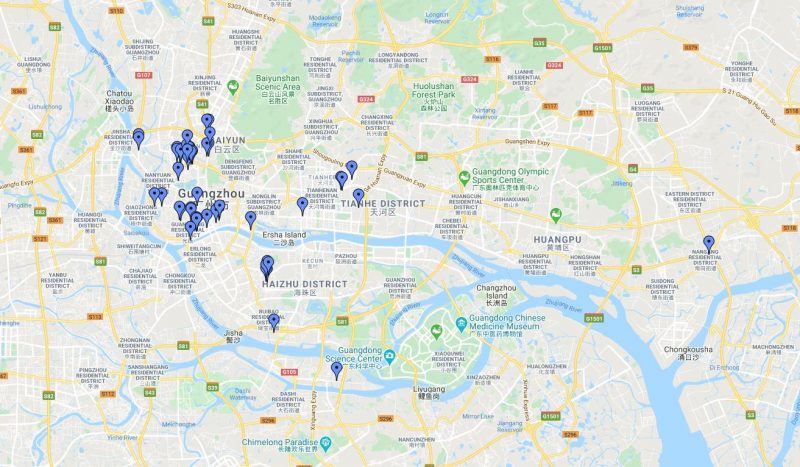 Actually just trying to get familiar with the wholesale environment only may take you long enough, let alone other things related to sourcing.
So my suggestion is
that you should be fully prepared before coming to China, do all the necessary researches to spare the time you would spend on collecting information in China. 
And when you arrived at Guangzhou, there are also many foreign buyers lived there for years that you could talk with and utilizing their practical experience.
Here are some articles I posted about Guangzhou wholesale markets, make sure to check them out for further details:
Visit Wholesale Markets in Other Cities
Besides the wholesale markets in Guangzhou, there are
still tons of specialized wholesale markets in elsewhere. 
For instance, there are many Shenzhen markets for different product category. If you want to source electronics
, then you must pay a visit to the Huaqiangbei Market in Shenzhen. It is the largest electronic market in the world. And there are nearly 50 electronic markets in Huaqiangbei. It is said that you can assemble your own phone here by buying all necessary components.
And another example, if you want to buy fabrics, then you should definitely try the fabric wholesale markets in Shaoxing Keqiao because this place has the largest fabric trading business in the world. And Shaoxing Keqiao is only 90 kilometers away from Yiwu.
3. Find Suppliers by Exploring Industrial Clusters
Why Industrial Clusters?
T
he ways of finding suppliers by visiting China we've discussed about in the Article all serve one common goal, which is to get better products and lower prices. And the more direct and original your supply sources are, the more likely you can get lower prices. 
So there are many people who are willing to put great effort into finding the real original
manufacturer, by doing so they can cut all the middlemen out and minimize their purchasing cost.
The manufacture
rs you want to look for are supposed to be those who don't go to any trade shows, don't use Alibaba and only sell their products through trading companies instead of directly selling to foreigners. 
Just like I said in my previous posts,
this kind of manufacturers is always easier to find in industrial clusters, because manufacturers making the same type of product are more likely to be located in the same area so that it would be much easier for them to share common supply chains and hire workers with related experiences for production.
Want
to know more things about industrial clusters? Click the links below to check my previous posts about the biggest two industrial clusters in China. 
How to Locate and Explore Industrial Clusters?
One of the simplest ways to locate industrial clusters in China is
to search your target product on Alibaba and choose the province which has most suppliers through the filter.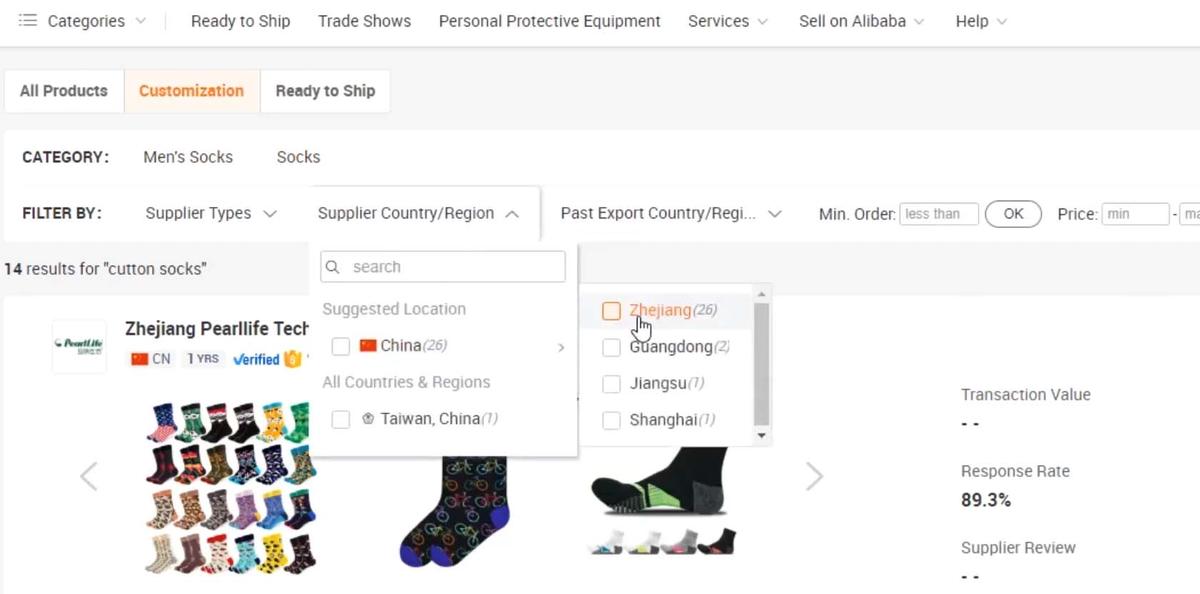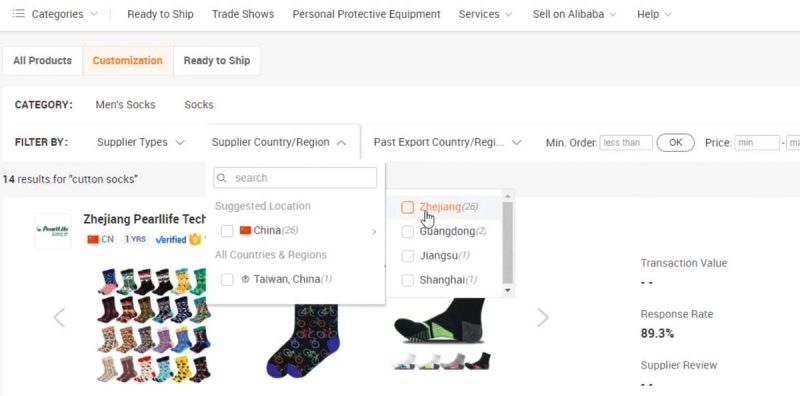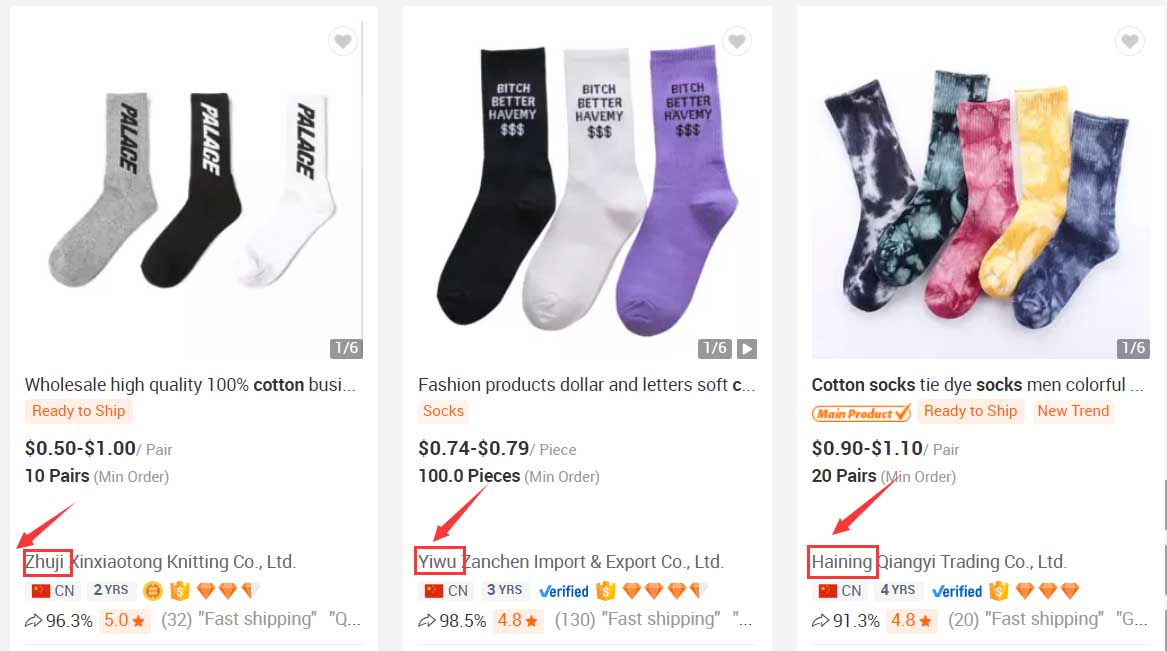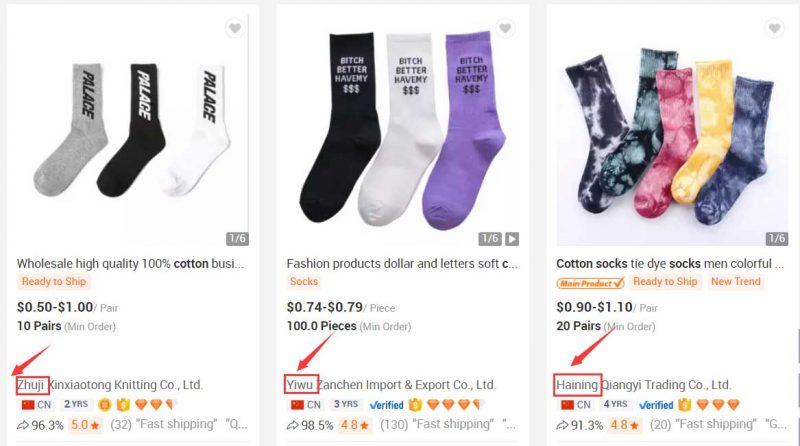 If you can locate a town or industrial area that appears frequently in the addresses of the suppliers, then it is likely to be the industrial cluster of the target product.
Once you
've located the industrial cluster, you can go straight to there and start you journey of finding the best original manufacturer. This could be a very time-consuming but well worth process. 
If you
don't have any clue about where to start after arriving, you can always talk to the local people in the industrial cluster to seek help. They may happily lead you to even more manufacturers than you'd expect if you are willing to pay them for that. 
The End
Thank you for reading
, and please feel free to share it with others if this post helps. If you have any questions about the methods for finding supplies by visiting China in this post, or if you have better ways to find Chinese suppliers, please let me know by leaving a comment below.
We are the leading sourcing company in China located in Yiwu,
dedicated to helping buyers find the best Chinese suppliers with the most competitive prices, if you want to import products from China or visit China, don't hesitate to
CONTACT US
.