Since the internet entered our lives, everything seems to be just a click away. If you are talking specifically about shopping, you can find various e-commerce platforms offering several products and delivering them to your doorstep.
However, only a few market giants transport your purchased items both locally and globally. Moreover, they include high-quality items at low prices. One of the prime examples is AliExpress. But if you're new to this platform and not sure how to buy from AliExpress, then here's the step-by-step guide along with FAQs related to AliExpress.
What is AliExpress, and How Does it Work?
AliExpress is an online shopping website from China. It is one of the biggest shopping platforms in the entire world with a variety of products. Unlike small e-commerce businesses, AliExpress is a global brand with a B2C&B2B model, allowing individuals and companies to offer products to both local and international customers.
Similarly, AliExpress benefits both parties regarding payment collection, parcel delivery, discounts, customer services, and many more.
How to Buy from AliExpress?
Shopping on AliExpress is a piece of cake if you're doing it right. Thanks to the creators for making a user-friendly website. Nevertheless, there are a few technicalities essential to understand. But once you're over them, the purchasing becomes smooth. So, here's how to buy from AliExpress.
Step 1: Assuming you're shopping through your laptop, you are required to open your web browser.
Step 2: In the address bar, type https://www.aliexpress.com/ and hit enter on the keyboard.
Doing so will take you to AliExpress's homepage, like this.
It is not necessary that you see the same content as you can see in the above image because the website keeps on updating. Another interesting thing you may find when you visit AliExpress is seeing coupons, discounts, or offers banners.
Let's not pay attention to these offers now as you can always find great deals on AliExpress later.
Signing up for AliExpress is easy.
Step 3: Just hover your mouse on the "Account" option placed on the top-right corner of the header navigation menu.
Step 4: And click on the "Join" button.
Step 5: As soon as you click the button, a small window will pop out, asking whether to sign in AliExpress using your "Gmail" account (Sign in with Google) or use any other sign-in options (View more sign-in options).
So if you've already registered, you can log in to your AliExpress account. But considering you're new to the platform and trying to register yourself, you will have to click on the "View more sign-in options."
Step 6: Right after you click, another window will pop up, with two main options, "Register" and "Sign in"
Since you have clicked the "Join" button, the system will automatically choose the "Register" option by default. If not, you can select the option manually by clicking on it.
Step 7: Now, add your email address and password in the relevant text boxes, and click on the "Create Account" button. Make sure you add an active email address with immediate access.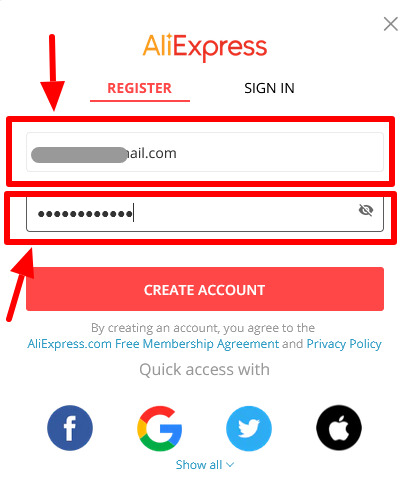 Once done, you'll receive a verification email from AliExpress along with a four-digit verification code.
So, check your email, enter the code, and click on the "Verify Email" button. Doing so will directly take you to the AliExpress homepage. Or, you can sign in later using the same verified email.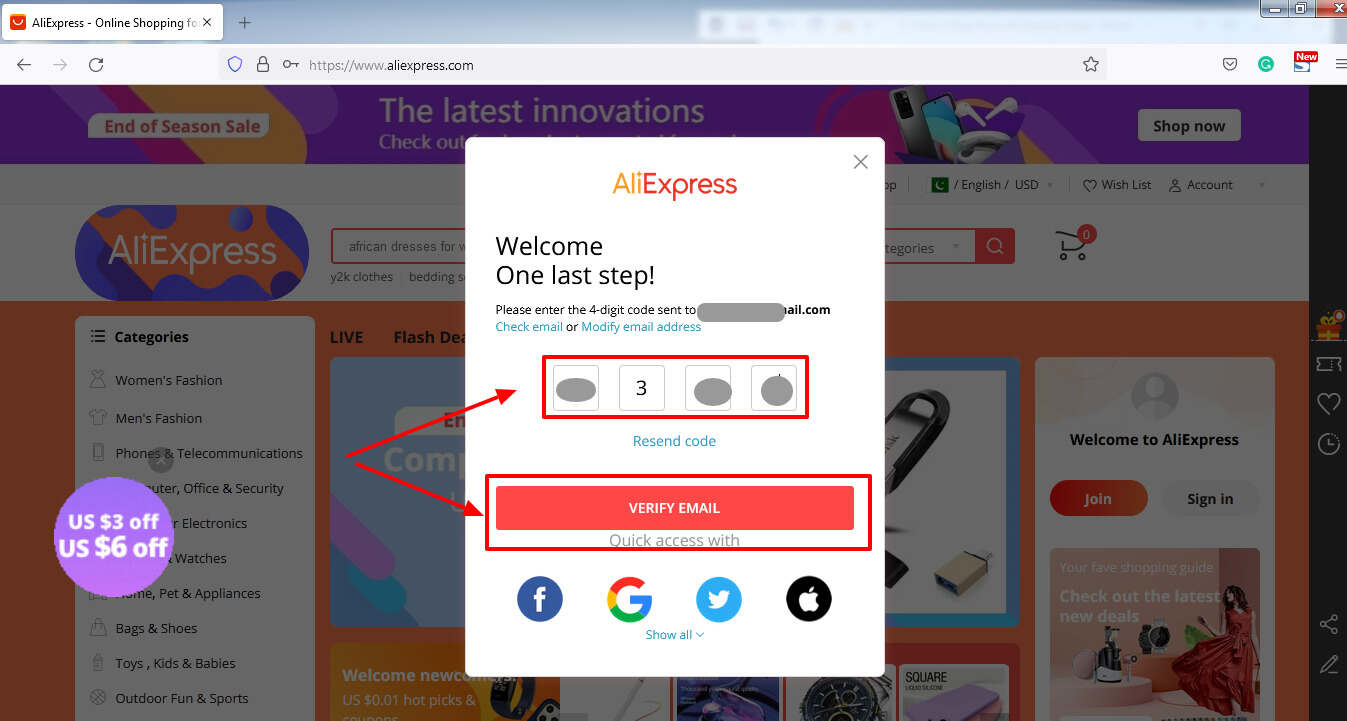 If you don't get the code, you can use the "Resend code" option and try again.
Searching for the Product on AliExpress Platform
Step 8: Congratulations! You have registered with AliExpress as a buyer. So once again, hover your cursor on the "Account" option in the top menu. Here you can see your name, the "Sign Out" option, along with several other options, such as:
My Orders: To track your orders in process.
Message Center: To send and receive messages from stores or the official AliExpress
Wish List: When you're exploring AliExpress, the items you want later can be added to your wish list. And by clicking this option, you can directly go to the wish list section in your account.
My Favorite Stores: Here, you can find any store from AliExpress which you made your favorite while shopping. This option is ideal for you if you think you'll frequently be visiting any particular store to buy products.
My Coupons: Click this option to check new offers and discounts given to you by the stores or AliExpress official team.
Step 9: Go to the left side of the homepage to see the "Categories" menu. Here you can find various categories to help you get the product you want to buy from AliExpress.
Step 10: Click on any category to see several subcategories. For example, if you're looking for women's fashion, you can hover your mouse's cursor on the "Women's Fashion" option to see the subcategories.
Step 11: Now, click on any subcategory from the main "Women's Fashion" category to see thousands of products in the same niche.
For instance, if you want to buy women's dresses, click on the "Dresses" subcategory.
And you see plenty of different styles and designs of women dresses, as seen below:
You can also select a specific size, color, length, material, or brand from the options available on the left side of the page.
BONUS STEP: Another way, and perhaps, the easier way to search products is through the "Search Bar". This search bar allows you to explore different products within the same category.
You just need to type the product's name and hit the "Enter" button on your keyboard, or simply click on the "Magnifying Glass" icon next to the search bar. And as soon as you type in the name, the system will also give you suggestions, which is a real time-saver.
For example, if you want to buy summer dresses. You can type and search for the name to see related products.
Choosing the Right Product, Shipping, and How to Add the Item to the Cart
That's cool if you have found your desired product, but are you sure about the seller's reliability? Remember, as mentioned earlier, AliExpress is just a platform to help buyers meet sellers.
These sellers can be anyone – a top company, brand, or a low-quality product seller, trying to make some money. Therefore, you have to make sure that the item you're putting in the cart is coming from a trustworthy party. So let's continue with the steps.
Step 12: So, assume you have searched for "summer dresses for women" in the search bar. Now, look for the ratings and units sold information on the product thumbnail, and click on the product with the highest ratings and number of items sold. Remember to follow these instructions because these ratings assure the seller's reliability. Also, sellers with the highest sold products will have a top-selling badge.
Step 13: After clicking, a new page opens, showing that particular product you have clicked with all the details related to its size, colors, brand details, etc.
You can rollover your cursor on the product images, like this
Step 14: Click and choose your color and product size. For instance, this product is available in green and navy blue colors. Likewise, currently, the item is available in small (S), medium (M), large (L), extra-large (XL), and double extra-large (XXL) sizes.
So, in this example, a one-piece (quantity) of green (color) summer dress is selected in a large size.
Step 15: Once selected, click on the shipping details option below to choose your shipping.
Step 16: After clicking, you'll see different shipping methods along with the expected days the courier services would take to deliver the parcel.
For example, when you select "United States" from the "Ship to" dropdown menu, different shipping methods, with estimated delivery, cost, as well as the availability of parcel tracking can be seen.
Step 17: Select any one shipping method and click on the "Apply" button.
Step 18: After performing all the previous steps, click on the "Add to Cart" button to move ahead.
And if you're planning to buy the same product after a few days but scared of losing its link, add it to the "Wishlist" by clicking on the "Heart" icon. You can check your wishlist later by following Step 8.
A new window will appear after clicking the "Add to Cart" button.
Step 19: Click on the "View Shopping Cart" button if your shopping is completed. Contrarily, click on the "Continue Shopping" button if you're looking to add more products to the cart.
For your understanding, the "View Shopping Cart" option is selected to take the process further.
On the other hand, you can also visit this page even if you're busy exploring other products by clicking on the "Cart" icon next to the magnifying icon of the search bar.
Step 20: Put a check on the item by clicking on the checkbox to see a change in the "Order Summary."
Step 21: Now, click on the "Buy" button under the order summary or the "Buy from this Seller" button.
Entering Shipping Information and Choosing Payment Methods in AliExpress
Your shipping address will be displayed right after saving it.
Step 23: Choose your payment method by clicking on the "+Select payment method" to see AliExpress payment options.
And select your preferred payment method and enter payment details accordingly.
Making First AliExpress Purchase
Common Scams on AliExpress and Ways to Avoid Them
Despite learning how to buy from AliExpress, you should always get alert of scams. Some of the most common examples of scams on AliExpress are:
In case you want a refund and have already opened a dispute. The seller may ask you to do the following things to escape the refund policy.
How to Avoid
Never close the dispute and never accept the seller's request for a Paypal refund.
Scam 2: False Tracking Number
It happens after ordering the product from AliExpress.
How to Avoid
You can't take any action once the package is marked delivered. However, you can always choose reliable sellers as instructed in Step 12 of this guide.
Scam 3: Request to Reorder with $0.01 price
This occurs when the seller intentionally fails to send the original package and proposes a resend by asking you to order the product again.
How to Avoid
Always open the dispute on the original order.
Scam 4: Incorrect Shipping Method
The seller sends you the product with a cheap shipping method.
How to Avoid
Open the dispute to claim back the extra shipping fee. However, do it once you have received the package in good condition.
Frequently Asked Questions
1. Is it safe to buy from AliExpress?
 Some people think that buying from AliExpress is a red flag. However, practically, AliExpress is highly safe. As a matter of fact, it's even safer than shopping from other prominent platforms like eBay due to the buyer protection program.
2. Can you get scammed on AliExpress?
Yes, it is possible to get scammed by AliExpress sellers. So make sure you always pay through AliExpress payment options and never pay outside the platform so that you can open the dispute in case you face any scams.
3. Why are AliExpress items so inexpensive?
The majority of sellers on AliExpress are from China. With the developed and complete industry chains and relatively lower labor costs, Chinese manufacturers and suppliers are able to provide their products at highly competitive prices.
4. Are AliExpress products fake?
No. AliExpress products are not fake. The platform offers personal brands and avoids selling replicas. And even if replicas and copies exist on AliExpress, they are branded with a new name and logo to ensure each has a specific brand identity.
5. What should I not buy from AliExpress?
You should avoid buying food products from AliExpress if you're ordering from outside China, as they may have a short expiry period.
6. Alibaba vs. AliExpress – which one is better?
Alibaba and Aliexpress are both different entities managed by the Alibaba Group. Alibaba has a larger-scale B2B nature, so you need to meet the higher MOQ if purchasing on the platform. Whereas, AliExpress is designed with a smaller-scale B2B & B2C approach.
7. Is Amazon better than AliExpress?
AliExpress is better as compared to Amazon in terms of product price. Amazon's products usually have high prices, while AliExpress offers economical products.
8. Can you change the AliExpress order once gone for shipment?
You cannot cancel the order on AliExpress once the seller ships it.
9. In which countries AliExpress ships products?
AliExpress has different shipping options and methods for local and international shipping. Therefore, you can expect to receive AliExpress packages all over the world.
10. Do I have to pay customs for packages from AliExpress?
Customs duties are not a part of AliExpress product pricing and shipping charges. AliExpress never charges for customs duties. However, depending on the product and your country's laws, you might need to pay the customs fee upon receiving the product.
11. Is cash on delivery available on AliExpress?
AliExpress once offered cash on delivery (COD) option in the Saudi Arabia region for an entire week. But COD is never a permanent part of AliExpress's payment method.
12. Can I use PayPal at AliExpress?
You can pay with PayPal on AliExpress if the sellers offer it as one of the payment options. Also, payment via PayPal is allowed for US, UK, UAE, Saudi Arabia, Portugal, Spain, Germany, France, and Italy customers only
13. How to open a dispute on AliExpress?
The AliExpress dispute process is simple. Sign in and click on the "My Orders" option on the homepage. Doing so will take you to the orders page on AliExpress you have made so far. Lastly, click on the "Open Dispute" link to open the dispute for a specific product.
14. What is the AliExpress buyer protection program?
The AliExpress buyer protection program assures that sellers are offering and sending genuine products to the buyers. If the items sold are different in shape, image, or any feature, the seller will have to compensate the customer by paying them twice the total amount.
Final Words
If you find this guide useful, feel free to share it with others. And leave a comment below if you have any questions, our sourcing experts will get back to you in no time.
We are Jingsourcing, a leading sourcing company based in China, dedicated to helping importers wholesale and customizing products from China. If you are interested in importing or dropshipping from China, CONTACT US now for complete support.