In my today's post, I will list the top 33 dropshipping suppliers according to different product categories for your reference.
Besides, if you want to find suppliers based in a certain country, you can check my previous posts.
Attention: enough research about dropshipping suppliers is necessary before you choose one. We couldn't guarantee the complete legitimacy and reliability of the following recommended dropshipping suppliers.
1. Websites that major in beauty products, jewellery
FrangranceNet provides you with over 17,000 beauty products at a competitive price, like genuine, brand name fragrances, skincare, makeup, haircare, aromatherapy and candles.
For US order, the shipping cost will start at $6.95. And for international shipping, the shipping cost varies from product weight, destination country, and custom policies.
Beauty Joint is a wholesale and dropshipping store. You can find a wide range of women's beauty products, including nail polish, mask, skin care, etc. Besides, it has  two categories for displaying discount products and new arrivals.
Danforth Pewter devotes to creating handmade Christmas ornament, oil lamp, jewellery, etc.
2. Websites that major in clothing, shoes, accessories
Wholesale Fashion Square, mainly provides top quality fashion apparel and accessories. Besides, dropshipping service is also available on the website and it is free to be the platform's dropship customer. But there is a limit, that is, it just accepts dropshipping orders from USA.
Moreover, all products on the website support bundle dropshipping. But about one-piece dropshipping, you should contactt CS about the available products.
Silverts, founded in 1930, is a wholesale and dropshipping supplier that provides specially designed clothing and shoes for those who have difficulties in dressing. But it only supports dropshipping in Canada and a part of USA (Excludes AK, HI, PR, etc.).
In addition, it sets some discount policies for dropshipping orders as below.
25% discount off regular priced items
30% discount over and above $5000.00 in sales
When it comes to women's clothing, leggings are something every woman needs. Sweetlegs is a Canadian supplier who dedicates to providing unique leggings. Of course, it also has some other product categories, like jewellery.
Griffati, headquartered in Italy, is a B2B marketplace specialized in designer clothing. And it serves over 10 major Italian distributors and more than 150,000 registered retailers worldwide.
For orders in the European zone, you needn't pay tax. Besides, it is free to get the dropshipping service on the website, and for dropshipping orders, there are many advantages as below.
Dropship Clothes, based in UK, is a leading international manufacturer and marketer of dropship women's clothing including women's fashion clothes, tops, bottoms, outerwear, swimwear, dresses, lingerie, underwear, etc.
It has more than 9000 leading retailers around the world and the products are supplied to over 130 countries globally.
Besides, the website is very suitable for medium and small wholesale/dropshipping business. OEM is also welcomed on the website.
BrandsGateway, founded in 2008 and located in Estonia and Sweden, is the No.1 online business-to-business(B2B) luxury fashion marketplace. And it currently supplies merchandise mainly boutique clothing to thousands of clients globally, including small retailers, department stores, other wholesalers and e-commerce stores.
To use dropshipping service on the platform, you can choose monthly price plan or annual plan.
Brands Distribution, founded in 2009, is a wholesale platform leader in online B2B designer clothing and fashion accessories distribution.
The Dropshipping service can be activated in the following two ways:
monthly plan with unlimited products €99 + VAT
annual plan with unlimited products €990 + VAT
3. Websites that major in electronics
DealeXtreme, focuses on the gadgets and electronics, but many other product categories are also available such as apparel, shoes, outdoors, etc.
Based in Austin, Texas, Teledynamic mainly focuses on telecommunications products and various consumer electronics. Many national brand name products are available on the platform including Yealink, Grandstream, Yeastar, Panasonic, VTech, AT&T, Motorola, Plantronics, and many more.
ASI Partner mainly provides IT hardware and software products. There are more than 500 professional employees and 13 sales/warehouse locations in the US and Canada. In addition, it carries over 150 product lines and has over 20,000 of the most in-demand products.
E-Nuc is a platform specialized in electronics products in Europe. For dropshipping service, it will need an additional cost of only€0.95+VAT per order. And the product will be shipped directly to your customer with your company information.
One of the advantages is that all shipments on the platform are insured at their value again, that means, during transportation if a problem occurs and damages the item, you will get the full refund of that product or you will get a new one.
Aulola.co.uk, founded in 2008, is one of the biggest cell phone accessories distributors and wholesalers in the United Kingdom and Europe.
It provides a variety of products including mobile phone accessories, home & garden, beauty & makeup, game accessories, audio video, and etc. In addition, it is free for you to join its dropshipping service.
4. Websites that major in home decor
Prepac is successful in designing, manufacturing and dropshipping functional and stylish RTA (Ready-To-Assemble) home furniture including Bedroom Furniture, Home Office Furniture, Living Room Furniture, etc.
If you have problem in sleeping, you have come to the right place. Dream hug devotes to offer therapy blankets that can ease anxiety. 
And you can track the parcel after you get the tracking number, which will be provided via email after the order has been shipped.
5. Websites that operate mixed products
AliExpress is an online purchasing platform in China, and dropshipping service is available. And there is no MOQ requirement on Aliexpress. 
The price on the platform is competitive, and there are various product categories for you to choose. For orders with small quantity or samples, AliExpress is a suitable platform. As it can be less risky for testing product ideas and market without a huge investment.
In addition, there are local warehouses in most countries, which will shorten delivery time greatly.
There are so many wholesale websites in China. DHgate, similar to AliExpress, is regarded as one of the cheapest ones. It doesn't have a MOQ requirement.
You also can find a variety of products on the platform including apparel and accessories, bags, toys, computers, etc.
Banggood, established in 2008, focuses on B2C cross-border export e-commerce. There are 37 overseas warehouses, which can shorten delivery time greatly.
One thing about the platform you should pay attention, that is, it sets different return policies for various products, which is outlined in their help center.
Besides, there are a series of benefits for dropshipping orders on the platform, such as a certain dropship discount. 
Chinabrands, headquartered in Shenzhen, is a leading global dropshipping wholesaler in China. It has a variety of products, including apparel, health, toys, etc. Besides, it will update new and trendy arrivals every day. 
In addition, it sets over 40 warehouses worldwide. So you needn't worry about the delivery time too much. And it has a QC team to ensure the quality of every single product from major brand suppliers.
LightInTheBox, founded in 2007, is a global online retail company.
Although it offers products in the three core categories: apparel, small accessories, gadgets, home and garden, there is also many other categories for you to choose.
On Worldwide Brands, you will get the most comprehensive directory of certified wholesalers and dropshippers. Besides, they will update their list with new reputable and reliable suppliers.
In addition, you just need to spend $224 one time to have lifetime access to obtain the supplier list, so you can have the best dropship experience.
Spocket is a dropshipping marketplace connecting dropshipping businessmen to thousands of suppliers. The majority of products are from US/ EU.
There are four pricing plans: Starter, Professional, Empire and Unicorn! For monthly plan, you can decide whether to join its dropshipping member after 14-day free trial.
The picture below is the monthly price plan.
The picture below is the annual plan.
Doba is a marketplace that compiles manufacturers and suppliers into one place. And it actively seeks new suppliers to update the product catalog. There are 4 types of price plans.
It provides a directory of dropshipping or wholesale suppliers. It has more than 8,000 companies in their network and give you access to over 1.6 million products.
But you need to spend a membership fee to get the supplier directory.
You can become the member of the platform to get dropshipping suppliers directory. And you can filter the suppliers according to your needs.
There are three price plans as the following picture shows. And the benefits are different for each price plan. 
Esources is the UK's largest directory of verified wholesale suppliers, dropshippers, wholesale offers and trade leads. It has over 170,000 verified wholesale and dropshipping suppliers from the UK and the rest of Europe. And you can have access to a large collection of products from reliable suppliers at a competitive price.
As free members, there are some benefits: you can contact tradepass suppliers, discover the latest wholesale& dropship offers, subscribe to free training ecourses, and learn about the latest new deals.
If you want to be the premium members, you should pay extra membership fee like the following picture shows. Accordingly, you will have more benefits.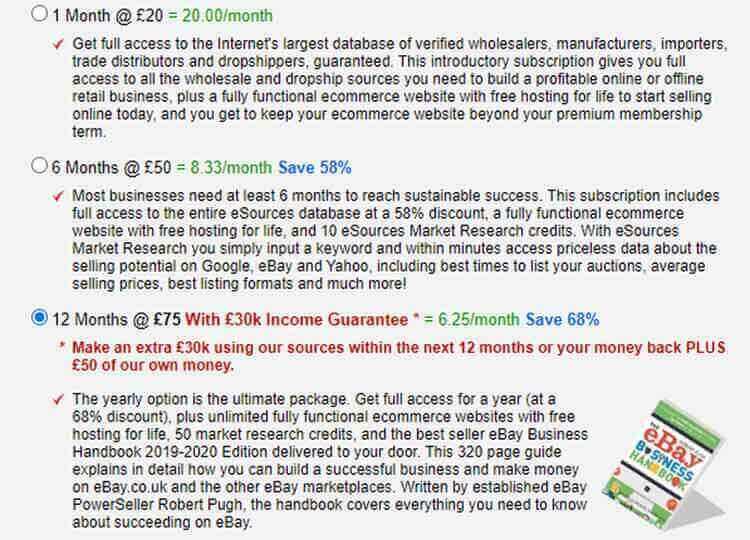 MX Wholesale, founded in 2001, is an online wholesaler and pound shop supplier and a leading UK wholesaler and importer of discounted products. It provides you a variety of items including toiletries, makeup, health & beauty items, outdoor & garden tools, etc at a competitive price.
6. Some wholesale websites that may offer dropshipping service
Alibaba, founded in 1999 and headquartered in Hangzhou, is one of the largest B2B platform for global wholesale trade. It provides 40 major product categories on the platform. Usually, MOQ on Alibaba is higher than other platforms.
As you purchase products on Alibaba, actually, you are purchasing from different suppliers. And many manufacturers and traders coexist on Alibaba. Hence, you should learn to identify who is the manufacturer or the trader.
Made in China, founded in 1998, is one of the most famous B2B e-commerce websites in China. All suppliers on it are verified by Made-in-China.com.
It provides products in 27 categories and 3,600 sub-categories. Besides, you will be free of language barrier when you browse the website, as it supports 11 languages to display the platform information.
Global Sources, founded in 1970, is a very famous wholesale website with over tens of thousands of Chinese suppliers. It will organize annual export sourcing shows in Hong Kong in April and October with eight events, which are very popular and helpful among the international business.
To ensure the supplier qualification, the platform sets a unique "Verified Supplier" system to audit registered suppliers, including assessing production facilities, inspecting product quality, etc. Hence, the suppliers on Global Sources tend to be more reliable and can provide good quality products. 
We, Jingsourcing, is a leading sourcing agent in Yiwu, China.

Since 2015, we have helped many foreign small and medium businessmen or new importers source good quality products at a competitive price from China. We will help you at every importing step, from finding reliable suppliers to arrange shipment.
We also provide dropshipping service. To use the service, we will charge you a certain fee, including all costs for fulfillment and packaging.
To the end
I hope you can benefit a lot from my post. If you think it is helpful, welcome to share it with others. Besides, if you want to recommend other reliable suppliers, welcome to share with us by leaving a comment.
Or if you have any questions about sourcing products from China, feel free to contact us, we will help you.