A lot of my friends, including our foreign customers and Chinese suppliers, do not prefer doing toy business because there are countless different types of toy products, and get no idea about what to sell. Another reason is that many countries have a lot of rules about importing toys, which will certainly cause many troubles in this process.
But the truth is importing toys from China is not that complicated as you thought, you only need to choose some good products and find the right suppliers.
As this article includes so much practical information, I organize it into 4 chapters. You can click on each title of chapters, and it will bring you to related content.
Toy Categories and Their Manufacturers' Locations
So far with my experience, importers from different countries most prefer importing classic toys such as balls, cars, plush animals, because all these classic toys have large and stable demand every year. It's not necessary to worry about the sale as there is always customers who want them.
Besides, there are usually hot selling toys each year in the world, such as loom bands during 2013-2014, kinetic sand and balancing scooter during 2014-2015, fidget spinner during 2017-2018, finger monkey during 2017-2018. If you can discover the potential of these products and import them earlier than your competitors, then you will already make money when other people start to sell. At that time, you can start to find the next product.
Search loom bands on Google trends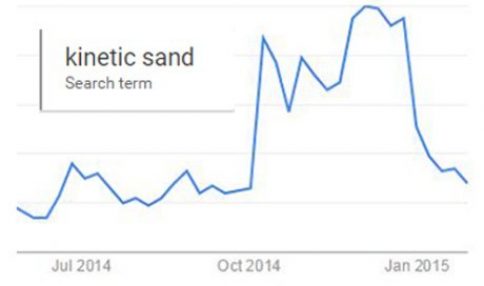 Search kinetic sand on Google trends
Search fidget spinner on Google trends
Search finger monkey on Google trends
Toys made in China have lots of categories, and I divide them in the following form by types and manufacture areas.
Classification of Toys Produced in China:
| Toy Category | Toys | Manufacture Areas in China |
| --- | --- | --- |
| Remote control toys | RC Helicopter, Cars, Boats, Quadrocopter | Chenghai, Shenzhen |
| Diecasts & Toy Vehicles | Cars,Trucks, Car Models | Chenghai |
| Toy Figures | Lego Toys, Animation Figures | Chenghai |
| Doll& Stuffed Toys | Toy animals, Puppets, Mascot, Costume | Mainly in Yangzhou and Qingdao, but there are also some in Yiwu, Shenzhen and other cities |
| Classic Toys | Yoyo, Balloon, Balls, Kaleidospce | Chenghai, Yiwu, and other cities depending on products. |
| Learning & Education Toys | Toy Musical Instrument | Yunhe(Zhejiang Province) for wood made toys |
| Outdoor & Playground Toys |  Kid's Slide, Seesaw | Yongjia (a small town of Wenzhou), the capital of playground toys in China |
| Models & Building Toys |  Building Blocks | Chenghai, Yiwu |
| Baby Toys |  Baby Rattles, Baby Walker | No specified cities, but mainly in Zhejiang and Guangdong Province. |
| Puzzles & DIY Toys |  Puzzles, Magic Cube | High quality Puzzles mainly produced in Chenghai. DIY craft toys mainly produced in Yiwu. |
The Right Place to Find Your Best-Matched Toy Wholesale Suppliers
1. Wholesale websites - the easiest way to search for china toy suppliers online
Sourcing china wholesale toy suppliers online is the easiest and the most convenient way to search for China toy suppliers.
You can go to the online toy wholesale websites such as Alibaba, AliExpress, DHgate or Made-in-China.com. And you can choose different websites depending on your order quantity, specialized toy niche, and other factors.
If you can only afford a relatively small MOQ (minimum order quantity) and you've never purchased toys from China before, you can try AliExpress and DHgate. These two websites are friendlier to small businesses and those who buy for self-use purposes.
If your budget is high enough for a MOQ up to hundreds or thousands or you are in need of customization, then you can try to pay a visit to bigger Chinese online wholesale markets such as Alibaba and Made-in-China.
On wholesale sites as big as Alibaba and Made-in-China, there are all kinds of toy suppliers including original factories, trading companies, and other small to medium-sized suppliers that you can choose from.
When you are searching for suitable suppliers online, remember don't be too obsessed with the lower prices, and don't believe any meaningless content on google. There is only one principle that you have to adhere to: The one that suits your situation is the best.
For example, the supplier of a purchaser whose annual purchasing quantity over tens of millions or even hundreds of millions might not be a good supplier for you because you can't purchase in that large a quantity, which means you can't get a price as competitive as that of the said purchaser.
One of the most practical strategies to find the most suitable supplier for you is including 3 to 5 suppliers into a candidate group and working with them in smaller orders. During this process, you can evaluate the suppliers through details like products, services, and communication.
For most of the necessary qualities a supplier should have, you can't just confirm them through the Internet. You have to feel those qualities yourself by observing the supplier's working behaviors, which above all is the most practical and reliable supplier finding method.
Apart from these China wholesale websites, the other simple and popular way to find China toy suppliers is to find a sourcing company, and let them do the hard work and take care of everything including factory searching, production following, quality inspection, international shipping, and customs clearance for you.
Normally, sourcing companies are located in some industrial clusters in China, which gives them access to abundant supplier resources. Sourcing products would be much more convenient if the company is located near the local wholesale markets –just like our company, located in front of the Yiwu International Trade City, the largest distribution center of small commodities.
Besides the above, sourcing companies also have built long-term partnerships with many freight forwarders, which allows them to get lower discounts for shipping.
I know some people might ask: If a sourcing company plays the role of a middleman, wouldn't it charge me extra service fee and commission fee therefore increase my purchase cost?
The truth is, even if you add all the fees charged by your sourcing agent into the purchase cost, you'll probably find the price is lower than that you can get directly from your supplier.
It's easy to understand that the sourcing companies have much stronger bargaining power than most personal buyers. With the minimum cost, you can transfer most of the works and risks in your purchase process to the sourcing agent, and it can find a supplier that meets your expectation for the price and quality in the most time-effective way. This is why sourcing agents are so popular among importers in all scales. The importers see the sourcing agent as their purchase department that saves their time and energy and maximizes their efficiency.
2. Visit toy suppliers in Chinese wholesale markets of industry clusters
If you can come to China, you must go to toy industry clusters to find original toy factories. Check the following production areas in China.
Chenghai in Guangdong Province
Being the Capital of Toys, Chenghai features many different toy categories including plastic toys, electronic toys and high-tech toys. Here lies a highly complete and efficient manufacturing chain of toys. If you are specialized in the toy business and have constant demand for wholesale toys from China in large quantities, make sure to pay a visit here.
Yiwu in Zhejiang Province
The world's biggest small commodities wholesale market is located in Yiwu, so, Yiwu features all kinds of low-value and small toys and crafts. Many toy factories have set their store in Yiwu's biggest wholesale market named The International Trade City, you can easily find the toy factories you are interested in there.
Yangzhou & Qingdao
These two areas are focused on plush and stuffed toys. Compared with other areas, the plush and stuffed toy factories here have a larger scale and manufacturing capacity. If you are specialized in this particular toy niche, you can try to find your own long-term supplier here.
The above three toy industry clusters are recommended, check another post of mine for a detailed comparison and analysis about them – toy manufacturers in China.
If you are wondering where to find your toy supplier when you have arrived at those industry clusters, I'll give you some practical answers here.
First, if you have the chance, do make a plan. You can prepare a list of the suppliers or factories you want to visit by searching for their addresses and other related information on Alibaba. When you arrived at toy industry clusters, you can visit the suppliers on your list one by one to find the most suitable one.
If you are just walking around without any plan, you can just go directly to the toy wholesale markets in the industry clusters. In China, every industry cluster has a main wholesale market where many local suppliers are gathered. For example, the wholesale center of Zhejiang Province is Yiwu International Trade City.
While the toy wholesale markets are concentrated in one giant building in Yiwu, the wholesale markets in Guangzhou are scattered in different buildings. According to different quality levels and types of toys, the wholesale markets are gathered in several different areas. So, before going to Guangzhou, you'd better figure out what kind of toys you want and make a detailed plan so you won't get completely lost in there.
3. Attend Chinese toy shows
There are many toy fairs in China, I'll list the most recommended 2 of them here:
This is one of the biggest Trade Fairs in China. It is a comprehensive trade fair features in all product categories, and in the toy category, there are more than 50,000 products listed on their official website. There are many toy suppliers that will attend this fair. This fair is usually held in October, the specific date varies every year, you should check the notice published on the official website.
As the largest toy fair in China, the CTE has been successfully held 19 sessions in China. There are more than 17 categories covered in this fair which include wooden toys, soft toys, smart toys, educational toys, electronic and remote control toys. This show is also held in October, you can go to Shanghai for this show after you visited that Canton Fair in Guangdong.
Four Problems You May run into when import toys from China
1. Toy Compliance and Safety
Certificate and safety are the biggest one among all problems, and different countries have different required standards for imported toys. Here's some certification required by US and EU for toy products.
United States:The first three tests of ASTM F963: Mechanical/Physical testing, Flammability testing, and Chemical testing. The other one is CPSIA (Consumer Product Safety Improvement Act): lead and phthalates test, and labeling test.
European Union:Toys exported to Europe have to pass Toy Safety Directive (EN 71 -1,2,3) and have a CE mark.
If you are importing large quantity of toys, you'd better do all required tests. But if your quantity is small, then the costs of all these tests are very high. The best way is to ask your suppliers to offer these test reports which they had done before, in order to make sure their products are meet the safety standards. If the suppliers cannot offer you, then you have to change to another who can offer test reports.
Suppliers in China usually won't do all these tests, most of them do part 1, 2, and 3 of EN 71 test and Phthalates test. When you get the EN 71 test report from them, be careful to check whether it includes EN71 part 3, which is the most important part, it can prove the hazardous substance in products are under required limits. Some suppliers will no test the part 3, because they are afraid that the test may fail.
Besides, there are many companies can do CE test in China, so you also need to check which testing lab the report is from. Famous institution such as SGS, ITS, and TUV will be the best. Some suppliers may offer reports from small Chinese testing lab to save money, but it may not be admitted by imported countries.
2. Inspection Required by China Custom
The toys exported from China are subject to China custom's inspection. When applying for inspection of exported toys, you will have to fill out a declaration form for outbound goods and submit other documents required by the China custom, of course you may ask your supplier or sourcing agent to do this for you.
When applying for inspection, a declaration of product quality and safety compliance is also required. According to China custom's published requirements, a test report issued by a toy laboratory will also be needed for the first-time inspection.
Toy copycats are very commonly seen in China. Many suppliers would just simply copy the designs from big overseas toy brands and manufacture their own products.
If you want to import toys from China, you have to be very careful about the designs of your products. Otherwise, even if you successfully shipped the toys into your country, you may find yourself under an accusation of design infringement, which may cause great losses to your business.
4. Shipping Toys from China
Shipping is one of the key parts of your importing process. You have to pay attention to many details. First of all, when you are asking for a quote from your freight forwarder or supplier, you have to choose the right Incoterm. The most commonly used Incoterm is FOB, short for Free On Board, which covers all the cost for delivering the goods from the factory to the ship or aircraft in the seaport or airport appointed by you.
Secondly, you have to make sure the shipping solution you choose is suitable for your cargo. If you purchased toys more than 2CBM, then shipping them by sea freight will be a very cost-effective option. If your order quantity is rather small, you can try international express. If the size of your toys is small but the value is relatively high, then you may consider shipping them by air freight.    
Further Reading about Incoterms