The center of Guangzhou Electronic wholesale markets is near Nanfang Building(南方大厦). There are four markets in this area and each of them has different specialties. 
And there are typical markets as listed below, which are all very close to each other.
Google, and all its affiliate pages and apps, are blocked in China, which means that when you're in China and use regular WiFi or data, you cannot access any data from Google, including Google Maps. The easiest way is to purchase international roaming on your existing mobile plan. It works well but is usually expensive. More solutions are here. 
NEW ASIA(新亚洲国际电子科技城)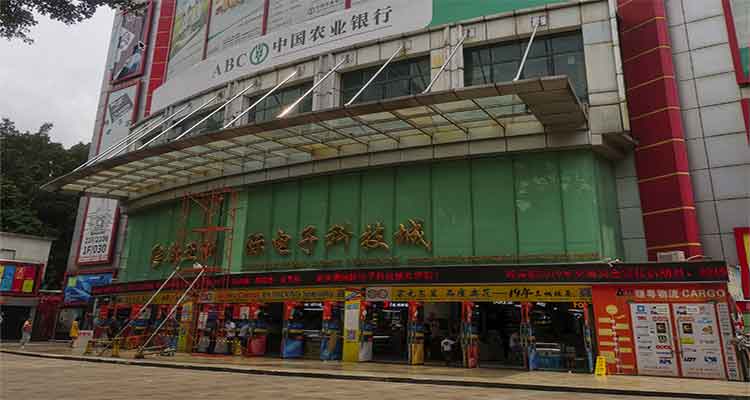 WENYUAN(南大文园电器交易市场)
CITY INTERNATIONAL(西堤国际数码城)
1. Which is the best market for consumer electronics?
If your business is facing end-consumers, the No.1 Option is the New Asia market (see Picture1 above). 
This market mainly covers a range of products:
Novelty electronic items

Bluetooth Speakers

Earpods 

Phone cover

Phone Glass Film Protection

Memory Cards / USB drive
For almost all products in this field, you can find suppliers in this market.
2. What're the top features for the electronics wholesale market in Guangzhou?
Unlike the famous electronic wholesale market HUA QIANG BEI in Shenzhen, Guangzhou market is more fit for foreign customers, most of the shops here are running their business mainly for exporting. You can easily find accessories for overseas popular brand models, especially for iPhone and Samsung.
In contrast, there are fewer Chinese domestic brand products to be found here. If you are looking for accessories for HUAWEI, XIAOMI, there are big chances that you can only get a quote without seeing a real product in the market.
3. What needs to take note of when I want to discuss with the shopkeeper in the wholesale market?
As there are many types of phone models, the suppliers in the wholesale market are not asking for large MOQ for one phone model. 
Take Glass Film as an example, the MOQ is usually one box of loose packing for one phone model, which is 20-25 pcs/box only.
Note: loose packing here means that the Glass Film is without retail color box packing, only one Glass film inside one transparent bag. In this market, you will see lots of products are supplied without retail packing, as it is easier for the customer to repack into their own brand package. If you do not mind selling the products with the shop keeper's retail packing, you can ask them to quote with retail packing. But usually, the price does not include packaging costs. 
And for protection back cover, the MOQ is 50 pcs, even if you cannot see the phone model right for your demand (like if I want to buy iPhone 4 case which is old and not shown in the shop), you can still ask for placing a particular order for it. But the MOQ may be increased to 100 pcs and you can get the products on the next day.
The low MOQ makes it very easy to collect more styles and enrich your product line.
However, if you want to take just 1-2 pcs as the sample, some shops may reply that they do not accept retail order, or they will charge 3-5 times of the wholesale price for buying the sample.
4. How to get information more efficiently and make yourself convincing to the shopkeepers within 10 mins?
To make it easier for you to understand how to make a purchase in New Asia market, let's take buying item Glass Film for HUAWEI mate20pro as an example, to guide you through a complete sourcing trip inside the market.
Step1. We buy a sample from one local retail shop, which we think quality is acceptable, and make it a standard sample for checking the market. (With a reference sample is much easier for you to get what you need, even if you cannot get 100% the same.)
Step2. We pick those shops displaying ONLY glass film and ask them if they have the model for mate20pro (you do not need to show your sample at the beginning)
Step3. Most of the shops we pick will bring out their sample, and start to ask some questions. 
Please take note of the questions asked by the shop, they are the keys affecting the price of the product you select.
For example, the first shop asked us the below questions:
Edge Glue or Total Glue

Mini size or Origin Size

0.3 thickness or 0.2 thickness

Loose pack or Ready color box pack
You can ask the shopkeepers what are the differences and gain good learning about the product.
Step4. When you discuss with the latter shops, you can directly tell your specific product requirements from the above lessons, and ask them to quote the bottom-line price. The shopkeeper will consider you as an experienced player of the market and will more likely to quote a better price.
5. Where to find electronic repair items in the whole market? 
On the opposite of the New Asia market, the NAN FANG building market and WEN-YUAN (文园电器交易市场) market, are the concentration area for electronic repair for mechanical watch and accessories. 
If you want to find the Phone Screen, Electronic microscope, testing machine, etc., here is paradise.