The Bill of Lading (BL) was historically used only in sea shipping, but today it applies to any mode of shipping. Generally, when speaking of BL, we mean marine BL or ocean BL. It is a core document that can help control international trade and shipping risks. People engaging in international trading are supposed to have a good understanding of BL. So I write this guide, with a focus on the following 6 aspects.
You can navigate to related content via the above links.
What is the Bill of Lading in Shipping?
Meaning and 3 Functions
A bill of lading, abbreviated as B/L or BOL, is the document issued by carriers and used to pick up goods. Carriers can be shipping companies and freight forwarders. The latter is more familiar to us. Because in real business, we deal more with freight forwarders, as shown in the below image.

In shipping, BL typically has 3 major purposes.
1. Title to the shipped goods.
This is the most important function. It is kinda like your certificate of real estate ownership. The difference is that BL is more flexible. Just like the bill of exchange, BL can be transferred as well but requires endorsement.
Generally, people possessing the original BL have the ownership of shipments listed on the BL.
2. The receipt of shipments.
BL is a receipt issued by carriers to shippers, simply put, from the freight forwarder to the seller. Forwarders use it to confirm that they have received goods.
3. Evidence of the transport contract.
BL specifies the type of goods, quantity, and destination. Sometimes it also includes specific terms of shipment. Remember that BL is not an actual contract, but a document providing evidence.
When speaking of BL, generally we mean ocean BL. For air freight, we call it air waybill. For railway freight, we call it rail waybill.
The fundamental difference is that the ocean BL is a document of the title to the shipped goods and it can be transferred after endorsement. While air waybills and railway waybills are not documents of title, so they cannot be transferred.
Under Different Incoterms, Who'll Get B/L?
Under all Incoterms, freight forwarders issue BL to sellers who are the owner of goods and the shipper in most cases. Taking CIF, DDP and DDU terms as an example, sellers arrange the delivery as the shipper and get the BL, usually 2-3 days after the vessel leaves.
What is controversial here is the FOB term. Under this term, buyers book the shipping container space as the shipper while sellers are responsible for loading the goods on board as the cargo owner. In this case, freight forwarders issue BL to the seller, that is, the cargo owner. Only with authorization from the seller can forwarders give BL to the buyer. Sellers will give the forwarder authority to do that only when they have received the full payment before shipping.
Under the EXW term, there are two situations. If buyers want to make the payment within a period as negotiated or sellers need a drawback for export duties paid, BL will be given to sellers. If there is no need to control goods, BL will be given to buyers by default.
The supplier will transfer B/L to you after you've paid for the order, no matter which payment term you choose, L/C, D/P, T/T, etc.
Bill of Lading Example | Key Info You Must Read
The BL form varies from one shipping company or freight forwarder to another one. However, the contents of BL are basically the same. You'll find a series of key info on any bill of lading.
Here I use a BL example to explain it.
1. Shipper
Usually, this is your product supplier which can be a factory or trading company. Here the info includes your supplier's company name and address.
If under the L/C payment term, here the info must be the same as L/C's, as the bank would strictly check the BL.
2. Consignee
The Consignee is you. Here the info includes your company name and address. If necessary, it is OK to add telephone, fax, or code.
If it is the Order BL, here will be "to order" or "to order of XXX". If under L/C, here the info must be the same as L/C's, usually the bank. If it is an airway bill, this column must specify the info of you or your agent.
3. Notify Party
Notify Party is the person who will be notified to pick up cargo when it arrives at the destination. Usually, you'll see "same as consignee".
If under L/C, here the info must be the same as L/C's, usually the buyer + bank.
4. Bill of Lading No.
Generally, you'll see it in the upper right corner of the BL.
5. Vessel/Voyage
That is the name of the vessel, the sea route, and the number of voyages. Knowing this info, you can easily find out when the vessel starts shipping and arrives, including what port it passes through in the process.
If it is an air waybill, this column displays the air flight number and BL No., with which you can check the logistics info on the airline website.
6 & 7. Port of Loading, Port of Discharge
Names of the departure port and discharge port. If your goods need to be transshipped, the transit port can be listed after the port of departure or destination.
If under L/C, here the info must be the same as L/C's.
8. Shipping Marks & No., Packages, Description of Goods, Gross Weight, Measurement.
These are all cargo details.
Marks: it refers to the signs, numbers, and text info marked on the outer package boxes. Fill out it as required by L/C, if there is. Otherwise, keep it the same as the shipping mark info on the commercial invoice. If there is no shipping mark, here will be "N/M".
Packages: in the case of FCL, usually the quantity and model of containers; in the case of LCL, generally the number of packages.
Description of goods: if under L/C, here the description must be in line with the L/C's requirements.
Total gross weight and total volume of goods: here the info must be in line with the L/C's requirements. Otherwise, the gross weight is generally shown in kilograms, and the total volume is listed in CBM.
9. Date of Issue
The date when goods are actually loaded. In the case of L/C, this date must be consistent with or prior to the date of shipment required. If your supplier cannot make it, he will notify you to change L/C.
10. Original B/Ls
Three (3), as shown in the sample, means the third of the three BL originals. If under L/C, there is a clause — a full set or even 3-3 full sets of BL.
On the bottom right corner of BL, you'll see the info of carriers, shipping companies, or freight forwarders.
The BL is valid only with the signature or seal.
A set of BL is for one order, not one shipping container of goods.
For buyers, there is no need to fill out the bill of lading. Usually, your supplier or the freight forwarder will deal with it for your shipments.
JingSourcing ships goods at competitive prices
Most Common 2 Bills of Lading: House BL and Master BL.
Master bill of lading, Master B/L or MBL, and house bill of lading, House B/L or HBL, are 2 categories of ocean BL, also called marine BL.
Under L/C, if an ocean bill is required, it is a must to submit the MBL to the bank; if a marine BL is required, it is OK to submit HBL to the bank.
So, what's the difference between a house BL and a master BL? In general, MBL and HBL are different in terms of the issuer, cargo received at the destination port, and fees.
Issuer
Shipping companies such as Maersk and COSCO issue MBL. Typically, the bottom seal shows "as carrier".
Freight forwarders issue HBL on the basis of MBL obtained from shipping companies. Typically, the bottom seal shows "as agent for the carrier".
Not all freight forwarders are able to issue HBL. In China, forwarders have to present themselves to MOT, Ministry of Transport of the People's Republic of China, and obtain the qualification of NVOCC, Non-vessel operating common carrier. And after paying the deposit of $120,000, forwarding agents are qualified to issue HBL. This does not mean that all of them are reliable.
Cargo Received at Destination Port and Fees
After receiving the BL from your product supplier, you shall use it to receive goods at the destination port. In this respect, there exist some differences between MBL and HBL.
With MBL, you can directly pick up goods. Take it to the shipping company or its agent at the destination port, and get a delivery order (D/O) for customs clearance, tax payment, and receipt of goods.
With HBL, you should take it to the agent of forwarders at the destination port to switch it for MBL. The next steps are the same as the above.
As you can see, HBL requires an extra step — switch bills. This requires fees, usually $75-$100. In contrast, there is no such charge in the case of MBL.
What I suggest here is to find a reliable forwarder, who will charge you in a reasonable range and tell you that price when quoting. One more thing, if you receive several different freight quotations, you'd better put the freight quote and the fees at the destination port together, and then make a comparison to know which one is really lower in the total shipping price.
From the above, we know MBL is more convenient for buyers to receive their cargo. Moreover, MBL is safer than HBL. Figuratively speaking, MBL is kinda like the document acknowledging debt given by the bank, while HBL is that given by small companies.
Here you might wonder why HBL is still widely used in global trading and shipping? Actually, there are 3 major reasons. Keep reading.
3 Reasons to use HBL
LCL shipments
For FCL shipments, it is allowable to issue MBL or HBL. While for LCL shipments, only HBL is available.
Document requirements
For shipping companies, when issuing the MBL, it is troublesome to display some kinds of info as required by the L/C of buyers.
For example, some shipping companies can only show the specific port of departure on the MBL, such as Yantian, Shekou, and Chiwan. They are all docks in Shenzhen. But the L/C requires that the departure port must be Shenzhen. In this case, you can choose to modify the L/C, but there is a charge, or you can choose to use HBL, which is more flexible and can meet L/C requirements.
Freight rates
By using HBL, freight forwarders can apply to shipping companies for lower freight rates.
In short, compared to shipping companies, forwarders approach BL more flexibly and usually offer discounts. Most cross-border sellers, especially e-commerce sellers, often choose freight forwarders and HBL.
JingSourcing helps you find reliable forwarders to ship goods at competitive prices
Original BL, Surrendered BL, Seaway BL | When to Use It?
For sea transportation, it is common to see original BL, surrendered/telex release BL, and seaway bill. In general, it is a must to use the original BL under L/C. Otherwise, it is OK to choose any of the 3 shipping document forms and write it down in the contract. For sellers, original BL is less risky. While for buyers, surrendered/telex release BL, and seaway bills are less risky. Keep reading to know more details.
Original Bill of Lading
Generally, BL is issued in a full set, 3 originals plus 3 copies. To pick up goods, it must be the original BL. Sellers can transfer it to buyers through the bank or express delivery. In the process, the issue of being lost or delayed may occur, which will lead to a series of troubles. This is why the original BL is usually in triplicate, each of which has the same legal effect.
How Many Original B/Ls Should Sellers Send?
It is up to the requirements to take delivery of goods at the port of destination. Generally, the freight forwarder will confirm that.
If it requires only one original bill of lading, there is no need to send 3 originals and 3 copies. The remaining two originals and three duplicates will automatically become invalid after you switch bills at the port of destination. In case the original is lost in the process of sending, you can ask your supplier to send the remaining 2 originals and 3 copies.
Once 3 originals are all lost, there will be many troubles. In terms of MBL, there is a need to issue an L/G (letter of guarantee), announce its loss in the newspaper, and even pay a deposit according to the value of goods, often twice the cargo value.
In addition, the regulations for switching bills vary by country and shipping company. Previously, some importers encountered such a situation: at the same destination port, the first shipping company required one original to pick up goods, but the second shipping company required 3 originals and 3 copies. Without confirmation, only one original was sent.
To help solve this issue, the supplier handed over the remaining 2 originals and 3 duplicates to the Chinese shipping company and asked for a certificate, which was used to receive the cargo. This process takes a long time, which would affect your receipt of goods in time. So, it is essential to confirm it in advance.
What If You Found Something Wrong with the Original BL?
First, changing MBL is more problematic than changing HBL. Suppose there is something wrong with MBL.
If you found errors one week before the vessel arrives at the destination port, it is convenient to amend the BL. Because the departure port puts data of shipments into the customs system 7 days before the vessel arrives at its destination, then, the destination customs officers check it. At this point, you need to write an L/G to your forwarder and ask him to help you revise the BL. Of course, you bear certain expenses.
If you found errors on BL after the vessel arrives at its destination, it is difficult to make changes. Basically, the number of packages or weight cannot be changed, as the former affects the handling of goods at the port and the latter relates to tax payment.
Surrendered or Telex Release Bill of Lading
There is "Surrendered" or "Telex Released" on BL. When using such BL, there is no need to send the original BL. So the problem of "goods waiting BL" won't occur. Especially for short-distance ocean transportation, for example, from ports of China to South Korea, it is easy to encounter the issue — goods have arrived at the destination while the original BL has not arrived yet. This results in a delay in the cargo receipt, followed by extra costs like cargo storage charges, etc.
How Does It Work?
Knowing the following 3 steps, we'll understand how Surrendered or Telex Release BL works.
Sellers write an L/G, saying that they have received payments and goods can be released. Usually, the forwarder will offer an L/G template to fill out.
Sellers put the official seal to make it valid, then give it to the forwarder.
The forwarder submits it to and communicates with the shipping company for a scanned BL copy with the seal of "Surrendered" or "Telex Released".
With the L/G, the shipping company will notify the destination port by means of e-mail or fax, of which shipments (BL NO.) can be released without any need for Original BL. In other words, buyers can take over goods using Surrendered or Telex Released BL.
Note: if shipping companies have issued the original B/L, they'll require a return of it with the full set, then issue Surrendered or Telex Released BL. Of course, shipping companies will charge telex release fees, usually $30-$75/MBL. There is usually no telex release charge for LCL sea freights.
One more thing, for the surrendered or telex released BL, there must be a specific company name in the "Consignee" column, which can't be "To order". So, it is neither necessary nor possible to endorse this kind of BL.
Seaway Bill
Seaway Bill, abbreviated as SWB, is also a document used to pick up goods, not a document of title to goods. With SWB, buyers can take over the cargo without the original BL or telex release BL. Just like receiving a parcel, buyers sign it directly without the seller's consent. In global business, parent companies and subsidiaries will use SWB. Or buyers and sellers, who trust each other very much, might use it as well.
From the above, we can know SWB is convenient for the receipt of goods but accompanied by a high risk. With regard to SWB, shipping companies are very cautious about issuing it, which is usually confined to freight prepaid shipments. Few freight forwarders dare to do that.
Usually, it is a need to apply SWB before the vessel leaves. After the vessel leaves, you can change SWB to telex release BL, but you can not change telex release BL to SWB.
3 Common BL Types That are Easy to Confuse.
In this section, we focus on 3 essential BL types that many clients tend to confuse.
Order BL, Straight BL, and Bearer BL
Switch Bill
FCR
Order BL, Straight BL, and Bearer BL
Order BL
If the client does not make full payment, it is best to issue an Order BL. We'll see the "Consignee" column to be "To Order" or "To Order of XXX". And we can transfer it throughout endorsement.
There are two common kinds of Order BL.
To Order: Freight forwarders deliver goods according to the seller's instructions. In practice, the person holding the original "To Order" BL can take over shipments.
To Order of XXX: Freight forwarders deliver goods to the designated person, XXX. It is often a bank under L/C or

D/P

payment terms, i.e. "To Order of XXX Bank". That is, the bank will endorse the BL, then hand it over to buyers or their agent for the receipt of goods.
Straight BL
On straight BL, there must be specific info in the "Consignee" column. That means only the listed consignee can take over goods. Besides that, sellers can't transfer the straight BL to other people. According to the conventions of some countries like the US, as long as the person can prove that he is the consignee listed on the straight BL, he can pick up goods even if he doesn't have the original BL.
Therefore, straight BL is proof of the cargo receipt and transportation contract, not a document of title to goods.
Bearer BL
On bearer BL, there is no specific info in the "Consignee" column. And we can transfer this BL form without any endorsement. So it is very easy to take delivery of goods. However, it is highly risky, as whoever holds it can pick up goods. In practice, it is rare to use bearer BL.
Switch Bill of Lading
In the tripartite business, trading companies usually use "switch B/L" to set a firewall between the purchaser and original manufacturer, thereby protecting its business info.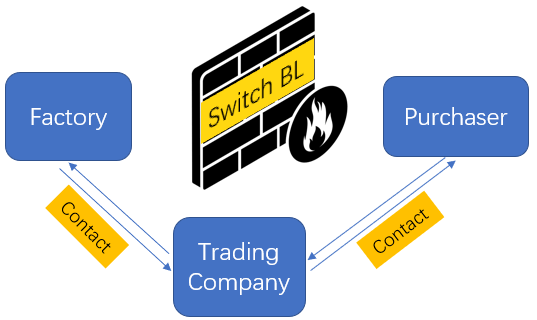 Here I use an example to help you better understand how it works.
Example: Retailer A in the US placed an order — $500,000 LED lights to a Hong Kong trading company. The trading company found a factory in Foshan for order production and packing. The destination port is Los Angeles.
In this case, the Hong Kong trading company will use a switch BL. Let's have a look step by step.
Step1: Foshan XXX Factory loads products into containers locally, and then sends shipments to the port for the loading, Yantian port in Shenzhen, which is close to Foshan.
On the BL, the shipper column is "Foshan XXX Factory", and the consignee column is "Hong Kong trading company".
Step2: Once goods are loaded on the vessel, the factory will receive B/L, usually 2-3 days after sailing. The factory will send the original BL to the Hong Kong trading company after receiving the order payment.
Step3: Hong Kong trading company will return the first set of original BL to the shipping company and ask for a new set of BL. This time, the shipper will be the "Hong Kong trading company" and the consignee will be "Retailer A". Then, send the new original BL to Retailer A.
Step4: After shipments arrive at the port of Los Angeles, Retailer A uses the original BL to take over his goods.
In this way, retailer A will never know the real manufacturer info from the original BL he gets.
For switch BL, we can only change shipper, consignee, notify party, and the place of issue. In orther words, we can't change the description of goods, packages, weight, and volume. Additionally, the date of departure and the vessel name should be the same as that on the first set of BL.
FCR
FCR is short for Forwarders Certificate of Receipt. In practice, it is easy to confuse FCR with BL. FCR is only a receipt from freight forwarders, not a document of title to goods. It only means forwarders have received your cargo and will transport it as required by the FCR. It has nothing to do with picking up goods. FCR is mostly used under FOB and EXW terms.
JingSourcing offers good quotes & ships goods at competitive prices
The End
Reading here, I hope you'll better understand what B/L is in shipping and how to use it. Should you have any further questions, leave comments below.
If you want to ship from China at competitive prices, just contact us for support. We're Jingsourcing, a leading sourcing company in China. We have helped clients in different scales of business to source and ship products from China in a cost-effective and flexible way.