Recently, many customers email us to help source balancing scooter suppliers. I have to say it is one of the hottest products in the world now.
By searching on Google trend, we can see it becomes a hot topic since this year, and still, keep going up. America and UK are the two most popular countries, and now spreading to Australia, Canada, and Europe, seems like everyone wants a balancing scooter for the best Christmas gift.
In this article, we will give a complete introduction of how to import balancing scooters from China, and also offer you several solutions when you got problems in importing balancing scooters from China.
Is It Too Late to Start Balancing Scooter Business?
Last month, a customer from Germany wanted us to help him source balancing scooters because he found that this product was so popular in US and UK. However, he is worried is it too late to start this business now.
Time and region trends in Google trend
Recently, we talked to several shipping companies that worked with, and checked customs figures of our province, then found out most balancing scooters are exported to the US and UK since the end of 2014. But during the past two months, the quantity exported to other countries keeps growing.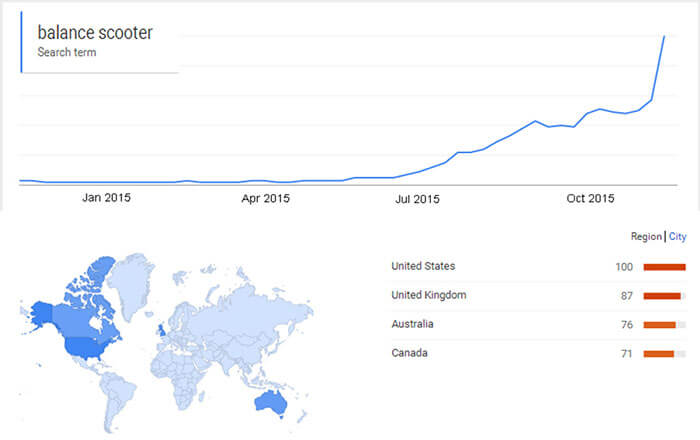 Time and region trends in Google trend
For importers from America and the UK, it's really a little late to start this business now, you will find lots of competitors around there. And the US has a patent issue which means not easy to import this product (we talked about this issue in another article). But for importers from other countries, it will be still a good choice. Few competitors, plenty of potential customers, so it's really worth trying.
Choose the Right Types of Balancing Scooters
Except for the outer design and color difference, two-wheel balancing scooters made in China can be divided by tire size and battery power. Tire sizes usually range from 6.5" to 10", and 6.5" and 8" are the most popular sizes.
Being an electronic product, the battery is the essential thing that matters the quality. That means paying more attention to the battery helps you buy high-quality balancing scooters. The supplier usually offers two types of batteries, 4.4Ah and 2.2Ah, with LG/Samsung band or no brand. The price difference of battery will maximum to $20.
Balancing Scooter with Samsung or LG batteries can give the guarantee of high quality, but those with no brand will have a short lifetime and sometimes even not safe.
How to Find Good Balancing Scooter Suppliers in China?
Balance scooter is not that difficult to produce as it seems. Small factories can purchase wheels, enclosures, and circuit boards from different
suppliers, then just assemble them together with the battery. That's why there are thousands of Chinese suppliers selling it on Alibaba, Global sources, Aliexpress, and it will be tough work to find the right one.

Spare parts are easy to buy on the Internet
If you want to import this product in quantity, Aliexpress will be not a good choice here, because most suppliers there are doing retail and tiny wholesale business. Purchasing on Alibaba and other B2B platforms or searching on Google will be the best way. But you should be more patient and careful to select good suppliers.
Another thing is to make sure where the supplier is located in China. Balancing scooters are mainly produced in Shenzhen and Yongkang, the former is China's capital of electronic products, while the latter is the capital of scooters and hardware. So suppliers from these two cities are most possible to be factories.
How to Ship Balancing Scooter?
Due to the airline's rule of not shipping batteries over 100Wh power, now all air freight companies and international express (such as FedEx, DHL, and UPS) do not accept ship balancing scooters. Because its battery is around 150Wh. But there are very few international express agencies that will help to ship 1 or 2 units, with a high price.
So far, the easiest and safest way of shipping balancing scooters is by sea. But your total volume should not be too small, at least 10 units, around 0.5 CBM. If your quantity is really too small, you can ship them together with your other products. The sea freight is only 10% of the air freight fee.