Wooden toys have always had an advantage over other toys because of their strength, smoothness and longevity. 90% of the wooden toys on this planet are manufactured in Yiwu and Guangzhou, China.
I created this comprehensive list of some of the most popular wooden toys for your reference based on our sourcing data. Hopefully, it'll give you some inspiration in regards to purchase and wholesale.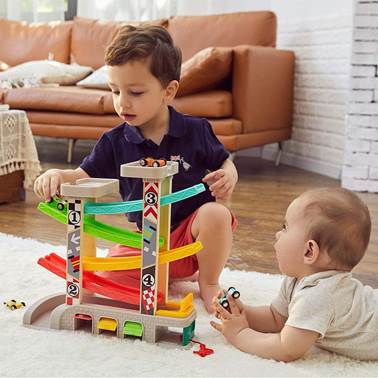 Wholesale Price: $1-$3
Dimension: 12.2"L x 3.9"W x 9.8″H
Age: 1+
Weight: 1.1kg
This fun slide of 4 ramps and 4 wooden mini cars is a good pre-school companion. The parts can be easily assembled with a screwdriver and before you know it, your little one has cars zooming all over.
2. Wooden Building Blocks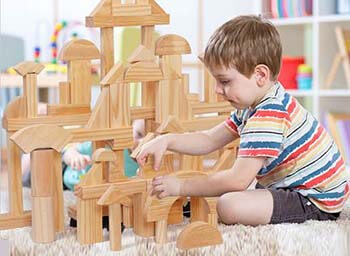 Wholesale Price: $18-$20
Dimension: 12.4"L x 14.6"W x 2.5"H
Age: 3+
Material: Basswood
Origin: China
Weight: 2kg
How about making a builder out of your child? These classic wooden blocks can be stacked together into beautiful little edifices. Though just sixty smooth unit blocks, you'd be amazed at what magic can be created through them. Kids learn forces, balancing and basic maths as they have fun with it.
3. Building Blocks Marble Run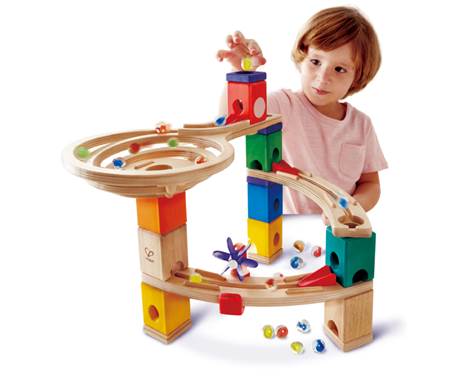 Wholesale Price: $18-$35
Dimension: 13.77"L x 13.77"W x 3.15"H
Age: 3+
Weight:1.9kg
Imagine watching your little engineer assemble a track and make 30 pieces of marble run through it. That's the satisfaction this toy offers. It enhances the visual-spatial and building skills of children and it's great for helping them spot patterns.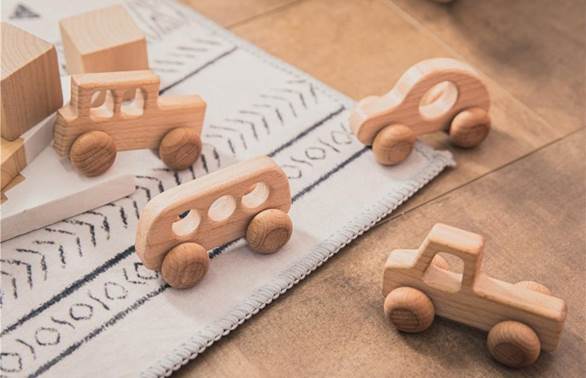 Wholesale Price: $3-$4
Dimension: 7.5″H x 2.25″W x 5.25″L
Age: 1+
Material: Non-toxic wood
Origin: China
Weight: <1kg
This wooden baby teething car can be wheeled along varying textures of surfaces. Being only 3.35 inch long, they are perfectly handy for babies and toddlers. They possess some distinct features like bright colours, bold patterns and a smooth feel. Also, they're good for encouraging fine and gross motor development.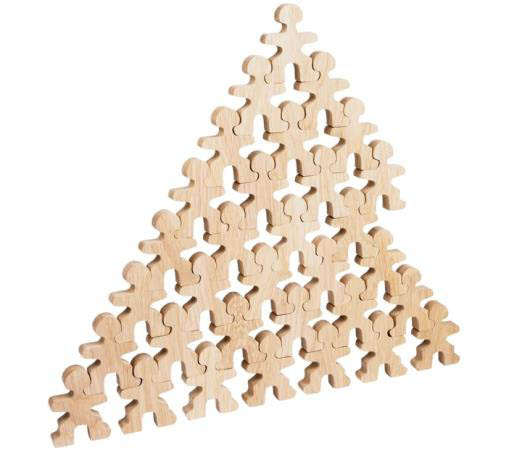 Wholesale Price: $28-$32
Dimension: 2"L x 2.7"W x .5"H
Age: 1+
Material: Non-toxic wood
Weight: 1.9kg
Arrange, stack, and repeat. This classic toy is made up of 32 pieces that can be stacked and balanced into a pyramid, tower, bridge or even character set for a story. It helps in building hand-eye coordination, and it's safe for infants since it can't be swallowed due to its size.
6. Magnetic Blocks - 6-Piece Set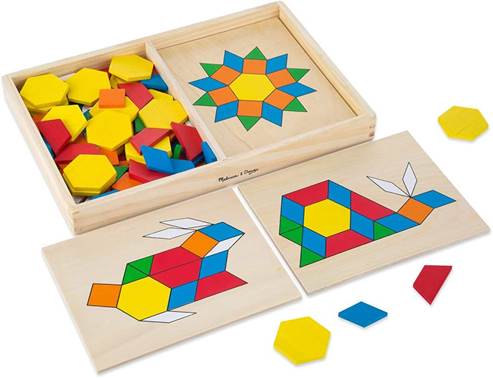 Wholesale Price: $15-$20
Dimension: 1.50"L x 8.75"W x 13.00"H
Age: 6 months+
Weight: 1.4kg
This trendy set of 120 wooden boxes of varying sizes and colors teach kids to enjoy math and patterns early on. This toy is one to guarantee continuous fun as kids can choose to group the blocks, count them, or even create linear patterns with them.
7. Wooden Bird Stacking Toy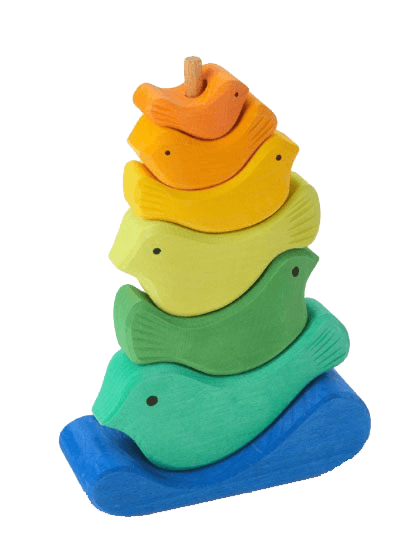 Wholesale Price: $30-$45
Dimension: Base – 8.5 x 5.75 x 2 inches; Largest Bird – 5″; Smallest Bird – 1.8″
Age: 6 months+
Ever wanted something in-between a puzzle and stack tower? Well, now you have it!
This wooden stacking toy has six coloured birds which are arranged to fit together in a vertical arrangement. The stacks are held together with a rod that runs through them. It's knowledge, pleasure and everything in-between!
8. Natural Wooden Rainbow Toy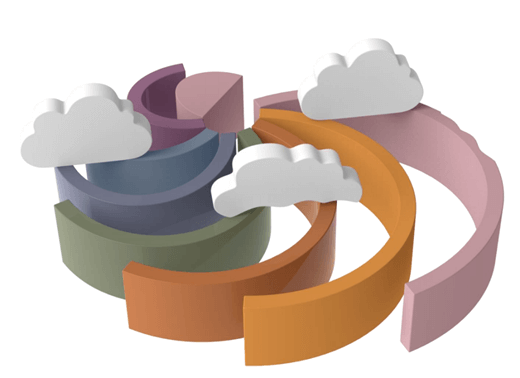 Wholesale Price: $6-$8
Dimension: 14"L x 6.5"H
Age: 1+
Weight: 85g
This 8-piece rainbow baby teether is an amazing toy with endless possibilities. The parts can be arranged to form a rainbow, gnome cave, bridge, tunnel, and basically anything your child can imagine. The wood is made from alder wood coated with an oil-based finish.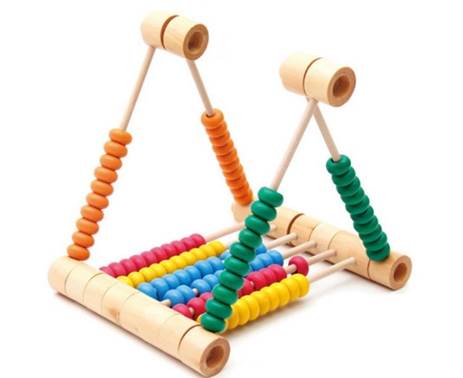 Wholesale Price: $4-$6
Dimension: 9.01"H x 9.01"W
Age: 3+
Weight: 400g
Ten rows of ten brightly colored beads, a mixture of fun and education doesn't get much better than this! While pushing back and forth, children get to learn simple counting and arithmetic with this wooden abacus.
10. Tic-Tac-Toe Noughts and Crosses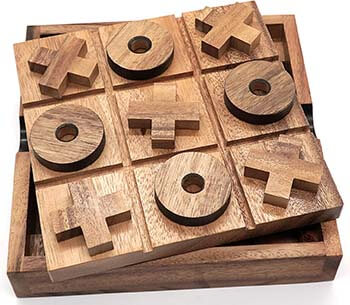 Wholesale Price: $2-$3
Dimension: 4.3"L x 4.3"W x 3.5"H
Age: 5+
Weight: 260g
A wooden classic, this wooden board is used to play the tic tac toe game both indoor and outdoor. It is one to engage you and friends for hours and it improves visualization and strategy skills.
11. Remote Control Wooden Car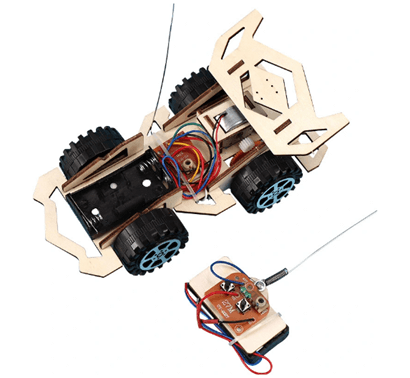 Wholesale Price: $11-$15
Dimension: 5.9"L x 4.3"W x 4.3"H
Age: 14+
Weight: 500g
This trendy and slick wooden car has been sanded to a satin-smooth surface. It's powered by 5 x AA batteries and is controlled remotely (5m range). It is perfect for introducing kids to power transmission.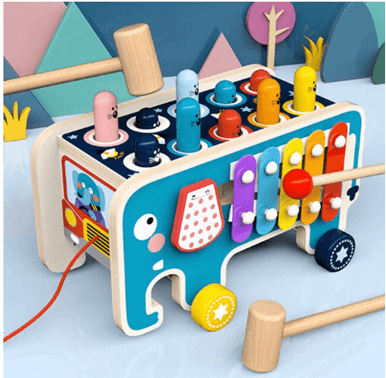 Wholesale Price: $16-$21
Dimension: 10.25″ H x 5.3″ W x 5.3″ L
Age: 2+
Weight: 1.7kg
Like a spring, the pegs on this wooden bench move up and down rhythmically. Toddlers have fun playing with this as the pegs show smiley faces. The hammer and bench are designed to have great strength so you can expect this toy to enhance the colour identification and motor skills of your kids for quite a while.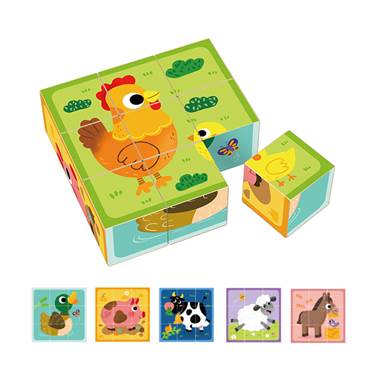 Wholesale Price: $3-$5
Dimension: 5.3"L x 5.3"W x 2.0"H
Age: 1+
Weight: : 408g
This puzzle of sixteen wooden cubes come together to form a nice farm animal picture. The cubes can be rotated to expose their six distinct sides. It builds motor skills and matching skills.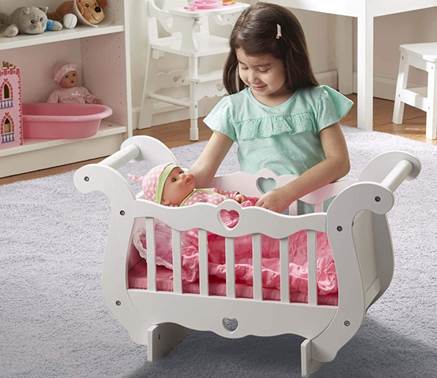 Wholesale Price: $13-$17
Dimension: 29.5"H x 11.8"W x 45.7"L
Age: 3+
Weight: : 16kg
With easy steps, the parts can be assembled into a cradle for stuffed animals, dolls and other objects your child owns. It's great for bringing out the imagination of children as it creates room for them to take on adult roles.
15. Wooden Bowling Game Set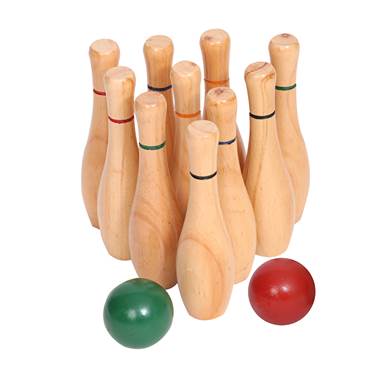 Wholesale Price: $7-$13
Pins: 5" tall, 1" diameter at base
Balls: 6" circumference
Age: 1+
Weight: 2.5kg
Ever wished to have a bowling alley in-house? Well, now you can. This miniature toy has 10 wooden pins, 2 wooden bowling balls, and a muslin drawstring bag to go with it. After setting the pins on a flat surface, you can try all you want to bowl them down.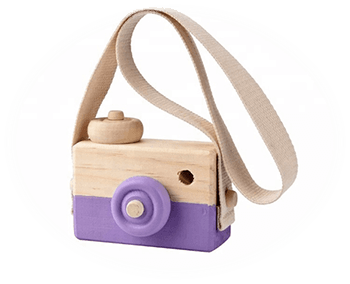 Wholesale Price: $2-$5
Dimension: 5"W x 3"H x 2"W
Age: 3+
Weight: 145g
Wooden cameras can be found on almost every toy retail website. This amazing wooden camera is made of distinct hardwoods with smooth surfaces. With a shutter button and viewfinder, it's the perfect durable camera for kids that love to imitate photographers.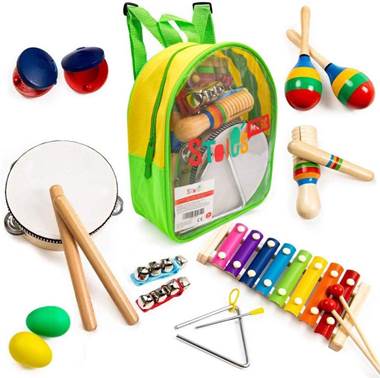 Wholesale Price: $15-$25
Detail: 9 wooden instruments
Age: 3+
Finally, we have the perfect toy for little musicians. This music set comprises 2 maracas, 2 drum sticks, 2 egg shakers, 1 wood sounder, 1 tambourine, 1 xylophone, 2 wrist bells, 2 finger clappers, 2 wrist bells, a triangle, and a striker.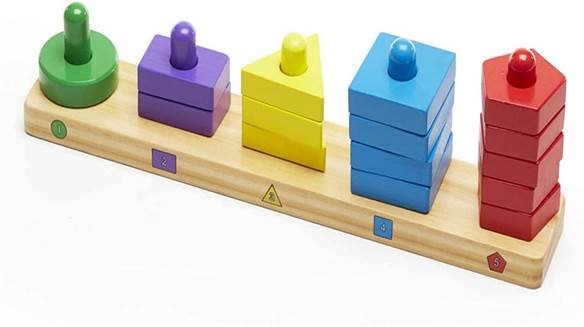 Wholesale Price: $4-$6
Dimension: 13.1"L x 2.3"W x 3.3"H
Age: 2+
Weight: 500g
This colorful wooden peg board with 16 pieces of stackable shapes is an ideal intersection of fun and learning. For safety, the pieces are smooth and are too large to be swallowed. It promotes the development of motor skills, shape identification and counting in little children.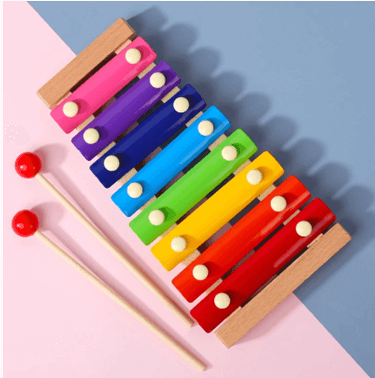 Wholesale Price: $4-$5
Dimension: 7.09"L x 11.02"W x 2.2"H
Age: 1+
Weight: 450g
This wooden xylophone engages the senses of kids through distinct colours and pleasing sounds. It has five bars to produce five different notes and this builds a child's sense of harmony and rhythm.
20. Bead Maze Roller Coaster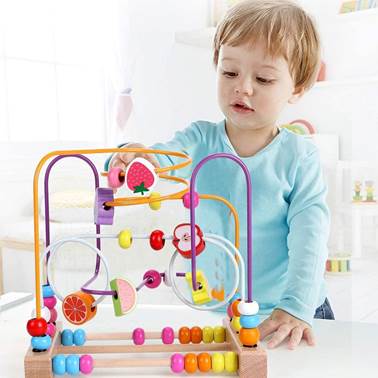 Wholesale Price: $16-$18
Dimension: 8.85"L x 8.85"W x 5.9"H
Age: 1+
This multicoloured bead maze has 18 beads spinning and sliding along wired paths rooted to two wooden blocks. It's intended to teach color recognition, hand-eye coordination and motor movement. This is a classic toy with a peculiar twist..
21. Wooden ABC/123 Blocks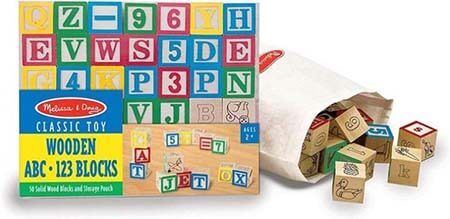 Wholesale Price: $5-$7
Dimension: 8.5″ H x 7.2″ W x 2.5″
Age: 2+
Weight: 1kg
This charming educational toy comprises 50 cube boxes with pictures, letters and numbers to match. Through hours of fun, it will teach your kids word recognition, number matching, and a lot more!
22. Wooden Dentist Toy Kit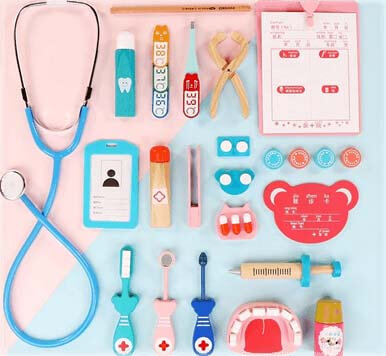 Wholesale Price: $9-$11
Dimension: 5.5"L x 5.5"W x 8.8"H
Age: 3+
Weight: 700g
Children love immersive role-playing so why not encourage them by integrating it into their toys? This wooden set comprises the basic tools of a dentist and has a little linen carrying bag to go with it. With 18 pieces of a dentist's kit, you can be assured of endless fun and continuous learning.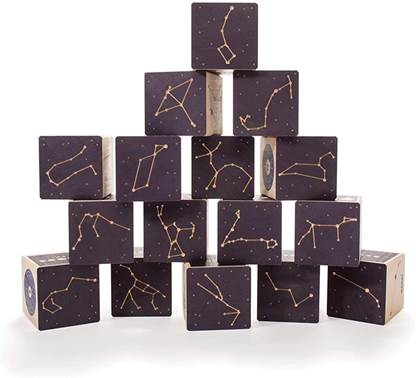 Wholesale Price: $18-$23
Dimension: 1.75″L
Age: 2+
Weight: 500g
This thrilling set comprises 16 constellations which give a beautiful picture of the night sky. Each block shows what a constellation looks like, its name, hemisphere and magnitude. Made up of Midwestern basswood and non-toxic inks, it's a good toy for any child older than two years.
24. Giant Natural Stacker
Wholesale Price: $13.00-$20
Dimension: 7.4"L x 7.4"W x 16.3"H
Age: 3+
Weight: 1.1kg
This relatively large toy of smooth wooden discs is one good way for babies to enhance their gross motor skills and concentration. It features heavy discs being meticulously threaded unto a large dowel. This is, by far, a standout toy.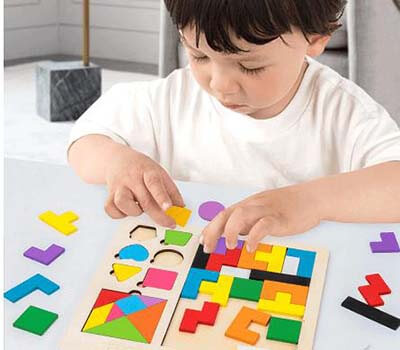 Wholesale Price: $6-$9
Dimension: 8.7"L x 5.9"H x 0.4"W
Age: 3+
Weight: 231g
Imagine a 40-piece puzzle coming together to fit into a basswood board, all for the fun of your little one. It features well sanded and smooth parts with a bag to keep loose puzzle pieces.
It enhances communication, motor and pattern identification skills.
CONCLUSION
We are a leading sourcing agent based in Yiwu, China. We've been helping importers source all kinds of toys at the most competitive wholesale prices since 2015. If you are interested in wholesale toys from China, CONTACT US and let our toy sourcing specialists help you.