Many customers placing orders on Aliexpress will have such questions: Why haven't I receive my parcel after 2-month delivery? There is no updated logistics tracking information, how can I know where my package is? Why do sellers let me wait for more days after I open the dispute? Hence, many customers on Aliexpress will lack a sense of security, and have a question: Is it safe and reliable to shop on Aliexpress?
There are problems mentioned in the above on Aliexpress indeed currently, but if many people regard them as scams, which is exaggerated.
In the post, I will objectively analyze the following most concerned 5 questions and why these problems arise. Then I will give you the most practical tips to help you avoid these problems to have a happy shopping on Aliexpress. This post has a total of 2883 words, 5 mins read, and you can click to jump to the part you have interests.
1. Why do some people think Aliexpress is a scam? (4 reasons)
I notice that 70% of Aliexpress bad reviews are caused by the delivery delay and the unpleasant open dispute and claim phase. Gradually, many customers think that the sellers on Aliexpress are unreliable, and that they can't get a good right protection from the platform.
There are 4 main reasons why customers feel insecure,
There's a long delay in getting the parcel.
The tracking info is not updated timely.
The items buyers receive is not what they expect.
Some buyers think the "buyer production" doesn't work well.
There's a long delay in getting the parcel
Generally speaking, it is about 30-50 days to deliver those goods with free shipping
service, 20-30 days in some places. But in many countries and regions, the delivery
time may be more than 60 days, or up to 75 days. The worst situation is that the parcel
is lost in transit.
In spite of the low price on Aliexpress, but if customers can't receive
the parcel after a long time like 60 days or even 75 days, which can be frustrating. And most of them will ask for refund.

The tracking info is not updated timely
You may find the parcel always in the same airport of China or the destination country without any other updated shipping information 1-2 weeks after placing an order. If you don't receive the parcel after 60 days, you can't judge if the parcel is still on the transit or lost.
Then you will ask the seller about the parcel's shipping situation, in fact, the seller won't know the exact place of the parcel, either. I will explain why sellers don't know the shipping information in question 3.
The items buyers received is not what they expected
If you receive the wrong items, inferiors or the damaged parcel, 99% of sellers are willing to resend products to you. But if you don't want to wait for a long time, you can choose to ask for a refund. Sellers will agree to refund to you.
But there is another situation: you think the items you receive are inferior goods just because it doesn't meet your high expectation.
For example, you spend $30 in buying a pair of so-called the latest Nike shoes with free shipping and you find it not as good as the original ones, so you claim that  sellers are cheaters. Actually, as long as the quality of the pair of shoes can match the value of $30, that is OK.
Some buyers think the "buyer production" doesn't work well
Some buyers think buyer protection service on Aliexpress does not act as a qualified mediator to protect their rights well.
2. Why the delivery times of Aliexpress is so long?
Why are products on Aliexpress so cheap? Many people will think products made in China must be cheap, although it is indeed a reason, another important reason is that sellers on the platform will choose a kind of low-cost logistics. Logistics fees are an important element of influencing sellers' profit margin.
Hence, if they provide you with free shipping service, they must choose an economic shipping way, such as China Post Air Mail.
Although the cost of such a shipping way is low, the transportation time is unstable. It may take over 60 days to receive parcels for those buyers in remote regions. And the customers couldn't check the delivery information in the destination country. In addition, the parcel is easy to lose in transit.
Hence, as I mentioned in the above, 70% of disputes are caused by the delivery delay. But many people will have a question: why is the air delivery so slow?
There are 6 main reasons as below,
There are some unqualified parcels.
During the China post security check process, they usually check the entire bag of goods directly rather than unpack the bag. If there are some unqualified goods in the bag, there will be many more additional procedures, such as unpack the bag to test, refill the bag.
Due to the small size of the postal parcel, a whole bag containing many packages, and it is time-consuming to unpack the bag for tests and repack the bag. This is also an important factor affecting the clearance time of international logistics.
The delay of transfer flights
Most flights need transfer. If it needs 2-3 conversions, it will take a long time. Besides, in case of bad weather or other unexpected situations, the time of transportation will be longer.
A long time is needed for the full aircraft logistics warehouse
Because of the high air shipping cost, logistics companies won't deliver your parcel until the aircraft logistics space is full. Hence, it may take a relatively long time to collect packages.
Low efficiency of customs clearance
The postal cooperation between China post or other logistics companies and the other countries' postal companies is the cheapest international logistics method. 70% of the international e-commerce parcels are delivered by postal service. In addition, customs clearance and delivery are conducted by the public officials of each country.
Because of the limited financial budget, many countries are reluctant to put in extra manpower to assist the customs clearance process. The direct influence is that there will be quite a long time for customs clearance and delivery, especially small postal packages. If you want to speed up the customs clearance process, you can pay for extra money to choose special line logistics.
Change the customs checkpoint
If a customs checkpoint suddenly declares they don't receive a large quantity of international parcels, these parcels will be transshipped to another customs checkpoint. In this phase, there will be some other accompanying problems, for example, it will take a long time to rearrange flight and customs clearance.
Major holidays & major shopping days & major events
In major holidays, customs staff or logistics and distribution personnel also will be on holiday. Hence, it will take more time to operate customs clearance and deliver parcels.
Generally, there will be many parcels being piled up in airport and customs warehouse  after every shopping nodes, and logistics will obviously slow down accordingly.
Besides, during the period of some international events, like globally sweeping virus COVID-19 in 2020, most international flights were forced to be canceled and many staff just stayed at home. Therefore, if you bought products on Aliexpress in February or March, it would be quite a long time for you to receive parcels.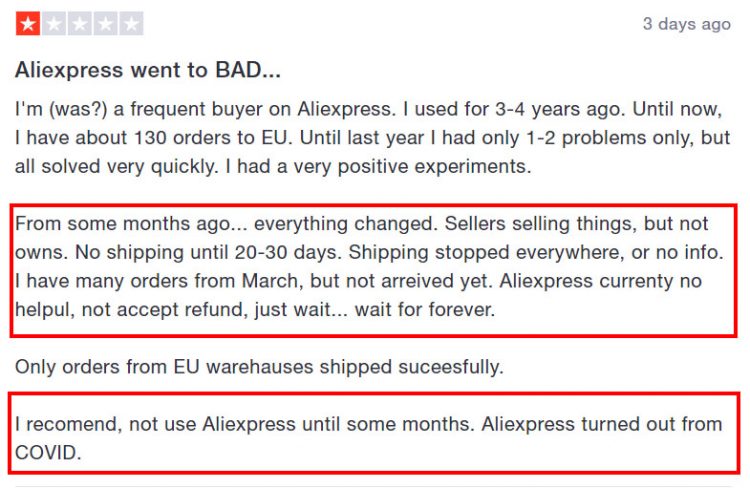 3. What if there's no tracking info or Aliexpress tracking not updating?
Although products on Aliexpress is very cheap, the international logistics service is a headache between buyers and sellers. For some economical logistics, you can just know your parcel has been in the destination country and the expected delivery time. You can't obtain the concrete shipping details.
Moreover, some logistics company just tell you that your parcel has already been shipped from China without other logistics information. Hence, it is easy to lose the parcel.
Generally, there are 4 types of logistics on Aliexpress as shown in the following chart for your reference,
Type of Logistics
e.g.
Shipping Tracking Info
Economy shipping
Cainiao Super Economy, China Post Ordinary Small Packet Plus, SunYou Economic Air Mail, Yanwen Economic Air Mail,etc
Tracking info in China:
The tracking information of the package collection, warehouse entry, out of storage, shipping.

Tracking info in destination country: only some logistics companies provide information about when the parcels arrive in the destination country, but not providing delivery information.

Saver shipping
AliExpress Saver Shipping, Cainiao Saver Shipping for Special Goods, etc.
Whole-process logistics tracking: transportation information in China and destination country(some special countries excluded)
Standard Shipping
AliExpress Standard Shipping, Cainiao Expedited Standard, China Post Registered Air Mail, ePacket, Special Line-YW, etc.
Whole-process logistics tracking(some special countries excluded); shorter shipping time than Saver shipping
Premium Shipping
AliExpress Premium Shipping, DHL, EMS, e-EMS, TNT, UPS, FedEX GATI DPEX, etc.
Whole-process logistics tracking; secure; the fastest shipping method
Economy shipping: it's a shipping way for goods with low value and light weight on Aliexpress. It has a cheap logistics freight standard, but you can't check the delivery information in the destination country.
Saver shipping: providing registered postal service, you can check the tracking information of some key steps, such as delivery and buyers' sign information.
Standard shipping: including registered postal service and special line service, you can check the tracking information of the whole shipping process.
Premium shipping: commercial express and postal express service, it provides fast shipping and the tracking information of the whole shipping process. High-value products on Aliexpress, like electronic products, are shipped in this kind of logistics way.
If the price of products you buy on the Aliexpress is lower than $5, the shipping way is usually the economy shipping. You can't get the detailed shipping tracking information, and there will be a quite long transportation time. To avoid such problems, you can pay for extra money to choose the standard shipping way.
As the free shipping service provided by sellers is usually the economy shipping way, once you choose the service, what you can do is just to wait to the coming of the agreed date of delivery.(usually 60 days at most) The reason is that the seller can't check the parcel status, either, and just can tell you to wait for a few more days.
Generally, in developed countries like Europe or America, the shipping will be more efficient. But in some remote regions, if you choose the economy shipping, it is difficult to deliver the parcels on time, even it may be lost in transit or security check.
You may have a question: why not try other logistics instead of China post? Although China postal packet has demerits, it is still the best choice to ship low-value and light products because of the cheap price and wide service scope (it can reach most countries).
4. How to select the reliable sellers and the right shipping way?
Apart from scanning product reviews and store feedback, you should pay more attention to the product detail pages. A good detail page must be the one that contains all information you want. The following 3 aspects are very important elements:
Product main diagram
Product listing
Shipping ways to your country
Product main diagram
The overall structure, details and glossiness of the product will be truly shown in 6 product photos without excessive beautification. Many sellers will show how to use the product in a short video. For example, the store selling fishing lure displays how to use the fishing lure in the short video.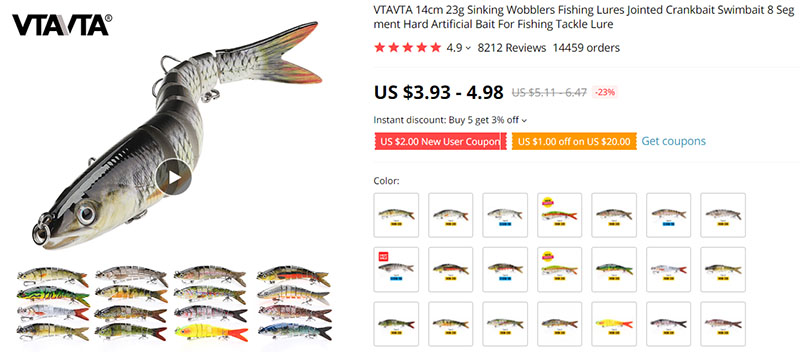 Product listing
In the product listing, all parameters of the products will be stated in the section, including material, packaging, operation instruction, delivery time, after-sales service, etc. Customers can obtain enough sense of security from such a product listing.
Taking the fishing lure store as an example, as many small sellers or startups can't provide such a detailed product listing especially the delivery time chart below, we can conclude that it must be a powerful seller specialized in fishing lure.
Shipping ways to your country
As I mentioned above, cross-border logistics is the problem buyers are most worried about. Hence, if you want to purchase high-value products, you had better pay for extra money to choose standard shipping way.
For low-value small items ($1-$2), if you choose economy shipping way (free shipping), be prepared for taking the potential risks of quite a long delivery time or your parcel being lost, especially in some shopping festivals.
If you have an urgent need for a certain product, for example, you need a swimsuit for your holiday in 1 week. It is advisable for you to check if the supplier has a warehouse in your country, which can reduce the shipping time to a large extent. As shown in the following picture, you can choose the place of dispatch.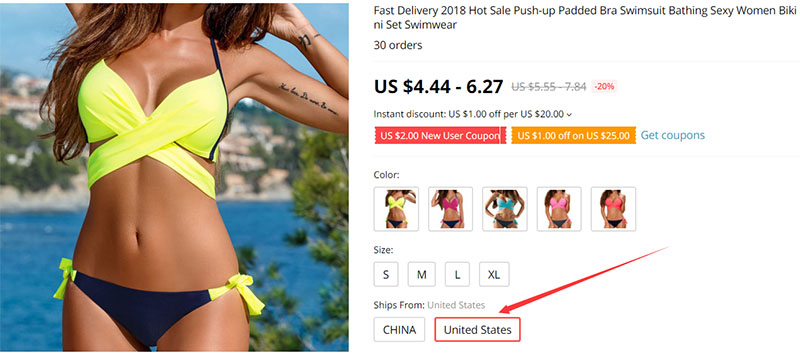 There is a phenomenon before 2016, that customers can buy some brand knock-offs from Aliexpress. But it hardly exists in the current market, as the products without the certificate of brand authorization are prohibited to be sold on Aliexpress.
My suggestions: many products on Aliexpress are indeed very cheap, but you had better purchase products from a good supplier rather than just considering the cheapest price. Generally, if the price is incredibly cheap, the quality or after-sale service will be not very satisfactory.
5. What's the right time to open a dispute and file a claim?
There are many complaints about the dispute from customers. For example, when customers can't receive their parcels after waiting for a long time, they will ask the sellers about the shipping situation, but they don't get any response from sellers.
Or sellers just tell them to wait for more time or extend delivery time directly, such as changing 60 to 90 days. Under such a circumstance, customers will choose to get the refund on the Aliexpress platform.
But there is a rule for you to sponsor refund application on Aliexpress.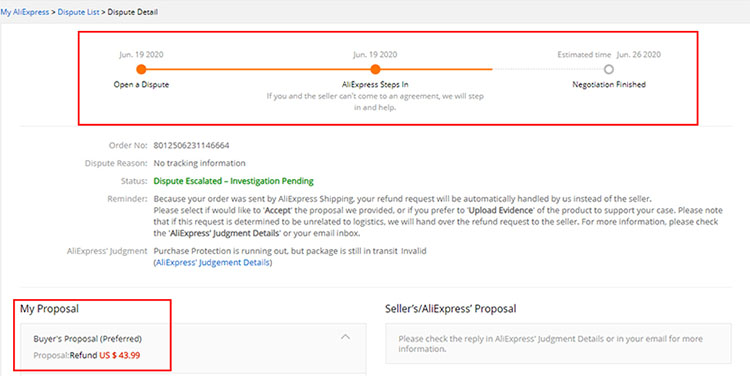 The first situation:
your order is not received within the confirmation date (confirmation dates vary according to the sellers' stated delivery time, usually 60 days maximum calculated from the seller confirming the order having been shipped)
Hence, although you think it is urgent, you are allowed to open the dispute after the agreed confirmation date. For example, the agreed date between you and sellers is 75 days, and you can open the dispute after 75 days.
After submitting the Open Dispute Form, the seller has 15 days to respond and try to reach an agreement with you. If no agreement is reached within the 15-day time period, the dispute automatically becomes a claim (see file a claim). Claims are reviewed and mediated by the AliExpress Case Management Team.
If you don't hear back from the seller or if you feel negotiations are not moving forward, you do not have to wait until the 15-day dispute period ends – you may file a claim within 3 days of opening a dispute.
Therefore, really don't worry too much, as long as you don't get your package, you certainly can get your full refund.
The second situation: if the goods you received is not in a satisfactory condition, open a dispute, and fill out the dispute form provided. You had better explain the issue in an explicit video or photos, then communicate with the seller about partial refunds or full refunds.
If you can't receive any responses from the seller after15 days, then the dispute will step into the claim stage. The Aliexpress will involve in the dispute directly. Under such a circumstance, if sellers should be responsible for the issue, you certainly can get a full refund from Aliexpress.
Because of the uncontrollable international logistics on Aliexpress, it will provide the seller with 15 days to tackle the problems. Hence, the refund process will be relatively slow. Besides, the time to get refund varies from different bank accounts, what you need to do is just to wait patiently and check your bank account.
Different from Aliexpress, Amazon will deal with the dispute directly, skipping the communicating stage between sellers and buyers, so you can get your refund earlier.
To Wrap It Up
Cross-border logistics information often can't be updated timely and will be affected by some force majeure, such as the logistics in Brazil before, the customs detention in Russia, the massive detention of ePacket in some areas, etc., all of which are risks that no one can control.
In recent years, China and many countries have also opened special line logistics to improve timeliness. At the same time, AliExpress is working really hard to identify and eliminate dodgy sellers on the site.
Finally, if you think this post is helpful, you can share it with your friends. If you want to import products from China or dropship from China, feel free to contact us or let me know by leaving a comment below.