No matter if you know what kind of products to import from China, it is necessary for you to do a deep research before importing. Through research, you can judge whether the product is easy and cheap to ship from China, or if it's profitable in the marketplace. Besides, you need to know whether you have relative qualifications to import and sell the products.
But there are many sellers importing products that seem profitable without doing deep research about the products. In the end, they may encounter many problems. For example, they may find it is unprofitable for them to sell the products because of the high shipping cost. Or they lack relative qualifications to sell the products. The direct influence on them is that they will lose thousands or even tens of thousand USD.
So in today's post, I will share with you some practical tips to help you learn how to do deep product research before you import products from China.
1. How to choose good products? Where to discover them?
No matter you are an e-commerce businessman or running an offline store. It is advisable for you to try some e-commerce strategies or tools to choose good products efficiently rather than choose a product you like blindly.
Here are 4 principles to help you choose suitable products,
Principle 1: products that are valuable to customers and can meet their needs
You had better ask those who really need the products you choose about its practicality. For example, if you are a male businessman and want to sell cosmetic storage boxes, you had better let girls give you some advice about the product you choose.
Principle 2: products that are not very easy to get for customers in their daily life
You should choose some products that customers can't buy easily in their daily life instead of importing some ordinary products like T-shirts, socks and towels which are dominated by big local retailers. That's because people can buy such products easily from big retailers, which is analyzed in my last post: What Products to Import from China to Make Good Money?.
Principle 3: products that you can make improvements to let them unique from competitors
Unless you want to develop brand new products, otherwise it is common to notice that many stores are selling the same product as you no matter on e-commerce platforms or offline marketplace. Hence, you had better choose those products that you can make some improvements to let them stand out from other products.
For example, you can integrate your own cool designs into a normal makeup bag or yoga mat so that you can sell them at a higher price than your competitors.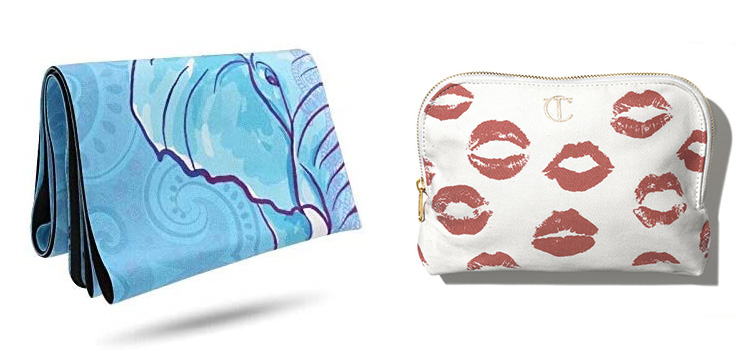 Principle 4: products that have been sold in bulk in the market
As a new businessman who usually lacks good insight into the customer and market, it is advisable for you to choose the products that many people have already sold in bulk in the market.
Although you may just make small money by selling such products, it can reduce the trade risks to a large extent, compared with investing money in one type of product that no one sells or buys. You can gather import and market experience from the first product's importing and sales process, which is beneficial to your success in selling a brand new product afterwards.
Based on the above 4 principles, you can find suitable products with the help of some e-commerce tools. Jungle Scout a tool often used by Amazon sellers, by which you can discover product opportunities of different countries. This tool charges you $49 per month, and it also has 14 days for a free trial.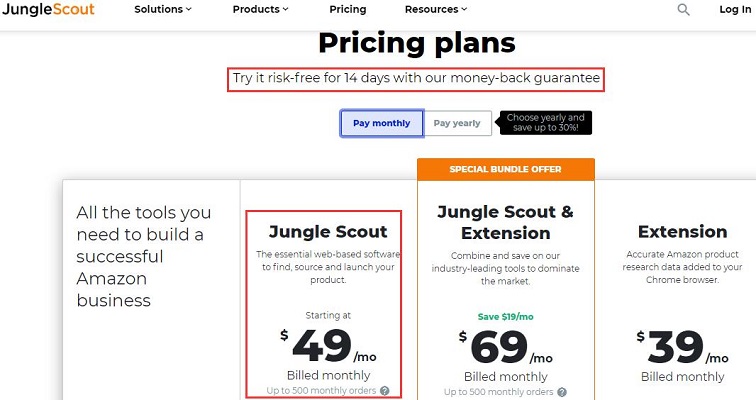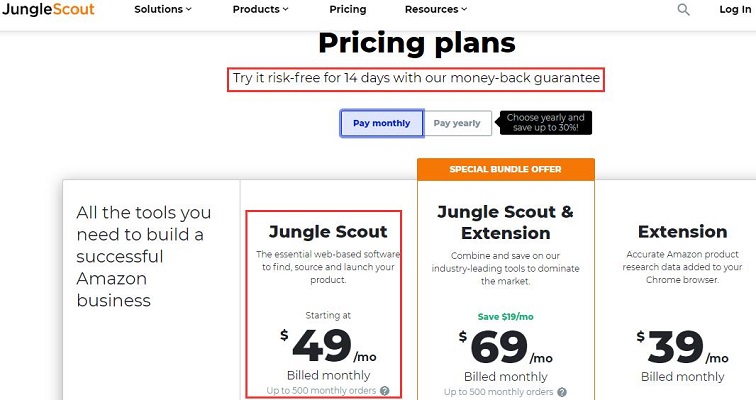 No matter if you sell on Amazon, it is worthwhile for you to use the tool to do product research. In addition, you can choose products by searching Amazon's bestseller list & new releases list on Google.
You can find many tools used by dropshipping sellers to choose products by searching dropshipping product search tools on Google, which are quite different from the Amazon searching products tools.
By using these tools, you can find many product advertisements with a lot of engagements on Facebook. Generally, the video ads of a good profitable product must be played 50,000, 100,000 or even more times. Through the test, you can choose the best suitable tool.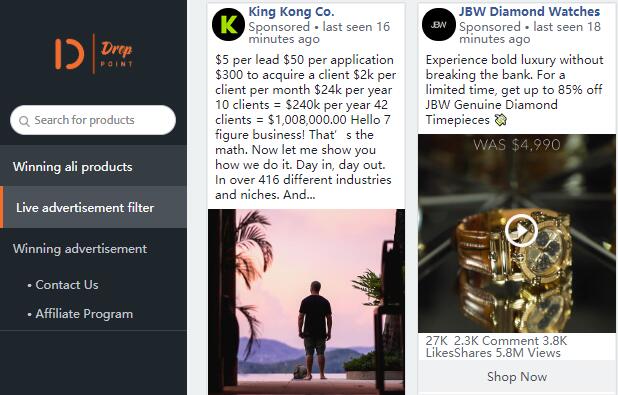 Tips: you should adopt suitable strategies to select products by means of these tools according to your own business model. You had better learn more from tutorial videos about how to select products according to different e-commerce models.
2. Product price research
When you find some products you are interested in, and want to do research about these products' wholesale price of Chinese manufacturers. At this stage,  an approximate wholesale price is enough for you.
The most direct way to know the price is to search for the product on Alibaba. As the price of the products is set in advance, you can buy products with a ready-to-ship button directly without spending time communicating with suppliers.
The price can be a standard for you to analyze the products' profit. But the price usually is set based on a small quantity wholesale, if you want to purchase a large number of products, such as thousands of USD, the price maybe 10% or 20% lower than the one shown on the page accordingly.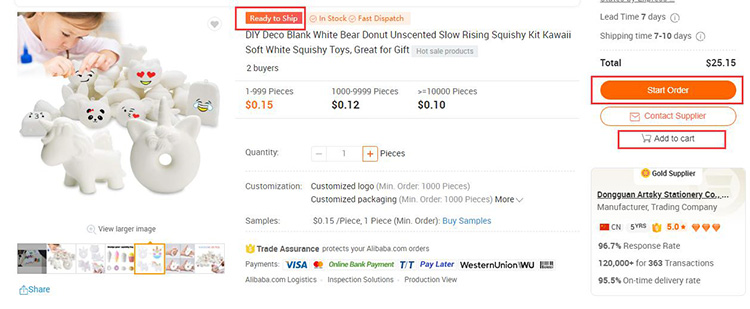 But the price of many products without a ready-to-ship option on Alibaba is incredibly low, which can not be a judgment standard. The reason why they set such a low price is just to obtain your inquiries. Get key tips to use Alibaba better.
Apart from knowing the price roughly, another important thing during the process of choosing products is how to identify the price range of products is suitable for you.
Usually, the retail price in developed countries is 6-7 times as the wholesale price in Chinese factories. For example, a stainless steel vacuum thermos cup's wholesale price in China is $2, the retail price on America Amazon will be $12.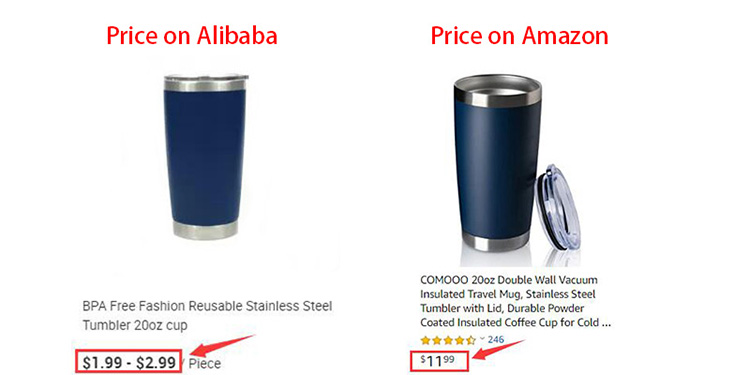 But for low-value products, for example, the wholesale price of a high-quality iPhone USB cable in Chinese manufacturers is $0.3, and the retail price in America may be $3 or higher. In addition, perhaps the wholesale price of high-value products in Chinese manufacturers is $100, the retail price in America may be $200-$300.
3. Shipping solution and cost research
Usually, there are 4 main shipping methods: international express, air shipping, sea shipping, and railway shipping. As a new importer with small business, you had better choose international express or sea shipping, which is suitable choice. International express is mainly provided by express companies like FedEx, DHL, etc. And shipping by sea is a kind of shipping way provided by freight forwarders.
Generally, it will take 7 days from China to America by international express. And if your package weight exceeds 20kgs, the shipping fee is about $6-$7 for 1kg. But the fees usually are calculated based on the bigger parameter between the actual weight or dimensional weight of the goods.
Supposing you want to ship 10,000 disposable paper cups from China to the United States, whose actual weight is 45kgs and volume is 105kgs. Then the fees are about $700: $7*105kgs=$735. The wholesale price of one cup from Chinese factories is less than $0.02, but the shipping fee is $0.07 for one cup. Hence, it is not advisable for you to ship products with low value and high volume by international express.
Besides, products containing lithium batteries, liquid or powders are prohibited to ship by international express.
The sea freight shipping time from China to America is about 30 days, and the whole cost is average $200-$300 for 1m³ including the sea shipping fees and the cost generating in the whole import and export process. Moreover, sea freight shipping usually has a minimum shipping volume of about 2m³. Of course, the closer to China the country is, there will be lower shipping costs and shorter shipping time.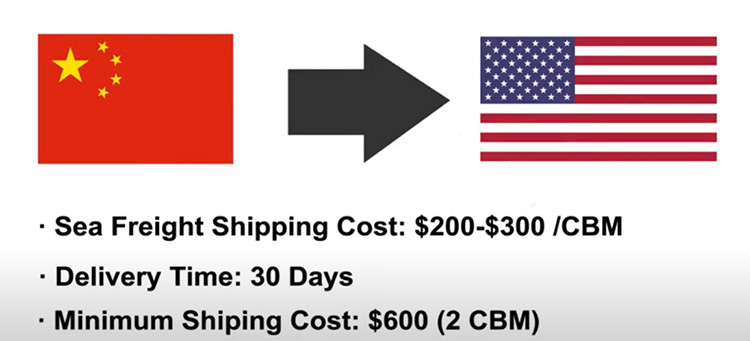 Take hand sanitizers or nail polish for example, you should fill 2,000 bottles of 250ml hand sanitizers or 10,000 bottles of nail polish to fill up with 2m³. So for small businesses, these two products are not good choices. That's because the minimum shipping volume of sea freight is too much for you. Besides, you can not ship them by air, either.
From all the information above, you can roughly estimate sea freight shipping costs or courier service costs for every single of your products.
4. Importing & selling qualification research
Apart from the shipping methods and fees, another important thing you should research is whether you have the import and sale qualifications for the products.
Qualifications in the import process
You should know if there are some compliance certificates for importing certain products, especially for toys, electronic products, medical products.
Except for the certificates, you also need to know whether there are additional requests for importing. For example, there is a rule, as American importers, if you want to import products about food, medicine, health, you should register to be an importer in FBA, and your Chinese suppliers also should register to be the producers in FBA.
Although customs may not inspect the relative certificates for a small quantity, you still had better do some researches and prepare relative certificates in case of your products detained by customs.
The most convenient way to do research is to consult the freight forwarder who can help you with logistics or you can ask suppliers directly.
Qualifications in the marketplace
Apart from the qualifications in the import process, you also need to know if there any other qualifications in your sales channels. Especially when you buy products from China and sell on Amazon, you need to consult them if you need to prepare certificates to allow you to sell on Amazon or you need to know if other Amazon sellers have the product's patent.
If you sell the products with a patent on Amazon, you will be forced to remove the products from your online store. The direct impact on you is that you waste the money paying for the Chinese manufacturers.
In the past few years, there are numerous Amazon sellers failing in their business because of patent issues. However, if you are running a small business and sell the products on your website like Shopify store or sell them on your offline stores, you usually won't have big patent issues.
5. All cost breakdown
As mentioned in the above section, the retail price in other countries usually is 6-7 times as the wholesale price of Chinese factories. But it doesn't mean you will have a high-profit margin. The wholesale price quoted by factories is just a small percent of the whole cost. Hence, it is important to do a cost breakdown analysis before you place an order and then you can judge whether it is profitable to import.
Product sample cost or mockup cost
At first, you should get a sample to conduct a quality test. A sample cost usually ranges from $50 to $100 according to different suppliers, the size of the sample, and so on.
In addition, if you want to customize or develop a brand new product, you should spend a certain sum of money on making a model. The cost ranges from $100-$100,000, and you can learn more about MOQ of products in my post.
Product cost
The cost you should pay for factories to wholesale products.
Certification or qualification cost
If suppliers can't provide relative certificates that your country needs for importing some certain products, you need to apply for relative certificates on your own.
For example, $200 or $300 is needed for applying CE EN71 to import toys. But if your order quantity is larger, the average cost on a single toy can be lower. If you want to import any product that is regulated by FDA, then you need to spend around $4,000 per year to register as an importer in FDA. This is also a very huge cost if your order quantity is not very large.
Shipping cost  
Shipping cost also accounts for a large proportion of the whole cost. Sometimes, for low-value products, the air shipping cost may be more expensive than the product itself.
Import Tariff
For e-commerce retailers with a small-quantity order, in spite of adding up the import tariff, the whole cost won't change a lot. But for bulk importing, 5% or 10% import tariff of product values will be a large sum of money.
Different country has its own standard about the tariff, the simplest way to know the regulation is to search the relative clauses on the tariff tracking website of your country or make a phone call to consult your local customs directly. 
For example, if you want to know the import duty shipping to the USA, you can go to cbp.gov or consult the US Customs which is responsible for charging fees on imported products.
Marketplace cost
You need to spend a large proportion of money in the market, which depends on different marketplaces. For example, the Amazon platform will charge you 15%-20% of the retail price as the referral fee. In addition, there will be fulfillment fees and storage fees. Hence, you need to prepare enough budget to promote your products to get more sales.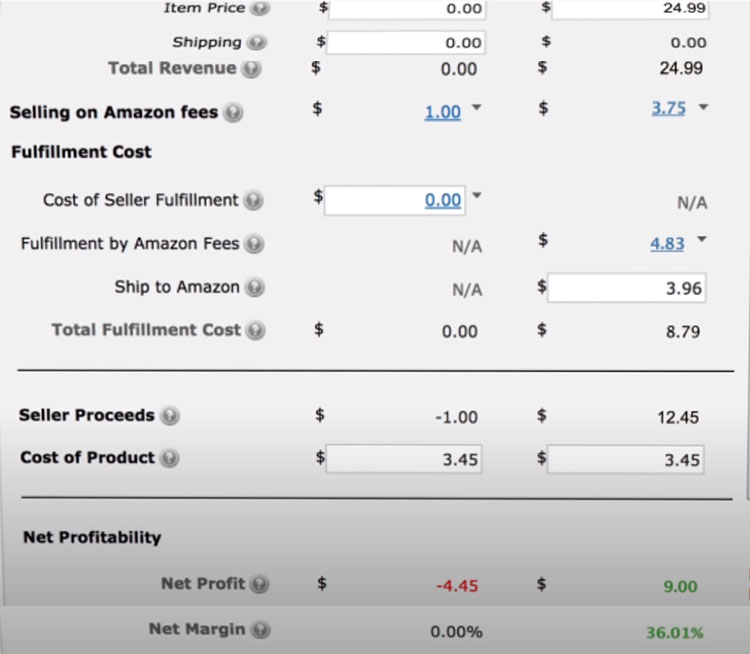 In a word, if you can reach a 20%-30% net profit, it is still a good business. Moreover, you can make a better profit by selling unique products, your own brand products or your patent products.
Now it's your turn
You should realize that you need to do a lot of vital researches before you choose the best suitable product. I wish you can benefit a lot from my post. If you have any questions about how to do product research, free to contact us by leaving a comment.