Lots of importers prefer to buy products directly from manufacturers in China, which can offer a range of benefits, from lower prices to better quality control. They always wonder how to find a manufacturer to make their products. But it is not easy to find a real factory and sometimes you may not need a factory.
After reading today's blog, you'll know why I say this.
Can you buy straight from manufacturers in China?
Many start-ups or importers without international trade experience may think it is easy to find factories to produce on Chinese wholesale websites such as Alibaba, Made-in-China, and so on. Although there are many suppliers on these websites, over 90% of the suppliers are actually trading companies and not real factories.
In fact, finding a real factory is not easy. Some products have very little market demand, so there are also few manufacturers. And most of them are small factories, which place more emphasis on production rather than marketing, making it difficult to find.
Another situation is that the factory did not publish information on the English website. The target customers of these factories are Chinese trading companies, so they mostly publish their information on Chinese websites such as 1688. These are all the reasons why it is difficult for you to find a real one.
Manufacturer vs. trading company: when to choose?
Most people who want to import products from China always hope to find real factories rather than any middlemen or trading companies, which is not always correct. In fact, it is up to your business scale and the actual situation.
If you only focus on one product type with a large order, I recommend you buy it direct from a factory. Factories not only have more competitive prices, but they usually only focus on one product and are very proficient in this industry. They are more capable with your products.
If you are a small business with a small order, it is better to choose a trading company. Because factories usually require higher MOQs. In addition, trading companies have other advantages, such as more product choices. This means that when you need to source various products, you can place orders with the same trading company, which is more convenient.
For example, the following is a typical trading company where you can buy multiple products such as fishing kits, fishing floats, carp fishing, fishing lights, etc.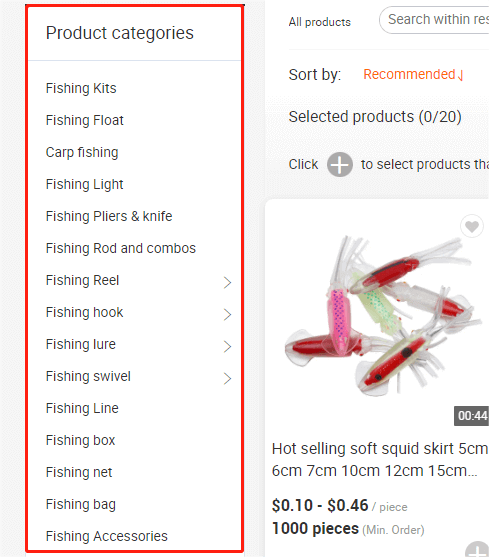 Jingsourcing can help you buy direct from factories.
If you are a novice in e-commerce or lack import experience, and you do not know how to choose or think this process is time-consuming and laborious, I strongly recommend that you find a reliable sourcing company like Jingsourcing to help you. We provide a variety of services and have many advantages.
Rich and reliable supplier resources
We are located in Yiwu, the largest wholesale market in China. There are many factories around us, and we also integrate supplier resources all over China, many of which you cannot find on wholesale websites. In addition, these suppliers are usually located in industrial clusters with many years of experience, and their prices are very competitive. They have all passed our strict factory audit, so you don't have to worry about being deceived.
You just need to tell us the products you want to buy and the quantity. Based on your needs, we will find suitable suppliers to help you make samples first, and collect these samples all together so that you can compare them together. After balancing the quality and price, you can decide on a suitable one to work with.
Get Reliable Suppliers by Jingsourcing
If your order quantity does not meet the supplier's requirements, for example, their MOQ is 1000, but you only want to import 800 pieces to test the market, you may be rejected. But we can help you communicate with suppliers. Because we have cooperated many times and have a good relationship with them. Even if the MOQ is small, they are willing to produce for us.
Rich experience in customization
We have over 20 years of experience in customizing products. For your complex project, we will try our best to work out a feasible solution and save your costs.
For example, a South African client gave us a 3D design drawing and wanted to develop a mosquito net with a fan. Based on his design, many parts needed new molds. The total molding cost was up to $50,000, but the client only wanted 200 pieces, so the average price per mold was $250. This was a big expense.
Our experienced agent came up with a solution. He found all the readily available components from lots of factories and assembled them together to achieve the same function. This method saved a lot of money without making any new molds.
Realize Your Custom Projects by Jingsourcing
Complete supply chain management
We can follow up on the production and do quality inspections to ensure that the products meet your requirements and standards. We can also assist you in handling customs clearance and selecting the best shipping method. With our supply chain services, all steps are handled efficiently and properly, so you do not worry about anything when you source from China.
Buy Directly from Factories by Jingsourcing