Sportswear, also referred to as activewear, encompasses clothing and footwear designed for varied sports or physical exercise. China manufactures and supplies 65% of sportswear to the international market. In today's blog, we will take you on a journey to explore this industry.
China 7 key sportswear production bases & strong product categories.
There are sportswear factories across China, while most are concentrated in Fujian, Guangdong, and Zhejiang provinces. These regions are brimming with clothing manufacturers with complete supply chains, from textile raw materials to accessory production, apparel component manufacturing, printing and dyeing, clothing production, and logistics.
Shishi in Fujian -- China's hub for sportswear and casual apparel.
Shishi City gathers most clothing factories and boasts the most comprehensive industrial chains in Fujian province. This is a nationally renowned textile and clothing hub. Here, you'll find over 7,000 factories, ranging from small workshops to brand enterprises.
And the established Shishi Clothing City is a must-to-go place for clothing wholesale businessmen. Strong product categories include sportswear, children's clothing, and trousers.
Connect direct sportswear factories
Jinjiang -- China's hometown of sportswear brands and sports shoe capital.
Most of China's sportswear brands, such as ANTA, Li-Ning, XTEP, ERKE, and Qiaodan, start in Jinjiang. Jinjiang is also known as the "Shoe Capital of China," boasting 1,300+ sneaker factories. Globally, every five pairs of shoes includes one produced in Jinjiang, making it one of the largest export hubs for sports shoes.
For instance, Kelme, a Spanish sportswear brand favored by professional football enthusiasts, has its OEM manufacturer in Jinjiang, supplying over 90% of its products to the world.
Connect direct sportswear factories
Xiamen -- China's key export hub for sports clothing, footwear, and outdoor goods.
Some of Jinjiang's sportswear brands like Anta have relocated their headquarters to Xiamen in order to precisely grasp market demand information in the context of the growing influence and popularity of e-commerce. Xiamen enjoys the advantage of being a special economic zone with a superior business environment, primarily due to its abundance of skilled talent.
Connect direct sportswear factories
Guangzhou -- China sportswear key production and sales hub.
Guangzhou is a must-visit destination for those involved in the clothing business. With Zhongda Fabric Market, the largest fabric and clothing accessories in South China, Guangzhou has gathered tens of thousands of garment factories at large and small levels. The industry chain here is well-established.
Next to Hong Kong and Macau, Guangzhou can quickly access international fashion trends and market information. So Guangzhou sportswear features trendy and fashionable designs.
The largest sportswear wholesale market is Xinbaijia Clothing City, Baiyun District, Guangzhou. You can easily find OEM and ODM suppliers for sportswear, sports socks, and sports gear.
Yiwu -- wholesale hub for seamless sports bra and activewear production.
Yiwu is the primary production area for seamless clothing in China, accounting for 90% of the seamless production capacity in Zhejiang Province and 70% nationwide. Here, you can find a lot of seamless activewear factories.
Known as the "World's Supermarket," Yiwu is famous for small commodity wholesale markets. The "World Cup Effect" has always been highly noticeable in Yiwu, primarily in categories such as clothing, footwear, headwear, toys, and more.
Take the FIFA World Cup Qatar 2022 for example. Yiwu produced and exported over two million jerseys, as well as various World Cup-related products such as trophies, soccer team flags, etc. More than 70% of the World Cup merchandise is from Yiwu.
For the Hangzhou 2023 Asian Games, Yiwu businesses have seen a substantial increase in orders from Southeast Asia, South Korea, and Japan, including a surge in demand for sports apparel, which has always been a hot-selling item.
We're based in Yiwu, with our head office in front of the Yiwu market. Contact us to help you customize and source varied sportswear at competitive prices.
Haining city in Zhejiang -- China's sportswear fabric capital.
Xucun Town in Haining, Jiaxing, is known as a prominent textile and fabric manufacturing center in China. With the transfer of the clothing industry from Hangzhou, Xucun Town has developed a new industry pattern where textile fabrics and clothing coexist harmoniously.
In Haining, there are numerous suppliers of sportswear and outdoor sportswear fabrics. For instance, Zhejiang Texwell Textile has established long-term partnerships with Anta, Columbia, Adidas, Decathlon, and Fila. In 2008, Texwell Textile collaborated with Adidas to supply 600,000 sets of sportswear fabric for the torchbearers at the Beijing Olympics.
Sanmen town in Zhejiang -- China's largest production base for shell jackets.
Shell jackets are essential clothing items for outdoor enthusiasts such as hikers and mountaineers. Sanmen town in Taizhou, Zhejiang, produces more than half of China's shell jackets, producing around 30 million jackets annually. Most factories here are small and medium-sized.
Connect direct sportswear factories
Jingsourcing smooths your private label activewear in China.
As a leading sourcing company based in China, JingSourcing has integrated quality activewear suppliers into our database. All of them have passed strict factory audits and have fixed cooperations with us many times.
For your sportswear items, we can help you get precise, competitive quotes, at least 10% cheaper than Alibaba's. And you can rest assured about the quality.
We support sportswear wholesale and customization in diverse fabrics.
Sportswear typically prioritizes comfort, breathability, moisture-wicking, and elasticity, focusing on functionality.
Common fabrics used for sportswear include cotton, nylon, spandex, polyester, etc.
Typically, pure cotton sportswear is for corporate uniforms and casual wear.
For low to medium-intensity activities such as jogging, yoga, and pilates, cotton-rich fabrics are popular. For instance, 95% cotton blended with 5% Lycra (known as Lycra cotton) is widely used in fitness and gym wear, including leggings, sports pants, shorts, yoga suits, etc. Most sports bras are made of 90% nylon + 10% Lycra or 90% polyester + 10% Lycra, with a small proportion of Lycra added to enhance elasticity.
For high-intensity sports such as running, basketball, soccer, and HIIT, polyester is common for sportswear to meet functional requirements such as quick drying, cooling, and heat dispersion. For example, basketball jerseys, sports socks, the linings of sneakers and footwear, etc.
Recyclable, biodegradable, and high-tech fabrics are trending in the sportswear market.
Silicone Resin is commonly to see in sportswear items like "sharkskin" swimsuits and "quick skin" garments. Coolmax Fiber can rapidly wick away sweat and allow for quick evaporation. The Chinese table tennis team, which won gold in Sydney, wore garments made from Coolmax fiber.
Graphene features excellent thermal conductivity, ideal for winter sportswear, such as graphene jackets, cycling clothing, shell jackets, and more. There's a common misconception that graphene fabrics are only available in black or gray colors.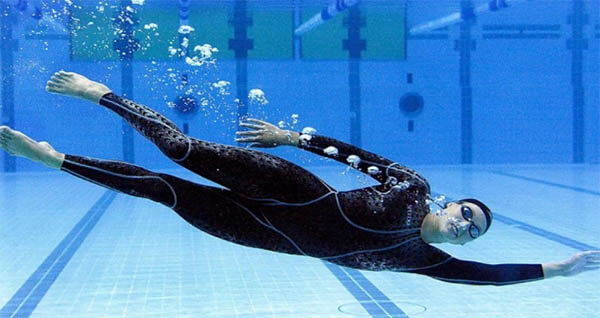 Furthermore, manufacturers add a layer of material with specific functions, such as Polyurethane (PU) coating, and acrylic (AC/PA) coating, to enhance the fabric's waterproof, windproof, breathable, and UV-resistant properties. For instance, PU coating is common in the production of custom softshell jackets, as it not only enhances their waterproof performance but also improves durability and flexibility.
Ask JingSourcing for premium sportswear
We can realize your unique pattern designs with the best printing techniques.
Tell us your custom ideas or send us a rough sketch. We have a dedicated design team to make design drawings. Once the design is confirmed, our professional agents will recommend appropriate and cost-effective printing methods for your custom patterns on fabric and textiles.
Screen printing is the cheapest for large orders (≥500pcs/item) with simple patterns.
Screen printing is the cheapest method if you buy more than 500pcs/item, with fewer-colored simple patterns. Suppose you want to print a 5 cm logo with two colors on your 1000 athletic wear, the screen printing cost will be around $400. One more thing, screen-printed patterns have an obvious glue-like feeling.
DTG and sublimation work well for small orders and complex multi-color pattern designs.
DTG and sublimation work well for complex multi-color designs, without restrictions. Suitable for all-over-print sportswear. Printed patterns feel the same as other parts and are hard to fade.
One thing to note is that DTG works better on 100% cotton than other fabrics. While sublimation works very well on polyester and now can only be applied to fabrics with 80%+ polyester. This is why manufacturers use it to produce quick-drying T-shirts and shorts, sports towels, etc.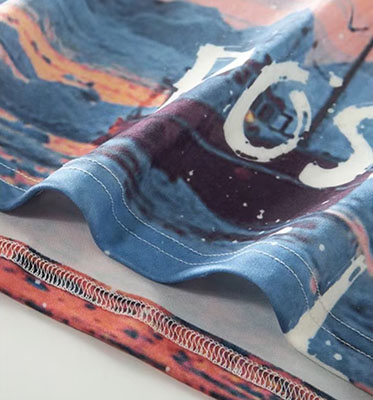 Additionally, the 2 methods have no MOQ requirements, suitable for small orders and print-on-demand businesses. Both are charged on a printed area (square meter) basis. The number of colors and pattern complexity do not impact the final price.
Embroidery suits small pattern designs and looks more advanced.
The embroidery pattern has an enhanced 3D effect and is high quality. The embroidery cost can be influenced by factors such as the intricacy and dimensions of the pattern, the thread count, the order quantity, and other variables.
For instance, we previously assisted a client in embroidering a simple letter pattern with a diameter of 5cm on 200 sweatshirts in three colors (as shown below). The cost was $1.50/pcs. If this pattern was switched to one color (e.g. yellow), the cost would be about $1.20/pcs. You can utilize this instance as a reference.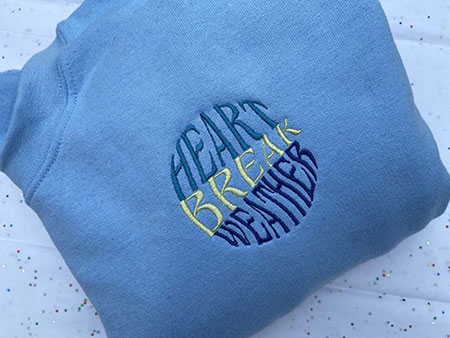 Additionally, the 2 methods have no MOQ requirements, suitable for small orders and print-on-demand businesses. Both are charged on a printed area (square meter) basis. The number of colors and pattern complexity do not impact the final price.
Note that embroidery and screen printing are not suitable for intricate and highly colorful patterns. If you have complex and multicolor designs and require elegance and a sense of quality, you must consider embroidery and DTG combined solutions.
Ask JingSourcing for your custom sportswear. 
For your custom sportswear items, we'll make and send garment samples to you for checking until it's confirmed OK. When it comes to mass production, we will follow up the whole process to ensure the production lead time.
For finished sportswear, we conduct inspections in our warehouse. QC is flexible and efficient as we get your checking focus and send you videos or pictures to communicate with you in real-time. Also, we can arrange shipments to the port or your door at the best shipping rate.
Ask JingSourcing to inspect & ship sportswear.