Importing hats from China not only ensures high-quality products but also offers competitive pricing advantages and a wide range of customization options. Whether you are a hat wholesaler, or retailer, or own a private label brand, partnering with Chinese hat manufacturers presents tremendous opportunities for your business.
Today's blog introduces some information about importing hats from China. Let's take a look.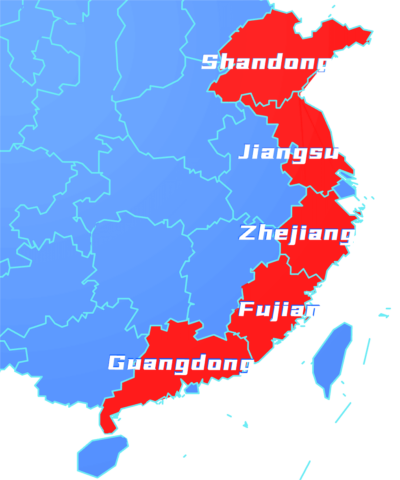 Jiaozhou, Shandong Province: Hat Production Hub of China
Jiaozhou, a town in Qingdao City, is a major production and distribution center for caps made in China. It has a long history and abundant experience in hat manufacturing. Jiaozhou is particularly renowned for its production of baseball caps, accounting for approximately 40% of the domestic market and supplying nearly one-third of the global six-panel sports caps.
The hat enterprises in Jiaozhou are characterized by large-scale operations, encompassing a wide range of hat types, including baseball hats, fisherman hats, naval caps, etc.
Zhejiang Province: Diverse Variety of Hats
Zhejiang is home to numerous hat manufacturing factories, specializing in different types of hats, each with its unique craftsmanship, quality, and price range.
For example, Tonglu in Hangzhou excels in producing knitted hats, while the areas of Cangnan and Pingyang in Wenzhou are known for their bead-adorned hats. Shaoxing is renowned for its felt hats, and so on.
Guangdong Province: Production Base for Brand Hats
Dongguan and Shenzhen, as important cities in China's manufacturing industry, serve as both contract manufacturers of international brand hats and production sites for local hat brands. One well-known local hat brand is Beneunder, specializing in outdoor products, particularly sun hats and other sun protection accessories.
Jiangsu Province: Emphasis on Quality and Detail
Jiangsu Province has a significant presence and influence in the hat production industry, particularly in cities like Yangzhou and Nanjing. The hat industry in Jiangsu is known for its silk hats, felt hats, and formal hats, highlighting traditional craftsmanship and meticulous production.
Fujian Province: Hub of Straw Hat Production
Fuzhou, Xiamen, Quanzhou, and other cities in Fujian Province are renowned for their production of straw hats and woven hats, emphasizing the use of traditional craftsmanship and natural materials. Hat manufacturers in Fujian Province often prioritize environmental consciousness and sustainable development.
Jingsourcing enables your cap customization
Jingsourcing has consolidated supplier resources from various regions in China and possesses a comprehensive understanding of their respective advantages. Whether you are looking to purchase or customize any type of hat, we can quickly connect you with experienced manufacturers at competitive prices.
We pay attention to custom details.
Based on the usage environment and your requirements, we select suitable hat materials to ensure comfort, durability, and appropriateness. We offer a variety of common hat materials, including cotton, linen, wool, polyester fiber, straw, etc.
Additionally, we pay great attention to sizing to ensure you get the right fit. This includes selecting the appropriate hat circumference and brim length.
Hat circumference refers to the measurement around the hat, typically in centimeters or inches. We provide multiple hat circumference options to accommodate different head sizes.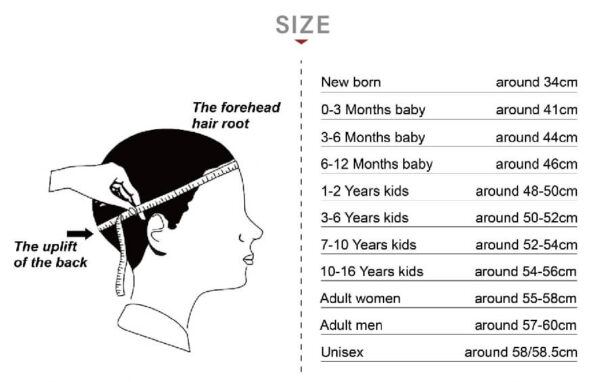 The brim refers to the edge part of the hat. A wide brim provides more sun protection or coverage, while a shorter brim is more suitable for everyday wear. Additionally, brims come in different shapes, as shown in the diagram below.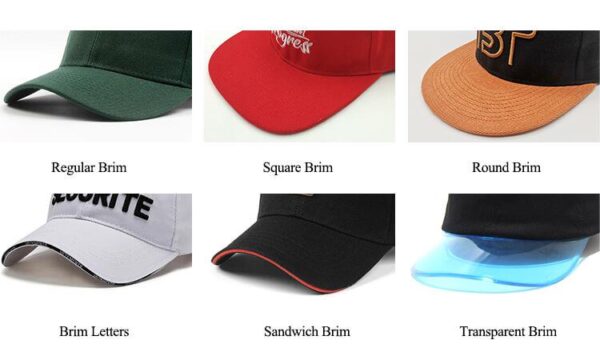 Furthermore, some hat designs feature adjustment and fastening devices such as adjustable straps, velcro, and buckles. These devices allow you to customize the fit and secure the hat according to your personal preferences, ensuring a comfortable and proper wearing experience.
Get Suitable Size & Style Hats by Jingsourcing
Our design team uses the best technique for your concept.
Our professional design team can help you refine rough ideas or incomplete drafts step by step, bringing your ideal design to life. If you don't have a specific concept, we also offer comprehensive pattern design services to match your hat style and requirements.
Furthermore, we provide professional advice on selecting the most suitable techniques. We understand the impact of different techniques on pattern representation and ensure that the design appears clear and precise on the hat. Some techniques we offer include:
Embroidery: It involves using different colored threads to embroider directly on the hat fabric or add them through embroidered patches. It is a durable and intricate technique that can showcase complex patterns.
Patching: In addition to embroidered patches, other common types include leather patches and rubber patches. Leather patches provide a premium and classic look, while rubber patches offer a more modern and sporty appearance.
Printing: Common printing methods include screen printing, heat transfer, and DTG. 
Screen printing is suitable for designs with fewer colors and relatively simple graphics, often used for promotional hats. Heat transfer printing creates a slightly raised texture and allows for the creation of complex designs and multi-color effects. DTG printing allows for full-color printing and gradient effects.
Patchwork: It involves stitching together different fabrics, leather, or other materials onto the hat to create a multi-layered and three-dimensional pattern. Additionally, you can consider adding other decorative elements to the hat, such as pearls, lace, feathers, or even small dolls, to make it even more unique and distinctive.
Weaving and Crocheting: This involves handcrafting intricate patterns, designs, and textures using fiber materials or yarn. Manufacturers commonly use this method to decorate knit hats or handmade hats.
Get Your Unique Pattern Presented