China is the world's largest manufacturing hub for electric scooters and motorcycles, with exportation to over 100 countries and regions, including the US, Europe, Southeast Asia, and more. In today's blog, we will focus on providing a comprehensive explanation of electric scooters, covering the following key aspects:
Delve into electric scooter factories in China
Currently, China has 4 major production hubs for electric scooters and motorcycles: Wuxi in Jiangsu Province, Taizhou in Zhejiang Province, Tianjin, and Guangdong Province. These regions, leveraging their geographical and manufacturing advantages, have emerged as the most concentrated hubs of China's e-scooter industry after years of development.
Wuxi in Jiangsu Province -- Capital of China e-scooters
There is a saying, "For every 3 electric motorcycles in China, one is made in Xishan district, Wuxi." The development of Wuxi's e-scooter industry is built upon the foundation of the motorcycle industry. As two-wheeled vehicles, motorcycles and electric scooters share a commonality in terms of their overall structure. Although their power systems differ, the molds used in their production can be largely interchangeable.
Last month, we took our clients to visit Xishan electric motorcycle industrial parks. The industrial chain here is well-established. Within a radius of approximately 20 square kilometers, you can find all the necessary electric scooter components, such as controllers, shock absorbers, frames, motors, plastic parts, batteries, etc.
Another highlight is the strong R&D capabilities of high-end electric scooters. A notable brand is Yadea. They have developed graphene batteries that can easily surpass a range of 100 kilometers and even reach up to 200 kilometers. Moreover, Yadea's intelligent vehicle systems are on par with automotive standards. In 2022, they launched the VFLY series of AI smart electric scooters and participated in the world-level EICMA (International Motorcycle and Accessories Exhibition) in Milan.
Taizhou in Zhejiang Province -- China's e-scooters and component production base
As a "component manufacturing base," Taizhou produces 80% of China's e-scooter plastic parts. Most e-scooter manufacturers in this area evolved from motorcycle production and automotive parts manufacturers. The electric scooters produced here bear a closer resemblance to motorcycles in terms of their appearance.
The evident competitive advantage lies in the well-established supporting industrial chain. Except for batteries and tires, 80% of the e-scooter components can be conveniently procured here. A leading brand LIMA has established a super factory in Taizhou. The entire process, from the entry of raw materials to the production of a finished e-scooter, and its subsequent logistics, takes only 6.3 hours.
Tianjin -- Production base for e-scooters that resemble bicycles
Unlike Wuxi and Taizhou with a foundation in motorcycle production, e-scooter manufacturers in Tianjin initially focused on bicycle production. So electric scooters produced here are closer to bicycles in terms of structure and outlook. For such simple e-scooters, the single-unit production cost is around $200, 60% cheaper than luxury ones produced in Wuxi and Taizhou.
Guangdong -- the main production base for lithium-ion e-scooters in China
Shenzhen in Guandong province is known as China's Silicon Valley. With advanced lithium electric vehicle production technology, Guangdong boasts a significant advantage in the field of lithium-ion e-scooters. A leading brand TAlLG has an annual production capacity of over 10 million units and exports to more than 100 countries and regions, including the US and the UK.
Currently, mainstream e-scooter manufacturers have transitioned from lead-acid batteries to lithium-ion and graphene batteries. These new battery technologies offer advantages such as smaller size, lighter weight, increased charging and discharging cycles, and longer driving distance on a single charge.
Jingsourcing eases your electric scooter import business in China
It's easy to find wholesale suppliers by searching on Alibaba or Google. However, to be honest, it's really difficult to tell if they are good or bad until you start working together. That's where JingSourcing can help.
We offer precise, competitive quotes based on professional product knowledge and electric scooter factory resources.
The battery is key to an electric scooter. It determines the speed and the range (mileage) that the scooter can achieve, making it a crucial selling point. Therefore, when receiving quotes from suppliers, it is essential to understand the type and quality of the batteries they provide.
Batteries of good quality and poor quality can make a price difference of 20%-30%. Clients often approach us with significantly lower quotes from Alibaba suppliers. However, the battery quality from those suppliers often falls short of clients' requirements. In cases where we offer the same battery configuration as Alibaba suppliers, our price can be lower than theirs.
Currently, we have integrated reliable e-scooter factories within the industrial clusters. We visited the factories and checked their geographical location and scale. It's found that, in the industrial clusters, most e-scooter factories source batteries and components from other firms and assemble them. So we particularly check how they control the quality of outsourced components, alongside an inspection of the finished e-scooter's appearance and texture.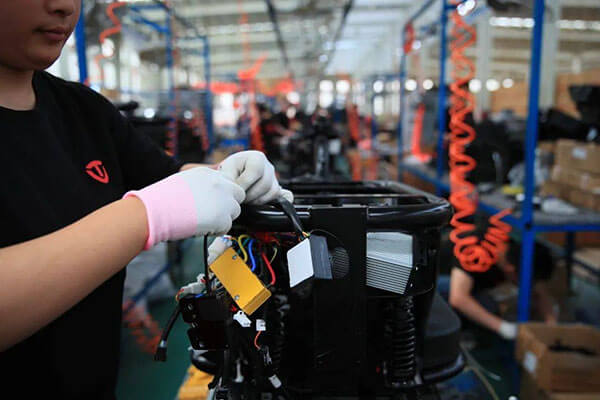 Get competitive quotes from our e-scooter factories.
We support electric scooter customization at all levels.
We have received and dealt with many inquiries for electric scooters and motorcycles. The most common customization options are to print unique logos, colors, and patterns.
In my experience, these four methods are common for custom colors and patterns:
This technique transfers flat-printed graphics onto the surface of different materials using water. It allows printing on the surfaces of irregular objects and the curved surface of three-dimensional products, without limits on printed object shapes and surfaces.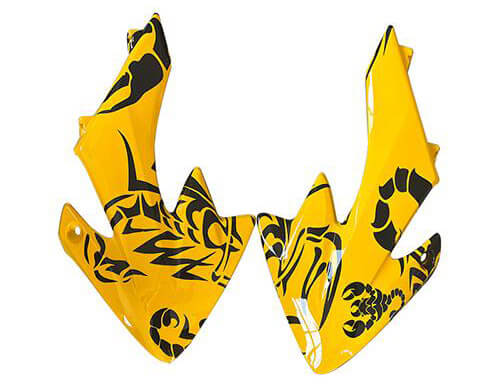 Heat transfer is ideal for fancy patterns with gradient colors. However, the printed object surface should be flat and smooth. The cost depends on the size of the e-scooter parts to be printed and the specific area where the pattern is applied.
A fast way to customize e-scooter body colors and patterns. There are 2 kinds. One is to cut different colored films into varied shapes and apply them to the e-scooter. However, this way is hard to achieve gradient color effects and create very intricate patterns. The other one is all over. The pattern is digitally printed on a single film and then applied to the entire vehicle. It's a good fit for beautiful and eye-catching designs without limits.
In addition, customizing tire sizes is also common. Tires, including their rims, wheels, and even brakes, can be specified in terms of size and brand. These components are readily available for purchase and can be easily assembled without the need for mold development.
Customize your e-scooters with Jingsourcing
We have long-term cooperative DG freight forwarders to arrange e-scooter shipments.
Electric scooters, with batteries included, belongs to class 9 dangerous goods. If the battery and the scooter are separated, the scooter can be shipped as general cargo while battery shipping must comply with dangerous goods regulations.
Shipping by air is always challenging due to the fire hazards associated with batteries on airplanes. Recently, airlines have implemented restrictions on shipping batteries over 100Wh. Therefore, sea shipping is and will continue to be the only viable solution.
We have specialist DG freight forwarders who are experienced in handling customs declaration procedures, including the preparation of all necessary documents, such as:
Report for Safe Transport of Goods: this document determines if a product belongs to DG goods and provides guidance on how to transport it safely. SRICI (Shanghai Research Institute of Chemical Industry Testing Center) can offer this report.
Inspection Certificate for Packing Functions of Outbound Goods: it means correct packaging of lithium batteries as required. Proper packaging is crucial as it helps prevent potential accidents during transportation. Without this certificate, your goods are prohibited from exportation.
Let Jingsourcing ship your e-scooters at good rates.