China is the world's largest umbrella manufacturer, with annual output accounting for one-third of the world market. It offers a wide range of manufacturers offering high-quality products at competitive prices. Whether you need rain umbrellas, folding umbrellas, or specialty umbrellas for outdoor use, Chinese manufacturers have got you covered.
Let's discover the vast selection of umbrella manufacturers in China and take your business to new heights of success.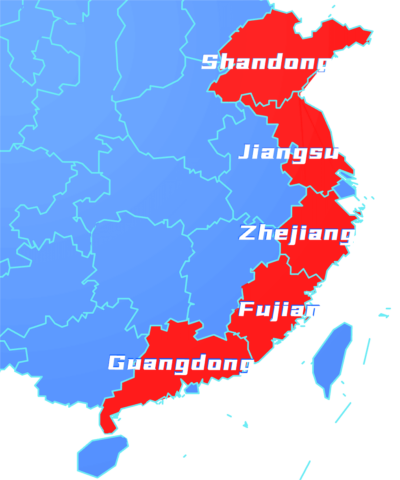 Shangyu City: City of Umbrella in China
The most famous umbrella-making base in Zhejiang is located in Songxia Town, Shangyu City, which is called the "City of Umbrella in China". Umbrella-making is a tradition in this town. There are more than 2,000 umbrella-making companies here, which produce more than one-third of the world's total umbrellas every year.
In addition, there are many umbrella manufacturers in areas like Hangzhou, Ningbo, and Yiwu, offering a variety of umbrella products. Among them, Hangzhou is home to many well-known umbrella brands like "Paradise Umbrella", which are highly praised by worldwide consumers. The first floor of the second district of Yiwu International Trade City is selling all kinds of umbrellas, where you can find a wide variety of umbrellas at affordable prices.
Jinjiang City: Capital of Umbrella in China
Dongshi Town in Jinjiang City, Fujian Province is the largest production and export hub for umbrellas and materials in China. The town produces a quarter of the world's various finished umbrellas, with 80% of them being exported overseas. Among the six well-known Chinese umbrella brands, four are based in Dongshi, with "Susino" being the most famous.
Xiamen and Quanzhou City are also home to some professional umbrella manufacturers and suppliers. Due to their geographical location, these regions' umbrella manufacturers place greater emphasis on producing outdoor and travel umbrellas that offer functions such as sun protection, rain resistance, and leisure activities.
Guangdong: Coexistence of Design & Fashion
The main manufacturing areas in Guangdong province are Guangzhou, Shenzhen, and Dongguan. Umbrella manufacturers in this region focus on product design and fashion elements, offering a variety of styles and colors to meet the market's fashion demands.
Taking the example of the Shenzhen brand "Beneunder", it specializes in innovative research and development and combines fashion and comfort, offering high-quality and lightweight umbrella products.
Shandong: Gathering of Outdoor Umbrellas
The main umbrella production areas in Shandong province are Qingdao, Weihai, and Yantai, where beach umbrellas and outdoor umbrellas are predominantly manufactured. These umbrellas are typically made with UV-resistant materials and provide sun protection and shade, making them ideal for beach and outdoor activities.
Jiangsu Province: Full Range of Umbrellas
Jiangsu province has a certain scale in umbrella production, especially in cities like Suzhou, Changzhou, and Nanjing. These areas are home to numerous umbrella manufacturing companies and offer various types of umbrella products, including rain umbrellas, folding umbrellas, and high-end business umbrellas.
Jingsourcing recommends the best umbrella factory for you
We are your premier sourcing partner for umbrella suppliers.
Jingsourcing stands out as a leading sourcing partner regarding umbrella suppliers. We bring several advantages, ensuring a seamless and successful client-sourcing process.
One of our key strengths is our diverse and extensive supplier network. We have integrated umbrella manufacturer resources from all over China, including Zhejiang, Jiangsu, Fujian, Guangdong, and Shandong. We can wholesale and customize umbrellas of various types for you at factory prices. For instance, if you need to buy high-quality umbrellas with windproof features, we will select suppliers, and ensure they have the necessary test certificates.
Moreover, we understand the importance of flexibility in procurement. Our established relationships with suppliers enable us to offer lower MOQs, allowing clients to obtain umbrella products even in small quantities without the burden of high purchasing pressure.
Get Umbrella Factory List through Jingsourcing 
We are your customized umbrella solutions.
Jingsourcing excels in customized umbrella solutions, offering a range of advantages that set us apart in the industry.
One of our key strengths is our extensive knowledge of umbrella materials. We select the ideal materials that suit our clients' specific purposes, ensuring durability, water resistance, and UV protection. Whether it's sturdy fiberglass frames, lightweight aluminum, or premium-grade fabric, we source and recommend materials that align with their quality and performance expectations.
In addition to materials, we offer a wide array of options for umbrella surface patterns and printing methods. Our clients have the freedom to choose from an extensive library of existing designs or provide their own artwork for customization. We employ different printing techniques, including screen printing, heat transfer, and digital printing, to ensure vibrant and long-lasting patterns that reflect our client's brand identity.
Furthermore, we offer customization options for umbrella handles. From classic straight handles to ergonomic designs, our clients can choose handles that align with their brand aesthetic and customer preferences. We also provide options for handling materials, such as rubber, wood, or plastic, to enhance comfort and grip.
Packaging is another area where Jingsourcing excels in customization. We understand the importance of impactful packaging for brand recognition and protection during transportation. Our team works closely with clients to create custom packaging designs, including branded sleeves, boxes, or individual carry cases, ensuring that each umbrella arrives in pristine condition and showcases our client's brands in a professional manner.
Unlock Unique Umbrella Solution by Jingsourcing
We guarantee your umbrella quality.
Our quality inspection process focuses primarily on major flaws such as significant structural issues (such as broken umbrella frames, and torn or damaged canopies), noticeable defects (such as holes, large stains, and significant color variations), and functional issues (such as difficulties in opening or closing, inadequate waterproof performance).
For minor issues that are difficult to completely avoid during the production process (including slight loose threads or stitches, minor scratches, dents, or wear), although they may exist, they will not affect the normal use and functionality of the umbrella. We will promptly communicate with you and seek your opinion. If you find them acceptable, we will pass them.
Get Top-Notch Umbrellas by Jingsourcing