When you need to send payment to a Chinese supplier or travel agency, you would doubt which is the best payment method to transfer money securely, fast, and with low handling cost.
Generally, you can send money through banks or international remittance platforms. Bank remittance efficiency is low with high handling fees and low exchange rates. And there are so many international remittance platforms that you may don't know how to choose.
So I wrote this article to help you understand the 8 most commonly used methods for sending money to China, including how to use them, what the fee is, how long it takes, special notes for each payment method, etc.
Paypal (Suitable for Less Than $500 Payment )
How to Transfer Money to China by Using PayPal?
PayPal is the most convenient way on a payment arrangement. It accepts debit cards and credit cards, so it's easy to send money from any account of yours. And the process of sending money with PayPal is simple:
Register a Paypal account using your email address.
Connect your Bank Card with PayPal.
Ask your recipient to do so if they don't have a PayPal account too.
When both of your accounts are ready, you can send money following the steps on PayPal.
How Much Is the PayPal Transfer Fee?
There is a handling fee when you send money to China from your country, as it is a kind of international payment. It depends on your payment methods, bank account, PayPay Cash balance, or cards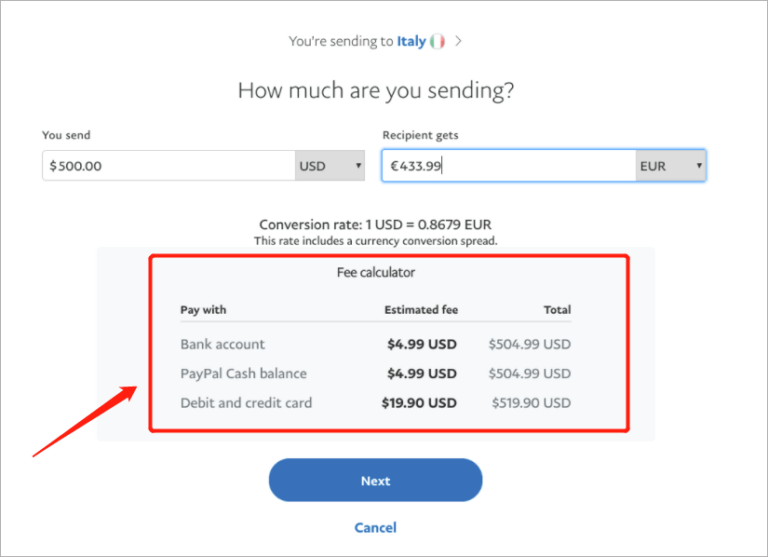 Please check the following transfer fee table of PayPal to China for easy reference (Based on the U.S. PayPal account sender):
| Fees (based on send amount) | PayPal balance or a bank account | A credit card or debit card |
| --- | --- | --- |
| $0.00-$19.99 USD | $0.99 USD | $0.99 USD + 2.9% of the transaction amount + 0.3 USD |
| $20.00-$99.99 USD | 5% of the transaction amount | 5% of the transaction amount + 2.9% of the transaction amount + 0.3 USD |
| $100.00+ USD | $4.99 USD | $4.99 USD + 2.9% of the transaction amount + 0.3 USD |
(* Fee cost from PayPal.com)
Let's take if you want to send USD 500 to China via PayPal (via debit card) for example, the handling fee is $4.99 + ($500×2.9%) + $0.3 = $19.79.
Any Tips to Avoid PayPal Transfer Fees?
PayPal offers a free transfer if both your account and recipient's account are U.S. PayPal accounts and you pay by Paypal balance or your bank account.

But most Chinese suppliers create a PayPal account with a Chinese address when registering, and PayPal will also identify the country of the network IP visiting their website.
So a suggestion to lower your PayPal transferring fee is to register a PayPal account by your bank account rather than a credit/debit card. The bank account transfer is via the bank ACH channel, which is hard to cheat. However, with the debit card, it is easy to report a loss, then stop the money transferring to increase the risk of PayPal charging an extra handling fee.
How Long Is PayPal Take to Transfer Money to China?
PayPal offers 2 different services when transferring money:
Standard Service: The fund will be transferred in 2 working days (meet postponement after 7:00 PM and weekend). Free of Charge.
Instant Service: The fund will be transferred within 30 mins — an additional fee of 1% of the amount and a maximum charge of $10.00. With a maximum limit of $5,000 per transaction, $5,000 per day, $5,000 per week, $15,000 per month for debit cards, and a maximum of $25,000 per month for banks.
What Amount Makes PayPal Fit for Sending Money to China?
As PayPal accepts a credit card payment, it is helpful when you are short of cash flow for a higher amount of purchase.
However, PayPal provides 180 days of refund protection. The beneficiary will worry about cheating behavior. It's easy for a cheater to apply for a refund after the recipient provides courier information for a purchase.
So for Chinese suppliers, they prefer to receive a smaller amount (less than USD 500) from PayPal payments to reduce the risk of cheating loss. When more than USD 500, they probably will ask for other payment methods.
If you have other questions about PayPal, you can read our article about FAQs about PayPal.
XOOM
You cannot use Paypal to send RMB directly to China and PayPal currently only supports USD or HKD withdrawals. The Chinese beneficiary has to withdraw the USD from PayPal and exchange it for RMB, paying $35.00 for every withdrawal. It will drive the recipients who don't use PayPal frequently reject the PayPal payment.
Then, XOOM is an easier way to send money to China. It is a PayPal service. You can use XOOM to deposit RMB directly to your recipient's Chinese bank account. Many major banks in China are supported, such as the Bank of China, Bank of Communications, China Construction Bank, Ping An Bank, Agricultural Bank of China, ICBC, etc. Also, XOOM is fast. Your money can arrive within 30 minutes if it is sent from 7:30 a.m. to 10:00 p.m. Beijing time.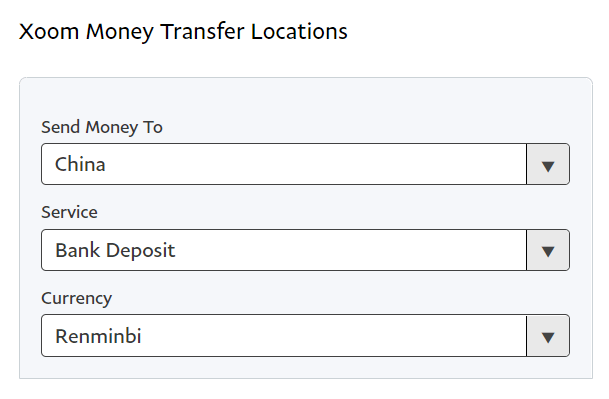 To transfer money, you can log in with your PayPal account or create a Xoom account with your name and email address. After that, with the UnionPay card number of the payee and the pinyin of the name bound to the card, you can start sending money.
Of course, there will be a transaction fee and currency exchange fee, depending on your payment methods and sending amount.
Paying with
Send amount
Transaction fee
PayPal balance
Or Bank account
Less than $1000
$4.99
$1000 and up
$0.00
Debit card or Credit card
$0-$99
$8.88
$100-$199
$10.00
$200-$999
$20.00
$1000-$1499
$30.00
$1500-$1999
$45.00
$2000-$2999
$60.00
You can use the Fee Calculator on XOOM to see specific transaction fees and exchange rates of your transaction.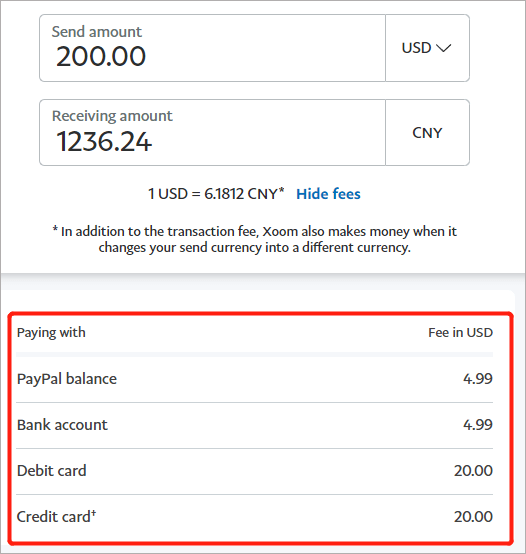 Western Union
Western Union is a payment solution provider with a long history. They have been trusted since 1871 and have a vast network of up to 500,000 agent locations.
How to Transfer Money to China by Using Western Union?
Long ago, Western Union strictly required all of their transaction senders must present in one of their locations. After upgrading their service a lot in recent years, now you can make your payment through Online / In-Store / Mobile App.
It's simple to operate a Western Union transfer. The recipient even don't need a banking account and they only need to provide information as below:
Name: MIN MIN LI (First Name: MIN MIN / Family Name: LI)
City: Guangzhou City
Province: Guangdong Province
Tel: 0086-139xxxxxxxx
After you send the money, you will need to provide the following information to the recipient for collection:
MTCN number: xxx-xxx-1234 (you will get it from the Western Union system after making the transfer)
Name of sender: Rachel Goacher
Actual amount: $5000
Beneficiary: MIN MIN LI
How Much Is the Western Union Transfer Fee?
It charges different handling fees, depending on how you would like to pay and how your receiver wants the money. You can quickly check the handling fee of your transfer by price-estimator on the Western Union official site.
For easier comparison, we work out several set handling fees as below for your quick reference. Let's say that you want to send $2500 to China.
Transfer fee & time
How would you like to pay?
Receivers pick up cash at WU location
To receivers' bank account
pay online by credit card
184.49 USD
In minutes
67.49 USD
Real Time
pay online by debit card
119.99 USD
In minutes
3.99 USD
Real Time
pay online by bank account
40.99 USD
0-4 Business days
1.99 USD
0-4 Business days
pay online by bank account
37.50 USD
In minutes
37.50 USD
0-3 Business days
It can be seen that if you pay online, credit card payments have the highest fees, followed by debit cards and then bank accounts. And the handling fee for cash pick up at the WU location is much higher than to the receiver's bank account. So under normal circumstances, choosing to complete the remittance online is faster, more convenient and economical.
In addition, you can directly send money to your receiver's Alipay, a commonly used payment platform in China. But the maximum amount is $2500 per transaction.
Tips for Ensuring the Western Union Transfer Is Smooth
Based on our experience, below are the points you need to pay attention to when using Western Union to send money to China:
1. Make sure the First Name and Family Name, which is essential for the success of a Western Union payment. Some customers cannot make the payment due to the mistake of the name.
2. If you made something wrong with recipient information, go to the WU location for correction.
3. Western Union is not allowed for commercial purposes, do not show any business information on the transfer.
4. One Chinese recipient can only receive no more than USD 50,000 (or equal value foreign currency) per year, please check with your recipient if they reach the quota.
Special Notes When Using Western Union to Send Money to China:
Western Union offers a weak exchange rate as they also make money from it, so it is not recommended to arrange like send out USD but the recipient to get CNY in China, the exchange rate could be around 5% different than mid-market price.
When you send cash in a significant amount, the handling fee of Western Union will be much higher than the Telegraphic Transfer service offered by the bank, so please compare the handling fee if you are sending an amount of more than $5,000.
As Western Union also ask for high agent fee from their partner, lots of China banks have quit their cooperation with them, such as Agriculture Bank of China. So the WU agent location in China is rapidly decreasing since 2017, and the convenience for China recipients is no doubt worse than before. Please check with your China supplier to make sure they are easy to make use of your WU payment first before you made it.
Moneygram
Up to now, Moneygram only supports transferring USD to other regions. The service and the operation way of Moneygram are quite similar to Western Union. You can pay by credit card, debit card, online bank account, and cash at the location. Receivers can get money from their bank account or pick up cash at MoneyGram Agency Locations. If send amount is too high, the cash pickup is not supported.
For handling fees, it is also nearly the same as Western Union. For example, now you are sending $2500 to your receiver's bank account. If you send it by credit card, the transfer fee is $65.49 ($67.49 for Western Union), and $1.99 with a debit card (3.99 USD for Western Union).
For transfer time, during normal business transaction hours, if the materials provided are correct, your remittance will arrive within five to ten minutes. And it will take 3-4 business days to process transactions if you pay by bank account.
You can inquire about fees in advance on Moneygram online. But according to my personal experience, the user experience of the estimated tool on western union is better and more clear than that on Moneygram.
The advantage of Money Gram when compared with Western Union is that Money Gram is allowed for business purposes. And if you can't find any close Western Union agent location but a Moneygram location just nearby, Moneygram is also worthy to try.
Telegraphic Transfer (T/T), Wire Transfer
Telegraphic Transfer (also known as Wire Transfer, Bank Transfer) is the most popular business-to-business payment method nowadays; it requires both sender and beneficiary to have a business Bank account for the transaction.
When you enter the bank to ask for an arrangement of Telegraphic Transfer to send money from the U.S. to China, they may tell you that what they offer is Wire Transfer. Don't worry; they are the same thing. The Wire Transfer is a more official name for Telegraphic Transfer Payment. Wire Transfer is accomplished via the SWIFT system, which is the only international channel you can send money to China bank account.
How to Transfer Money to a China Bank Account by Using T/T transfer?
When you are going to make the Wire Transfer, you need to know the following information  before you go to the bank:
 Beneficiary Name:

 Beneficiary Account:

 Bank Name:

 Bank Address:

 SWIFT Code:
And then you can fill the form in the Bank with the above information, and follow the bank instructions step by step to finish the process.
How Much Does It Cost for Sending by T/T transfer?
The handling fee for Telegraphic Transfer varies from different banks. In our experience of working with thousands of buyers, we suggest making the transaction via a big bank to ensure transfer efficiency and reduce transfer fees. The bank charge is usually in the range of $20-$50.
The bank that sends your money, the intermediary or correspondent banks, and the recipient bank will all charge fees on your transfer money. So it is recommended to leave some of the handling fees to be paid by the recipient. You can pay the 1st handling fee when you send money, then the supplier can pay another handling fee when they receive money, so the supplier will feel fair to accept.
How Long Does T/T Transfer Take to China?
If you are making T/T from the U.S. to China, usually it takes 1-3 workdays for the money to arrive recipient's account. If the money does not reach in time, you will need to check all the transaction information again to make sure there is no mistake.
Providing there are some problems in supplier account info, you need to ask your bank to cancel the transfer, and re-arrange the transfer based on the correct information. Otherwise, the money would be blocked on the recipient bank side.
If you are sending money from European Countries to China, it will take 3-5 workdays. For people who are arranging from Southeast Asia countries like Malaysia and  Singapore to China, it only needs 1 day.
Special Notes When Using Telegraphic Transfer to Send Money to China:
1. If you find your money still not reach the supplier that after 4-5 days, you will need to check the bank information again with the supplier and the bank. Providing there is a mistake in the information, go to your bank and ask for a correction immediately.
2. It is recommended to send Wire Transfer via more significant scale banks. They offer safer security for your money, and as they have a more substantial business scale in China, the handling charge and timing are also better.
3. The SWIFT Code is the only correct code to send money to China. If the Bank asks you for Routing Number / BIC / IBAN, etc.,  you can conclude that this bank branch is not familiar with the wire transfer to China, try to find another more significant branch to ensure the smoothness of your transaction. 
If you want to make your T/T payment more reliable, please make 4 checks before sending a T/T payment to China. 
Veem
Veem service is almost the same as wire transfer, also using SWIFT code for transferring the money to China bank account. But they claim that they cut off lots of middle-man bank charges by using blockchain technology, which enables them only to charge one time and offer a low handling fee to benefit the customer.
How to Wire Money to China by Using Veem?
1. Register your Veem account.
2. During the registration, you will need to fill in company info and bank info, also the SWIFT info. Please make sure all the info is correct.
3. When the account is ready, there is a similar process of regular Wire Transfer in the bank to make your arrangement online– fill in the following information:
Beneficiary Name:

Beneficiary Account:

Bank Name:

Bank Address:

SWIFT Code:
What Is the Cost to Wire Money to China by Using Veem?
The significant benefit is the low handling fee of Veem.
They charge $29.00 for sending USD and receiving USD. This charge is lower than most banks. What's more, they support sending money to over 90 countries in their local currencies, free of charge, with competitive exchange rates.
The great benefit of sending in local currency is that you can save your costs.
Take China supplier as an example, if the current exchange rate for USD: RMB is 1:6.7, to prevent unpredictable exchange loss, most Chinese suppliers will Calculate their quote based on the exchange rate of 1:6.5 and even lower, to protect their interest. But with Veem, you can ask the supplier to quote the price in RMB directly, which is purer.
Special Notes When Using Veem to Send Money to Chin
a:
1. After checking 100+ reviews on Trustpilot for comments on Veem, their patience and customer service is highly rated.
However, numbers of customers meet longer transaction times in their first deal on the Veem platform. Veem replies that it dues to their system need to flag new user information to ensure the security of the payment network, which makes them meet the compliance and regulatory standards fundamental to international payments processing.
So if you are new to use Veem, get ready for a longer transaction time (may up to 10-14 days) for your first deal. In general,  Veem will meet their commitments of 48-72 hours to finish the transaction from the 2nd transaction.
2. Veem is still a new baby for international transactions. We suggest starting with a small amount for testing and familiar with their system before you get confidence for a large amount of transfer.
If you have any questions about using Veem payment, you can just call them directly.
US: +1.877.279.2629, China (Mandarin) +86.400.120.8709.
Wise
Wise, formerly known as Transferwise, is a rising star in international money transfer, and its record on Trustpilot shows it is the best way to send money to China.
How to Send Money to China by Wise?
The wise online transaction process is so simple that you can accomplish the transfer within 5 mins on their website. Also, you can log in with your Google account, which will save you a lot of time filling out the same form to get an account registered.
After logging into your account (I pick personal for my account), click to send money, and then you come to the webpage for transferring money. It is quite transparent. You can select different payment methods and see directly how the fee is charged, what the exchange rate is, and how long it will take to arrive.
The exchange rate of Wise is reliable. It offers an average middle-market rate which only happens when Banks make the transaction within themselves. Wise will keep this rate for you if you finish the payment within 14 hours.
I choose a Credit card for the next step, and then choose Personal Transaction and fill in my details. Since I want to send money to someone else, I have to fill in the recipient's information and his UnionPay card number, a debit card system for Chinese.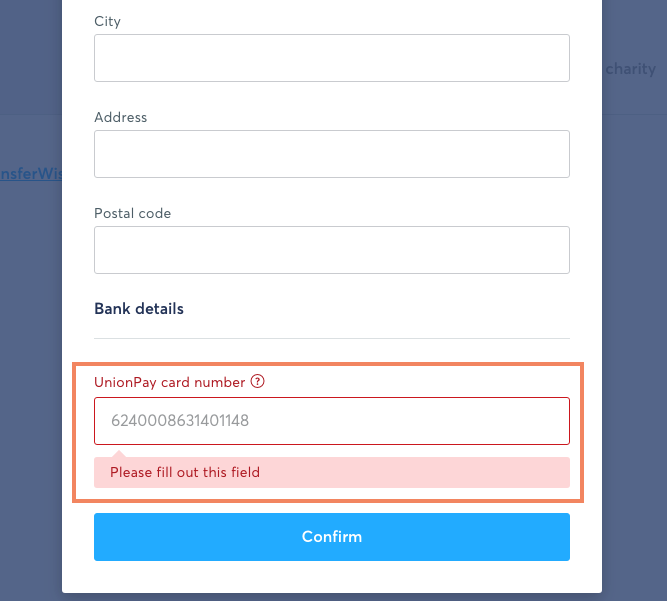 How Long Is Transferwise Need to Finish the Transaction?
Transfer time of Wise depends on your payment methods, and the currency you send and will be received. For example, you want to send money to China, from USA to CNY, then if you pay by debit card or credit card, your money should arrive in 30 minutes, if by bank account, 1-3 days.
From most of Trustpilot's comments, the money arrives in 1-2 days, which is the same as claimed by Wise. And their transaction speed wins lots of good ratings on Trustpilot.
Remitly
Remitly is an international money transfer platform that supports transactions between 85 countries. There are two ways to send money:
Express: You need to pay by debit or credit card and it will arrive within 15 minutes. (Actually, it usually arrives in seconds.)
Economy: You pay with a bank account and it will arrive within 3 working days.
For sending money to China, you can make fast transfers to your recipient's Alipay, WeChat, or bank account.
How to Send Deposits to China by Using Remilty?
The same with other transfer and remittance methods, after logging into Remitly, you can start your money transfer.
The first step is filling in the amount of USD you will send. Remitly will directly show you how much the recipient will receive, the exchange rate and the transfer fee, too. Please note that if there is any off code, you can apply it to your transfers. Usually, these codes are time-limited, and you can find them on the Remitly official website.
Then you should choose a delivery method to China, through bank deposit, Alipay, or WeChat. After that, it comes to fill in the required recipient details and sender details. Then click "Continue" to fill in your payment method: debit cards, credit cards, and bank accounts.
If you use a debit card, there is no additional handling fee. If you choose to pay by credit card, there will be an additional 3% handling fee. If you use a bank account, you cannot use the express service. Finally, click "Confirm & Send" and it's done.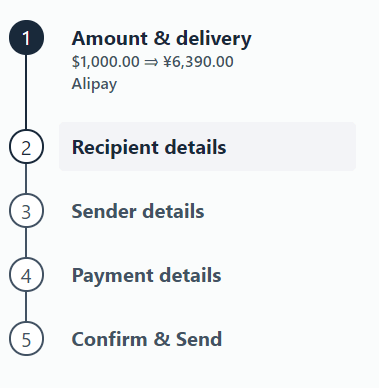 How Much Does It Cost to Send by Remitly?
Depending on the sending amount, the required handling fee varies:
When the remittance amount is less than $1000: $2.99
When remittance amount is over $1000: $0 (free)
For new customers, there is no transfer fee for the first transfer of any amount, and a promotional exchange rate will be applied to the first $1,000.00 of your first transfer.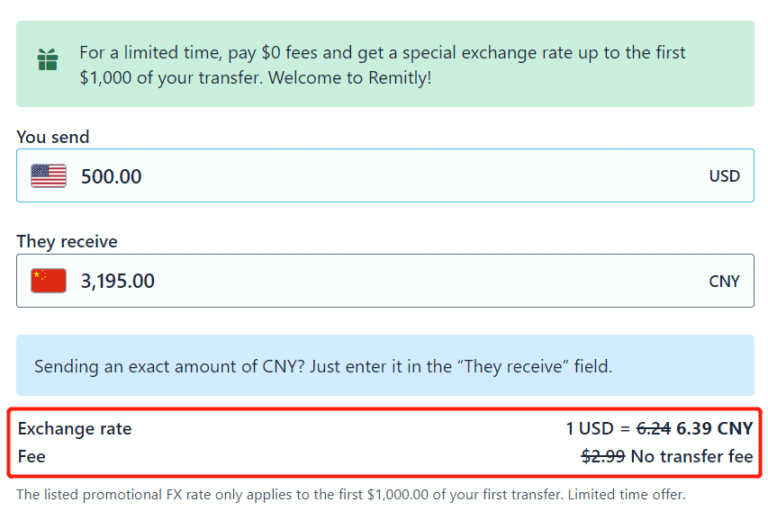 WorldRemit
WorldRemit and Remitly are actually similar in use, exchange rate, arrival time, transfer methods, etc. By WorldRemit, if you directly transfer to an Alipay account within minutes, it will charge you a flat $2.99 as a handling fee. If you transfer to a China UnionPay debit card, it will arrive within one business day and the fees to pay start from $4.99.
It is worth mentioning that there is no handling fee for the first three transfers, while many other platforms are only free once. You can enter the offer code on the right side of the final payment page and the fee will be waived immediately.
Country-specific Recommendation
From the UK to China
In the UK, if you want to send money to China, you can try many common ways we have mentioned, such as Wire Transfer through a bank, such as:
Paying with
Fees Per Transaction From the UK to China
Barclays
£25 (at a bank branch)
£0 (personal account or premier account & online or mobile banking)
HSBS (Hong Kong Shanghai Banking Corporation)
£9 (at a bank branch)
£4 (online banking)
NatWest (National Westminster Group)
£0 (standard international payments)
£15 (urgent international payments )
Wire transfer from a local bank in the UK is safe and reliable with fast arrival time. But you should know the SWIFT code and the handling fee is relatively high. So you can try other international payment platforms or online remittance companies, such as:
PayPal
5% of the transaction amount (From £0.99, up to £2.99)
PaySend
£1
Only can remit up to £800 at a time for ordinary users
Wise
£2 (less than £400)
0.5% of the transaction amount (over £400)
Western Union
From £15 (High handling fee)
OFX
£0 (any amount)
£100 (Minimum transfer limit)
Bank-beating rates
These are also safe and reliable, and for small transfers, the handling fee will be more acceptable than wire transfers. However, some of these platforms have limits and are not suitable for large-amount remittances and some will make money in currency conversion.
From the US to China
If you can find the Bank of China in the US, you just need to go there, fill in the check, and provide your recipient's Bank of China account, name, and address. Your money will arrive within 24 hours and the fee is $20 for wire transfers under $2999.
Also, you can send money from a local bank in the US. This method is suitable for large-amount remittances, usually within 24 hours, the handling fee is generally between $15 and $45, varying from bank to bank. For example, the handling fee sent from Bank of America is $45 one time.
In addition to the above two methods, you can also use online remittance tools. WorldRemit, Western Union, Wise, Xoom, etc are most commonly used in the US. It's quite easy to use them, just following the steps to fill in the information to complete the remittance. Regarding handling fees, and arrival time, we have taken the US as an example to explain each method above. You can check to get more details.
From Canada to China
Similar to the US, you can go to the Bank of China or ICBC in Canada and send money to the recipient's corresponding bank account. It usually arrives within 24 hours. The handling fee varies from bank to bank, generally ranging from 10 CAD to 20 CAD.
Furthermore, most banks in Canada, such as RBC Royal Bank of Canada, and The Toronto-Dominion Bank, support international remittance. The exchange rate is not bad, but the handling fee is relatively high, usually, tens of CAD, displayed on each bank's website. For example, the fee for a wire transfer from Royal Bank of Canada starts at 45 CAD, and from Toronto-Dominion Bank starts at 30 CAD.
Due to the high fees of banks, some online money transfer tools are more friendly for small-amount remittances. Here WorldRemit and PaySend are recommended. The arrival time of both methods is very fast.
If you use WorldRemit, the handling fee is up to 3.99 CAD. The more you transfer, the lower the fee, and there is no remittance limit. If you use PaySend, you only pay a flat $3 fee for any transfer amounts. But you can only send up to $1000 or up to 5 transactions (whichever happens first) every 6 months. The transfer limit can be increased after providing identity verification documents.
From India to China
Using a bank is often not a wise choice when sending money from India. Except that you have to provide many complicated details, the transfer fees are ridiculously high.
Therefore, a popular and reliable way to send Indian rupees today is to use a third-party money transfer service, like Epay and Western Union.
With Epay, you can remit Indian rupees to China in the form of US dollars. Or you can first deposit US dollars in your Epay account, then Epay supports direct conversion of USD to RMB. The fees are favorable, as shown below.

In addition, as the sender, you can also go to a nearby Western Union branch for remittance. The handling fee is about $15 for remittance below $500; $20 for $500-1000; $25 for $1000-$2000.
From Other Countries to China
When you have no access to use the common online remittance services, such as PayPay, Western Union, Wise, etc., are there any others you can try?
The answer is yes.
If you are in Europe, then you can try Rewire. It provides international money transfers and banking services to people living in 21 countries in Europe. You can send EUR, ILS, and GBP to China with a flat fee, of €5.49. And you can get two FREE transfers as new customers.
If you are in Australia or New Zealand, Orbitremit can be a choice, which is specially designed to send Australian Dollars, Great Britain Pounds, and New Zealand Dollars to other countries. For transfers to China, it is fee-free.
If you want to remit from Africa to China, you can try Rapidtransfer(Ecobank). China's Alipay has cooperated with African Ecobank for international remittances.
Your Turn
Finally, I hope you enjoy my article and can find the best and cheapest remittance method for your situation. Either way, let me know by leaving a quick comment below. We are a sourcing company with rich experience in purchasing from China. We can provide you with good solutions to any problems. If you need, please feel free to CONTACT US.