When you need to send payment to China supplier or travel agency, you would doubt which is the best payment way to address the money, to make sure it is safe and low handling cost.
China is a country that strictly regulates foreign currency exchanges. There's a maximum $50,000 (USD) limit annually for currency changes for any Chinese citizen. So sending to your receiver in USD or RMB? How to send your receiver in RMB?
I wrote this article to help you understand the 6 most commonly used methods for sending money to China. Not only introducing these methods, but I also shared how to use them, what is the fee, how long it takes, special notes for each payment method.
You can click each of the following payment methods, and you will be navigated to the related paragraph.
1. Paypal (suitable for less than $500 payment )
How to transfer money to China by using PayPal?
PayPal is the most convenient way on a payment arrangement. It accepts debit card and credit card, so it's easy to send money from any accounts of you.
And the process to send a PayPal payment is simple.
 You will need to register an account from paypal.com.

 Connect your Bank Card with PayPal.

 Ask your recipient to do so if they don't have a PayPal account too.

 When both of your accounts are ready, you can send the payment then.
(P.S.: The PayPal account is in the format of the Email address.)
How much is the PayPal transfer fee?
PayPal has no handling charges for the sender and only charges handling fees for the beneficiary.
Please  check the following transfer fee table of PayPal for easy reference (Based on the U.S. PayPal account sender):

Payment method:
Country of recipient account:
Fees (based on send amount)
$0.00-$49.99 USD
$50.00-$99.99 USD
$100.00+ USD
PayPal Cash/PayPal Cash + balance/a bank account linked to PayPal.
Canada and Europe
$0.99 USD
$2.99 USD
$2.99 USD
Any other country
$0.99 USD
$2.99 USD
$4.99 USD
By a credit card, debit card or PayPal Credit.
Canada/Europe
$0.99 USD + 2.9% of the transaction amount + 0.3 USD
$2.99 USD + 2.9% of the transaction + 0.3 USD
$2.99 USD + 2.9% of the transaction amount + 0.3 USD
Any other country
$0.99 USD + 2.9% of the transaction amount + 0.3 USD
$2.99 USD + 2.9% of the transaction amount + 0.3 USD
$4.99 USD + 2.9% of the transaction amount + 0.3 USD
Let's take if you want to send USD 500 to China via PayPal (via debit card) for example, the handling fee is $4.99 + ($500×2.9%) + $0.3 = $19.79 USD.
Any tips to avoid PayPal transfer fees?
And PayPal offers a free transfer if both your account and recipient account are U.S. PayPal account, you can check the following screenshot from PayPal.com for reference.


But most of the Chinese suppliers create the PayPal account with a Chinese address when registering, and PayPal will also identify the country of the network IP visiting their website.
So a suggestion to lower down your PayPal transferring fee is to register a PayPal account by your bank account rather than a credit/debit card. The bank account transfer is via the bank ACH channel, and this system is hard to cheat. However, the debit card is easy to report a loss then stopping the money transferring to increase the risk for PayPal to charge an extra handling fee.
(* Fee cost from PayPal.com)
How long is PayPal take to transfer money to China?
PayPal offers 2 different services when transferring money:
Standard Service: The fund will be transferred in 2 working days (meet postponement after 7:00 PM and weekend). Free of Charge.

Instant Service: The fund will be transferred within 30 mins — an additional fee of 1% of the amount and a maximum charge of USD 10.00.
In what amount makes PayPal fit for use to send money to China?
As PayPal accepts credit card payment, it is helpful when you are short of cash-flow for a higher amount of purchase.
However, PayPal provides 180 days of refund protection; the beneficiary will worry about cheating behavior. A cheater is easy to apply for a refund after the recipient provides courier information for a purchase.
So for Chinese suppliers, they prefer to receive a smaller amount (less than USD 500) from PayPal payment to reduce the risk of cheating loss, for more significant amount than USD 500, they probably will ask for other payment methods.
The Chinese beneficiary cannot directly use USD currency you transferred by PayPal. They will need to withdraw the USD (if you send in this currency) from PayPal and exchange to RMB. And PayPal is charging a high cost of USD 35.00 for every withdrawal, which also drives the recipients who don't use PayPal frequently to reject the PayPal payment.
If you have other questions about PayPal, you can read another article on our website:
2. Western Union
Western Union is a payment solution provider with a long history. They are trusted since 1871 and get a vast network of up to 500,000 agent locations.
How to transfer money to China by using Western Union?
Long ago, Western Union strictly required all of their transaction senders must present in one of their locations. After upgrading their service a lot in recent years, now you can make your payment through Online / In-Store / Mobile App, any way you can think of.
Anyway, they charge different handling fees for different sending ways. It seems that Western Union still has deep feelings for their counter operation, they charge a significantly lower fee for In-store than Online and Mobile App.
Operating a Western Union transfer is simple. The recipient even don't need a banking account and they only need to provide information as below:
 Name: MIN MIN LI (First Name: MIN MIN / Family Name: LI)

 City: Guangzhou City

 Province: Guangdong Province

 Tel: 0086-139xxxxxxxx  
After you send the money, you will need to provide the following information to the recipient for collection:
 MTCN number: xxx-xxx-1234 (you will get it from the Western Union system after made the transfer)

 Name of sender: Rachel Goacher

 actual amount: $5000

 beneficiary: MIN MIN LI
If you transfer money to China, when the payment is made, and you provide all the information to your China recipients, they will take their ID card and go to one of WU agent locations in China, fill the form and get the cash.
How much is the Western Union transfer fee?
You can quickly check the handling fee of your transfer by price-estimator–Western Union official site.
And for easy comparison, we also work out several set handling fees as below for your quick reference, based on the method of sending to China & Online:
Send to China in Cash
Online Order
Online Order and Pay
and finish at a WU location (cheaper rate than direct In-store)
by Bank Account
Remittance Amount
Handling
Transfer
Handling
Transfer
fee
Time
fee
Time
500
5 USD
in mins
25 USD
4 workdays
1000
7 USD
in mins
26 USD
4 workdays
2000
8 USD
in mins
36 USD
4 workdays
5000
15 USD
in mins
65 USD
4 workdays
From the above comparison, sending cash is still more preferable by Western Union. And if you want to make the transfer by Debit card or Credit Card, the PayPal rate is a better choice.
Meanwhile, Western Union can send money in minutes and by days, depends on the different rate of charge, for your selection. Also, it is a better way for the recipient to collect money by "Cash at WU location," rather than to their bank account; otherwise, it will charge a higher handling fee.
Any tips for ensuring the Western Union transfer is smooth?
Based on our experience, below are the points you need to pay attention to when using Western Union to send money to China:
1.Making sure the First Name and Family Name, which is essential for the success of a Western Union payment. Some customers cannot make the payment due to the mistake of the name.
2. If you made something wrong with recipient information, go to the WU location for correction.
3. Western Union is not allowed for commercial purposes, do not show any business information on the transfer.
4. One Chinese recipient (one person) can only receive no more than USD 50,000 (or equal value foreign currency) per year, please check with your recipient if they reach the quota.
Special notes when using Western Union to send money to China:
Western Union offers a weak exchange rate as they also make money from it, so it is not recommended to arrange like send out USD but the recipient to get CNY in China, the exchange rate could be around 5% different than mid-market price.
When you send cash in a significant amount, the handling fee of Western Union will be much higher than the Telegraphic Transfer service offered by the bank, so please compare the handling fee if you are sending an amount of more than $5,000.
As Western Union also ask for high agent fee to their partner, lots of China banks have quit the cooperation with them, such as Agriculture Bank of China. So the WU agent location in China is rapidly decreasing from 2017, and the convenience for China recipients is no doubt being worse than before. Please check with your China supplier to make sure they are easy to make use of your WU payment first before you made it.
3. Moneygram
The service offered by Moneygram is quite similar to Western Union, and the operation way is also identical. Anyway, the business running by Moneygram is not as good as Western Union.
In 2017, China company Ant Financial presented the plan of 100% purchase of Moneygram, including responsibility for the delt of Moneygram for nearly 1 Billion USD. But this project was called off by The Committee on Foreign Investment in the United States in 2018.
After checking the estimated handling fee from Moneygram online, we notice that their handling fee is nearly the same as Western Union.
Take the bad feedbacks on Trustpilot, and the running situation of this company into consideration, we recommend you to choose Western Union if you like this kind of payment service. The only advantage of Money Gram when comparing with Western Union is that Money Gram is allowed for business purpose.
Anyway, if you can't find any close Western Union agent location but a Moneygram location just nearby, Moneygram is still worthy to try.
4. Telegraphic Transfer (T/T), Wire Transfer
Telegraphic Transfer (also known as Wire Transfer, Bank Transfer) is the most popular business-to-business payment method nowadays; it requires both sender and beneficiary to have a business Bank account for the transaction.
When you enter the bank to ask for an arrangement of Telegraphic Transfer to send money from the U.S. to China, they may tell you that what they offer is Wire Transfer. Don't worry; they are the same thing. The Wire Transfer is a more official name for Telegraphic Transfer Payment. Wire Transfer is accomplished via the SWIFT system, and the SWIFT system is the only international channel you can send money to China bank account.
How to transfer money to China bank account by using T/T transfer?
When you are going to make the Wire Transfer, you need to know the following information  before you go to the bank:
 Beneficiary Name:

 Beneficiary Account:

 Bank Name:

 Bank Address:

 SWIFT Code:
And then you can fill the form in the Bank with the above information, and follow the bank instructions step by step to finish the process.
How much does it cost for sending by T/T transfer?
The handling fee for Telegraphic Transfer varies from different banks. In our experience of working with thousands of buyers, we suggest making the transaction via a more prominent scale bank to ensure transfer efficiency and reduce transfer fees. The bank charge is usually in the range of USD 20-50.
And it is recommended to leave the handling fee to be paid by the recipient. For order via T/T payment, there will be a higher charge which could be divided into two payments — deposit & balance. You can pay the 1st handling fee in balance, then the supplier will pay for another handling fee in deposit, so the supplier will feel fair to accept.
How long does T/T transfer take to China?
If you are making T/T from the U.S. to China, usually it takes 1-3 workdays for the money to arrive recipient's account. If the money does not reach in time, you will need to check all the transaction information again to make sure there is no mistake.
Providing there are some problems in supplier account info, you need to ask your bank to cancel the transfer, and re-arrange the transfer based on the correct information. Otherwise, the money would be blocked on the recipient bank side.
If you are sending money from European Countries to China, it will take 3-5 workdays. For people who are arranging from Southeast Asia countries like Malaysia and  Singapore to China, it only needs 1 day.
Special notes when using Telegraphic Transfer to send money to China:
1. If you find your money still not reach the supplier that after 4-5 days, you will need to check the bank information again with the supplier and the bank. Providing there is a mistake in the information, go to your bank and ask for correction immediately.
2. It is recommended to send Wire Transfer via more significant scale banks. They offer safer security for your money, and as they have a more substantial business scale in China, the handling charge and timing are also better.
3. The SWIFT Code is the only correct code to send money to China. If the Bank asks you for Routing Number / BIC / IBAN, etc.,  you can conclude that this bank branch is not familiar with the wire transfer to China, try to find another more significant branch to ensure the smoothness of your transaction. 
If you want to make your T/T payment more reliable, you can follow this guide–Make These 4 Checks Before Sending a China T/T Payment.
5. Veem
Veem service is almost the same as wire transfer, also using SWIFT code for transferring the money to China bank account. But they claim that they cut off lots of middle-man bank charges by using blockchain technology, which enables them only to charge one time and offer a low handling fee to benefit the customer.
How to wire money to China by using Veem?
1. Register your account on veem.com
2. During the registering, you will need to fill in company info and bank info, also the SWIFT info. Please make sure all the info is correct.
3. When the account is ready, there is a similar process of regular Wire Transfer in the bank to make your arrangement online– fill in the following information:
Beneficiary Name:

Beneficiary Account:

Bank Name:

Bank Address:

SWIFT Code:
What is the cost to wire money to China by using Veem?
The significant benefit is the low handling fee of Veem.
They charge USD 20.00 for sending USD and receive USD. This charge is lower than most of the banks.
What's more, they support sending money to over 90 countries in their local currencies, free of charge, with competitive exchange rates.
For sending the money in a local currency, the great benefit is that you can drive the quotation from the supplier to the edge.
Take China supplier as an example, if the current exchange rate for USD: RMB is 1:6.7, to prevent unpredictable exchange loss, most of the Chinese suppliers will Calculate their quote based on the exchange rate 1:6.5 and even lower, to protect their interest.
So with Veem service, you can ask the supplier to quote the price in RMB, and the price is more purity to save cost for you
Special Notes when using Veem to send money to Chin
a:
1. After checking 100+ reviews on Trustpilot for comments on Veem, their patience and customer service is highly rated.
However, numbers of customers meet longer transaction times in their first deal on the Veem platform. Veem replies that it dues to their system need to flag new user information to ensure the security of the payment network, which makes them meet the compliance and regulatory standards fundamental to international payments processing.
So if you are new to use Veem, get ready for a longer transaction time (may up to 10-14 days) for your first deal. In general,  Veem will meet their commitments of 48-72 hours to finish the transaction from the 2nd transaction.
2. Veem is still a new baby for international transactions. We suggest starting with a small amount for testing and familiar with their system before you get confidence for a large amount of transfer.
If you have any questions about using Veem payment, you can just call them directly.
US: +1.877.279.2629, China (Mandarin) +86.400.120.8709.
6. Transferwise
(Trustpilot 9.2 points, 63000+ reviews)
Transferwise is a rising star in international money transfer, and their record on Trustpilot shows its potential to become the best way to send money to China.
How to send money to China by Transferwise?
Transferwise online transaction process is so simple that you can accomplish the transfer within 5 mins on their website.
It's also lovely that they support connect of your google account and this has saved a lot of time filling the same form to get an account registered.
After login your account (I pick personal for my account), click to send money, and then you come to this phase: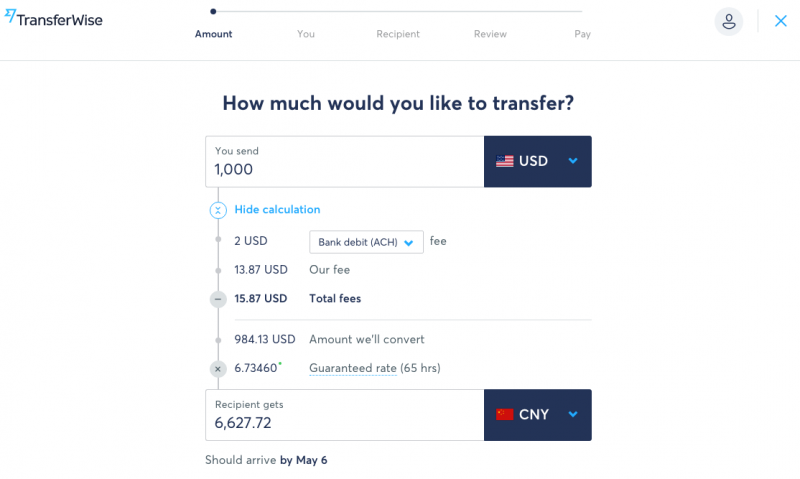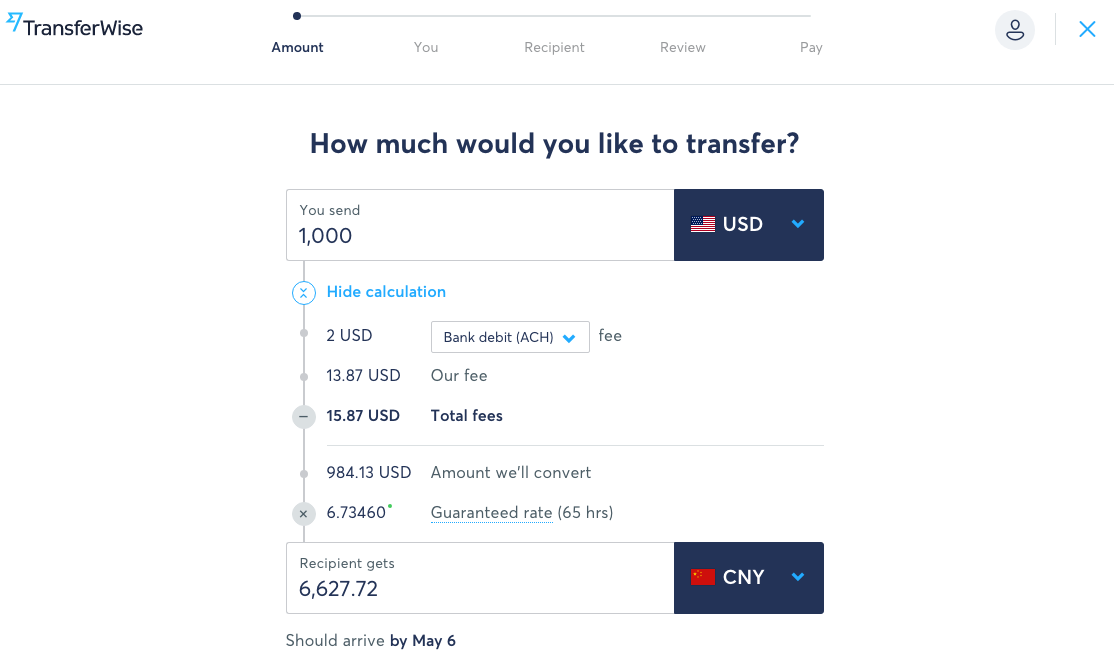 It is transparent to show how is the fee charged and what is the exchange rate for your transaction. And the exchange rate is one of the reliable power for Transferwise, they offer an average middle-market rate which only happens when Banks make the transaction within themselves, and keep this rate for you if you committee the payment within 65 hours.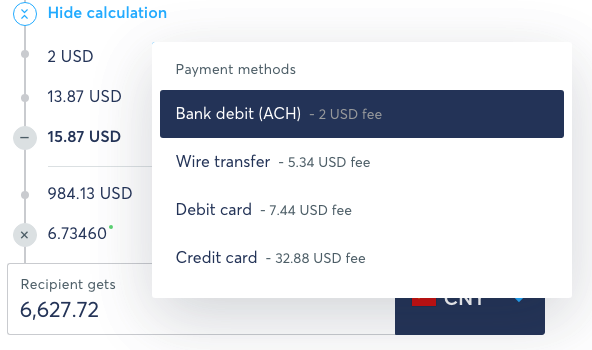 Another point is that you can select different channels of how your committee of the payment to Transferwise, with a precise different rate.
I pick a Credit card for the next step, and then choose Personal Transaction and fill in the required info, then it shows me the following phase: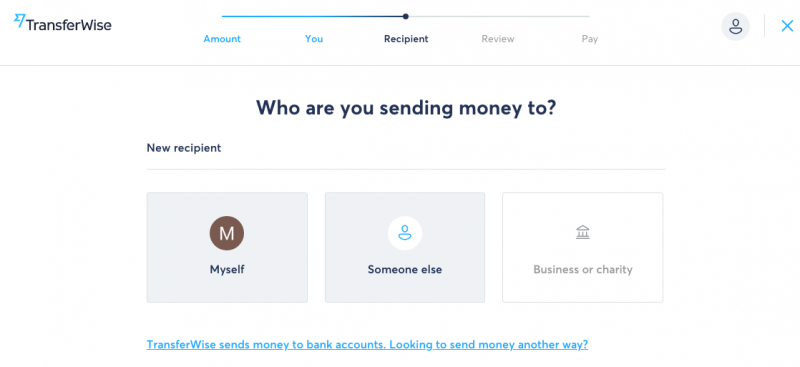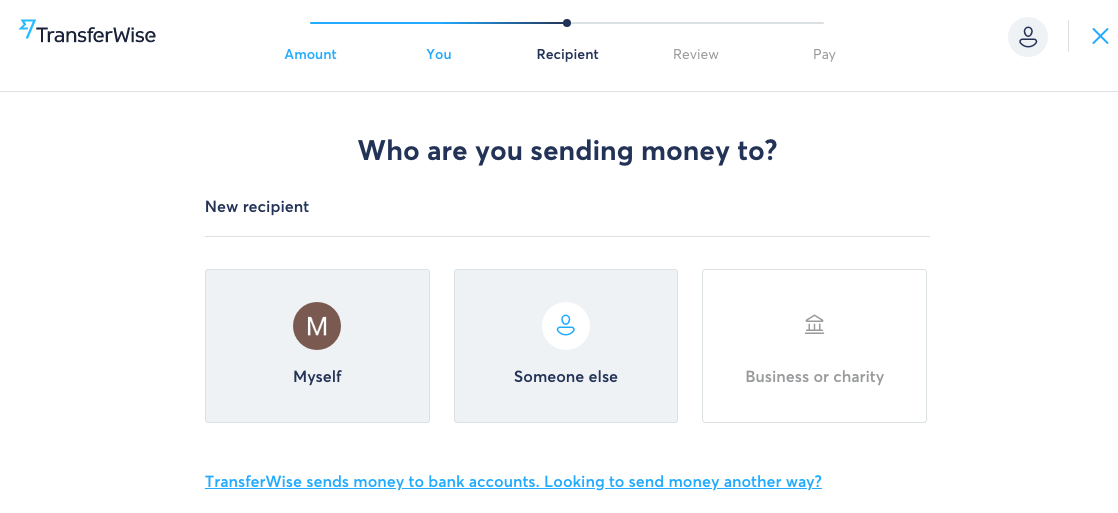 I click someone else, and a window for filling recipient's information come up, and at the bottom of the form, it is required to fill in UnionPay card number: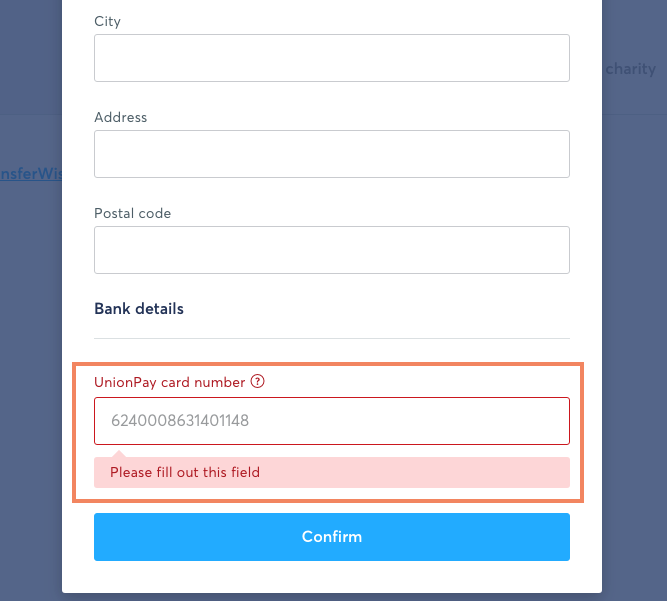 UnionPay card is a debit card system for Chinese, so this test shows Transferwise could support you to transfer money from your Credit card to a Chinese personal account, which could greatly help when you short of cash-flow or time is urgent.
How long is Transferwise need to finish the transaction?
From most of Trustpilot's comments, the money arrives in 1-2 days, which is the same as claimed by Transferwise. And their transaction speed wins lots of good ratings on Trustpilot.
Your Turn
Finally, I hope you enjoyed my article. Either way, let me know by leaving a quick comment below, and feel free to consult our sourcing agent if you have any problems.