Have you ever thought about the real cost of jewelry when you buy all kinds of jewelry? Many people buy wholesale jewelry for resale from China and make huge profits.
In today's post, I'm going to use 2 real cases to reveal costume jewelry / fashion jewelry's high-profit secrets and teach you how to make a decent profit by wholesale fashion jewelry. If you are doing jewelry business or you are going to, trust me, you'll benefit a lot from this post.
This article consists of 4 sections, and you can click each heading below to navigate you to related content for more details.
1. Reveal Jewelry's High-Profit Secrets (Real Cases)
People who are just starting their jewelry business may first consider purchasing from domestic wholesale websites or using dropshipping to test products instead of directly importing jewelry from China. But if you want to run your jewelry business for the long term, you have to get back to the essence of the business — how to get the products of the lowest cost .
These years, some of my clients have made their own jewelry brands successfully. So I'm going to tell you two real cases about my clients that I don't think anyone else will tell you. From this, you will get to know how much wholesale jewelry from China costs and how high the margins will be.
Do you know Pandora? Well, I'm not going to talk about the story of Pandora's development, but the story in 2010, when many China factories were helping their customers make Pandora knockoffs. They look similar to Pandora jewelry in style and material and even the same. Now let's guess the cost of these knockoffs. Snake bracelets made in S925 & zircon in the below pictures cost no more than $20!
While on Pandora's online market, similar styles retail for $70 to $100. Many importers copied and innovated Pandora's fashions and sold them at a low price. Before 2016, businessmen all over the world earned a lot by doing jewelry business.
My European client, Anna, is one of them. She didn't want to do the jewelry business at first, but earned $90,000 easily during a year at her attempt.
And the cost of these charms & dangles matched with bracelets will be lower. Around $4 to $10. I believe this can help you feel its profit margins better.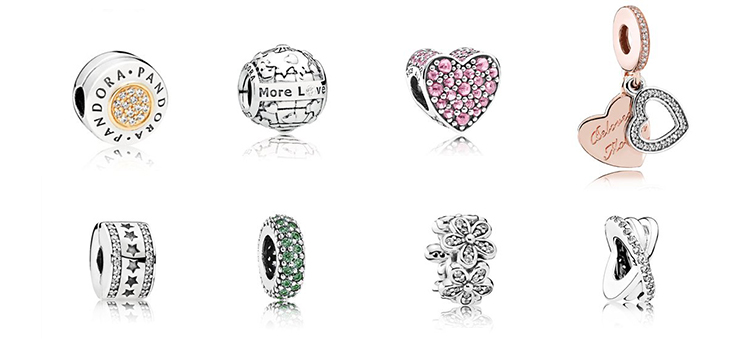 "Many girls will choose 4-5 charms for their bracelets. I was really excited when I could sell 3 bracelets and 18 charms everyday during my early jewelry business time. These charms retail for $30-$60 on Pandora's website while my retail price is only between $18 and $30," said Anna.
In fact, the cost of jewelry is related to the materials and the complexity of craft. These charms are basically made of S925 or zircon inlaid, and some are made of karat gold and rose gold. So the cost of these charms is not high because there are also no much complicated craft.

As I have mentioned above, 2016 is an key point time. In the second half of 2015 to 2016 in China, knockoff is hit severely. So now, few factories only rely on imitation, most of them transformed into doing their own brands. But what I want to emphasize is, once the jewelry business is started, it can be really profitable.
Another one of my clients is Declan, a young man from America with many ideas. He likes Hip Hop and he finds it hard to buy cool hiphop jewelry, either in online or offline stores. And his hiphop buddies also have the same idea.
By a chance, I found this guy's post on Facebook. After we got familiar, he spoke of  doing jewelry business and I said I could ask my factory to help him customize his design. After all, it is really easy for us to do a sample for him. And once his ideas came true, we could become business partners.
We have done all the above styles very early (the current style is not convenient to disclose for the protection of customer privacy). The optional materials are S925, copper, Karat gold, imitation gold and zircons of different grades, so the cost range is very wide, from $6.5 to $50. I am sorry that I cannot give you a specific quotation here, but if you want to get a quotation, feel free to contact us.
According to the market, my customers will sell products in their own country 3-5 times the real cost. Declan told me that because of the price 10-20% cheaper than Alibaba from us, and the styles they customized which couldn't be found in the market would be even sold 5.5 times the real cost.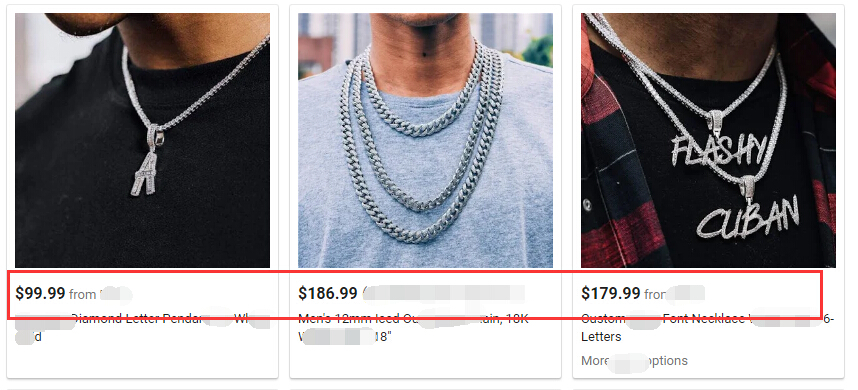 All right. Now you must have understood how profitable jewelry business is. Lucky thing is, jewelry is good for startup business, why? Let's move to next part.
2. 4 Main Reasons Why Jewelry is good for startup business
Now you must have become interested in jewelry business. And starting jewelry business is not difficult as you may worry about. The above 2 cases can also exemplify it. Compared to other niche business, there are 4 main reasons for choosing fashion jewelry.
Large potential customers and easy revisiting 
Most of the consumers for jewelry is women, and as we know, women are very easy to have impulse consumption. If the design of your fashion jewelry is enough novel and attractive, it means that you will attract a large number of potential customers who can revisit for a long time. 
For a woman, there may be no particular reason to buy accessories. Maybe it's for valentine's day, maybe for a party, or even just for a date.
Small size, High value & Convenient transportation
What does a small size mean? It means you can hold more in a fixed size box. What's more, fashion jewelry is not only small, but also light and has a high value. In this way, the freight is only a small part of the total value of your goods (Air freight generally for things with high value and small quantity).
Not easy to have quality problems
Unlike some electronic products, the probability of defective products will be high without in-depth performance inspection. And the fragile products will be damaged in different degrees during the transportation.
While the performance or appearance are easy to detect for fashion jewelry, and its defect rate is not high normally. And because of the small size, you may only need to pack the goods into one box, there is almost no possibility to get damaged.
Easy to develop own brand and get High profit 
As mentioned before, fashion jewelry is related to fashion and aesthetics. If you have a good design style, establish your own brand, custom and private label your products in China, then your profit margin can be really large.
3. Buy wholesale Jewelry instead of dropshipping
Many of my customers start their business by dropshipping at first, which is a way accepted by them in online small business: There is no need to pre-store the goods, which means, the early investment is less. And they only need to sell products, someone will help to send the goods to their customers.
But over time, 3 shortcomings of dropshipping will be gradually found.
Product style assimilation. While you are selling certain styles of the jewelry, others are selling the same styles of products.

High cost squeezes your profit margin. Cause you invest little and undertake low risk, you couldn't earn much. And that's true for all businesses.

You can't control the quality of goods which is from dropshipping. Because most of dropshipping company are middlemen and they will take goods from different factories. Then the quality of goods is different each time, which will easily induce losing your customers.
We have a client who does business on Amazon. At first, she chose dropshipping to send goods. While in one day, there are three bad reviews complaining that the products are inconsistent with the picture and they think she is dishonest.
You know, the ranking mechanism of Amazon will take product reviews into consideration. Even if you sell at a low price or spend a lot of money on advertising, if your review rating is lower than 4.0 (out of 5 stars), then your ranking will still go down. If there are too many bad reviews, your product listing will be forced off the shelves. So then my client had to give up that product. What a pity!
So, if you want to do well in fashion jewelry business for the long term and have good profit margin, you have to develop novel designs and gradually create your own brand. Wholesaling from Chinese factories and customizing exquisite packagings to increase the premium of your products are things that dropshipping can never do. 
When it comes to wholesale from China, let's take the Chinese B2B website Alibaba as an example. Let's take a look at the price of popular costume jewelry in recent years. I'm not talking about the cheap jewelry that cost only several cents, but those used for daily wear. The main material of these jewelry is S925, karat gold and zircon, which retail for $25 to $200.
Such as the following brief style: 


These styles above can be sold at least three times for retail. The price in the pictures is marked on Alibaba, and the factory's price will be at least 5-10% cheaper. There are factories and also trading companies on Alibaba, so the price varies greatly. You must confirm the materials, details and other parameters of your products before making inquiries and comparisons.
4. Understand main types of jewelry before wholesale
The category of jewelry can be very large and complicated, and you may feel difficult to choose a best one. Don't worry, based on the experience of our team for many years, I have divided it into three main categories according to the material, and you will know it clearly.
Type1
Zinc/Copper Alloy / S925+ plating + Zircon inlay: Micro paving jewelry (cost $3-$40 normally)

Type2
Zinc/Copper Alloy/+ Karat gold + Zircon: 14K & 18K jewelry (cost $3-$40 normally)
Type3
Acrylic / Resin / Cheap materials like stainless steel: Promotional/ cheap jewelry(cost several cents)

The first and the second types are what I recommend most. Why? 
Let's first analyze from the perspective of consumers. Many female customers are willing to pay for a good design or good quality. The style and price of these two types are between the cheapest third type and real jewelry, which are cost-effective. So women are more willing to pay for them.
What's more, These two types of jewelries can be wholesaled from China in a small MOQ. Moreover, such fashion jewelry have a strong premium capacity. It is easy for consumers to spend 10 more dollars for the latest style and a upscale package.
Some businessmen who engage in the third type of jewelry, usually take large quantities of goods directly from factory at a very low cost price. Otherwise, it is difficult to compete with other peers on price. The other case is that someone purchases theses cheap jewelry as a promotional items and they may accept relatively high price with a lower MOQ.
5. How to wholesale jewelry & make your private label brand
After determining which kind of jewelry to manage, the next step is to find reliable factories to wholesale from.
Step 1: Find suitable jewelry suppliers in following 3 ways.
Looking for suppliers from wholesale websites is the most acceptable way for most importers. And the most commonly used Chinese wholesale websites are as follows:
If you can come to China, it is also a good choice to go to the Chinese wholesale markets. Here I recommend two wholesale markets for you to go.
Medium and high-end jewelry: Xijiao Buiding, Zhanqian Rd, Guangzhou

 

Medium and low-end

jewelry: Yiwu International Trade City, Yiwu
If you plan to come to Yiwu, then here is a ultimate guide of Yiwu for you, which includes all things you need to know about Yiwu like Yiwu markets, trade fairs, hotels, entertainment, etc. You can't miss it!
Visiting some jewelry trade fairs help you get a lot of inspiration for your design. And chances are you'll find real manufacturers there. I have selected some famous and large trade fairs that worth visiting.
The Canton Fair, Guangzhou, China

Hong Kong Jewellery & Gem Fair, Hong Kong, China

JCK Las Vegas, Las Vegas, America

Inhorgenta Munich, Munich, German

International Jewellery Dubai, Dubi, United Arab Emirates
For these ways of finding reliable suppliers, you can read another article for a further study.
Step 2: Purchase existing designs or customize own designs
If you choose existing designs, prices can sometimes be cheaper than that of customization. And it won't take long to receive your goods. But it also means you can only select designs from one or two suppliers while they can't meet all your requirements of styles.
Customization will without doubt cost more, both money and time. The MOQ will also higher than the existing style, maybe around 200+pcs per style and color. Besides, you will have to pay an extra tooling cost if there is no existing mold for your design.
If you have your own customized manuscript, you can directly give it to the factory. If not, the factory will provide you with the material selection according to the style you want to make, and confirm with you the details and parameters.
Step 3: Private label your own jewelry brand
Logo carving & Tagging
This is a way can greatly improve your product brand awareness. If you only purchase existing styles and don't have your own private label, then your products will be difficult for consumers to remember. Because the manufacturer will also sell these products to others, and thus your products are not featured and can hardly stand out.
Private label is universal for any business, you can find more information about it in my other posts:
Unique Packaging
In fact, I can say that fashion jewelry is a business which sells beauty. Therefore, in addition to the design of jewelry itself, its packaging also cannot be ignored. An exquisite and distinctive packaging can make consumers feel that the jewelry I bought is worthwhile.
The girl Anna I mentioned above, remember? Although she sells Pandora knockoffs, she also adopts exquisite boxes, which makes her consumers feel that it is no worse than the genuine Pandora.
We see many kinds of jewelry packagings in our daily life. And they can be mainly divided into two kinds, one is the packaging bag, another one is the packaging box. 
The cost of the package bag is very low. The simplest kind is to use the small plastic bag or yarn bag, usually sold by pack or weight and the price may be 1 cent a piece. The cheapest jewelry will use this kind of simple package. The usual flannelette or brown paper bag only costs about $0.1, too.
There are many types of packing boxes so I won't list them one by one, but I will simply divide them into two categories.
Cheap one:kraft box, Villi box.
Middle & High-end:Wooden box, Leather box.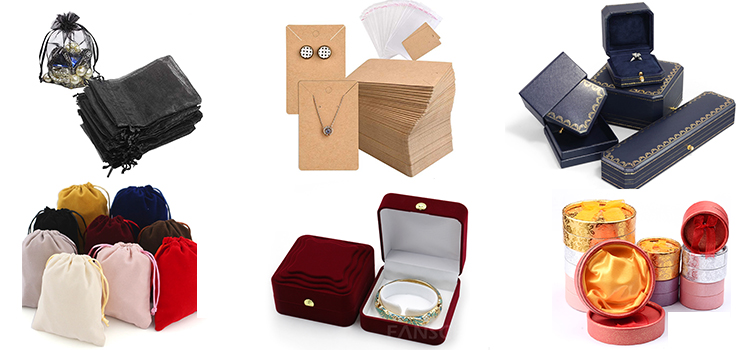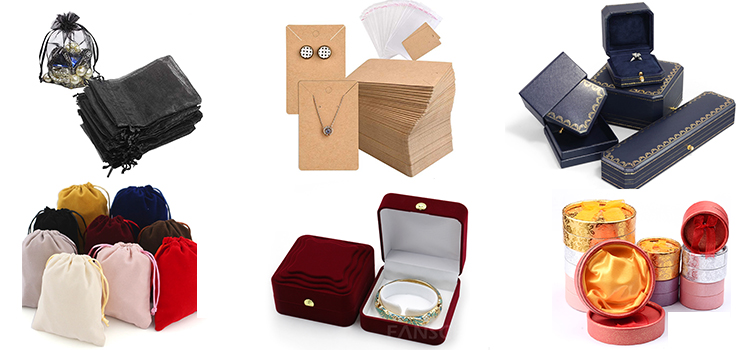 6. Sell your fashion jewelry to make a decent profit
Getting a cheap price is the basis. After that, the most important thing is how to sell your jewelry products. You can sell both online and offline, or you can specialize online. The major online e-commerce platforms are as follows:
In addition to the above three mainstream platforms, there are also other emerging e-commerce platforms and some niche platforms. I will not analyze them carefully here. You can refer to the article How to Sell Jewelry Online on Salehoo.
Amazon
Amazon has a lot of traffic in the American and European markets. The A9 algorithm mechanism of the platform is becoming more and more perfect, and it is an e-commerce and retail platform that attaches great importance to User Experience. So you do not need to lay a lot of products now.
In recent years, the advantage of small businesses is to develop product segments to avoid monopolistic competition from big sellers. Therefore, if you want to sell jewelry on Amazon, don't randomly test the products, but choose carefully, do price positioning and market research, and choose the best jewelry category.
Shopify
It is also a good choice to establish independent stores to sell jewelry with Shopify, but the investment is relatively large in the early stage, and you need to understand online marketing. 
Because It's not like Amazon that can provide you with relatively customer flows, So you have to get your own customers by advertising on Facebook, Google or Youtube.
Ebay
Products on Ebay will be cheaper, so the price competition will be quite competitive. If you can get a pretty low price from manufacturers, you can try to do business on Ebay.
It's your turn now!
If you have any questions about fashion jewelry, welcome to leave your comments below.
If you are interested in the jewelry business and want to find reliable fashion jewelry factories in China, feel free to  contact us. We can help you get the most competitive price without upfront fees.